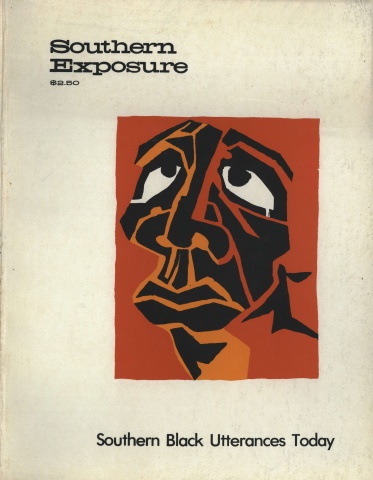 This article originally appeared in Southern Exposure Vol. 3 No. 1, "Southern Black Utterances Today." Find more from that issue here.
The following excerpt is the opening section of Free The Land by Brother Imari Abubakari Obadele, I, president of the provisional government of the Republic of New Africa. This manuscript, forwarded to the editors by Ken Lawrence of the Southern Conference Educational Fund, chronicles the events in Jackson, Mississippi in 1971 that led to the trials of the Republic of New Africa 11 and the RNA's continuing struggle to establish an independent black nation in the Five States of the Deep South (Louisiana, Mississippi, Alabama, Georgia, and South Carolina). The manuscript was written after the FBI-police attack on RNA headquarters in Jackson, while Brother Imari was imprisoned awaiting trial. Mr. Lawrence is currently seeking a publisher to make the book available in its entirety.
I.
I was in New York when the word came. It was 1971, an ice-drizzly cold March night — at least in New York it was ice-drizzly cold. I had flown in from the Republic of New Africa's headquarters in green and sunny New Orleans, and now, accompanied by a half-dozen or so of the New York New Africans, i stood in a modest-sized conference room in one of the stolid, yawning, late-nineteenth century buildings on the Columbia University campus, addressing a small gathering of the black student union. In response to an urgent request from Brother Sekou — himself an undergraduate at City College and the chief officer, the Consul, for the Republic, or RNA, in New York — the black students at Columbia had quickly put together this speaking engagement as a means of channeling some funds into our treasury in these last days before our historic Land Celebration in Mississippi.
Now, someone came in and apologetically interrupted me: i was wanted on the telephone; yes, he believed it was important and i should take it myself. We had reached the point of questions and answers — there were always many questions as i moved about the United States, trying to make blacks realize that it really was possible for us to turn our provisional government into a de jure government, for us to free Five States of the Deep South as an independent black nation. I turned the questioning over to Sekou and went to the phone.
It was New Orleans. They had received word that our house in Bolton, a small town in the country outside of Jackson, Mississippi, had been raided by sheriff's deputies, the Highway Patrol and the FBI. There appeared to have been no shooting, but our brothers were in custody and all our arms and equipment were seized. In addition, two of our best men from Boston, arriving in Jackson with a station wagon full of communications equipment and guns, had been surrounded suddenly at a stoplight and arrested. There were no other details.
I put down the phone. I had taken the call in a booth. Beyond the glass Brother Geral, with his ubiquitous kit bag thrown over one shoulder, and several brothers on presidential security waited. I stepped out into the large, rather dimly lit reception area where We had come. There were brown leather chairs scattered throughout the expanse on the edge of which We stood, an occasional student passing through to the outside doors on our right, bundling up against the wet driving cold, and an old white uniformed security guard who hovered nervously nearby, a sign of the times, product of the days of student riots and building seizures and black demands that no one was certain were really over. Behind us somewhere, on the other side of a tall and stolid door, Sekou dealt with the Eight Strategic Elements Necessary for the Establishment of an Independent Black Nation in America.
I told Geral what i had learned. He asked me if i knew what it meant. I said, not exactly. That was not wholly true. I did not know, as Geral's cool security-conscious mind sought to learn, whether the arrest of Hakim and Hassam in Jackson in the station wagon meant an informer was active in the Boston inner circle, whether the raid on the Bolton house was the enemy's initial move to sweep up our manpower and make good their boast that there would be no Land Celebration in Mississippi. But i did know what it meant. It was possible — given the failures of faith among our leadership that a year earlier had almost destroyed the Movement and ended by catapulting me into the Presidency — that at that moment, for that moment, i was the only one who did know.
I thought: so it has begun; it begins now. I knew what it meant. The contest was open again. Ninety-six years ago whites in Mississippi had crushed black power with a mighty upsurge of white violence in the months leading up to the state elections in November, 1875. We had not been prepared for their fury or their organization, and they had buried us.
We had had guns, some of us, a few guns. But perhaps We had depended too much on the Union Army, which Ulysses Grant, then U.S. President, permitted to look the other way. And Adelbert Ames, a white man whom the black poor in Mississippi had made governor, failed of resolve and disbanded the state militia, whose magnificent black troops under black State Senator Charles Caldwell had, for the short space they rode the Delta, made the white gunmen cower. So they assassinated Charles Caldwell, and they rode through Mississippi assassinating others: taking out five black men here, a dozen there, thirty at one place — coldly murdering the black leadership of whole towns, sending brave but out-gunned black men to hide and sleep in the woods and, finally, to leave the state, or remaining, make peace without honor. They buried us: Reconstruction's black mayors and sheriffs and supervisors and state representatives and senators and U.S. Congressmen and, yes, black U.S. Senators.
People like Reverend George Lee, murdered in 1954 in Belzoni, and Medgar Evers, murdered in 1963 in Jackson, and Martin Luther King and the young people of the Student Non-Violent Coordinating Committee, and Fannie Lou Hamer and Lawrence Guyot and Aaron Henry of the Mississippi Freedom Democratic Party tried to breathe life back into our dry bones; and, indeed, they had succeeded in connecting thigh bone to knee bone and had gotten us nearly upright on our feet. Still, there had been — and was — no resurrection. Mississippi violence and the threat of violence yet poisoned the breath of life for blacks. And it seemed clear there could be no resurrection, except by some fresh sacrifice of blood — and not black blood — to atone for the past, to free our black vitals from the parasitic tendrils of today's white oppressor.
I knew what it meant: it had begun, a new war in America, their campaign to check our new bid for black power.
We were, of course, very calm, Geral and i, like distance runners before a championship race across uncertain country, like the best of professional boxers. Calm but keyed inside. Expectant. Certain yet uncertain. Aware that time had finally carried Us to the doorstep of this contest of which We had dreamed, for which We had planned, and now there would be no more delays, no chance — even if We had wanted it, and We did not want it —of turning back.
We walked toward Sekou's conference room. I said to Geral: "I have to get back to Mississippi."
II.
I was to spend the night at the lovely, spacious Queens apartment of Sister Iyalua Akinwole. A school teacher, whose slave name had been Connie Hicks, Iyalua was about 38, a couple of years younger than i. Articulate and thoroughly committed to the struggle, lyalua was fair-skinned but well built and cared for — a very good looking woman. She was also in the final stage of divorce and had found abiding love the second time around with Herman Ferguson, Adekouya Akinwole, a respected Brooklyn assistant school principal who had stood trial as a leader of the underground Revolutionary Action Movement (RAM). They were my friends, though We had known one another only since the Oceanhill-Brownsville school confrontation in Brooklyn in the fall of 1968 and though Herman retained a long cautionary suspicion of what he believed to be the petit bourgeois inclinations of my brother Milton, Brother Gaidi, and myself.
But Herman was not in Queens now. He and Brother Umar Sharrief, a brilliant revolutionary youth whose slave name was Arthur Harris, had been convicted of conspiracy and when, appeals having failed, they were ordered to jail in late 1970, they apparently left the country, Iyalua lived with her fifteen year-old daughter, Nilaja, and Nilaja's friend and schoolmate, Bolanile Akinwole. Both of them, but especially Bolanile, were the leading edge of that precious generation of New African youth coming up: strong, dedicated, and without any hang-ups about their blackness or the necessity for all black people to work in a disciplined, unified fashion, without cease, for black liberation.
My first order of business at the apartment was to get more information on what had happened in Mississippi and put into motion those legal measures appropriate to the protection of the seized brothers. While i did this Iyalua worked on her other phone to get me air-scheduled out and to reach Brother Alajo Adegbalola, an RNA Vice President and our Defense Minister, in Boston. It was about ten p.m.
I found that William Miller, the Jackson attorney who had begun to do RNA work, was out of town at his office in the Delta. The best i could do was to leave word for attorneys R. Jess Brown and Jack Young, both veteran civil rights lawyers, to check the brothers at the jail and get back to me. There was, of course, no answer at either office; i reached their homes. But i could garner no new information on the brothers.
Meanwhile, Iyalua had been unable to schedule me out that night because of the lateness. I talked with Alajo; it was agreed We would coordinate our movement into Mississippi the next day, meeting at the Atlanta airport and flying together to Jackson. Alajo was a tough-minded veteran of World War II, having served with the crack black Ninety-Ninth Pursuit Squadron. In Boston he worked with OIC, a nationwide non-profit group set up by Reverend Leon Sullivan of Philadelphia to train blacks for jobs in such fields as business machines and electronics. Alajo, however, was deeply involved in the radical work of the Roxbury community. In addition to his RNA offices, he was a founding officer of the Boston Black United Front, and he hosted two popular radio shows, on which he was as well known by his slave name, Leroy Boston, as by his free name. Above all, Alajo constantly thought of the defense needs of our nation, was personally fearless, and ready for any necessary sacrifice. It was eminently wise, i felt, although annoyed at the delay, that We should travel South together.
After all, We did not really know what awaited us, and there was some reason to fear the worse. In the past four years, beginning even before the official founding of the RNA Provisional Government by convention and declaration in Detroit on March 31, 1968, i had personally seen to the erection of a legal construct designed to protect our operations and our personnel. It had begun with the publication of an essay, a slim book called War In America. Essentially what We did was this. We drew a line between underground work and overground work. We pointed out that overground work was legal under the oppressor's own law and that those engaged in overground work — that is, the work of the RNA Provisional Government — could not also engage in underground work. Though We acknowledged that our independence could not be won without a strong, intelligent underground army, it was necessary that the Provisional Government renounce any direction or control or, even, knowledge of the underground army. In this way We sought to sever the visible operations of the Movement, the officers and workers of the Provisional Government, from any connection of a legally actionable conspiratorial nature with the underground. Brother Gaidi, an eminent lawyer, had laid out these guidelines.
Next we moved to assure that our acts and work did in fact fall within the protection of U.S. and international law. A trained overground military force, an army, was the toughest problem. Given black folks' history in the South, given the way whites had organized into rifle companies aligned with the Democratic Party and under such innocuous banners as "The First Baptist Church Sewing Circle" and had by open violence crushed Reconstruction's black power not only in Mississippi but across the old Confederacy, We certainly could not dream of winning and holding the Five States of the Deep South without a strong overground army created before independence.
The answer was simpler in theory than in practice. First it was necessary to assure that the methods of the overground army neither undertook "to achieve a legal goal by illegal means," nor "to achieve an illegal goal by legal means." We, therefore, stated our goal of independence for the Five States in terms of "self-determination" for the people on the land and our method as "the peaceful organization of a plebiscite," a vote of the people, in order to get an expression of the people's self-determined will. Our prediction, of course, is that when the plebiscite is held, the people of the Five States will freely vote for New African citizenship rather than United States citizenship, thereby passing sovereignty over the land from the government of the United States to the government of the Republic of New Africa.
The role of the RNA army, therefore, was and is a defensive one, to fend off unlawful attacks of whites trying to halt preparations for the plebiscite. Further, the army would not be called an army but the New African Security Force. This was a change from the more colorful nomenclature of "the Black Legion," which had been urged upon us by Brother Alajo after We had received a bad scare during the RNA constitutional crisis in 1969. At that time evidence mounted that a number of officers, including Mweusi Chui of Dayton, then Minister of Defense and commander of the Black Legion, had incredibly planned a coup d'etat, forgetting their subordination to civilian control. It was more than comic opera. The civilian structure survived the test, and i was elected President of the Third Provisional Government, but it was clear to us that if officers of a semi-autonomous military would attempt a coup at a moment when the nation held sovereignty over not one single inch of land, We could be in for real trouble once there was independence.
Thus, Alajo surfaced the concept of the People's Army, re-submerging the military back into the people, so that, although some citizens would have defense work as their primary mission, all citizens would technically be New African Security Forcemen and have some military training. There would be no military elitism and no question of civilian control.
Through all these steps, then, We had sought to surround our work and our personnel with the protections of U.S. and international law. We also taught, as cardinal to these protections, that black persons, as the descendants of kidnapped persons defrauded and held in America against their will, are on a different footing than any other aliens on these shores. When our ancestors were freed from slavery under American law, they were never asked what they wanted to do —whether become U.S. citizens, go back to Africa, go to another country, or set up an independent nation of our own on land in the Deep South which, over generations, had become our traditional home. We have never been asked. Thus, the plebiscite is an appropriate remedy for America's failure to ask our consent in the past. And this argument draws around us not only the protections of international law, not only the protections of the First Amendment — freedom of speech and the right to petition — but the protection of the Emancipation Proclamation, a legally important but neglected document, and the Thirteenth Amendment.
All this being said, however, We knew that legal correctness has never been sufficient to protect black people in America at any time. We knew that illegal arrest and prosecution and fraudulent imprisonment are not just acts involving the law; they are political acts. Murder, whether by lawmen or civilians, when used to destroy a cadre or assassinate leaders, is not simply an act of law but a political act. And political acts are often — always, when they involve murder — irreversible in their results.
Thus, a U.S. Senate Committee empowered to investigate the Mississippi elections of 1875 documented and condemned the murder and terror which delivered the Mississippi state government to white Democrats. The Committee went so far as to find that the consequent Mississippi state legislature was an illegal government and not entitled to recognition by the executive branch of the U.S. government. That was their official finding. But the illegal white Mississippi government, in power by fraud and violence, stayed in power as the de facto government, and its present lineal descendant — quite as illegal and quite as much the result of fraud and violence — remains in power today. With more than one-third of the population in Mississippi still black and at least twenty-five of the state's eighty-two counties counting large black majorities, Mississippi had but one black in the state legislature in 1971, Representative Robert Clark of Holmes and Humphreys Counties.
The point is that a determined political act, however wrong or illegal, can only be arrested by an equally determined and courageous judiciary and an equally determined and courageous executive. We knew that throughout the 350 years of black history in America, we have rarely had such combinations to work for black people. We knew it. The whites in Mississippi knew it. And so when they were not minded, the whites in Mississippi moved with swift and ugly political acts — fraudulent imprisonments, unlawful assaults, arson, murder — and then they stood the weight. Sometimes the weight was heavy, as when they killed fourteen-year-old Emmett Lewis Till and blacks and whites in America cried out in revulsion. They had to bring Emmett's killers to trial, but they stood the weight because they knew there was not a judiciary in America and not an executive — though the U.S. President was a white hero named Dwight David Eisenhower — determined enough or courageous enough to try to reverse the deadening results (increased black terror) of their base political act. They let the killers go scot free.
Usually the weight isn't much. They killed Lamar Smith on the courthouse lawn in Brookhaven in 1955 and his three murderers were not indicted. A white state representative, E.E. Hurst, shot Herbert Lee to death in 1961, and Hurst saw neither indictment nor trial. Both Smith and Lee were prominent men and worked for black voting rights. Medgar Evers, the incredibly courageous and spiritually lifting field secretary for the NAACP, was assassinated in his driveway by rifle fire in June, 1963, and the man who went to trial for the murder, Byron de la Beckwith, marked by all the evidence of guilt except a confession, was freed by a jury. Twice.
And now, barely nine months before this arrest of our brothers in Jackson, riot-equipped officers, all white, of the Mississippi Highway Patrol and the Jackson Police Department had lined up across from the high-rise girls' dormitory at Jackson State College, in this same city, and wantonly opened fire on summer-gathered students. They killed two students, both male, and wounded several others, male and female. But they stood the weight. There was a national outcry, and even Massachusetts Senator Edward Brooke, the only black now in the U.S. Senate, came to the campus. But nobody was indicted. Thus, as i flew the cool, smooth Delta jet down from New York to meet Alajo in the Atlanta airport that night, i did not know, as Alajo could not know, what awaited us. If they were to stop the independence movement, i knew, sooner was better than later; with time — understanding that survival against them by itself meant a certain success — We could only grow stronger. I knew the value to them of delay, of assassination for this purpose. They had engineered the death of Malcolm X in February 1965 and made him a black national hero. But they had successfully delayed the Movement: three years passed before, in March 1968, we founded the RNA Provisional Government, at last carrying out what i understood to be the Malcolm X Doctrine. Often, flying down to Mississippi, i would have the feeling of flying into the valley of death. There was never any fear, however; for, though i would be forty-one in less than two months, i still had the faith of the young shepherd David who, some 2300 years ago, also wrote of going through the valley of death.
Tags
Brother Imari Abubakari Obadele, I , is president of the provisional government of the Republic of New Africa. (1975)