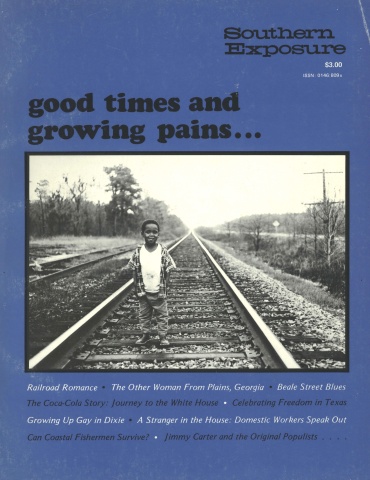 This article originally appeared in Southern Exposure Vol. 5 No. 1 "Good Times and Growing Pains." Find more from that issue here.
The Crystal Towers neighborhood perches on the edge of downtown Winston-Salem, N.C., on the lip of a plateau from which the rest of the city spills away. When the original homes in the neighborhood were built almost 100 years ago, they were among the finest in the young town of Winston. But, as the city grew, the doctors, lawyers and industrialists who built the neighborhood moved west on the crest of fortune. 
By the late 1950s, the spread of decay was inexorable. What new residents the neighborhood attracted were renters. The fine old homes that flanked the curving streets were subdivided into smaller units. Improvements were cosmetic or nonexistent. Trash filled the vacant lots and streets. The area was not, by any definition, a neighborhood. It was a way station, a temporary stopping place for people who seldom dreamed of something better or had stopped dreaming of anything at all. 
A few of the older residents remained, hoping for a rejuvenation that did not come. Like most center-city areas, Crystal Towers became a victim of prolonged neglect. By 1970, the neighborhood held a mixture of poor and middle-class people, whites and blacks, homeowners and renters. The few people that still owned their homes were mostly old. Having waited too long to sell, they watched with dismay a once proud neighborhood slide into what appeared to be irreversible decline. 
The Stage Is Set 
Like many cities, Winston-Salem's housing programs have long been packaged by a Housing Authority and a Redevelopment Commission. In this case, the two agencies might as well be one. Both are under the influence of James Haley, who has headed the Redevelopment Commission in Winston-Salem since 1970. From then on, to challenge a city housing program was to challenge Haley. Not many people succeeded. The cornerstone of Haley's urban renewal program was East Winston, the city's black residential section. Residents in that section complained, with good reason, that there was little opportunity for rehabilitation in the area: after Haley's renewal, precious few old houses remained. The old homes, many of them delapidated but capable of being salvaged, had been bulldozed away in the Model Cities era. It mattered little what people in the affected area thought about the plan. The guiding principle of the Redevelopment Commission was simply to create as much new housing as possible with available federal funds. Invariably this meant destroying the old structures and building a fewer number of multiunit housing projects, a form of housing that may be efficient but has never shown to be in any way conducive to neighborhood life. 
In 1974, Congress passed a Community Development Act to improve federally funded housing programs in cities like Winston-Salem. The new law consolidated 12 diverse urban renewal programs run by the Department of Housing and Urban Development, and thus streamlined the flow of money to the cities. Initially, cities were pleased with the new law because it gave them a greater sense of autonomy in spending funds from Washington. However, if Richard Nixon's "new federalism" freed cities from some federal guidelines, it imposed a new set of restraints: the aldermen could figure out ways to use the money, but first they had to hold hearings to let the public advise them on how it should be spent. 
Once public hearings became a way of life for city governments, the closed-door negotiations between the bureaucrats from Washington and the bureaucrats (like Haley) from city governments were suddenly passe. Elected officials, not appointed people, now bore the greater responsibility for decision-making. And, as one Winston- Salem alderman put it, "The city is going to be responsive to elected people, and elected people by their nature are going to be worried about the next election, whereas redevelopment is run by appointed people, and appointed people, they don't have to worry about the ballot box." The stage was set for a new style of opposition to Haley's programs. 
In late 1974, when the city began holding public hearings on how it would use the Community Development money, one of the first things proposed was a typical Haley clearance project for Crystal Towers. Ironically, it is one of Haley's projects that gave the neighborhood its name. A 12-story highrise to provide public housing for the elderly sits at the southeast corner of the neighborhood. Finished in 1972, the building is named Crystal Towers. Haley still insists, with some justification, that the highrise was one of the positive things that the neighborhood had going for it. To build the highrise, the city had condemned and razed about a block's worth of slum housing, widened and straightened Sixth Street, the southern boundary of the neighborhood, and built a small park on the corner of the property occupied by the highrise. That does not mean that the city then planned to rehabilitate what was left of the neighborhood. "There were some weaker points," recalls Haley, naming as the worst, "low homeownership, a changing of the people that lived there — sort of a transient type - and the kind of housing in there. Most of the houses were originally well-built; the construction could accept rehabilitation, but with the low home-ownership, it is questionable whether it (rehabilitation) would be a successful program." 
In other words, while not denying that the housing stock was sound, the city did not encourage or seek out potential home-buyers who might be willing to fix the houses. As a rule, city bureaucrats contended that it was cheaper and more practical to level the houses and use the cleared land for something else. Since industries, notably Hanes Dye and Finishing Co., had been nibbling at the neighborhood's edges for years, it was fair to assume that the Crystal Towers area, once cleared, would be snapped up at a good price for industrial use. 
Enter Jon 
Jon DeVries came to Winston- Salem by way of, among other things, civil-rights work in Georgia and Harlem, the Morningside Heights riots in New York City in which Columbia University students protested the demolition of black housing to make way for a new gym and where DeVries, beaten himself, saw his wife hauled over a spiked iron fence by the police. 
In 1972, Jon and Maggie DeVries and their two-year-old son, Dylan, moved to Winston-Salem and bought a house in the Crystal Towers neighborhood. DeVries supported them by doing carpentry work and then working at a hardware store. Protest and activism were no longer the center of their lives: "I wasn't conscious of getting anything done when we came here," DeVries says. "I just wanted to get us a place to live." His one outlet for community work was the Downtown Church Center, a nondenominational organization with which he still works that does daycare work, provides transportation for the poor and indigent and acts as a liaison between the social services departments of the county and the whites and blacks who live near downtown. 
After some time in the city, the DeVrieses were calling it home. It was therefore with apprehension that they began reading newspaper accounts in the fall of 1974 of how the city planned to spend its Community Development money. Jon suspected that the house and the neighborhood which had been home for two years might be targeted for demolition. 
DeVries is not an imposing figure. To look at him, one might think of a debauched choirboy. But the aidermen who listened to him at the first public hearing on December, 1974, were quick to learn that he is a lot tougher than his looks imply. "Bill McNeil, one of the city planners, knew I was coming to the meeting," recalls DeVries. "He saw me at the door and said, 'All that you're slated for is clearance. I don't think you can get anything else out of it if you get anything at all.' It was a very pessimistic introduction. I really didn't think we were going to get anything." 
His guess was not off by much. "There was a question-and-answer period, and I stood up and asked the board of aldermen and Mr. Haley whether what I saw on the screen was what they seriously proposed for our area. What I saw on the screen was 65 units to be cleared and no street improvements and no rehabilitation funds. That concerned me." 
DeVries and his next-door neighbor, Douglas Bales, a middle-aged television executive who had lived in the neighborhood for several years, were subjected to some tough questioning by the aldermen. Under fire, DeVries suggested that the city investigate an alternative to clearance such as homesteading, the process whereby a city takes title to old houses and then allows potential homeowners to move into them on the condition that the individuals will fix them by a prescribed date. 
To their credit, the aldermen took him up on his suggestion, and a member of the planning staff was soon in Wilmington, Delaware, where homesteading has been used with some success. While nothing came of that suggestion, the fact that the city council took some responsive action gave DeVries the necessary encouragement to keep working to save his neighborhood. 
In other neighborhoods where residents were not so alert, the city's plans proceeded unabated. By contrast, DeVries made repeated trips not only to the Community Develop-aldermanic meetings; his experience as a community organizer had taught him that governments could best be fought when forced on the defensive. 
To do this, DeVries and Bales canvassed the neighborhood, made a survey of the housing and prepared a rough chart of the number of houses that were sound, those that could benefit from rehabilitation and those that were beyond hope. Within a month, DeVries was able to return to the aldermen, first to challenge the Redevelopment Commission's figure of 14 percent owner-occupancy rate — his house-to-house canvas showed 21 percent — and then to present an impressive 20-page document that contained specific recommendations for rehabilitation, low-cost loan programs, neighborhood beautification and requests for help with the crime program. 
"The board received the report with no comment, and I wasn't entirely sure if anybody would ever read it. But obviously John Palmer (DeVries' alderman) did, and copies of it filtered into the planning department and places over there. We started feeling like we were getting some feedback based on what we had turned in," DeVries says. 
Two key elements stand out at this point. First, DeVries obviously meant business. He had worked hard, and his sincerity was beyond question. Second, he demonstrated to the city that he could suggest alternatives couched in its language. His written proposal, for example, took three key sections from the Community Development Act pertaining to restoration and rehabilitation and translated them into suggestions eminently applicable to his neighborhood. Such sophisticated use of the law was not lost on the aldermen. John Palmer, who had just taken office, was immediately impressed. 
Palmer is a slight, dapper man with a buttoned-down fastidiousness that would make him look more at home in a board of directors' meeting than as a Democratic alderman representing a ward which includes a large low- to middle-class black population as well as most of the intellectual community of Wake Forest University. His manner is discreet and polite, but he is not afraid to try something new if he can be persuaded that it will benefit his constituents. To Palmer, DeVries' report "just made so much sense, in terms of the goals of the Community Development Act, to preserve the housing stock. Here's a neighborhood with housing stock that you could never replace, and the cost per unit was minimal. 
"I calculated the cost to rehabilitate a house versus the cost to clear and then build a new project. . . . seems like on an average it was $8,000 per dwelling unit for rehabilitation in terms of cost to the taxpayer, and it was three times that — $25,000 — to clear and rebuild. 
"It occurred to me that this was more economical from a tax-dollar point to do this .... it was just common sense." 
Though the ideas of rehabilitation made sense to Palmer and members of the planning staff that read the plan, they did not appeal to a number of others. Alderman Richard Davis, though black himself and the representative of a ward which had been blitzed in the name of urban renewal, was a devout believer in the old clear-and- rebuild approach. At one meeting, he agreed with DeVries that the Crystal Towers neighborhood did indeed need good housing, but he claimed that the best way to get it was to raze the existing structures, subdivide the land and resell it. 
"I wrote him a long letter disputing that," DeVries says, "because from the land the city had cleared, they were getting back at best one-fifth of the money they had put into it, and the city had not been able to attract new development on the land it had already cleared. I couldn't perceive that we were going to get new housing that way, and I still don't. I think sometimes you get new business, but you seldom get new housing." 
In the end, the persistence of DeVries and Bales paid off. On March 5, 1975, three months after DeVries first heard what the city planned for his neighborhood, the aldermen approved plans to include the Crystal Towers neighborhood as a $1 million rehabilitation project in the Community Development proposal to be sent to HUD. The most remarkable feature of the proposal was that the city, by incorporating DeVries' ideas, was able to shave off almost half of the original recommended cost of clearance as figured by the Redevelopment Commission. 
The major selling point of rehabilitation from the city's point of view was that any money spent was, first, federal money and, second, would come back eventually in the low-cost loan program that DeVries had devised. Housing stock and the tax base in the center city would both improve. 
Within a week after the aldermen approved the proposal, the city machinery began to work. For such neighborhood projects, the city uses a management team comprised of planners, engineers and public works people. This was the group that would actually organize the program. DeVries requested and was allowed to sit in on their monthly meetings. 
One of the first things the management team set up was the low-interest loan program to be financed by the Community Development money. Under this program, a citizen could borrow up to $16,000 at three percent interest, repayable over 20 years. To sweeten the deal, the homebuyer would receive a $2,000 rebate upon completion of rehabilitation of his house. This loan program did not do away with regular mortgages that home buyers would have to negotiate on their own, a feature that would later cause the neighborhood much trouble. 
In a very short time, DeVries had succeeded beyond even his expectations in forcing the city to re-evaluate its plans for the Crystal Towers neighborhood. But if he had stopped after getting a foot in the door at city hall, the project could have failed by becoming one in the long line of neighborhood programs which faltered as the residents themselves receded further and further into the background. DeVries understood the importance of the next step — the organization of the neighborhood as a neighborhood. 
The Cast Expands 
In the middle of March 1975, a neighborhood meeting was held at which members of the management team explained to area residents the loan program, the slum clearance, landscaping and other technicalities of what would be happening in the coming months. Those present, about 15 people, responded enthusiastically. In the next few weeks, residents helped show city employees around the area, familiarizing them with the neighborhood's problems. They also helped compile a more complete survey of what needed to be done to the existing structures and which absentee landlords needed to be contacted. This was the first in-depth survey of the neighborhood ever done, either by the city officials or the residents. 
The ultimate effect of this chapter in the neighborhood's history is harder to judge than the preceding one where the reversal of the city's plans is a simple, black and white success story. Work within the neighborhood is often a matter of intangibles, involving a transition from a collective state of mind that resulted in closed doors and drawn drapes to an open and healthy exchange of labor and friendship among people. Crystal Towers is not the first neighborhood to enjoy a revival, but it is certainly an unusual and dramatic example of a well-organized transition from blight and decay to emotional and economic prosperity. 
Perhaps the fact which sets the neighborhood apart from others in the city is the conjunction of public and private endeavor. The adjacent West End neighborhood had won a stunning citizen's victory a few years earlier by convincing the city government to rezone the neighborhood to stop the inroads of business and apartment buildings. And Waughtown and West Salem are showcases of city-initiated programs. But no other neighborhood has so successfully matched public housing programs with the efforts of local residents. When the negotiations with the city first began in the last month of 1974, only a handful of adventurous souls had bought houses in the neighborhood under the triple threat of potential clearance, the encroachment of industrial development and the everyday facts of life encountered in a low-income neighborhood — vagrancy, drunks, the threat of petty theft and fire. 
One of the first of the new wave of homebuyers was Martha Dunigan, an artist in her thirties with three daughters, four ducks and a dog. The 84-year-old rambling Victorian mansion she bought in September, 1974, sits high on a hill overlooking West End Boulevard. Although today she is surrounded by the busy sound of carpenters working on houses on all sides of her property, the scene was quite different three years ago. Condemned housing dotted the view. A grocery store that fronted for a "drink house" sat just around the corner. It was not a proper neighborhood for a woman with young children. But Mrs. Dunigan took the risk. 
"I realized from the start it was a terrific gamble," she said. "If the street were zoned commercial or if they started tearing houses down, I'd be in real trouble." But she couldn't get as large a house as cheaply in the suburbs, and, like so many of the people that followed her example, she was ideologically opposed to the idea of clearing out so many potentially valuable homes. "It slays me to see these beautiful homes just going to seed because nobody cares about them," she said in an interview in 1975. "It's a weird kind of euthanasia: get rid of them because they're old." 
Most of the people that started moving into the neighborhood soon after the city approved the plans for rehabilitation were slightly younger than Martha Dunigan, and as a group displayed a sense of adventure and tolerance that many homebuyers lack. Not many typical middle-class suburbanites would agree with Bright Larkin, who moved into the neighborhood in June, 1975, with his wife, Connie, and their two children: "The ethnic mixture adds something to a neighborhood. Variety is always nice. The racial mixture here may keep some people from moving in, but I'm not sure they'd be assets to the neighborhood anyway." 
Crystal Towers had always been as much a social as an economic experiment, and black and white residents who viewed each other with suspicion and distrust a few years ago now seem to enjoy a harmony not found elsewhere in a city that the Council on Municipal Performance had called "the second most segregated city in the United States" based on a study of 1970 census tracts (Shreveport, La., was listed first). Indeed, while studies based on census tracts can often be misleading because the figures are very general, there is no denying that Winston-Salem's urban renewal programs failed to promote housing integration in the city. On the other hand, Crystal Towers is an example of a project that can, by combining rehabilitation of existing housing at reasonable prices with public housing construction and rent subsidy programs, bring people of different races together. 
Chuck Dizard is another resident who finds the social and racial mixture an advantage. A labor union organizer, he and his wife Debbie, a physician's assistant, think the neighborhood will be a good place to rear the children they plan to have. "This is closer to the life of the city," he says, "and children growing up here will have a better sense of what's going on around them." 
The motives of other residents are mixed. Jonathan Edwards, an urban planner, always dreamed of buying an old house and fixing it up. He says the experience has in turn taught him a good deal about his profession. For long-time residents, like George and Mary Cuthrell and their five children, or Elizabeth Melton, the new city programs gave them the opportunity to buy the houses they had rented for several years. 
One of the more ironic stories to come out of the neighborhood's reawakening involves Elizabeth Melton, an employee of Southern Bell. She rented her house for 12 years before she finally was able to buy it. Two days before she took title to the house, the landlord came by with a routine eviction notice because she was late with the rent. He had no idea that she had been dealing with the owner until she politely threw him out. 
The Partners' Agreement 
As the city's management team proceeded to iron out plans for the loan program and the technicalities of rehabilitation, the neighborhood pursued activities of its own. More meetings were held at DeVries' house, and a solid core of about 20 residents began to help him with planning. They asked for and got condemnation proceedings against several irreparably damaged houses. They held a major trash pick-up for the area. Most importantly, as newspaper coverage gave the neighborhood steady publicity, residents took the responsibility of showing potential home-buyers around the neighborhood. Absentee owners and landlords were contacted to see if they were interested in selling their property or investing in repairs. 
On August 17, 1975, the neighborhood held its first major meeting. Seventy residents and landlords attended, along with Aldermen Palmer and C.C. Ross and members of the city management team. DeVries remembers it as a successful meeting: "The officials left from that meeting saying, 'Well, rehabilitation might not work over here, but it's certainly obvious to us that a whole lot of people want it.' And I think the language of what they planned to do over here reflected more and more neighborhood input after that." 
On September 22, 1975, after testimonials from over 40 residents from Crystal Towers, the aldermen approved the final draft of the rehabilitation plan for Crystal Towers neighborhood. Under the plan, the city designated a team from its Neighborhood Conservation Program to work in the neighborhood, managing the loan program, directing landscaping activities and acting as a liaison between residents and contractors who must bring the houses up to code pending inspection by the city. 
Don Dwiggins, an NCP member who has been intimately associated with the project since January, 1976, is full of praise for the project. "We've seen the area change very drastically in two years from a low home-ownership area (about 20 percent according to DeVries) to over 50 percent, which to me is one of the biggest plus-factors for an area. Our basic philosophy has been to go into an area which had a minimum of 50 percent owner-occupants and the housing would be basically sound. Normally, we wouldn't even work with a case before the person actually owned the house. But this has been very worthwhile. We've processed 14 loans to date." 
Dwiggins is a slow-talking, self-effacing man who seems equally at ease with his Crystal Towers clients as he does with city planners. He pays attention to facts and figures, but he is also one of the administrators most impressed with what people in the neighborhood have done: "There have been a lot of changes in the last 15 months which it would have been hard for me to foresee, and I think it's been the city working with the citizens and vice versa that has accomplished this. I don't think it could have been accomplished without citizen participation, and yet, I don't think without the city being willing to bend, to be flexible and try some new approaches in that particular area, I don't think we would have seen the changes that we see today. That's one of the most drastic changes that I know here in Winston-Salem." 
On March 5, 1976, one year to the day after the aldermen had approved the initial rehabilitation plan, Crystal Towers received authorization from the state of North Carolina for incorporation as a neighborhood organization. Soon thereafter, it obtained tax exempt status, which gives it wide latitude in business transactions. 
March, 1976, was an important month for the neighborhood for another reason as well: Joe Lineberger, a neighborhood resident, got his mortgage approved by Piedmont Federal Savings and Loan. 
For months, Lineberger had been dickering with Piedmont over mortgage terms. He needed a mortgage to qualify for the home improvement loan from the city. But he must have title to the house, the city said, before he could get a loan. No title, no loan; no loan, no mortgage. Lineberger, a day-care teacher of limited means, couldn't afford to repair or buy a house without financial assistance from either the city or a private lending institution, but each made its help contingent on backing from the other. 
The problem is a common one for many old neighborhoods. It's called redlining and occurs when banks effectively draw a line around a neighborhood, saying "This area is a bad financial risk. We won't make any loans here." 
For residents caught in such a predicament, the only alternative is greenlining, or boycotting the institutions which redline. There is now a federal law, passed last year, called the Home Mortgage Disclosure Act, which requires that lending institutions publish a list of their loans according to location, thus alerting the public if redlining is actually being done. 
Until Lineberger's battle, only four people had received financing for houses in the neighborhood. Two of the people simply assumed the mortgages from the previous owners, and two successfully got them from savings and loan companies. But the people who would benefit most from a chance at buying a house in Crystal Towers — those who, like Lineberger, had the desire but not the financial wherewithal — were being shut out. Crystal Towers might be a noble experiment in the eyes of the city and the neighborhood residents, but to lending institutions it was only a bad risk. "That area had its day as far as the purpose for which it was built," said Dan Smith, chief loan officer of Winston-Salem Savings & Loan in March, 1976. By his logic, a home owner's loan for Lineberger was irrational. 
By that time, everyone from the planners to the aldermen who had worked with the program showed an honest desire to see the program work. They were very disturbed when they heard about Lineberger's difficulties. So in March, 1976, Aiderman John Palmer, Public Works Director Joe Berrier and City Finance Director Joe Collette went to have what Palmer calls a "little visit" with the management of Piedmont Savings and Loan, one of the intransigent companies. As Palmer explains the meeting, it was an educational experience for the company: "Initially they were skeptical, but they're on board now. They understand; they see that it's working." 
Pressed for details, Palmer will only say, "They're busy lending on the houses which make the most sense to them, which have traditionally been the suburban, development-style house. This was a new thing, and they just didn't understand that this project had the backing of the local government and the federal government, and the risk wasn't all that much. And there were administrative technicalities that they needed to know like the financial control that the city had over the payment of funds to a contractor who would come in and work on a house. In other words, this plan was designed to be foolproof. The city was going to make darn sure that this money got used for the intended purpose. And savings and loans at that time didn't realize that. So we had to get them on board, and we did it." 
What Palmer does not say, but what the bankers undoubtedly did realize was that the city government had major accounts with the Piedmont and Winston-Salem Savings and Loan companies which could be transferred to other banks. That, plus the city's explanation and guarantee backing of the program, provided the necessary clout to break loose mortgage loans for Crystal Towers. 
Beyond Victory 
After the redlining battle, victories big and small started popping off like a chain of firecrackers. More people continued to move into the area, take out loans and mortgages and go to work on houses. The city approved residential zoning for the neighborhood in June, 1976. That effectively protected the area from speculative purchasing. And in August, the Winston-Salem Foundation approved a $15,000 grant that allowed DeVries to quit his job at the hardware store and work full-time with the neighborhood. 
Crystal Towers has never been and shows no signs of becoming a pristine experiment. People are there for idealistic reasons, to be sure, but they are also there because the area offered good housing at prices not available elsewhere in the city. 
"One misconception is that we're just restoring old homes," says DeVries. "There is an image that 'here's another restoration project like Old Salem.' Our concern is not restoration but rehabilitation of housing regardless of when it was built in order to have quality housing available for people who want to live here. We are equally concerned with the house built in 1890 as we are with the brick duplex built in 1950." 
What kept that egalitarian flavor in the neighborhood was new development. This might be considered the second part of the neighborhood's story, and it is the part that separates the neighborhood most drastically from other neighborhood associations in this city and elsewhere. Other groups have put all their energies into keeping such places as the increasingly affluent West End or Atlanta's Inman Park true to one sort of identity or another, but Crystal Towers has tried for the broadest possible mix of residents, from homeowners to people needing public housing assistance. 
While the neighborhood residents had been informally showing prospective buyers around the neighborhood and putting them in touch with owners in the early stages of the story, the incorporation and tax-exempt status enabled the association to officially package land. The primary objectives were to put houses on the land made vacant when older structures were condemned and to provide low-cost, multi-family housing for as many people as possible. 
"We quickly got into marketing," DeVries says, "because that was something the city was not prepared to handle and they still aren't. It's somewhere between what the real estate market is supposed to do and something the city can't quite do." 
To date, in little over a year's time, a contractor has been convinced to begin building a 12-unit apartment building for the elderly on land that the neighborhood convinced the city to clear two years ago. Hanes Dye and Finishing Co., whose factory abuts onto the northern rim of the neighborhood, donated three houses that are in the process of being moved into the Crystal Towers area at this writing. Plans call for the eventual moving of four more. It is quite possible that Crystal Towers will end up with more housing stock than it started with, an anomaly in the history of urban renewal. 
The house movings particularly delight the neighborhood residents because they are the ultimate in recycled housing that can still be priced so that low- to middle-income people can afford them. The cost of moving the Hanes houses, the installation of new foundations and the necessary rehabilitation work will run between $8,000 to $12,000 each, a reasonable sum by most standards, and existing housing stock is being saved in the process. 
Another successful project that does not involve new construction but has introduced a new facet into an old situation revolves around a 22-year-old apartment building which, though one of the newest structures in the neighborhood, had been allowed to deteriorate. Until a few months ago, it was an eyesore, badly in need of repair. Then the neighborhood association did some investigating and discovered that the building's residents were all in an income bracket that entitled them to rent subsidies through HUD's Section 8 rent subsidy program. With the help of the Redevelopment Commission, the association prepared a package which it then took to the landlord, explaining that the rent subsidies — which are paid directly to the landlord — would increase his revenues enough to cover the cost of rehabilitation. As a result, the landlord decided to take out a $25,000 rehabilitation loan to repair the building. (Loans are more generous for multifamily buildings.) 
The neighborhood association's energy and integrity has not only enabled it to convince the city to help The house above, donated by a local business, will be moved to a vacant lot. but has also proved attractive to developers. John Eagan, who has built much of the public housing for the elderly in Winston-Salem, and who will develop the 12-unit complex in Crystal Towers, has been impressed with the neighborhood's approach. "The people in the Crystal Towers neighborhood wanted this apartment building; they spent a lot of time at HUD to get it. If it gets built, it will really be a credit to them, because they had the perseverance to stay with it." 
Another attraction for Eagan was the balance in the neighborhood between new and old structures. "I just don't think you say, 'We're going to do rehab,' and I don't think you say, 'We're just going to do new construction.' I think you have to look at any method that provides good housing and preserves our neighborhoods." 
That, in fact, may be the key motivating force behind all the efforts that went into Crystal Towers, and is best summed up by DeVries: "There is enough disgust among people about the amount of cleared land in our cities so that the themes of citizen participation and alternative planning strike a resonant chord, whether those people have been through political experiences or not. We got the participation of a lot of older residents who, except for voting once in a while, had no participation in the political process, but who had an almost immediate commitment to neighborhoods, decent housing and sensible ways of spending federal money. 
"To some extent, what happened here was unique, maybe because of a particular combination of people and place, but I think there's a lot of those kinds of people in a lot of places." 
Tags
Malcolm Jones is an editorial writer for the Durham Morning Herald. (1978)
Malcolm Jones is a native of Winston- Salem and is the book editor and a reporter for the Winston-Salem Sentinel. (1977)