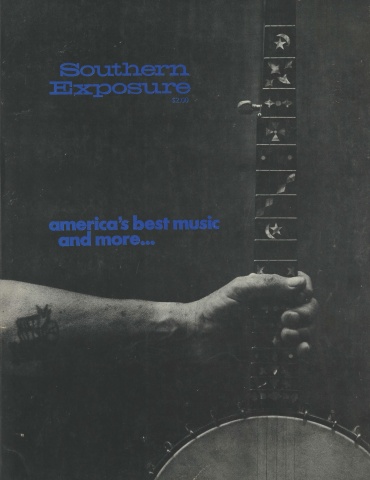 This article originally appeared in Southern Exposure Vol. 2 No. 1, "America's Best Music and More..." Find more from that issue here.
On a snowy day in 1948, the Durham, North Carolina Welfare Department received a call that the Reverend Gary Davis lay ill in a rented room, unable to care for a sprained wrist and leg sores. A social worker took Davis to Duke Hospital, and the Salvation Army helped with food. Living on the edge of poverty and still unknown, the blind, 53-year-old Davis was to become one of the most famous and admired practicioners of the Piedmont ragtime blues.
The black blues musicians who created a distinctive musical style in Durham during the thirties and early forties shared Gary Davis' obscurity. Few outside of the black community knew of the existence of this group of important local artists. Gary Davis was the best guitarist among them, but his religious convictions prevented him from playing the more commercially popular urban blues. Only Blind Boy Fuller (ne Fulton Allen) achieved a degree of fame during the creative decade of the thirties. But even though his records sold well in the South, Fuller still lived in near poverty and had to ask the Welfare Department for permission to make money playing on the street. Sonny Terry, now the king of country blues harmonica players, recorded occasionally with Fuller but remained for the most part unknown, as did his present performing partner, Brownie McGhee. Another Durham bluesman, Willie Trice, has recently been "rediscovered" and invited to perform at the National Folk Festival in Washington. Davis, Fuller, Terry, McGhee, Trice—few people knew them outside of Depression-torn Durham, but together they generated a musical tradition whose influence has spread throughout this country and into Europe.
The Music
Unlike the sultry, mournful music of the Mississippi Delta, the Piedmont country blues is enthusiastic foot-tapping music. Despite slow bluesy moments, it is distinguished by a ragtime energy accentuated by the rhythmic rapping of a washboard and punctuated by the whoops and calls of the harmonica. The men who made the Piedmont blues attained an astonishing level of technical virtuosity while engaged in a debilitating struggle for survival. Their music pulsates with all the hopeful feelings and painful memories of a generation of blacks living in the industrialized southern Piedmont.
Playing with Sonny Terry on harmonica and George Washington, better known as "Bull City Red," on washboard, Blind Boy Fuller created a compelling and distinctive sound reminiscent of old banjo rhythms and dance pieces.1 On snappy instrumental pieces like "Step It Up and Go" and "Piccola Rag," the washboard player achieved an exciting clickety-clack on the board with thimbles on his fingers. But Willie Trice says that if you really wanted to make some noise, you used shot gun shells instead. Sonny Terry's harmonica style as heard on reissues of Fuller's recordings is the same powerful sound that can be heard today on many Brownie McGhee and Sonny Terry albums. Fuller's strong voice and skilled guitar, combined with Terry's harmonica and Bull City Red's washboard, must have brought a thrilling sound to the streets of Durham.
While Fuller usually played in this accompanied fashion, Gary Davis was most often found playing solo. Possibly Davis was too much of an individualist personally and musically to play with others. But he had also mastered a much more complex style than any of his contemporaries. As Willie Trice put it, "While you were playing one chord, Gary would play five." Davis could play counterpoint lines on the bass and treble strings, and his facility on banjo and harmonica broadened the range of musical sounds he could capitalize on. In one religious song, for example, he depicts the singing of the men's and women's parts in a church by simultaneously playing both parts on the guitar.2 Despite this versatility, Davis had only one recording session, in 1935, before he was fifty five years old. However, Stefan Grossman, a longtime student of Davis', has confirmed the fact that Davis taught much to Blind Boy Fuller, including pieces that Fuller went on to popularize.
The guts of this music lay in strong finger picking on the guitar and deep throated, hearty singing. The guitar, picked with the thumb and one or two fingers, was sometimes made of steel with a metal resonator to project a sharp sound. Blues verses often repeated the first line twice and then concluded with a rhyming line: 
If you lose your money, please don't lose your
mind—
If you lose your money, please don't lose your
mind—
If you lose your woman, please don't fool with
mine.3
But other songs like "Piccolo Rag" by Fuller do not
follow the blues form in script or music:
You gotta stop doing what you're doing to me mama, you're just gonna run me wild.
You gotta stop doing what you're doing to me baby, I mean just what I say.
Say when I'm on the phone hollerin' whoa-haw-gee,
My gal's uptown hollerin' "who wants me?"
You gotta stop doing what you're doing to me mama,
you're just gonna run me wild.4
The traditional blues musical form goes through a familiar chord progression and leaves an unforgettable effect on the listener. A song in the key of E often completes the first line accompanied by an E chord. The second line begins with an A chord and ends with an E. The third line begins on a B chord and hits an A chord somewhere in the middle of the line, all to resolve at the end to an E. The pattern is repeated with variations endlessly and can be done in any key, though E, A, C, and G were the most popular ones. A verse from Blind Boy Fuller's "Big House Bound" is typical:
E
I never will forget the day they transferred
E
me to the county jail,
A
I never will forget the day they transferred
E
me to the county jail.
B7 A
I had shot the woman I love, ain't no one
E
come to go my bail.  
The Musicians
"Big House Bound'' also illustrates how the ragtime blues emerged from the musician's experiences, for Fuller based the song on an incident in his own turbulent life. As Willie Trice tells it today, Fuller was generally amiable but had a fiery temper and always carried a pistol in his belt. The blind musician judged his aim from the sound of an adversary's voice. "If Fuller got mad at you, you better stand still and not say a word," Trice recalled. And as "Big House Bound" says, in one of those heated moments, Fuller shot his wife Cora in the leg.6 
Fuller was an ardent poker player and a disconcerting opponent in a game. Evidently he played with the help of a sighted person who held his cards and whispered the contents to him. But all hell broke loose when Fuller thought someone was cheating him. "He was mighty smart," explains Trice. "But people didn't know what to do when a blind man began waving a pistol in their faces."
J. B. Long, Fuller's manager, was not exempt from the musician's ire. A white merchant in neighboring Burlington, Long acted as the talent scout and agent for the black blues of the Piedmont.7 He contracted with musicians to take them to New York to record, then benefited both from the recording sessions and the retail record sales in his store. Fuller resented Long's middle-man profits, and on at least one recording trip became so enraged that he threatened to shoot him. "After a lot of talking," Willie Trice recalled, "he finally cooled down." In 1939, Fuller hoped to get out from under Long's management altogether and, since the State Blind Commission encouraged self-sufficiency, caseworker William Lewis began seeking an independent contract with a record company for Fuller.
Lewis learned that Fuller was under contract to Long to receive $200 each time he recorded twelve songs, although that amount varied depending on whose word is relied upon. Fuller and Lewis came to the agreement that Fuller would not renew his current contract with Long, which would expire on April 21, 1939, and Lewis wrote both Long and the American Recording Company explaining this intent. Neither answered. Upon the expiration of the contract, Long wrote Lewis saying that while Fuller was no longer under contract to him, he was still bound to the American Recording Company. When Lewis wrote ARC they simply referred him back to Long. In the wake of the confusion, Fuller agreed to go record for Long in Memphis with Sonny Terry in July, 1939. So ended Fuller's efforts at gaining an independent contract.
Despite this underlying tension, Long, still managing his clothing store in Burlington over thirty years later, remembers Blind Boy Fuller with fondness. According to Long, he tried on many occasions to provide Fuller and his wife with moral support and financial aid. He even offered them a free house on his property—which Fuller declined. Obviously paternalistic in his relations with black musicians, Long also understood and loved their music. The recording business did not bring in a large income, but some of what Long made probably, in justice, should have gone to the musicians themselves. At any rate, Long was single-handedly responsible for recording the bluesmen in the Durham area. Besides arranging sessions for Fuller, Gary Davis, and Willie Trice, Long paired Brownie McGhee and Sonny Terry into the most durable team of performers to survive the era. Long saw the blues as a financial investment, but his interest in Piedmont artists and their music was genuine and, in the long run, invaluable.
Like his friend, Blind Boy Fuller, the Reverend Gary Davis had also lost his sight at an early age. Born in 1895 in Lawrence County, South Carolina, Davis learned very young to play banjo, harmonica and guitar. He studied at the South Carolina School for the Blind where he learned New York point, a forerunner of Braille. An early marriage ended when Davis moved to Durham around 1919.
Although Fuller and Davis' music was closely intertwined, the two men were a study in contrasts. Fuller was a flashy dresser, fiery and temperamental. Gary Davis, a powerful singer and dazzling guitar player, was also a man of God. A philosopher and a street-corner preacher, he practiced an almost painful self-discipline in his effort to overcome the handicap of sightlessness. "It's no longer necessary," he told a welfare caseworker, "for a blind man to sit in a corner and do nothing. . . . Everybody can find out something. I have learned a lot even though I still don't know it all. I do know more than some people who seem to know nothing."
Through the Depression, both men depended on the Durham County Welfare Department for periodic aid. And our few glimpses of their lives during this period come from the reports of their caseworkers. In order to be eligible for their $23 a month assistance, Fuller and Davis had to conceal the irregular income from their music, and the welfare records reveal a constant cat-and-mouse game with officials trying to determine their clients' eligibility. ''Yes ma'am," Davis told an official who managed to find him in his rented room. ''I know you have been here several times, but you know I am inclined to preach the gospel, and I got to be gone a lot since God called me." The worker asked if he made any money on these trips. Davis wryly answered, "The only success I have is saving souls, which is pay enough." Before the caseworker could continue, Mary Hinton, Davis' kindly landlord, interrupted, complaining that the heat was about to kill her. That started Davis on a sermon about being prepared to die. Taking his text from "Be ye also ready," Davis launched into a detailed sermon on the necessity of preparation for the inevitable "flight to glory." He concluded by giving the worker a pamphlet he had written on the constancy of death, a theme which runs through many of Davis' songs:
You may be rich, you may be low
You may be rich, you may be poor
Brother when God gets ready, you got to move.
You may run, can't be caught
You may hide, can't be found
Brother when God gets ready, you got to move.
You may be blind, cannot see
You may be deaf, cannot hear
Brother when God gets ready, you got to move.8
On another occasion, Mary Hinton elaborated on Davis' religious convictions. "His mind runs backwards, you know, and I believe it's because he has just thought about the Bible and religion too much. A person can think too much, and I believe Gary has. He sometimes wakes me up at two or three o'clock in the morning going to bed, falling over a chair. He sits up and reads his Bible that late." Nervous and intense, Davis at times seemed to be in a world of his own, uttering incomprehensible phrases. This intensity comes through in the highly charged, almost desperate urgency in his voice. To listen to his recently available records is to be completely caught up in the convincing, compelling spirit of his sound. It has a unique effect upon the listener, an effect rarely felt from current singers or trained performers.
In his early life, Davis had learned every aspect of the country blues being played around him. He came to Durham with a full blues repertoire and added his own twist to much of it.
However, religion began to fill a special need for Davis, and he began to sing gospel songs rather than the earlier secular blues. Finally, Davis adapted his guitar technique to gospel music and abandoned the blues completely. The tension between blues and gospel singing is a familiar story. A blues singer sometimes feels something missing in his or her life and finds religion to be a solace—or will bow to social pressure from a middle class which often looks disparagingly upon the blues. Elizabeth Cotten, who lived in nearby Chapel Hill during the thirties, describes a similar experience:
When I learned how to play my guitar, I began to play, as my deacon used to call them, the worldly songs—the blues. . . . Then I joined the church, and they told me I couldn't play those worldly songs and serve God. I had to serve God or the devil, one. Then, as much as I loved Stella (her guitar), I decided I'd try to stop playing the worldly songs. So, I tried playing Christian songs, spiritual songs, songs they sing in church. And I kept doing that gradually, and I did put Stella down.9
Many years later, after "Libba" Cotten had moved to Washington, D.C., she became a domestic in the home of the musical Seeger family. Discovering that she once played guitar, they encouraged her to practice again, and she revived the old memories of her songs and soon began performing. Her song "Freight Train" is now a classic for folksingers and budding guitar players.
So, the conflict between blues and gospel is a lifelong issue with some blues singers. In 1944, Davis married a woman from Raleigh and moved to New York; in great demand at festivals and as a recording artist, Davis eventually returned to singing some of the old blues songs and became one of the patriarchs of the folk revival. As he put it, "Everything people say is a sin, is not a sin." Popular artists recorded his songs, and with the royalties from his song "Samson and Delilah" sung by Peter, Paul and Mary, he bought a new house.10 Young guitar enthusiasts in the New York area spent hours learning Davis' guitar techniques, and Stefan Grossman is now preparing two instruction books devoted solely to Gary Davis to be published by Oak Publications. 
Pettigrew Street
In 1935, if one were to travel one block south from Main Street in Durham, across the railroad tracks, one would see the proud store fronts and bustling enterprises of Durham's black business section. The black middle class was pushing for whatever heights were attainable in a segregated society. The Biltmore Hotel played host to the likes of Cab Calloway, Count Basie, and Bessie Smith. A few doors down, the Bull City Barber Shop catered to the vanities of fashionable folk, and the Carolina Times in the next block chronicled the passing events.
This is where the action was—and where Blind Boy Fuller and friends could be found. Possibly Gary Davis just walked around the corner eluding his social worker (always curious if Davis made money on the streets] and taking some time off between his frequent visits at church meetings. Street singing during this time was an art practiced throughout the South by urban blues singers. Although nobody got rich at it, a surprising amount of money could be made by a talented musician. Since the city viewed it as begging, a letter sanctioning the activity was periodically sent from a welfare official to the police chief. For example:
April 8, 1933
Mr. G.W. Proctor In re: Fulton Allen (Col.)
Chief of Police 606 Cameron Avenue
Durham, N.C. City
Dear Mr. Proctor:
If it meets with your approval we are glad to recommend that the above named man be allowed to make music on the streets of Durham at a place designed by you.
Assuring you that we are always glad to co  operate with you, I am
Yours very truly,
W.E. Stanley,
Supt. Public Welfare
The sounds of Pettigrew Street are now just an echo. The Biltmore and the Bull City Barber Shop stand in a ghost town peopled by sad, listless drifters. The two block business section survives only as an island destroyed on all sides by urban renewal. And the bulldozers close in on what remains, a typical example of a community's insensitivity to its own cultural heritage. The music created in those two blocks has spread around the world, but the "city fathers" never knew it existed.
The Piedmont Blues, 1974
On April 11, 1974, Brownie McGhee and Sonny Terry returned to North Carolina to give a concert in Chapel Hill, their first in the area in over thirty years. Blind Boy Fuller had died in 1941 following complications from a kidney operation. Sonny Terry, who lived with Fuller and Cora at the time, then teamed up with Brownie McGhee and left for New York, not returning until this year. Before the performance, I took Willie Trice and Cora Allen, Fuller's widow, backstage. McGhee immediately recognized Trice, who is now in a wheel chair. Cora Allen and Sonny Terry tearfully embraced. Moments later Terry and McGhee played for a large, jubilant audience. After a few numbers, Sonny Terry introduced Willie Trice and Cora Allen, and the audience responded with enthusiastic cheers. Sonny then sang one of Fuller's songs and reminisced about the old days in Durham.
Backstage again, after the performance, the four continued their reunion. McGhee spoke to Trice, "You know Gary died?" Trice said he heard Gary Davis had died of a heart attack in New York in 1972. Two of the great mentors of the Piedmont ragtime blues, Fuller and Davis, had passed on, but this night the sound seemed more alive than ever. McGhee and Terry had just played for a wild audience, and Trice was waiting for the release of two albums and a trip to the National Folk Festival.
Though the Piedmont blues is still alive, it reaches a different people than those who originally song and heard it. There is only a handful of young black performers who have taken an interest in the ragtime blues style. Larry Johnson, performing in the New York area is the best known of these. But the music seems to speak strongly to young whites; most of Brownie McGhee and Sonny Terry's audience are white. The music seems to offer a form of expression to whites that is lacking in their own music—a loosening of inhibitions toward expressing some very earthly human feelings of sorrow and joy. It has a yearning and a gutsy cry—some  thing that you can laugh and blush about—which today can speak to and for many different Americans.
Footnotes
1. Blind Boy Fuller, Paul Oliver, Blues Classic, Arhoolie Records, Berkeley, Calif.
2. Reverend Gary Davis, Stefan Grossman, Yazoo Records, New York City.
3. "If You Lose Your Money," Brownie McGhee and Sonny Terry, Folkways Records, New York City.
4. "Piccolo Rag," Blind Boy Fuller, Blues Classic, Arhoolie Records.
5. "Big House Bound," Blind Boy Fuller, in Crying For the Carolinas, Bruce Bastin, Studio Vista, London.
6. The case was eventually dismissed because Cora Allen would not press charges, and there were no other witnesses to the incident.
7. Bruce Bastin, British blues historian, discovered J. B. Long still living in Burlington and learned the major role he played in the early blues recording of the area.
8. "You Gotta Move," Gary Davis.
9. Elizabeth Cotten, National Folk Festival, Washington, D.C., August, 1973.
10. The Legendary Rev. Gary Davis, Biograph Records, Canaan, N.Y. 
References
Bastin, Bruce. Crying for the Carolinas. November Books Limited, London, England, 1971.
Oliver, Paul. The Story of the Blues. Chilton Book Company, N.Y., N.Y., 1969.
Blind Boy Fuller, Blues Classic 11, Arhoolie Records, P.O. Box 9195, Berkeley, Calif. 94709. 
Reverend Gary Davis, 1935-1939. Yazoo Records (L-1023), 54 King Street, N.Y., N.Y. 10004.
The Legendary Rev. Gary Davis. Biograph (BLP-12030), P.O. Box 109, Canaan, N.Y. 12029.
Brownie McGhee and Sonny Terry Sing. Folkways (FW-2327), 701 Seventh Ave., N.Y., N.Y. 10014. 
Willie Trice, Trix Records, New York.
Tags
A native of Durham, North Carolina, Bill Phillips has worked for several years in public education and social services, and enjoys playing his banjo and guitar. He is currently conducting a tour of traditional musicians in North Carolina public schools under a grant from the National Endowment for the Arts. (1974)