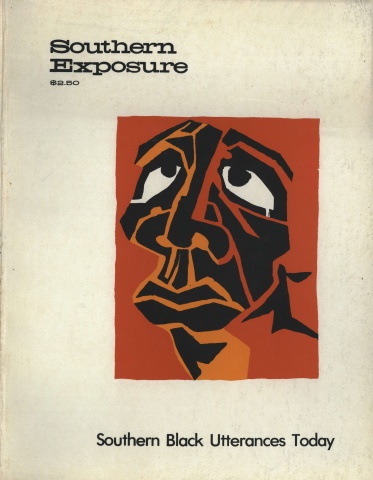 This article originally appeared in Southern Exposure Vol. 3 No. 1, "Southern Black Utterances Today." Find more from that issue here.
The following article contains anti-Black racial slurs.
POEM FOR A LIGHT/WEIGHT SISTER SHO'NUFF GITTING
DOWN IN THE HEAVY/WEIGHT DIVISION ... OR, "BET
ALL MINE ON THE LITTLE LADY WITH THE BIG HAND/BAG."
(FOR SIS. ESTELLA HARRIS)
Fight time: Now! better git your bet down.
no peanuts, no popcorn, no hot dogs, no reserved
seats, no commercials,
no Buddy
   its a brand new fight and a new style fighter,
yea. A real live non-spectator sport
what'cha could call a
Free for all, yeh. We're taking it out of the Madison
"Square Gardens"
into the streets_______ you could say ________
we'se taking it out of context. . . ain't we something . . .
adding new definitions/dimensions. . . disqualifying
vapid "Marquis of Queensberry" rules/injectin full bodied
Fanon logic/cong tactic and nigger git down, yeh.
Fight time. Now! bet all mine on sister/woman.
In this corner/black
back against the wall
wearing the red, black and green
nails unsheathed, teeth bared,
gitting down for the full count
the peoples/favored to win/revolutionary/vanguard Sister
woman on the rise-sparks flying from her
defiant eyes glued to the crown; the prize stolen 400
(odd ____ yrs ago.) and secreted beneath watery graves and
fetid cotton fields and
massa's whip and cloven hoofs and
foul stinking licentious rapes and
voluminous lies and Dreadful Scott decisions, yeh.
bet all mine on Sister/woman.
she moves ___________ gracefully ____________ slow-rhythmic
lightning fast/cat like/black/stalking motion
Ali Shuffles/Sister Style
(that's with the lee taken out and the all left in)
yeh, um putting all mine on sister woman,
   feinting/jabbing her pen/right cross
counter revolutionaries glass jaws
float like a butterfly/sting like a bee/colony
brilliantly bobbing _______ wearing clear, decisive outlines
inspirational designs for 21st century spooks
who've sat by the door
for lack of
            functional blueprints to act
Right on ... on Sister/woman.              yeh.
Fight time: now!
People lining up behind/beside the peoples
Choice/sister. . .
causing brother/man to take
second look's and vanguard positions              yeh
creating from the nameless/faceless void
the terrible man/child              yeh
Jon and George and Lil'Bobby
and Fred yeh, and Bunchy
and Doc' and Mark yeh, and
Featherstone and Cigarette, yeh,
and Cinque and yeh, them too.
and be ready
to give it back/double
off the top
at the finish
of the fight.
Tags
Brother Sambo-bey (a.k.n. Charles Gibbs) is doing his time at M.C.C. in Jessup, Maryland. (1975)