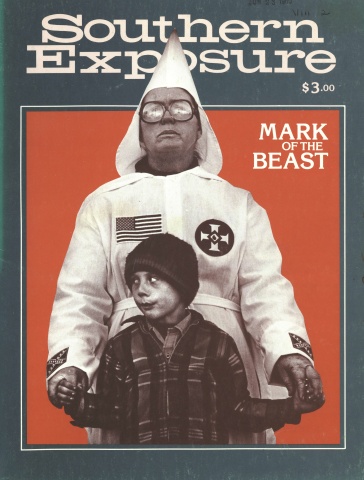 This article originally appeared in Southern Exposure Vol. 8 No. 2, "Mark of the Beast." Find more from that issue here.
The following interviews detail how an Atlanta policeman who brutalized a black man in 1940 was tried and acquitted. The policeman was one of the few ever brought to trial for brutality. The mother of the woman speaking below testified on behalf of the beaten man and later joined the Commission on Interracial Cooperation, which among other things monitored police brutality. (The policeman's comments are in regular type, the woman's in italics.) The interviews are part of the Living Atlanta Project of radio station WRFG. The project, funded with a grant from the National Endowment of Humanities, produced 50 programs on life in Atlanta from World War I through World War II. The project's executive producer is Harlan Joye and co-producers are Cliff Kuhn and Bernard West.
My partner and I were patrolling around one o'clock in the morning and we saw this black man walking down the street and, as was customary back in those days, we called for him to come over to the car. So here he is, he ran. We didn't know what the boy had done, so we ran after him, and we caught him right in front of a big apartment house on West Peachtree. 
There was a little Negro man who was the janitor in the apartment house across the street from us. It was called Spanish Court at that time. We all knew him, he was just as nice as he could be. He had an apartment in the basement of the apartment. He also had a friend who lived about a block and a half away who lived in one of these servants houses, and he'd go down and visit with him at night. He'd gone to see this fellow and it was about a quarter to 12 when he started back. And these two young policemen, one of whom was a neighbor only 18 years old, they saw him and grabbed him. They were just going to have fun with him. 
He started hollering for somebody, hollering for somebody to come out, and the manager of the apartment came out and told us to take him away. So we started to take him away and by that time several people had come out and we had to scuffle with him. He grabbed the chains that went around the lawn and held on to that and the chain broke and we carried him chain and all. 
The apartment had metal posts and chains between the posts with the links I imagined about two inches in diameter. They grabbed one off and they just beat him unmercifully with that. For nothing! And he had not done a thing! And we heard him scream, and the people in the apartment wouldn't come out. But we and some of our neighbors  from across the street went flying over there trying to stop them and we couldn't stop them and I ran back into the house. I called the police before I realized it was the police beating him, and they told me they'd get somebody out there sometime. And then I went out and saw it was the police beating him and I went back in and called the police again and they just laughed at me, they wouldn't listen to me at all. But they took the fellow to jail, to prison. 
We took him to the car and put him in the car and I struck him a time or two with my open hand but I never used a blackjack on him. We carried the black to the hospital and he was treated for a cut lip and transferred over to here and tried the next morning.
He was badly beaten. And of course they beat him worse when we got over there and tried to help him. And that got to me I think worse than anything else. Mother had said she was going to court when this came up and we couldn't even find when the case was coming up. And finally she got a lawyer, I believe in the church, to get into it and find out for her when it was coming up. 
But in the meantime there was a lawyer. I think he wanted maybe a little notoriety or maybe someone paid him something. Anyway, he pressed the charges. 
When we got down there the two policemen were standing there by the door watching everybody in the courtroom, and they told mother that she'd never have police protection for any reason whatsoever. Mother said, "We'll see about that!" and she walked in. And she stood up for him. 
He was found guilty. They had him for disorderly conduct and resisting arrest. And the judge found him guilty and fined him. And then he went, the lawyer went over to Fulton County Court and had a case made against me. Some of the people from the apartment came down and they were under the wrong impression. They testified, some of them did, that I hit him and we mistreated him and all that sort of thing. But I didn't do it, and the judge believed what we had to say. And then, like I say, I was exonerated. 
After it happened I called Wright Bryant, editor of the Journal. He let us have it with both barrels of what was going on in the city, that the papers couldn't even write about it. It wasn't Mr. Bryant who'd be hurt, it was his reporters, and he had a responsibility there. So it never was publicized, and unless we had known the Negroes involved as people, we wouldn't have known what was going on.