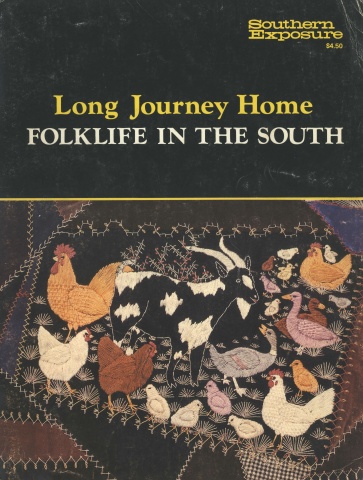 This article originally appeared in Southern Exposure Vol. 5 No. 2, "Long Journey Home: Folklife in the South." Find more from that issue here.
Wilma Lee and Stoney Cooper reached one of their most cherished goals in 1957: they were invited to appear as regulars on WSM's Grand Ole Opry, the undisputed number one country music show in America. Earlier "barn dances" had not survived with the same popularity or the immense listening audience provided by WSM's powerful clear channel station. To be on the Grand Ole Opry was to be a country music star. About the only place yet to recognize this fact was the city of Nashville, still slightly embarrassed by the hick image of its hillbilly musicians. 
Wilma Lee and Stoney, like other performers who made it to the Opry stage in the '50s, strongly reflected their rural culture. Their musical roots were nurtured in the mountains and valleys of West Virginia, and their artistry was refined in a long apprenticeship of personal appearances. 
For Wilma Lee, music as a way of life began while she was still in high school, playing guitar and singing with her family. Meanwhile, the image of old-time fiddler Arthur Smith performing on the Opry stage alongside the Delmore Brothers encouraged Stoney to take up the fiddle, with the hope that he, too, might one day appear there. 
Their early career together — with the Leary Family in the waning days of the Depression and after their marriage with their own band, the Clinch Mountain Clan — is an old and familiar story: one-night stands in high school auditoriums, courthouses, drive-in theatres, and churches, and "live" shows on radio stations ranging from the relative obscurity of drive-in theatres, and churches, and "live" shows on radio stations ranging from the relative obscurity of WJJD in Grand Island, Nebraska, to the regional stardom of the Saturday night Jamboree at WWVA in Wheeling, West Virginia. Pure, traditional country music was their way of life; the Grand Ole Opry was where they had always been heading. 
By the time they arrived in Nashville, however, country music was beginning a major change. Perhaps it was Elvis Presley (or Jerry Lee Lewis, Buddy Holly or Carl Perkins) who changed the music with a new, sensuous beat that suggested mere toetapping was not an entirely appropriate response. Or perhaps it was Chet Atkins, whose subtle introduction of choral background and strings took away hillbilly music's twang and gave the Nashville Sound some new respectability. Or perhaps it was just the fact that by 1957, people were no longer on the farms, dependent on the battery radio and the local high school auditorium for their entertainment; they were in the cities, working assembly lines rather than fields, and finding their entertainment in the honky-tonks and package shows. 
More than likely it was all these things and a lot more. The fact is, the music was changing — floundering initially under the sledgehammer impact of rock 'n roll ("Who are those guys?!") and then searching desperately for the new respectability of cross- over hits in the pop market. Traditional country music began slipping away, and many of its performers faded into oblivion. 
Wilma Lee and Stoney Cooper hung on. Knowing and appreciating the loyalty of country audiences, they played and sang as always. To have done otherwise would have been to deny their heritage. When their record company tried to move them toward the "more modern," they simply "got out of there." They did not become superstars, but they did remain regulars on the Grand Ole Opry. 
It was not without some pain, however, that they watched the changes in their beloved music, and it was with a growing sense of concern for the future that Wilma Lee noted recently, "It is getting harder and harder to hear real country music." 
Their long career together ended in the spring of 1977 with Stoney's death from an apparent heart attack. Faced with an enormous hospital bill ($1000 a day for well over a month), and knowing, too, that music is her life, Wilma Lee is now winging it on her own. Driving the motor coach that Stoney taught her how to drive in an empty parking lot, she travels long distances by herself, camping out along the way. She has also put together her own band and is in the process of signing a new recording contract with Gusto Records. 
The material below is taken from two separate interviews. The first, (appearing in regular type) was conducted with the two of them at their home in Nashville in March, 1974. The second (set in italics) was conducted with Wilma Lee in July, 1977. When I first talked with them three years ago, they spoke candidly about their own feelings and fears of what is happening to country music. When I returned to talk to Wilma Lee alone, I felt again the same honest examination, but this time with more urgency. Three years ago, and they spoke with one voice, expressing a fierce pride in their mountain musical heritage and an equally fierce determination to be faithful to that heritage. That, too, I found again in talking with Wilma Lee. And this time, it is more urgent. 
The Leary Family 
Wilma: Singing's all I've ever done; I started with my family. I was born in Valley Head, West Virginia, and was two years old when we moved to a farm six miles out of Elkins, so I was raised on a farm. 
When I was a kid, my dad bought one of those battery radios, and we listened to the Barn Dance from WLS in Chicago. Now, back then, the local stations all had live entertainment. My dad liked Lula Belle and he would never miss Lula Belle. Then he would turn to the Grand Ole Opry to hear the Delmore Brothers and Arthur Smith. We listened to everything on the radio that was country music.1
In 1938, my family won a contest to go to the National Folk Festival in Washington, DC. Mrs. Eleanor Roosevelt sponsored that, you know. They had contests all over West Virginia, and they offered my family a job. Wanted us every day. My dad said we just couldn't do that because us girls were all in school, but we might come down once a week. So, we started down there on Saturdays. 
Fall came, and they talked my dad into working every day, so we had to move down there. My mother's brother, Uncle Laney, played fiddle, and when September come, he had to go back to teach school. That's when they hired Stony. 
We were known as the Leary family — my mom and dad, two sisters, Jerry and Peggy, and Stoney on fiddle. I sang alto in the group and played guitar. Well, up and down the valley, we would pack a high school out, do a show, pack it again. Two shows a night. It didn't matter how big the auditorium was, we would always do two shows. 
The family sang all religious. We three girls had a real good country trio, and we did the country songs. When Stony joined the band, he and I started doing duets. That "Salty Dog" that Lester and Earl done a few years back, Stoney and I used to sing that back then, and it was one of our most popular numbers. 
That was in '39. We had a nice show. It was a good, clean, family show. Of course, we have always carried a clean show. Don't go in for that filth. 
My sisters sung together for years as the Sunshine Girls, and worked all over the country until one sister got real bad sick, and couldn't work anymore. Then my sister, Jerry, came into Nashville and worked for Roy Acuff as his girl singer for about 10 years. 
When we started, there wasn't many women singers in the business at all. Just a few. Back then, they always said that they couldn't sell a woman singer on records. So, I guess that discouraged most of the girls that sung. 
Stoney: It was funny. They always said women singers wasn't accepted on records. It always bothered me. I knew that Wilma was the power of our group because her voice was stronger. I have always been a fan of hers. 
Now, there was a woman by the name of Cousin Emmy. Terrific showman! Done well enough singing, and could pick the banjo like Stringbean. Oh, man, that clawhammer style, it was something! And she was good at it. Well, Decca tried her. She done "Ruby," the one that the Osborne Brothers had a hit on. She done a fantastic job on it, but they couldn't sell it. Now, they sold women singers in the pop field, and I never could understand why they couldn't sell women singers in the country field, but they just didn't do it. There were very few on record in the country field. I think I can probably say there wasn't over five girl singers who were doing so-so. 
Live Entertainment 
Wilma: Stoney and I got married in '41 in Wheeling, West Virginia. My family was working there then. We sang with them until '42 when they went to Indianapolis. 
Stoney thought we couldn't raise a family — we had Carol, the baby — and be in this business and working on the road, so he decided we would just quit. He got a job working for Vaughn Beverage Company out of Wheeling. He drove a truck delivering pop. Now some of the material that has come out says he worked for a beer company, but it wasn't; it was a soft drink company. They had Squirt — it was a flavor between a lemon and a grapefruit — and then they had their own orange drink.
His run was "down the river" they called it from Wheeling. He would have to be on the truck and a-going at four o'clock in the morning and be down that river when the country stores and restaurants opened. And he wouldn't get in until midnight. So, he wasn't getting any rest, and it was hard work. 
I was home in an apartment with Carol, just a-sitting around. I told him, "Stoney, if we could find us a situation where we could do a daily show and not have to work out on the road, we could find somebody to take care of Carol long enough for that." 
So, Stoney spoke to an announcer friend of ours from Nebraska, and he said, "Out where I come from, the towns are so far apart, you couldn't work on the road." It was during the war and there was a tire and gas shortage. So, he wrote this friend of his at KMMJ, Grand Island, Nebraska, and they hired us. We bought used tires to make sure we would have spares to get out there, saved up our gas rationing stamps, and went. 1 guess this would have been in '43. 
We stayed there about a year, and then went to Indianapolis to join my family again. While we were there, the newsmen from WJJD Chicago were down in their airplane covering a big flood and heard me and Stoney on the radio. Back then the family would do a show, and then Stoney and I would do one. At that time, they were losing Bob Atcher and Bonnie Blue Eyes — he was going into the army — so they called and offered us that job. That was salary; we didn't have to work on the road then. 
We was on the Breakfast Time Frolic, from 4:30 till 7:00 of a morning. Then Stoney worked a day in a defense factory. He was a foreman at the Gary Screw and Bolt Works. Gary, Indiana, right out of Chicago. 
Then the musicians union went on strike. They were trying to force the Atlas brothers who owned WJJD to double the number of entertainers. The scale was high there and they couldn't afford to hire more, so they held out. We would go up to the radio station every morning with a program made out and be ready to go on the air in case they settled. We was getting our pay just as though we were working, and I think it went about three months. Finally, Mr. Atlas said they would not hire more people, and if the union couldn't go along with them on that, they would just have to let all the entertainers go. And that is what they did; the union wouldn't settle. That is when the Breakfast and the Suppertime Frolic went off at WJJD; there's never been live entertainers on there since. We were the last ones. 
Stoney and I went from there to Fairmount, West Virginia, in '44 and worked there through most of '45. That's where we formed our band. We would work the territory out from Fairmont. Then we went to Blytheville, Arkansas, and worked there 13 or 14 months, and from there to Asheville, North Carolina, and stayed about four months. We came back to Wheeling in '47.
Wheeling Jamboree 
Wilma: We worked at Wheeling for 10 years. Big 50,000 watt station. 
Stoney: Yeh, WWVA. Wheeling is second only to the Grand Ole Opry. It is only about two years younger and, to my knowledge, in all the years they have carried a live radio show, it has never been dropped at any period. 
Wilma: We was never home except for Saturday night. We worked everywhere. We always drove a limousine. When we finished a show on Friday night, we would leave right from there to get back to Wheeling. We had to make the Jamboree, so we would be there until we finished our show on Saturday night, and then be on the road again getting ready for the Sunday date. We worked every week like that. 
Stoney: One of the acts we worked with at WWVA was Big Slim, a cowboy star. I think he was the one responsible for bringing Hank Snow to this country. He was really the best I have ever seen with trained trick horses. He could handle stallions with no more than a black thread. The audience couldn't see the thread, but he could handle that horse from at least 30 feet away. 
Wilma: In high school auditoriums you would never see his cues to the horse. It was just like he was talking to it, and that horse knew what he was saying, and would do just what he said. Cowboy movies were big then. Gene Autry. Roy Rogers. Tex Ritter. 
Stoney: That's right. The Singing Cowboys. We didn't have television then; it was on the screen. Gene Autry was red hot as a singing cowboy. Tex Ritter didn't stay out there long, but I saw him when I was a young boy. I remember in those fist fights how his hair would always fall down and just fly everywhere, you know. We admired those cowboys who could sing and pick the guitar. That's all they ever used. Oh, once in a while around the campfire they would have an accordian and fiddlfes and stuff, but most of the time it was just the guitar. Then you had the Sons of the Pioneers. They were just beautiful. Cowboy music back then was part of America. 
Coming With The Hits 
Wilma: We did our first record in 1947 in Asheville, North Carolina, with Jim Stanton. He had Rich-R-Tone Records. We did 16 songs in one night in a studio at WWNC's radio station. The first one was "What Can I Do" and I forget what the other side was. Next, we did "Two Little Orphans" and "Rosewood Casket." Then we came with "Tramp on the Street," and "This World Can't Stand Long" which was the hit. That's the one that Fred Rose heard. 
He came to Wheeling to see us, and that is what got us the contract with Columbia. We were with Columbia from '48 till I believe it was '55. We went in under Art Satherly. He was from England, but he really knew and understood country music. 2. He retired at quite an old age, like in his seventies, and then Don Law came in after him. Well, Don Law was one of those New Englanders, you know, with a kinda "up-town-like raising." He recorded country, but he hadn't been around it and just didn't understand it. 
We were working out of Wheeling, and we got this song that had all the names of the people in it, "I Dreamed of Hillbilly Heaven. ''Stoney called Don Law, cause we was due a session, and said, "Don, I've found us a hit." We taped it and sent it to him, and he said, "No, that wouldn't sell nothing." It came out by Tex Ritter then and went to Number One. Well, that really made us sick. Then there was another one. Same thing. Same story again. And it made Number One. Well, that just really got us. So, Stoney said, "I'm just going to call him and tell him we want our contract back." And that's how we went with Fred Rose and Hickory. 
I believe it was '55. Fred Rose said, "Well, I'm a small company, but if you want to go with a small company, I would be tickled to have you." We were still at Wheeling, but we would come down here to do our sessions. He really understood our music. Now, I think, originally Fred Rose wrote pop songs, lived in Chicago. But he was one of those that could see the potential in something, and he made it a point to understand. 3 
We were with Hickory for about 10 years. Our big hits were with Hickory: "Come Walk With Me," "Big Midnight Special," "There's a Big Wheel." Now, the reason we left Hickory — we come with the hit, but we lost our sales. Hickory was a small company; they had a lot of distributors that had ordered records and hadn't when we come with our hits, Hickory held the record back, trying to force them to pay up and we lost our sales. 
That's not really fair to the artist, so we left, and went with Decca. But Decca tried to take us over into the more modern, so we just did a couple of sessions for them and then got out of there. We didn't have no company to go to, but we didn't want that — rather have nothing. Since then we have recorded for Gusto and Rounder. We had just worked out a contract with Gusto for two records a year when Stoney died, and now I'll be signing with them. 
The Grand Ole Opry 
Stoney: In 1947, Wilma and I were in Asheville, North Carolina, to do a show with Red Foley. We talked backstage and he asked us why we didn't come to the Grand Ole Opry. He said, "You've got exactly what is accepted there, and I'd love to see you come." He was working the Opry then; this was before he moved to Springfield, Missouri, to do the Ozark Jubilee. 
I said, "Well, if we knew how to come, we would." 
I don't know; at that time we were just not very pushy. Well, let me retract that; I guess we were afraid to get a turndown. You see, in my mind the Opry was a goal, and I'm sure it was for Wilma. It was a goal when I was learning to play the fiddle and listened to Arthur Smith. He was a great fiddler. And it used to be for fiddlers; it wasn't just singers that starred on the Opry. Judge Hay would introduce those fiddlers, buddy, as Number One. Boy, they didn't have any singers. And when I listened to them on the radio, I could see so many things dance around in my mind — exactly how they were performing and what they looked like — without even seeing them. It was an image that was built up in my mind. And oh, brother, if I could just pick up there! 
In a way, I like to hear the talk about a television show every Saturday night, and then another way, I don't think it can capture quite what it was. So many things, like "Lum and Abner" and a lot of those old shows were so good that your imagination was much greater than what they can bring across on the tube. 
But that was our goal. The Grand Ole Opry. 
I guess the fear of being turned down for the Grand Ole Opry was probably the thing that operated biggest in our minds. We just hoped that sometime they would come along and ask us. And that's exactly the way it happened. 
Wilma: We worked a big package show in Richmond, Virginia, at the auditorium there. We were out of Wheeling, and the rest of the groups were all out of Nashville. The Grand Ole Opry manager, Dee Kilpatrick, was there and saw our act and called us the next week. 
We were the first full group they hired. They had just been hiring solos and duets, but when they brought us, they let us bring our whole band, the Clinch Mountain Boys. When we came in here, we were already booked for a year — all up in the Northeast, near Wheeling. A lot of them that had been here for several years wasn't working like we were. But we had come in here already booked; our dates were already set. 
Then, we signed with Acuff-Rose and were booked by Jim McConnell. He just had us working! I'm telling you we drove ... it didn't matter if the man up in Boston said I want Wilma Lee and Stony Cooper for Friday night, and the man out in Denver said I want Wilma Lee and Stoney Saturday night — that is the way he would book us. We worked in Denver on Saturday night and on Monday had to be in Brockton, Massachusetts, and just made it. He had us working all the time. 
They had a lot of shows going when we first came in here. They had an hour early morning show, and then they had Noon Time Neighbors. Later they had an afternoon television show that the acts that was in town would do each day. Then, of course, the Friday night Opry which we did at the WSM studio in the National Life Building. For the Saturday night Opry, we would come to the Ryman Auditorium. The performers who were in town and available would do the shows; that was the way they worked it. We did a lot of them. 
You see, WSM is clear channel. Now WWVA was 50,000 watts, but it wasn't clear channel; it covered from Florida right up the eastern seaboard into Canada — came into Canada just like a local station — and carried over to about Detroit. It covered millions of people because it is so thickly populated up there in the Northeast. But Nashville, WSM, goes anywhere. So your advertising can be heard. That's the importance of it. It's the top show in country music. There is no other show that you can go to in country music that would be bigger than the Grand Ole Opry. 
All the old standards were here when we came. 
Stoney: Roy Acuff. Ernest Tubb. 
Wilma: Hank Snow. 
Stoney: Bill Monroe. 
Wilma: Jim Reeves. 
Stoney: Johnny Cash. I think he came in a little after we did. Porter Wagoner. 
Wilma: Yeh. He came in about the same time we did. Bill Carlisle, the Wilburn Brothers. Let's see . . . Stringbean. Grandpa Jones . . . Dell Wood. 
Stoney: Oh, they had, maybe not quite as many, but a goodly number like they do now. Marty Robbins, of course. 
Wilma: Faron Young. Ferlin Husky. All the Carter Family, Mother Maybelle and her daughters. Carl Smith brought them here from Knoxville. 
Stoney: Chester Atkins was with them when they came in here. He played guitar. 
We came into the Opry at the worst possible time you could find, 1957. Rock 'n roll had just hit, and country music looked like it was on its way out. It was almost impossible to say that you played it or performed it. You could almost feel people draw back. It was a state of confusion like we often get in America. 
Most of us failed to realize that country music was the earthy type music that would never leave, and that it didn't mean that rock 'n roll had invaded country music; it just meant that we had to make room for it and let it run its course. I think rock 'n roll will always be here, just like country music, because it has a good beat to it. But country music — nothing will push it out. It's bigger today than I have ever seen it in my life. It has quit being . . . well, you don't have to say it in quiet tones anymore. 
Wilma: It's truly the American music, you know. The music of our country. It's what you call original. 
I'm one of those believers in basic country music. That is what made the Opry true country music. Now I've noticed in later years they just keep that little few that they have of basic country. They're bringing in, in my estimation, too much of the modern, leaning too much to pop. And I think they are going too far that way. The scales are not going to balance, because that won't hold a show year after year. 
Well, I say they need to keep the balance, to keep that tradition. You know, when you start recording, your A&R man, the first thing he does is try to change you to have hits for the jukebox. Hits! Hits! Hits! And as they do that, they lean you toward the more modern; they take you away from that what you can do, see. That happened to us with Decca. Stoney and I can just sing one way and that is it. You can't change us much. 
Opryland, USA 
Wilma: I think they're just going to keep on until they get country music merged with the pop. That's what it looks like to me. Real country music — it's getting to the point where you will not be able to hear it. It won't be played. Even like over here at the Grand Ole Opry, if you'll notice, the new acts they are bringing in are very far away from country. In fact, they ignore their country musicians. 
That show was founded on pure country, the fiddle and then the singing when it come in with Acuff. It was founded on that. It was not founded on this new modern stuff. And I think if they are going to cater to anything, they should cater to what the foundation of the Opry was. Course, maybe I want to see our country stay. But that's the way that station and that program was founded, and I think they should protect it. They've got all the other stuff down there in the park [Opryland, USA]. 
Working the new Opry House is like working some big auditorium. It's not like the Ryman. You don't have the "feel"; you've lost the closeness to the audience. There was a feel at the other place, a feeling of being closer together, and up there you don't have it. Even among the entertainers, the closeness is gone. The backstage is entirely different.
They didn't have enough seating at the Ryman and there was no way, I guess, they could make it any bigger. But see, when they went out to the Opryland, they built, I think it was 400 more seats in the auditorium. You see, really, the thing was just to get it out there in that amusement park. That's right. Four hundred seats doesn't mean that much — not when you have overflow audiences all the time. They were really building a facility to accommodate these TVshows to come in. And then, they rent that auditorium to all kinds of shows. So, you see, it wasn't really the Grand Ole Opry they had in mind when it was built. It was built for big business. 
The only way they could have kept that closeness to the audience would have been to build something similar to the Ryman, only larger. And not put it in an amusement park! Keep it out by itself separate. 
They're just letting the old Ryman run down. They took the seats out and fixed it where nobody could come in and do a show, and they won't rent it to nobody. They were afraid another show might go in there and they didn't want it open for competition. 
They were going to tear it down not very long ago and rebuild it in a smaller scale at Opryland and then have church services in it. Now I wonder who would be the minister of something like that? Who would be worthy to minister in that? Now, who could you imagine?! 
The Future Alone 
I remember years ago, a woman couldn't get on records. A record company wouldn't hire a woman — wouldn't record her. But now, some of their biggest money-makers are women. 
Kitty Wells was the first. After "Honky-Tonk Angels" there was no stopping her. It showed the record companies that the people would buy women singers. 
But they're still holding on to some of their old ways. Like the Grand Ole Opry, they won't let a woman emcee a 15 or 30 minute show. Well, you see, that is taking part of the opportunity away from her, and makes it harder for her to do what the man does. 
I believe that women should have their equal rights. I don't think anybody should be held back on something. If they can do it, fine. Just because they're a woman doesn't mean they shouldn't be allowed to. There's some things I think women aren't suited for physically, like physical work. But in the arts, any form of the arts, there's no reason why a woman shouldn't have equal billing with a man. 
My schedule this year is harder than Stoney and I were doing together. But I wanted to keep busy. I told the booking agent to book me anywhere that they wanted me. I got to keep busy; I get into trouble when I have time to sit and think. It's not good. And music is my life. 
The audiences expect me to go on, and I know Stoney would want me to. The last few years, he hadn't really been in good health, and sometimes he wouldn't be able to go. Like here, doing the Opry. I'd say, "I'll just stay home tonight, too." 
"No. No. You go. You work." 
He'd make me go. So, I know he would want me to work now. 
I had to hire a fiddle since I lost Stoney. I carry a dobro guitar; the dobro has always been one of my favorite instruments. We've used it for years. Then I have a five-string banjo and I play the guitar. The only thing I've got electric is the bass, but it's my only rhythm, see. 
I find that since it's just me now, I'm really sticking with my traditional style of music. That's what I know; that's what I can do. I have no business trying to do something that I know nothing about. So, I'm going to stay the rest of my time — it may not be too long, you don't know what tomorrow holds — but the time I have left is going to be pure traditional. I'm proud of my heritage, and I'm going to be pure traditional. I'm proud of my heritage, and I'm going to stand up for it. 
Footnotes 
Information for these notes comes from Country Music, USA by Bill Malone, published by the American Folklore Society, University of Texas Press, Austin, 1968. 
1. Lula Belle and Scotty (Myrtle Cooper and Scott Wiseman) were regulars on the WLS Barn Dance for over 20 years. Arthur Smith and the Delmore Brothers were among the earliest stars of the Grand Ole Opry at WSM. Smith, from Humphries County, Tennessee, was known as one of the great old-time fiddlers. Alton and Rabon Delmore, from Elkmont, Alabama, were popular for their guitar accompaniment that merged deep-South Negro styles and rhythm with traditional country tunes. 
2. Arthur Satherly was one of the most important discoverers of hillbilly talent. Among others he signed Gene Autry, Roy Acuff, and Bob Wills and the Lightcrust Doughboys. 
3. Fred Rose moved from the pop field into the country field in 1940 when he wrote 16 songs for Gene Autry. He later moved to Nashville to become the staff pianist at WSM, and in 1942, along with Roy Acuff, organized the first country music publishing house. One of the best known writers in the Acuff-Rose stable was Hank Williams. 
Tags
Sue Thrasher is coordinator for residential education at Highlander Center in New Market, Tennessee. She is a co-founder and member of the board of directors of the Institute for Southern Studies. (1984)
Sue Thrasher works for the Highlander Research and Education Center. She is a former staff member of Southern Exposure. (1981)