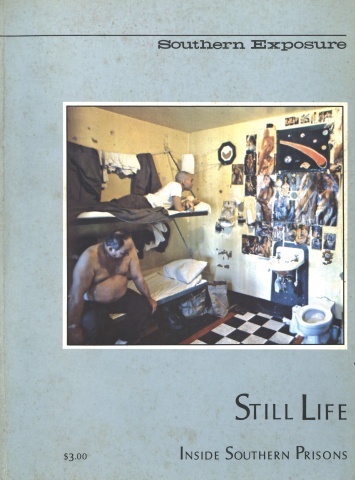 This article originally appeared in Southern Exposure Vol. 6 No. 4, "Still Life: Inside Southern Prisons." Find more from that issue here.
 It was one of those reform movements with clout: the Citizens' Fact Finding Movement. Leaders of 14 major organizations in Georgia — including the PTA, Civitan, the American Association of University Professors and the Georgia Press Association — had come together to report on major state issues. League of Women Voters representative Josephine Wilkins, later a behind-the-scenes mainstay of the Southern Regional Council, was there when the group met in April, 1938, at Atlanta's Piedmont Hotel to hear Tarleton Collier report on the penal system. For years, particularly since the 1932 publication of Robert Burns' I Am a Fugitive From a Georgia Chain Gang, reformers had been working for an end to the chain gangs. Collier, featured columnist for The Atlanta Georgian, told the fact finders: "Georgia has abolished chain gangs by calling them public work camps and has forbidden shackles and chains...[but] it is not to be forgotten that the most degrading feature of the chain gang is its lack of influence for regeneration — its rule to work from sunrise to sunset without alleviation." 
Earlier in 1938, in the first major change in Georgia corrections in three decades, a Board of Penal Administration had been created to supervise the new state prison in Tatnall County near Reidsville. It had been a gift from the federal government, made after reformers induced Eleanor Roosevelt to investigate conditions in Georgia's chain gang camps. In his report Collier found these changes "very hopeful," pointing out that Georgia "must strive for greater experience in scientific penology" because the "new prison will not achieve its proper end unless it is operated under competent personnel and unless scientific methods of penal administration are adopted." 
Collier and the others had good reason to be optimistic. Georgia's penal system was so bad that any change was bound to be good. Or so it seemed. But in 1944, only six years after the new prison opened, the newly appointed head of the Georgia prison system called the Reidsville prison "an outrage." The pattern would be repeated decade after decade: an expose of incredibly bad conditions; demands for professional administration of prisons and an end to county-operated camps; optimism that the corner had been turned; then another exposé. 
In 1957 conditions were so bad at the Buford Rock Quarry — where "incorrigibles" were sent to break big rocks into little ones - that 41 prisoners took sledgehammers and broke their own legs. Within the basement, in one of Buford's solitary confinement cells, a reporter investigating the prison system found "Thay is no God!" scrawled on the wall. 
Reformers continued to criticize Georgia's prisons throughout the 1960s. In 1971, amidst mounting public attention and prison tension, newly-elected Governor Jimmy Carter appointed the first professional penologist, Ellis MacDougall, to oversee Georgia's correctional system. MacDougall, who had previously headed the South Carolina and Rhode Island prison systems, had a reputation as a reformer's reformer. "Every time I pick up a newspaper," he once said, "and see that a second offender has committed a crime, I feel guilty. Our responsibility in corrections is to see that the criminal doesn't have a second victim." He was no bleeding heart. "We don't say coddle the prisoners. But the average man in prison today can have his cycle of crime stopped; he can be a useful member of society." 
In May of 1971, three months after he arrived in Georgia, MacDougall called the conditions in some work camps "atrocious" and promised that a team of state investigators would examine all 42 remaining county-operated camps. County officials angrily called him a "dictator . . . choking us to death with rules and regulations." MacDougall responded, "They called me a dictator and I was. It took somebody to come in and start laying down the law. . . . One guy's got to come in and shake the system by the ears." 
Other reforms began. The first work-release center — designed to ease the prisoner's transition back into society — had opened in 1970. More followed, with the first pre-release drug treatment center opening early in 1973. That year a new training academy for corrections staff opened at the University of Georgia. The department was included in Governor Carter's highly touted reorganization of state government. And by December of 1972, one-fifth of Georgia's 8,218 prisoners were involved in various academic or vocational programs, including part-time and correspondence courses. 
At the same time, several new catch phrases became a part of Georgia penology. At three model prisons "comprehensive learning laboratories" were established using the "latest educational technology and programmed instructional material (teaching machines)." According to the 1972 annual report, "Constant efforts will be made to link behavior modification concepts with educational programs... to increase motivation, develop self-esteem, and lead to goal-setting." 
Thus, in the humanistic setting of improved educational opportunities, the practice of behavior modification entered the prisons of Georgia. But soon prisoners at the three model institutions complained that they were simply locked in the prison library in the morning with the teaching machines and not let out until "class" was over. Despite this immediate indication that behavior modification might be better suited for the drawing board of prison reformers than the real world of rehabilitative programs, the practice gained momentum under Ellis MacDougall as it did nationally under a new school of technocratic prison managers. 
Roots of Modification 
The concept of behavior modification began with the work of psychologist B. F. Skinner and his famous experiments with a little box to modify the behavior of pigeons. Skinner felt he had established that deviant activity is learned in the same manner as normal behavior and consequently can be modified through the appropriate use of rewards and punishments. As early as 1965, Federal Bureau of Prisons officials adapted behavior modification techniques by using a "token economy" program at the National Training School for Boys that rewarded obedient boys with tokens which were convertible to cash. 
Under Ellis MacDougall, Georgia began an experiment with such a reward program with the passage of the Youthful Offender Act of 1972. Instead of straight time, "Youthful offenders are committed to the department under the provisions of this act for an indeterminate period, not to exceed six years for corrective and preventive incarceration." After a "diagnostic evaluation" utilizing psychological tests, a "contract" is made, specifying "the type institutional program the offender agrees to complete and a conditional release date contingent upon successful completion of set goals." When all terms of the contract have been fulfilled, a five-person board considers a youthful offender for conditional release. 
Youthful offenders were not the only offenders thought to need behavior modification. In September, 1971, the Attica uprising occurred. Across the country, prison officials braced themselves. It was time to get serious about handling prison troublemakers. The control unit of the US Penitentiary at Marion, Illinois, set the pace for the use of modification techniques on "incorrigibles." A similar START program began in October at the Medical Center for Federal Prisoners in Springfield, Missouri. 
The START programs, according to Federal Prison Director Norman Carlson, were "an attempt to provide a more effective approach for dealing with those few, but highly aggressive and assaultive, inmates who are found in any correctional institution." But a storm of controversy over these behavior modification programs broke in 1973 and 1974 after the ACLU's National Prison Project filed suit on behalf of inmates in the two federal prisons who, as best they could, had been protesting conditions. As one former START prisoner described it, "We told the pigs that we had just formed our own program entitled STOP (Stand Together, Oppressed People) and that as far as we were concerned they could take their brush shop and the rest of their brainwashing program and shove it." 
In early 1974, Carlson was asked to testify before a Congressional committee. He denied that the feds had ever coerced offenders through any sinister efforts, but went on to say that the programs "can include either positive rewards or aversive techniques including a variety of punishments to promote a change in behavior." 
Control the Uncontrollable 
Back in Georgia in July, 1971, MacDougall's cohort, young correctional rehabilitation counselor Allen Ault, had become warden of the newest major prison in the state: the Georgia Diagnostic and Classification Center (GDCC) in Jackson. GDCC, which had opened in late 1968, was the product of the reform philosophy of a decade before — diagnosis. With degrees in rehabilitation counseling and special training in behavior modification, Ault was cut from the same no-nonsense reformer mold as MacDougall. Soon after he became warden he told a group of youths that Georgia jails were among "the worst in the country," and he described the classification process he inherited at his Center as "the place we received every felon in the state so we can decide which 'chain gang' to send him to." On the other hand, Ault said, behavior modification showed great promise because the punitive prison discipline system could be replaced with positive reinforcers in which "the inmate starts with nothing and must earn whatever he gets, but when he gets it, it belongs to him." Ault soon had his chance to implement his theory for better prison management. 
In December, 1972, several prisoners were transferred to GDCC after an incident at the Reidsville prison. Ault quickly concluded that his prison did not have adequate facilities to handle the new breed of assertive prisoners who were, he complained, "intimidating the staff." But he was also unhappy with what he called the standard "adjustment centers in which people were just put there to rot." He commissioned specialists at the University of Georgia to design a program with a "behavioral emphasis." After some alterations by Ault and consultant Jim Granade, the design became the GDCC Adjustment Center, known by most prisoners as the H-House at Jackson, Georgia. It was in fact a modification of the federal START program. 
H-House had two main phases. In Phase I, basic good behavior was required. The prisoner's cell and area had to be clean and neatly arranged, and the prisoner had to be clean as well, with a haircut and shave. Prisoners could be checked by guards at any time, day or night, for possible violations. The men were allowed one hour a day out in the small yard. "Correct behavior," the Department of Offender Rehabilitation explained, "is reinforced with privileges such as mailing, books, yard time, hot coffee and carpet purchase." As an inmate's behavior was modified, he could move from Phase I to Phase II — where there were more privileges — and thereafter back into the general prison population. Men can be slower than pigeons. The program design called for prisoners to remain in Phase I for two to three months and in Phase II for about five months. 
The center was designed for "uncontrollable" prisoners: "Inmates who have been instrumental in causing riots, sit downs, and other situations of inmate unrest that jeopardize the security of the institution"; those who "have shown consistent assaultive tendencies"; and those "who consistently prove themselves to be escape risks." The H-House soon began to fill with those who were involved in periodic protests of conditions at the Reidsville prison and those, like Nation of Islam members, who were by definition troublemakers. 
While Ault was launching new programs for "incorrigibles," many of the basic conditions which led to protests from prisoners continued unchanged. By January 1,1974, when Ault replaced an ailing MacDougall, the problem of overcrowding had reached a crisis point. Between 1960 and 1972, the state's prison population dropped from 9,000 to about 8,000 — first, with the removal of misdemeanor offenders from state prisons, then staying down during the economic boom of the Vietnam War. In 1973, it started back up, hitting 10,000 in early 1974. By October, 1974, the Atlanta papers announced that with 214 prisoners for every 100,000 people, "Georgia ranks first in Prisoner Ratio" of any state in the US — an incarceration rate higher than any of the industrial western nations as well. 
As an answer to the overcrowding crisis, Ault secured a $1.8 million grant from the Law Enforcement Assistance Agency (LEAA) to begin a package of reforms called "a New Direction." They essentially extended his fascination with behavior modification into the sentencing of all prisoners. Part of the program called for relieving the pressure of overcrowding by enlarging pre-trial diversion programs and using probation to keep people out of prison, and introducing pre-release and post-release programs to keep ex-prisoners from returning. But the core of the program was behavior modification. Ault replaced the statutory good-time provision with "earned time," a program which would "allow the department to do contracting with each inmate, whereby an exemplary inmate . . . could earn up to two days for every day served.... It would be up to the inmate to earn his way out." Whereas under good time a prisoner got an early release unless it was taken away by a disciplinary committee for conviction of a rules violation, now prisoners would be "graded" daily by guards and counselors to earn their shortened sentences. 
Despite protests from the ACLU and others that no rehabilitative or vocational training programs existed for prisoners — regardless of how motivated they were — Ault convinced the legislature to approve his law change and sanction his LEAA-financed behavior modification experiments. Vacation From Personal Involvement 
Meanwhile, protest leaders inside the system continued to be sent to the H-House. Jerry Patterson was transferred from Reidsville to the H-House at Jackson on November 6, 1974. The interdepartmental teletype stated that he was "involved in militant activities causing unrest among other inmates." That was two days after Reidsville prisoners conducted a peaceful work stoppage to protest conditions — peaceful until a guard opened fire with a shotgun, killing one prisoner. 
In sending Bobby Hardwick to H-House, Reidsville warden Hopper wrote: "He has written so many writs that it has taken an extra, separate file to hold his legal papers. He has continuously complained about mistreatment. Inmate Hardwick has chosen an antisocial path. . . . Therefore, it is recommended that he be transferred to GDCC to participate in their behavior modification program in hopes that this will change this inmate's devious trend." 
Neither Hardwick nor Patterson were silent in H-House. Hardwick wrote Warden Ricketts (who had taken Ault's place at the Jackson prison) requesting dismissal of a charge of possession of contraband since items seized in his cell "could not be termed 'contraband' because: (a) There's no rule or regulation with regards to H-House that states an inmate found with two pair of overalls, a change of pillowcases or two pair of undershorts constituted contraband; (b) Every item such as tooth paste, soap, etc., were all issued to me by prison officials and none of which was illegally obtained by me." Ricketts wrote back to inform Hardwick that the disciplinary committee found him not guilty, commenting that this "should prove to you that at the Georgia Diagnostic and Classification Center justice always prevails." 
Hardwick did not agree. The previous year he had been written up because he had refused to trim his fingernails. His punishment was "10 days, isolation — 1 meal per day." 
Hardwick next wrote to state officials and a state senator. When the senator queried Ricketts, the warden replied that "special care is taken to assure each inmate confined in H-House is afforded each and every right granted by law." 
After Hardwick, Patterson and other H-House prisoners requested aid from organizations around the country and received none, several of them filed suits against H-House, acting as their own attorneys. The suits and legal petitions went to Federal Judge Wilbur Owens in Macon, a former US Attorney and a Nixon appointee to the bench. He consolidated the various petitions — 25 in all — into one suit which came to be styled Hardwick v. Ault. Next, he appointed a team of lawyers to handle the prisoners' case: Ralph Goldberg and Tom West from Atlanta's office of the Southern Prisoners' Defense Committee and Emily Calhoun and Al Pearson, law professors at the University of Georgia. The trial was held in April, 1977. 
In one of those ironies of history, the expert witness for the prisoners was Dr. Richard Korn, designer of the country's first "adjustment centers." Over the years he had changed his mind about the value of such programs, and was especially critical of H-House. It has 79 individual cells, each 6V2 feet by 8/2 feet, with square portholes in the back. By walking along a catwalk, a guard can look directly down into the porthole and watch the prisoner. According to Korn, the catwalk at H-House distinguished it from other segregation units around the country. The prisoners' knowledge that at any moment they might be observed or interrupted was, he explained, a "very damaging factor. The men tell me they can't be alone with themselves in privacy when they need to, even at night." Further testimony came from James X. Simmons, who had been sent to H-House three times; the last time, he was transferred from Reidsville because he had been charged with "rib and agitate." On the stand, he described a day in H-House: "An average day is just being in your cell. You can walk around; just walk around your cell. You can't really do no loud hollering, so you can't really holler down to another inmate if you want to . . . the library cart used to come once a week. But most of the time you have nothing to read so it's just staring at the wall, you just stare at the wall, and you might try to do some pushups. You try to do something to make the day go by, try to get past the day. You wait for chow, because that's the only real, that's the only kind of little — you wait for chow, just live for chow, just live for that." 
While in H-House, Simmons wanted to take a correspondence course. His mother sent him the money which he sent to a bank. But in H-House they wouldn't let him keep a bankbook "so I couldn't withdraw the money, so it was tantamount to me not being allowed to take the course." Another prisoner, while at Reidsville, had "adopted" a child in the Philippines by sending regular donations to the Christian Children's Fund. When he was transferred to H-House, officials would not let him send the donation or write the child because it was not on his approved correspondence list. Finally the Children's Fund wrote the prisoner saying they were sorry but they would have to give his child to another sponsor. 
One of two counselors assigned to H-House testified that he had not had personal contacts with H-House prisoners for five or six months because, "I burned out. I decided to take a brief vacation from personal involvement." The other counselor said his daily contact was often limited to striding across the catwalk from above and behind the cells. The prison's Assistant Superintendent for Care and Treatment said that the main office in Atlanta ignored the H-House "management team" recommendations for transfer out of H-House as much as 75 percent of the time. At the time of the trial, some prisoners had been in H-House for more than two years. The typical prisoner was allowed out of his cell only six hours a week for exercise and showers. 
Dr. Richard Korn described the effects of such confinement on men: 
"All mammals, particularly those closest to us, have certain needs. For example, they have needs for purposeful activity. ... If you cage certain rodents in a small cage and don't give them a treadmill to get their energy, they would simply die. ... In man — an animal who can divert himself more with purely symbolic or intellectual activity — there are tremendous needs for stimulation. Stimulation for the mind is the equivalent of food for the body. . . . Just as a body begins to feed on itself... the mind triggers, from its store of memories and impressions, old material and projects them in a hallucinatory way. . . . One of the standard effects of long-term segregation is delusion and hallucination. . . . They can't concentrate, their minds begin to fade. They begin to doubt themselves. . . . When you add to all of that the uncertainty of release, the sense of helplessness, the sense of powerlessness . . . you are creating a situation, exactly characterized . . . as those practiced and called torture in countries to which we do not particularly like to be compared. . .. This is mental torture." After the trial, Judge Owens first told state officials that if they did not transfer prisoners previously recommended for transfer from H-House, he would order them to do so. The state voluntarily complied and a large number of prisoners were removed from the Adjustment Center. 
Then, in January 78, Judge Owens issued his landmark ruling that the H-House program in "the totality of circumstances amounts to cruel and unusual punishment." The decision is the first to recognize that a behavior modification program is, by its design, unconstitutional. Attorneys for the prisoners and for the state have reached a settlement in which H-House prisoners will be placed on work details during most of the day, allowed contact visits and permitted outdoor group recreation for at least an hour daily if weather permits. No prisoner will be transferred to H-House without a hearing or held there for more than six months except under special circumstances specified in writing to the prisoner. 
Hollow Promises 
In October, 1976, Dr. Ault left Georgia to head Mississippi's prison system, where his Georgia predecessor, Ellis MacDougall, was temporarily in charge. Ault said Georgia's corrections problems were because of "a pure and simple lack of money to do the job." Then in mid-1977 Ault, by now described by the press as "one of four or five top prison experts in the United States," accepted a position as head of Colorado's prisons. 
Ironically, reformer Ault's only real contribution to Georgia may have been the change in the good-time law. With major revisions, it now applies equally to all prisoners, giving them an early release automatically unless they receive an unsatisfactory evaluation. Functionally, the new system resembles the old pre-Ault good-time law, except it releases prisoners even earlier. The earned-time system may be progress, but as implemented now in Georgia it is not, in any real sense, behavior modification. In fact, the only ones whose behavior may be modified by it are guards. Supporters of the program argue that because evaluations of the prisoners are made by correctional staff on a regular, daily basis, guards are more involved with prisoners in their keep. 
In Colorado, the earned-time concept quickly became a key part of Ault's program. His basic plan described by the Rocky Mountain News was "to separate the 'hard case' incorrigible inmates — who cause most of the present prison violence — from the general prison population through a new maximum security facility." 
Around the country the debate on correctional reform continues. The Prisoners' Solidarity Committee calls the prisons "concentration camps for the poor." Others agree. David Bazelon, Chief Judge of the US Court of Appeals for the District of Columbia, says "All these proposals [for changes in sentencing, etc.] fail to consider the social injustices that breed crime. Can it be true that this nation would rather build a new prison for every slum dweller who turns to crime than try to alleviate the cause of his lawlessness?" 
The current generation of reform corrections commissioners, like Allen Ault, have failed to provide basic educational programs for the poor who fill their prisons. In Ault's last year in Georgia, only 10 percent of the prisoners could take advantage of education programs at any one time, although 79 percent lacked a high school diploma. Reformers have experimented instead with one gimmick after another, while condemning rebellious prisoners to programs designed to break and cripple them emotionally. 
New techniques are constantly coming off the consultant's drawing boards. Dr. Herbert Eber is an Atlanta psychiatrist who designed the psychological tests now used to evaluate all incoming Georgia prisoners. He has studied prisoners in three states, and recently announced the development of a sophisticated computer system which can predict for a warden if one of his prisoners has tendencies towards suicide or escape, or is likely to respond to treatment. The system is currently in use in Georgia, Oklahoma — and Colorado.   
Tags
Gene Guerrero is the director of the American Civil Liberties Union of Georgia and a board member of the Southern Coalition on Jails and Prisons. (1978)