South Carolina: Thurmond vs. Ravenel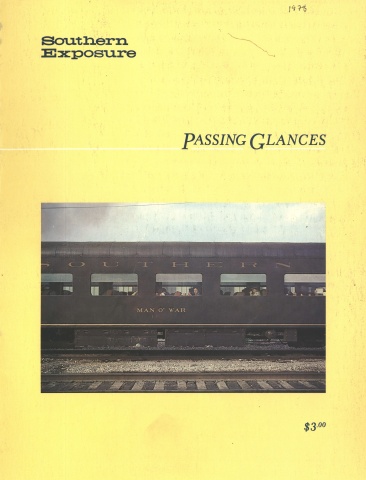 This article originally appeared in Southern Exposure Vol. 6 No. 3, "Passing Glances." Find more from that issue here.
Senator J. Strom Thurmond, 75, strode through the cafeteria line on the University of South Carolina campus, briskly ordering servings of broiled fish, black-eyed peas and skim milk when he was spotted suddenly by a middle-aged, black waitress. 
"Aren't you Senator Thurmond, Senator Strom Thurmond?" the woman hesitantly asked. 
"Yes, Ma'am, that's right," the senator replied amiably, "and how are you today?" 
"Fine, Senator, just fine," she answered. "I just want to shake your hand. I've been wanting to shake your hand for the longest time." 
The veteran politician smiled, stuck out his hand, and then proceeded to pump the outstretched hands of each of the women staffing the serving line. They all happened to be black. 
Finally, Strom Thurmond settled down at a table and began to eat his lunch. 
One of the ironies of Southern politics today is that South Carolina's black voters may be a crucial factor in determining whether Republican Strom Thurmond, the embodiment of Old South politics, is returned to the United States Senate in November to begin his fifth and final term. If the contest between Thurmond and his young, charismatic challenger — 40-year-old Charles "Pug" Ravenel — becomes as nip and tuck as some pollsters predict, the black vote could help tip the election scales this autumn. 
Blacks were not always so important to Strom Thurmond. A longtime symbol of Southern segregation, Thurmond was the standard-bearer in 1948 for the Dixiecrat Party. "There are not enough laws on the books of the nation, nor can there be enough laws, to break down segregation in the South," then-South Carolina Governor Thurmond told cheering crowds as he accepted the nomination of his splinter party. He maintained his nay-saying posture on civil rights after his 1954 election to the Senate, and he still holds the one-man record for a filibuster (24 hours, 18 minutes) in battling the 1957 civil rights bill. 
But slightly more than a decade after the Voting Rights Act was signed into law, more than a quarter of South Carolina's electorate is black; and Thurmond and other ex-segregationist politicians in the South are paying homage to the increasing strength of blacks in the voting booth. This year, Thurmond predicts he will collect "a third, perhaps a half," of the black vote in his race against Ravenel. "In their hearts," Thurmond says earnestly, "at least half of the black people favor me." 
Strom Thurmond began his courtship of the black community after the 1970 elections, when a protege, an evangelical patriot named Albert Watson who wore a white tie to symbolize his outlook on race, lost the governorship of South Carolina to racial moderate John C. West. "Strom saw the handwriting on the wall," remembered a former political associate, "and he got to work." 
Thurmond hired a black staffer — the first member of the state's Congressional delegation to do so. He began announcing a host of federal grants to black colleges, communities and day-care centers, many of them the result of programs he had voted against. He nominated the leading civil rights attorney in the state to be a federal judge; and last fall, he enrolled his six-year-old daughter in an integrated school. The child's teacher, specifically requested by the Thurmonds, is black. 
Thurmond's persistent wooing of the black community has begun to bear fruit. Isaac Williams, field director of the South Carolina NAACP, acknowledges that the veteran senator has "neutralized" much of the hostility previously aimed at him by blacks. Reports continue to circulate that the presidents of several predominantly black colleges — recipients of much of Thurmond's federal largesse — will endorse the senator's re-election bid. Ten black mayors were among a group of 168 city executives who publicly gave their backing to Thurmond in April. "Senator Thurmond," says Charles Ross, the black mayor of Lincolnville, "has been extraordinarily good to our town. We have never asked to see him and been refused. I'm going to be there for him in November." 
So will a lot of other folks. A loyal but sparse state Republican organization that in 1974 helped elect South Carolina's first GOP governor in a century will be working for Thurmond. So will a giant network of devoted followers put together over the four decades that Thurmond has been a political officeholder in the state. Some of this throng are ideologically dedicated to Thurmond's positions; others have reaped the benefits of his patronage and federal grants over the years; still others have had difficult personal problems solved by Thurmond's legendarily competent staff. 
Strategists for Thurmond wistfully talk about his doubling, and perhaps even tripling, the eight percent of the black vote that he garnered in his 1972 race. In a tight contest, any slice of the black vote greater than 15 to 20 percent would spell trouble for Democrat Ravenel. But State Representative Earl Middleton, one of 13 black members in the South Carolina House of Representatives, believes that, in the end, few blacks will pull the voting lever for Thurmond. Middleton vows that he and many other blacks will campaign strenuously against the senior senator. "I can't forget what has happened in the past because so many people were affected by what Thurmond did," the 57-year-old legislator says. "If I were to forget the past, I couldn't live with the present." Monetary gestures, adds Middleton, "don't make up for slapping us and spitting in our faces for so long." 
The handsome, vigorous candidate, shirt sleeves rolled up and coat slung over one shoulder, loped across the street, stopping to chat with a group of townspeople about education, jobs and health care. "Isn't it time the people, not the politicians, elect a governor?" intoned the resonant voice from the television set. 
South Carolina had never seen anything like it. Who was this total newcomer to politics, this young Catholic from Harvard University and a Wall Street investment firm who was running such an aggressive campaign in the Bible Belt? He was Charles "Pug" Ravenel, and his sophisticated, $600,000 media-dominated race in 1974 turned his first try for political office into a victory in the Democratic gubernatorial primary. But the politically ambitious and exceedingly articulate Ravenel was kept out of the general election by a court ruling that he did not meet the state's residency requirement for office seekers. 
The stocky, athletic son of a sheet-metal worker, Ravenel grew up in Charleston, leaving South Carolina in the late 1950s to attend Harvard on scholarship. Dubbed "The Gambler" when he was the star quarterback on Harvard's football team (he passed when he was supposed to run and ran when he was supposed to pass), Ravenel went on to earn a graduate degree at Harvard Business School, worked" in the Lyndon Johnson administration for a year, married a woman from Connecticut and became a successful investment banker on Wall Street. In 1972, he returned to his native state to open an investment banking firm in Charleston and to prepare for the 1974 governor's race. 
Ravenel introduced to South Carolina the type of carefully orchestrated, costly television campaign blending issues and image that had proven so successful in many other states North and South. He lashed out at the Democratic power- brokers and special interest groups that were backing his opponents, attacked "conflict of interest as a way of life here," and portrayed himself as a coolheaded outsider beholden to no one. 
Political experts believe that Ravenel rose quickly in the Democratic Party because he came along at precisely the right moment — immediately after the Watergate scandal, when the electorate was weary of "politics as usual" and ready for reform. Campaigning as a progressive reformer, he lampooned the state Senate establishment that blocked legislation on ethics, home rule and campaign finance reform. He was well on his way to becoming governor of South Carolina when the state Supreme Court ruled in the fall of 1974 that he hadn't lived in the state long enough. 
The South Carolina Constitution requires that a candidate for governor be "a citizen and resident . . . five years next preceding the day of election." Ravenel had been back in Charleston for more than two years following a 17-year absence. In a suit before a lower court judge, Ravenel won a favorable ruling that he had never surrendered his residency, although he had voted and paid taxes in New York. But after Ravenel scored a stunning upset against his leading opponent, William Jennings Bryan Dorn, in the first primary and won decisively in the runoff, a second court suit challenging Ravenel's residency status was filed. 
The question of who was responsible for the suit that disqualified Ravenel has never been answered. The official plaintiffs were a perennial candidate in the state's Democratic primaries and a rightwing country music disc jockey. Their attorney, however, was Eugene Griffith, a former Republican state senator who is a first cousin of W. J. Bryan Dorn. When Ravenel was disqualified, Dorn became the Democratic candidate. Stories were circulated that Dorn's wife, Millie, had at least given her approval to the idea of a lawsuit. Rumors also were spread that unnamed members of the Democratic hierarchy, anxious to get rid of the upstart Ravenel, likewise encouraged the suit. Some believe that various state Republicans were behind the suit, hoping to elect the GOP candidate, oral surgeon James B. Edwards, amidst the confusion if Ravenel were ruled off the ballot at the eleventh hour. Edwards, in fact, was elected in precisely that fashion. 
Four years later, Ravenel's "New Politics" campaign for the US Senate tests the true strength of the expensive, airwave-dominated campaigns that have helped bring younger and more moderate politicians to power in the South. And in 1978, Ravenel's latest crusade collides with the enduring master of traditional Southern politics, Strom Thurmond. Thurmond, the incumbent since 1954 and a Republican since he defected from the Democrats in 1964 to campaign for Barry Goldwater, remains immensely popular with scores of South Carolinians. Few of his constituents disagreed with his futile struggle to keep the Panama Canal ("the biggest giveaway of the century," Thurmond called it). And fewer still quarrel with his clear-cut view of international problems: "The goal of the Soviets is the spread of communism, and if we don't remain strong, they'll put a gun to our heads and destroy us." 
"Strom stands up for what he believes in, even if it's wrong," explained an admiring textile worker to author Jack Bass in 1972, just minutes after the man had done his part to re-elect the senator with 63 percent of the vote. It is that symbolism of dogged individualism that Thurmond's political advisors are stressing in this campaign. The veteran lawmaker is being portrayed as honest, courageous and individualistic — the personification of the values of ordinary South Carolinians. "You know where Strom stands — he stands for you," trumpets a Thurmond campaign brochure. The veteran senator is gambling that the traditional Old Politics style of "standing up for the people" and making them feel proud and secure and represented, whether or not they actually are, still wins elections in South Carolina. 
Ravenel, on the other hand, is betting his "New Politics" bottom dollar that the old way no longer works. People in this state are puzzled, he says, about why government doesn't seem to be working for them. They are worried about inflation , unemployment, swelling health care costs and the energy shortage. And Thurmond's actual record in these areas, Ravenel argues, doesn't reflect what the average South Carolinian wants. 
"The substance (of Thurmond's voting record) is rancid," declares Ravenel, "and that's the whole damn nub of this whole race." He pulls out a 16-page selective summary of his opponent's voting record in Congress since 1970 to illustrate his point. Nearly every program for social welfare, education, employment, tax reform, health care, the environment and civil rights singled out by Ravenel received a "no" vote from the senior senator. 
Ravenel's radio and television ads this year will deal heavily with issues and try to convince the voters that the Charleston investment banker, who peddles his technical expertise along with the charisma still so important in Southern politics, has a better grasp of the intricate problems of the modern world than does Thurmond. Trading heavily on his business background, Ravenel proposes a variety of specific "new" solutions for the nation's economic and social ills. 
To cure "stagflation" (Ravenel defines it as rapidly rising prices in the face of a stagnant economy), the Harvard Business School graduate recommends a five-pronged program: a balanced budget, an 18-month moratorium on "net federal cost-raising measures," tax incentives to encourage employers and employees to restrain wage and price increase demands, reduced sales taxes and an energy plan that "reduces our reliance on expensive imported energy." To blunt the ever-increasing rate of unemployment, Ravenel proposes more federally funded technical education, a system of wage subsidy, and a "temporary moratorium" on minimum wage increases for teenagers.
A common thread runs through all of Ravenel's suggested remedies for what he calls the "critical" problems of inflation, unemployment, welfare and energy. It is that the private enterprise system, with a little help from the government, ought "to provide people with a fair chance to make it on their own." Every Wall Street banker would nod his head in approval. 
Many Democrats are convinced that Ravenel's youthful image and articulate style will have more appeal to the state's city dwellers and under-40 voters than the plodding, hand-pumping techniques employed by Thurmond. "Television will be a large part of Pug's advantage," says Donald L. Fowler, the chairman of the South Carolina Democratic Party. "He knows how to use TV, and he's good at it. Remember, those under-40 voters are the children of television." Ravenel expects to spend two-thirds of the $900,000 or so he hopes to raise on media advertising. 
As he did in 1974, Ravenel is relying heavily on his friends from his days at Harvard and on Wall Street to provide him with campaign dollars. Jaws author Peter Benchley, an old college chum, is a generous contributor. So are West Virginia Governor Jay Rockefeller, former Treasury Secretary C. Douglas Dillon, Allied Chemical Corporation executive Alexander Trowbridge, Philip Morris vice-president W. W. McDowell, Jr. and magazine publisher Warren D. Manshel. A host of New York investment bankers have donated money to the campaign of their former colleague. In South Carolina, youngish professionals and businessmen, mostly fairly moderate in their politics, have shelled out contributions. They include J. Donald Dial, a Columbia attorney who has made it big in real estate; Samuel J. Tenenbaum, a steel company executive; and Macon G. Patton, a Greenville corporation official. But most businessmen in the state are conspicuously absent from Ravenel's campaign contributors' list. The reason? Ravenel stood alone among major politicians in the state in support of the labor reform bill — legislation that most South Carolina businessmen opposed vociferously in the belief that it would help unionize the South. Organized labor has made important contributions to the Ravenel campaign, but that is offset by the paucity of overall business donations. 
Ravenel expects to be outspent more than two-to-one by Thurmond, who is expected to fill with ease a campaign chest of $1.5 to $2 million. Richard Viguerie, the direct-mail wizard of conservative causes, had raised nearly $250,000 for Thurmond by late spring. Other national conservative figures and groups have come forward with financial support, including Chicago insurance company president W. Clement Stone, Richard Nixon's favorite donor; retired Nebraska Senator Roman Hruska; the National Rifle Association; and the Conservative Victory Fund. South Carolina textile executives, who appreciate Thurmond's unyielding stand against the threat of labor unions, have coughed up thousands of dollars. They include Roger Milliken, a staunch Republican and owner of the third-largest textile firm in the world, Deering Milliken, Inc.; former Nixon Commerce Secretary, Frederick B. Dent, now an executive with Mayfair Mills in Arcadia, South Carolina; various members of the Chapman family, who own Inman Mills in Inman, South Carolina; and Robert S. Small, chairman of the board of Dan River Mills, Inc., of Greenville. The Good Government Committee of J. P. Stevens & Co., Inc., contributed $750. So did the Wellman Industries Good Government Fund, a political action committee of a large textile firm in Johnsonville, South Carolina. 
Thurmond's "friends and neighbors" brand of politics (he invited everyone in South Carolina to attend an "openhouse" at his modest Columbia residence in April; 7,000 people showed up); his superb reputation for snipping bureaucratic red tape for his constituents ("I urge my staff to give every problem special attention"); and his unflagging energy may be difficult for Ravenel to overcome. So might the knowledge that the durable Thurmond has notched political victories as a Democrat, Dixiecrat, Independent and Republican. 
The consummate politician, Strom Thurmond never stops building and mending political fences. Almost daily he telephones dozens of South Carolinians, sometimes to offer his congratulations on a job promotion, sometimes to offer a family member an internship in his Washington office, sometimes to offer condolences on the loss of a loved one. All high school graduates in the state receive from the senator a special letter, suitable for framing. 
There are yet additional potential stumbling blocks for Ravenel in his effort to unseat the Old South conservative who preaches patriotism, states' rights, free enterprise and military strength, but who, at the same time, has the uncanny ability to sniff the changing political winds and accommodate himself accordingly. For one thing, Thurmond can point to nearly half a century of government experience — with almost 24 years of that in the US Senate — at a time when the polls in South Carolina indicate that experience is of prime importance to the voters. 
For another, some traditional Democrats are still bitter at Ravenel for his refusal four years ago to work for Bryan Dorn, who succeeded him on the Democratic ticket; the party split that year and voters elected the state's first Republican governor in this century. "Old Guard" Democratic politicians like Rembert Dennis and Marion Gressette, who between them have served more than 80 years in the South Carolina Legislature, will undoubtedly refuse to help Ravenel. Some political observers in South Carolina, in fact, wouldn't be surprised to see them quietly lend a hand to Thurmond under the table. (Ravenel made Dennis and Gressette his whipping boys during his 1974 campaign, and they haven't forgotten. Other old-line Democratic senators, who wield considerable influence in legislatively controlled South Carolina, likewise have no love lost for Ravenel, who in an unguarded moment four years ago referred to the Senate as "a den of thieves.") Even the "age factor," as it's delicately referred to in South Carolina, may be turned around by Thurmond as he shows off his four young children, his 32-year-old beauty queen wife, and his well-publicized devotion to vitamins, health food and physical fitness. 
For his part, Thurmond is convinced that he will be re-elected or retired from office on the basis of his past record. "I think the record made in the Senate will determine whether I get re-elected, period," he says, thoughtfully. "I'm not too sure that any politicking I do or anything that anyone says about me will have the deciding weight. I think if the people have been pleased with my record for 24 years, they'll vote for me. If they're not, they shouldn't. It's just that simple." And it is that same record, ironically, which both Thurmond and Ravenel count on to elect the next United States Senator from South Carolina. 
Tags
Jan Collins Stucker is Special Assignments Writer for The Columbia (S.C.) Record. (1978)