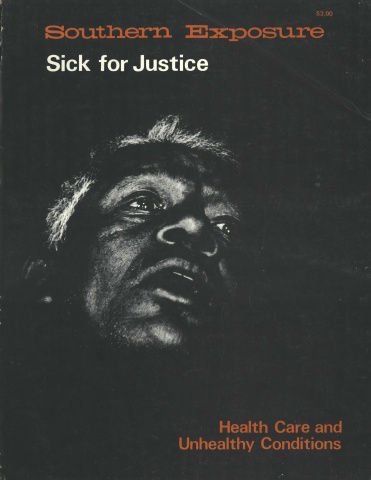 This article originally appeared in Southern Exposure Vol. 6 No. 2, "Sick for Justice: Health Care and Unhealthy Conditions." Find more from that issue here.
In the 1970s, the health care choices available to women in Tallahassee, Florida, were more limited than an urban location suggests. Tallahassee Memorial remained the only hospital facility after the black-controlled Florida A & M University hospital was forced to close in 1971. Alternatives further diminished when the county health department's prenatal clinic closed after obstetricians struck over non-payment of charity cases. The medical community itself was ingrown and protective of its power (for example, the great-grandson of the founder of the Florida Medical Association is now the Executive Director of the Florida Board of Medical Examiners). 
Meanwhile, in Los Angeles, Califomia, the Feminist Women's Health Center was fighting to establish the rights of lay women to control their own health care. The Center's founder, Carol Downer, along with Colleen Wilson, was arrested in 1972 for "practicing medicine without a license. " Charges against them for showing women how diaphragms are fit and using yogurt as a treatment for common yeast vaginal condition ended in acquittal, and the movement for women's Self-Help Clinics and abortion services continued across the country. 
In Tallahassee, Linda Curtis and Lynn Heidelberg were as inspired by the Self-Help movement as they were incensed by the fact that local women were unable to get appointments with local doctors and were forced to travel up to 180 miles away for basic gynecological care. They traveled to Los Angeles to learn more about operating a Self-Help Clinic. In March, 1974, they opened the Tallahassee Feminist Women's Health Center (FWHC) offering pregnancy tests, basic health information, and outpatient abortion services. 
Finding a doctor willing to work at the clinic was only one of many hurdles for the FWHC, but the clinic in its initial stages functioned relatively smoothly. In June, 1975, an article in the Tallahassee Democrat credited the women's clinic with lower fees than other local doctors could offer. Within a month, two local physicians quit the FWHC, threatened with loss of status and privileges at the local hospital. Refusing to close its doors, despite a physicians' boycott, the FWHC filed a precedent-setting Federal antitrust suit in October, 1975, against six ob/gyn physicians at Tallahassee Memorial and the Executive Director of the Board of Medical Examiners, charging that they had conspired to monopolize women's health care in Tallahassee. The Florida AMA supported the physicians, while the American Public Health Association and several groups devoted to women's health care sided with the FWHC. One year later, twelve hours before the antitrust suit was set for trial, the judge threw the case out of court, ruling that the doctors had acted within the scope of their authority as a "self-regulating profession. " The case is currently on appeal to the Fifth Circuit Court in New Orleans. 
The court case was only part of their battle to survive. At the same time, the FWHC sought a patient transfer agreement with Tallahassee Memorial. But this request for safe, efficient transfer of patients in the event of a medical emergency was continually denied by the Hospital Board. 
Then in 1977, thirty women representing a national organization of women's health projects (W.A.T.C.H.) conducted a consumer inspection of the maternity ward and nursery at Tallahassee Memorial. Four were subsequently arrested and charged with criminal trespass. Although it later retracted the statement, the Tallahassee Democrat claimed that all thirty had "barged into the nursery" and refused to leave. However, clinic representatives maintain that only four people entered the nursery and left when asked after less than a minute and the entire "inspection " lasted only fifteen minutes. 
The state Attorney General's office took the women to trial on a charge that did not allege a crime - that of entering a public building. As the women had clearly entered the building, the jury convicted the women, who later received unusually harsh sentences of $500 and thirty days, and $1,000 and sixty days. This case is also being appealed to the Florida Supreme Court. 
The clinic, which began with a group of women sharing their experiences with health care in general and eventually committing themselves to giving better care, survives in Tallahassee. It serves an average of 100 women a week with a staff of fifteen full- and part-time workers. However, its struggle to provide services to women in an atmosphere that promotes growth among the participants and remains free of the attitudes the medical community has traditionally shown toward women, continues. In the following interviews, conducted in February, 1978, Linda Curtis, Marian Banzhaf Risa Denenburg, and Susan Griffin discuss the structure of the clinic as well as its underlying concept of self-help with Linda Thalman. 
Question: What kind of services does the Feminist Women's Health Center (FWHC) provide and who do you serve? 
Risa: The FWHC serves women in Tallahassee and surrounding counties and from Georgia and Alabama, too. About forty percent of the women who receive services are black. Women of all ages and class backgrounds come to the clinic. 
Linda: In March, 1974, we first offered abortion services and pregnancy screenings, both founded on the idea of Self-Help. We don't just provide services that women need; we do so in a way that the person can make as many decisions as possible in a clinic setting. We try to provide as much health information as a woman wants. And pregnancy screening is something we feel is very important for women's health groups to provide because it is run completely by lay women, with women doing the tests themselves, with assistance from health workers. Women can very quickly determine for themselves whether or not they are pregnant and share information about what they want to do about it. 
In November, 1975, we started a gynecological clinic called the Well- Woman Participatory Clinic, which is a concept developed at the FWHC in Los Angeles. This is a setting with a group of women, health workers, and either a nurse practitioner or a doctor — we have a nurse practitioner. We demonstrate vaginal self-examination, and during the two hours, everything gets done that the women participating want done — a pap smear, a gonorrhea culture, a pelvic exam, a sickle-cell anemia text, after-abortion check-up, pre-natal care. Most of what is done at the Well-Woman Clinic are health techniques that can be done by the person herself, or with the assistance of the health worker, and with a bare minimum of instruction. 
Marion: One of the goals of our Well-Woman Clinic is to share information in such a way that women gain skills and knowledge. Maybe next time they won't need to visit the clinic for simple things like a vaginal infection. 
Q: What is a Self-Help Clinic? 
Susan: Instead of the traditional medical clinic, a Self-Help Clinic is a group of women who meet together to learn about our bodies, and how to maintain our health by sharing information and skills with each other. 
Risa: Women in Self-Help Clinics share a caring responsibility for the women in their group. The Self-Help Clinic is a strategy whereby women can regain reproductive control. 
Marion: Without control of our bodies, we can't gain control of our lives. Many times a Self-Help Clinic can get started and continue to meet. A natural progression for an advanced Self-Help Clinic is to start a women-controlled health center. That's what happened in Atlanta. The Self-Help Clinic women decided, after meeting together for about a year, to open a Feminist Women's Health Center. 
Q: Are health workers as reliable as a doctor? 
Susan: Yes, perhaps more so. Let's take pap smears, for example. What takes training is not the ability to take cells from the cervix wall, but to look at the cells and determine if there are signs of cancer. And no doctor does that; the doctor sends the cells to a lab, which is what we do, of course. We also provide a lot of health information on how to maintain your own health, home remedies and referrals over the phones. 
Q. What is menstrual extraction? 
Linda: It is a technique that was developed by Carol Downer and Lorraine Rothman of the first Self-Help Clinic in Los Angeles in 1972. We use the term to refer to a technique, used in advanced Self-Help groups, to gently suction the contents of the uterus on or about the first day of a woman's menstrual cycle. Menstrual extraction is always done by women together, not as a service, but in the spirit of sharing skills, information and experience. What is used is a very simple device that Lorraine Rothman developed called the Del'Em. 
The woman having the menstrual extraction is in control of what happens. Menstrual extraction can be used for a number of different reasons. It can be used to rid oneself of an impregnated ovum, and it can also be used to regulate the menstrual cycle, which is a real boon for women who want to have regular periods or who may want to get pregnant. It can also be used to alleviate menstrual symptoms. This is still an experimental technique because we have not been able to get formal research done on it. Some physicians have attempted to co-opt it by adding the term menstrual extraction to the list of procedures done in their office as a service: menstrual regulation, pre-emptive abortion, endometrial aspiration, minisuction; but menstrual extraction is clearly not a medical procedure and should not be confused with any of the previously named procedures. Other physicians have made statement after statement referring to it as a dangerous technique, because it is done by lay women, even though there is no evidence that it is harmful. 
Meanwhile, lay people are being trained to do menstrual regulation by the International Fertility Research Project (IFRP) in Chapel Hill, NC, which is the world's leading birth control research facility, in order to control Third World populations. 
Q: What is the relationship of the Tallahassee FWHC to the other FWHC's? 
Marion: The FWHC's have formed a Federation to solidify our working relationships and to recognize that we are all working towards the same goals. The Self-Help Clinic is at the base of each FWHC. Members of the Federation of FWHC's are centers in Los Angeles, Orange County, Chico, San Diego, — all in California — and Atlanta and Tallahassee. We also work to share our collective resources and to avoid unnecessary duplication of efforts. 
Risa: The exciting thing about the FWHC's is that we can travel to any center, walk in and feel right at home. 
Q: It is my understanding that a community health group has developed. Can you tell us about it? 
Linda: Yes, a group called Government Accountability to the People, or GAP, has been active now for about seven to eight months. GAP grew out of the Tallahassee FWHC's struggle to get a transfer agreement with Tallahassee Memorial Hospital; it involves a diverse cross-section of Tallahassee citizens, including the black community, since many of the worst policies at the hospital affect black people and their health care - issues such as the denial of treatment to a young black woman who was raped, coercion of poor and black people to take out loans to pay for health care, possible violations of the hospital's use of charity funds, differential treatment between blacks and whites in the emergency room, racist and sexist employment practices, and a strong union busting history by the hospital. The most blatant obstacle to accountability to the health needs of the community is the hospital board, which is elite and unrepresentative. You must be a landowner to be appointed. People from GAP have been going to board meetings and talking to people from the community, exposing the ties among the hospital and other institutions, their oppressive nature and lack of accountability to the human needs of Tallahassee citizens. 
The FWHC started out as a single issue group in that we were very concerned as women with health problems. But after years of working on that single issue, we realized we could exert only a certain amount of power as a group and could do only certain things on that level. Some of us have children, and we see how the school system is doing things to them that we don't feel is good for their lives. We have to deal with the courts for arresting people from our community for doing nothing. We have all these other things to deal with that cannot be dealt with just by having a Self- Help health group. In realizing that, we decided to get involved in other issues to challenge other controlling forces in our lives. So we are working with a number of other groups locally. 
Marion: We've learned that if you start with the Self-Help spirit, you can learn many things from other people that you need to know in order to survive. I have seen things develop since I've been at the health center that are incredible leaps of learning — the skills that it takes to administer a women's health facility and manage the books and talk to hundreds of women a week on the phone about anything they may be interested in, as well as run a clinic that hires fifteen or more people. The Self-Help concept is really the key to the whole thing. 
Tags
Linda Thalman is a member of the Young Socialist Alliance; Bob Broedel, who helped with the interviews, is a member of the Science for the People magazine editorial board. (1978)
Linda Thalman is a member of the Young Socialist Alliance; Bob Broedel, who helped with the interviews, is a member of the Science for the People magazine editorial board. (1978)