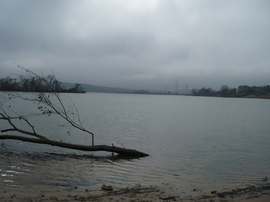 Independent tests of water samples collected from a river affected by last week's massive coal ash spill from TVA's Kingston power plant in Eastern Tennessee have found dangerously high levels of toxic heavy metals including arsenic, lead and thallium.

Concentrations of eight chemicals range from twice to 300 times higher than drinking water limits, Appalachian Voices reports:
According to the tests, arsenic levels from the Kingston power plant intake canal tested at close to 300 times the allowable amounts in drinking water, while a sample from two miles downstream still revealed arsenic at approximately 30 times the allowed limits. Lead was present at between twice to 21 times the legal drinking water limits, and thallium levels tested at three to four times the allowable amounts.

All water samples were found to contain elevated levels of arsenic, barium, cadmium, chromium, lead, mercury, nickel and thallium. The samples were taken from the immediate area of the coal waste spill, in front of the Kingston Fossil plant intake canal just downstream from the spill site, and at a power line crossing two miles downstream from the spill.
The group collected the samples on Saturday with help from the Waterkeeper Alliance's Upper Watauga Riverkeeper Program. They were analyzed using standard Environmental Protection Agency methods at the Environmental Toxicology and Chemistry labs at Appalachian State University in Boone, N.C. by Dr. Shea Tuberty, an associate professor of biology, and Dr. Carol Babyak, assistant professor of chemistry.

"I have never seen levels of arsenic, lead and copper this high in natural waters," said Babyak, an expert in coal plant emissions.

The scientists also analyzed a sample of sediment from one of the ash piles at the coal spill site and found even higher levels of heavy metals, including arsenic at 135 parts per million and lead at 25 ppm.

They warn that contamination of well and spring water is a serious concern for nearby residents. They also say that some of the metals present a long-lasting threat to the affected area's ecosystem, since they accumulate in the food chain.

Although the results are still preliminary, the groups wanted to release them "because of the public health concern and because we believe the TVA and EPA aren't being candid," said Robert F. Kennedy Jr., chair of the Waterkeeper Alliance.

Kennedy's law firm is working with Florida-based Levin Papantonio to investigate the spill and to pursue claims on behalf of property owners living in the affected area.

For the complete testing results, click here [pdf]. For a video interview with the scientists who analyzed the water samples, click here.

(Photo courtesy of United Mountain Defense's photo gallery of the disaster)