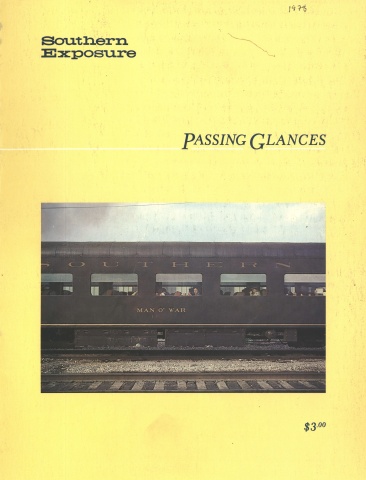 This article originally appeared in Southern Exposure Vol. 6 No. 3, "Passing Glances." Find more from that issue here.
"We're going to embarrass people for supporting John Tower. He's one of the last racists in the US Senate," says Garry Mauro, campaign manager for Bob Krueger. 
"Krueger is just a damned dishonest man. He's cut from the same hypocritical mold as Lyndon Johnson," says Ken Towery, campaign manager for John Tower. 
When politicians don't really disagree on any major issues all they have left to fight over is personalities. Bob Krueger and John Tower are two of the staunchest allies big business has ever had, and their current campaign for Republican Tower's Senate seat promises to be personal, petty and vicious. 
Krueger, a two-term Congressman from the huge 21st District stretching from Central Texas to West Texas, has recently emerged from a solid victory over opponent Joe Christie in the Democratic Party primary. He spent just under one million dollars earning the right to challenge Tower's 17-year hold on the Senate seat which used to belong to Lyndon Johnson. 
Tower had no opponent in the Republican primary, and he didn't bother to run a single television spot this spring. He was virtually ignored by the media as the press concentrated on the barrage of accusations Krueger and Christie slung at each other. 
Krueger and his aides hope the attention focused on the Democrats will create momentum for their effort against Tower. They expect the national Democratic organization to throw enough support to Texas to overcome the huge financial resources Tower can draw on. Campaign manager Mauro is counting on a $2 million budget for the November election and appearances by President Jimmy Carter and other prominent Democrats. 
In the meantime, the Tower camp has not been idle. Tower spent more money on the primary than did Krueger, even with no opponent and no TV spots. The money went into advance preparations to produce expensive TV footage and to build a staff of 45 full-time campaign aides. Campaign manager Towery is also counting on $2 million for the general election. He expects appearances by Gerald Ford and Ronald Reagan. 
The well-financed and well-organized Krueger campaign will be the toughest challenge Tower has yet faced in his political career, but he has survived some strange races before. His initial election to the Senate in 1961 was simply bizarre. 
Tower was born in Houston in 1925 and grew up in various East Texas towns where his father served as a Methodist preacher. Young John finished high school in Beaumont and enlisted in the Navy in World War II. After the war, he entered college, receiving a bachelor's degree in political science from Southwestern University in Georgetown, Texas, and a master's degree from Southern Methodist University in Dallas. He then studied for a year at the London School of Economics, an experience which left him a lifelong anglophile. 
Tower's connection to the Texas establishment began when he joined the Republican Party in 1951 while a student in Dallas. Upon his return from London a year later, Tower married Lou Bullington, a member of a prominent family in Wichita Falls. He then obtained a job teaching at a small college, Midwestern University, in his wife's home town. 
Wichita Falls is not one of the largest cities in Texas, but it is one of the richest, lying on the edge of the giant Burkburnett oil field. An ambitious young man could find a good base for future campaigns by building contacts with the network of millionaires living there. 
Tower advanced to the State Republican Executive Committee in 1956. Four years later, he volunteered to run against Lyndon Johnson. Republican officials in Texas thought the race for Johnson's Senate seat would be hopeless, but they were grateful that Tower was willing to show the party flag in the 1960 election. 
Johnson's Presidential ambitions turned the Senate race into anything but another Lyndon landslide. With Speaker of the House Sam Rayburn trying his best to get Johnson the Democratic nomination for President, Johnson decided to have the entire Texas primary speeded up by three months so he could get the Senate nomination out of the way long before the national party convention. Ed Clark of San Augustine, a master in backroom politics, was sent to the Texas legislature to fix things. 
In February, Johnson easily won the Democratic primary for the Senate; five months later, he lost the Presidential nomination. But he was granted the Vice-Presidential nomination as a consolation prize. Not trusting Kennedy's fortunes, LBJ decided to run for the Senate and the Vice Presidency at the same time. That didn't seem fair to some Texas voters, and they gave John Tower a surprising 40 percent of the November ballots in the Senate race. 
Johnson won both of his races in 1960, so he had to give up the Senate seat. A special election was scheduled for 1961, and it turned into a free-for-all as 70 candidates entered the Democratic and Republican primaries. 
Tower won the Republican nomination . The Democrats ended up nominating Dallas millionaire Bill Blakley after he survived a close contest against liberal Maury Maverick, Jr., and moderate Jim Wright, the candidate backed by the Johnson machine. Blakley, head of Braniff Airlines, was an arch-conservative with close ties to former Governor Allen Shivers, famous in Texas for organizing Democratic voters in support of Republican President Dwight Eisenhower's campaigns. 
Texas liberals just couldn't take Blakley. Willie Morris, the Texas Observer editor, wrote a column urging protest votes for Tower, and his advice proved influential. John Tower became the first Republican Senator from Texas since the 1877 retirement of scalawag Morgan Hamilton. The liberal Democrats who voted for Tower expected him to be a pushover in 1966. 
It didn't turn out that way. Tower's 1966 opponent was Waggoner Carr, a conservative state official with an air of scandal surrounding his career. Many progressive Democrats sat out the Carr/ Tower contest, and Tower won again. 
Tower's luck held during his third race for the Senate in 1972. The Democrats had an attractive, untainted candidate in Barefoot Sanders, but the McGovern debacle that November was too much for Sanders to overcome, even though the Sanders vote in Texas was much higher than the turnout for McGovern. 
As a Senator, Tower's voting record has been one of the most reactionary of anyone serving in the US Congress. This, of course, is consistent with Tower's campaign promises and political philosophy. For the past 17 years, Tower has been at the top of the ratings list for conservative organizations such as the Americans for Constitutional Action and at the bottom of the ratings given by the Americans for Democratic Action, consumer groups and labor unions. 
There have been variations within the basic reactionary framework. Tower reportedly expected to be a one-term oddity after his 1961 election, and he spent his first term enjoying himself, establishing along the way a reputation as a drinker and woman-chaser and as a sponsor of pet bills for fringe groups on the far right. 
The 1966 victory changed Tower's mind about his career, and he shifted slightly to the center to become a more conventional Republican. After Richard Nixon's election as President in 1968, Tower's influence rose dramatically as he was made the chief enforcer of party loyalty in Senate votes on Nixon programs. Tower stuck with Nixon during the Watergate investigations until the very end, when the "smoking gun" tapes made Nixon's resignation or impeachment certain. 
Tower continued in the role of Republican loyalist when Gerald Ford became President, even though Ford was unpopular with many Texas Republicans. Tower had a bad year in 1976 when the Texas primary resulted in a 100 percent delegation for Ronald Reagan. Even though Ford beat Reagan at the national convention, Tower was forced to resign as head of the Texas Republican effort and had to watch the job go to his old enemy, John Connally. Tower then saw his eight years of access to the White House evaporate when Ford lost to Jimmy Carter. Also that year, Tower and his wife obtained a divorce after 24 years of marriage. 
Tower made a remarkable recovery in 1977. He helped erase the old political stigma against divorce by marrying an attractive Philadelphia heiress, Lilia Cummings. He made peace with most of the Texas Reaganites at a series of Republican conferences where he warned, "I can be beaten," unless the party united. Wasting no time, Tower began fund-raising and assembling a campaign staff early in the year. By July, 1977, when Bob Krueger announced for the 1978 Senate race, Tower had already collected $400,000. 
Tower may have started earlier, but Krueger knew just as much about tapping into funds from the Texas ruling class of oilmen, bankers, attorneys, manufacturers and ranchers. Krueger's brief career as a Congressman had still given him plenty of time to prove himself to business groups. 
Being from a rich family hadn't hurt. Krueger was born in 1935 in New Braunfels, where his father had an auto dealership and textile mill along with his other holdings. The Krueger family first came to Texas as part of a wave of German immigrants who arrived in the 1840s, and Bob grew up speaking both German and English. 
Although his father advised him to study business in college, Krueger decided to major in English at Southern Methodist University in Dallas. After graduating from SMU, Krueger obtained a master's degree at Duke University in North Carolina and then transferred to Oxford, where he received a B.Litt. degree and a PhD in Elizabethan literature. 
He joined the faculty at Duke in 1961 and shifted his energies more towards administration than scholarship as the decade ended. 
Curriculum reform efforts laid the groundwork for his being appointed dean of arts and sciences in 1972. His career moves fit perfectly with plans he had made as a graduate student to first become a college president and then run for national political office. The death of Krueger's father in 1973 created a change in his plans. He decided to run for Congress in 1974 without waiting for further success as an academician. Krueger hired his former SMU roommate, Jim Land, as family business manager to settle his father's $2 million estate. 
Krueger's first move was to hire young professionals to run his campaign. Advertising executive Roy Spence of Austin was his initial contact. Spence then told Krueger to hire Garry Mauro and Tom Henderson, a pair of aggressive young lawyers who first worked together as undergraduates in campus elections and who had worked in several liberal statewide races in Texas. 
Mauro, Spence and Henderson developed a basic plan late in 1973 which has been used in all the subsequent Krueger campaigns. Krueger would always be called an "Independent" and never labeled a liberal or conservative on any of his issue stands. Krueger would be kept on the road constantly while Mauro handled all the staff decisions. Krueger's speeches and campaign literature would be vague on specific issues and concentrate on patriotism and moral uplift. 
Depending on who describes it, Krueger's media materials have been the slickest or the most professional ever seen in Texas. Everyone Krueger meets on the road gets a follow-up letter. Bumper stickers and billboards are designed for maximum effect in building name identification. The TV spots are worthy of Madison Avenue. Schedules for both TV ads and Krueger's appearances are carefully coordinated with the results of detailed polls on Krueger's strength in different cities. 
That kind of staff support in the 1974 campaign cost Krueger the most money ever spent on a seat in Congress — $362,053 - but it got him past tough races in both the primary and general elections. Krueger finished the year with a debt of $206,000, which was signed for by his family and by wealthy oilmen, ranchers and car dealers in the 21st District. 
Krueger's Congressional district has so far been among the most conservative in Texas and has had a record of supporting Republican presidential candidates and Tower's bids for the Senate. To survive in the district, Krueger had to vote for basic conservative positions on matters affecting ranching, oil and defense interests, but he could have chosen to specialize his committee work in a liberal area without ruining his chances for re-election. He chose instead to become a champion of big business in its attacks on any form of government regulation and interference. 
Krueger's national prominence has come from his series of close votes on deregulation of oil and gas prices, a windfall for the petroleum industry which would cost consumers $46 billion by 1985 in his own estimate and $86 billion in White House estimates. The media attention on the three nearmisses Krueger orchestrated in the House has been misleading. Krueger's grandstanding cost him the support of the House Democratic leadership, and when deregulation in a compromise version was finally worked out in May, 1978, Krueger was completely excluded from the House energy conferences on the bill. 
The headlines on the earlier votes had the desired effect, however, as Krueger became widely known and was adopted as the official spokesman of oil and gas producers. His huge 1974 campaign debt was paid off within a few months of his first decontrol bill, with $51,147 coming from oil and gas sources alone. Over half of the debt was paid by contributors from outside Krueger's own district. In his later campaigns, he would forge a potent alliance between Texas millionaires and corporate Political Action Committee (PAC) funds from across the country. 
Although he hasn't received as much publicity, John Tower has also been a loyal worker for the petroleum industry and has been rewarded with contributions from the same sources tapped by Krueger. Both men have made dramatic speeches, put out scores of news releases and written magazine articles defending business against government interference. They are eloquent on the dangers of national health insurance, no-fault car insurance, industrial safety rules, land-use policies and various reforms sponsored by consumer groups. They are equally eloquent on the need for massive military budgets. 
The response goes beyond campaign contributions. Krueger and Tower are favorite guest speakers at meetings of the US Chamber of Commerce, trial lawyers, realtors, doctors, car dealers, insurance underwriters and other business groups. It is not a simple matter of their being tools of cattle and oil. They are rewarded for these appearances with fat speaking fees which go into their personal income. Tower, with $23,750 in honoraria in 1977, is in the lead in this particular conflict of interest. 
If Krueger has taken less money for speaking before special interest groups, he has more than compensated through conflicts arising from his $400,000 stock portfolio. A 1977 study showed Krueger as the only House member with stock in top defense contractors, one of seven members with bank stock, one of four member with oil and gas stock and one of two members with pharmaceutical stock. His participation in every category was unique. 
Although business manager Jim Land sold off some obviously embarrassing stock holdings in petroleum companies and companies in South Africa, Krueger still has significant direct conflicts. His largest investment, Allied Chemical, owns major gas pipeline and exploration companies in Texas. 
Allied Chemical and Imperial Chemical, another Krueger holding, are involved in the North Sea oil operation. Imperial Chemical makes all the paraquat sprayed on marijuana in Mexico. Allied Chemical owns one half of the Barnwell, SC, nuclear reprocessing plant, a project for which Krueger voted to give a $14 million federal subsidy. Krueger's second largest holding is in Union Carbide, the major supplier of uranium to the Atomic Energy Commission. Krueger has voted several times to give maximum funding to the Clinch River Breeder Reactor, without which the Barnwell plant isn't necessary, and has voted to limit the liability of nuclear plants in case of massive accidents. 
Tower and Krueger have depressingly similar voting records. The most recent rating by the liberal Americans for Democratic Action gave Krueger a 20 out of a possible 100, and Tower a 15. Krueger supported the programs of his own party's President, Jimmy Carter, on 43 percent of 1977 votes, while Republican Tower supported 40 percent of Carter's programs. Both Krueger and Tower get low scores from Public Citizen and high scores from the Chamber of Commerce and the Business Roundtable. A Quaker group which monitors pro-military votes gives Krueger a 20 and Tower a seven. 
Krueger and Tower have almost identical records on agriculture. They both played fast and loose on the recent farmers' strike, making statements suggesting support of parity while voting for cosmetic legislation without really backing the small farmers. Both men receive strong support from the conservative Farm Bureau and cattlemen's groups. Both have voted for the types of subsidies which help agribusiness corporations and have opposed reforms designed to build up family farms. Krueger again has conflicts of interest in a 1,000-acre cattle ranch in East Texas and large holdings in agribusiness stocks. 
Finding the difference between Krueger and Tower takes a divining rod. Krueger's labor record is slightly better. Both men support right-to-work laws and oppose common situs picketing, but Krueger has supported a labor law reform designed to give unions and management equal time in making appeals to workers before plant elections. Krueger has supported the $2.65 minimum wage, but he voted for delays and to deny the same rate to teenagers. Tower opposed the minimum wage increase right down the line. 
Starting with his victory speech in Austin on May 6, Krueger has attacked Tower on the issue of civil rights, and Krueger's staff is using the racism question as its main tactic in holding liberals and minorities behind Krueger in November. Tower has voted against every civil rights and voting rights bill to appear since he took office in 1961. Krueger did vote for the Voting Rights Act extension in 1975, and he has supported the concept of civil rights in his campaigns. 
Krueger wears thin as a friend of minority citizens when his record is examined closely. He has voted against a five cent increase in federal payments for school lunches. He has opposed the Humphrey-Hawkins bill and most other job programs. He was not above demagoguery on "forced busing" in his first campaign, although John Tower goes much further on the busing issue by calling for a constitutional amendment to stop it forever. 
Although staff members working for Krueger and Tower are trying valiantly to develop issues for their candidates to fight over in this year's Senate election, the contest so far has been over who could raise the most money. Tower is slightly ahead, but both men will probably have $3 million when the primary and general election totals are in. 
The bedrock for both candidates has been their contacts with wealthy Texans. Tower's campaign chairman for raising money is none other than Ed Clark, the former star of the Lyndon Johnson machine. The rich supporters behind Krueger and Tower have been slowed down some this year by a $2,000 limit on the primary and general elections combined, but they slip around the rules by having everyone in the family, including children, chip in. Clusters of business partners added to family members can put donations from a single source at $10,000 or more. 
Independent oil producers lead the list of large contributors and account for some 30 percent of Krueger's funding. The oilmen are followed closely by bankers, ranchers and attorneys. About half a dozen men, including George Brown of Brown and Root Construction in Houston (you remember, the people who built the "tiger cages" in Vietnam), have given to both Krueger and Tower. Tower and Krueger also have received large contributions from the same corporate PAC funds — independent oil companies, the Realtors Association, the American Medical Association, LTV Corporation, banking groups, Shell Oil, Braniff Airlines, Automobile and Truck Dealers and insurance underwriters. Tower, the senior Republican on the Senate Armed Forces Committee, has done better than Krueger with war industries' PAC gifts. Krueger, a longtime foe of strict auto pollution standards and the son of a car dealer, has done better with the automobile industry. Tower seems to have slightly better contacts with the giant bank holding companies in Texas such as First International Bancshares in Dallas. Krueger has a slightly better showing with agribusiness groups. 
Faced with the high-rolling Krueger and Tower campaigns, the liberals barely made a dent in the Senate race. Joe Christie, a former state Senator from El Paso and former chairman of the State Board of Insurance, started his race for the Democratic primary months after Krueger had announced. Christie never generated enough money to run an effective campaign and never organized grass-roots support. 
One problem was that supporters had to stretch their imaginations somewhat to make Christie a liberal. Like Krueger and Tower, Christie supported deregulation of petroleum prices, and Christie also faced a staggering potential conflict of interest as a Senator in his $200,000 holdings in oil and gas leases in West Texas. Christie's overall wealth and yearly income were almost identical to Krueger's. 
Christie looked better and better, however, as the campaign progressed this spring. He placed more distance between himself and Krueger through his support of federal job programs, consumer protection, the Panama Canal treaties, pollution controls and expansion of parks and wilderness areas. As evidence of his progressive credentials, Christie would point to reforms in insurance regulation during his term as an agency chief and to sponsoring new parks while serving in the state Senate. 
The Christie campaign wasn't able to afford any TV spots, and this proved crucial in the last weeks before the May 6 primary. Christie had the athletic looks and quick sense of humor to make him a natural for television, and he usually did well in joint appearances with the pompous Krueger. The polls showed Christie and Krueger neck and neck throughout the primary with voters already familiar with the candidates, but the 50 percent of undecided voters remaining toward the end of the campaign proved to be willing fodder for Krueger's blitz of commercials. 
Complaints among Christie's staff members about his loss to Krueger being a typical example of big money Texas politics have served to obscure the debilitating elitism of liberals in the state. Although Christie campaigned as the candidate of the "people," he received only a tiny percentage of his campaign funds from small contributors who gave less than $100. 
Christie spent about $500,000 in the Democratic primary, but his campaign raised just half that much from supporters. Christie had to loan the campaign $97,200 from his own sources, and the rest of the debt is still outstanding for phone bills, rent, travel and other expenses. 
Of the money that Christie raised, most of the contributions came in chunks of $500 and $1,000 from the same sort of independent oilmen, attorneys, ranchers and bankers who gave to Krueger and Tower. Christie did manage to avoid the large clusters of family and business partner gifts common with the other two candidates. 
Another major source of Christie funding was from labor union PAC funds, mostly from outside the state. About $40,000 came from unions such as the AFL-CIO, Garment Workers, Auto Workers, Communication Workers, Steelworkers and Seafarers. Less than half that amount came from small individual contributions. The rest of the money raised for Christie came from several $ 100/plate banquets. 
Following the example of previous futile crusades by Texas liberals, the Christie campaign never bothered to organize effective county committees, never sent volunteers out on foot into neighborhoods across the state, and never put together a thorough direct mail drive. Krueger and Tower didn't make the same mistakes in their campaigns, despite their heavy reliance on rich individuals and corporate funds. Each of the two conservative candidates received about one-fourth of their donations from gifts under $100, and Tower's campaign manager, Ken Towery, estimates 30,000 people have sent in money for Tower during the past year. 
With similar voting records, similar budgets, support from national party organizations and highly professional campaign staffs, Krueger and Tower couldn't be more evenly matched. Trying to pick a winner at this writing (June 1st) would be foolhardy. 
The rhetoric is already heated. Krueger calls Tower a "racist" and accuses him of being "ineffective" in serving business interests in Texas. Tower is responding by accusing Krueger of being the choice of "Eastern labor bosses" and hammers at Krueger's low attendance record in Congress. 
"Krueger might as well get used to the idea that he won't be running against Good Old Joe," Towery says. 
A lot will depend on luck. Tower was asked to temporarily vacate his seat on the Senate Ethics Committee in March because of his friendship with Korean influence-peddler Tongsun Park. No evidence of Tower taking bribes from Park has surfaced, but Krueger will win easily if Tower is implicated before November. 
Tower also faces a problem on the far-right fringes of the Texas Republican Party in the proposed candidacy of Reaganite Henry Grover as an independent. Grover narrowly lost the November, 1972, governor's election to Dolph Briscoe, and his anti-abortion position has earned him a devoted following in the right-to-life movement. Krueger and Tower both support individual choice on the abortion issue. 
In a close race between Tower and Krueger, just a five percent turnout for Grover, his current standing in the polls, could cut into Tower's Republican support and throw the race to Krueger. Grover must obtain 17,000 petition signatures in June to qualify for a place on the November ballot, but that is not expected to be a formidable obstacle. 
No matter how the odds ultimately fall in favor of Krueger or Tower, big business can't lose. It's easy to imagine a gathering of oilmen, bankers and corporation chiefs at one of the Petroleum Clubs high above Dallas or Houston. As they drink whiskey and soda, one executive asks the others, "How'd we ever get both of them nominated in the same year?" The men around the table break into wide grins and take another sip of their drinks. 
Tags
Pat Black is a free-lance writer living in Austin, Texas. (1978)