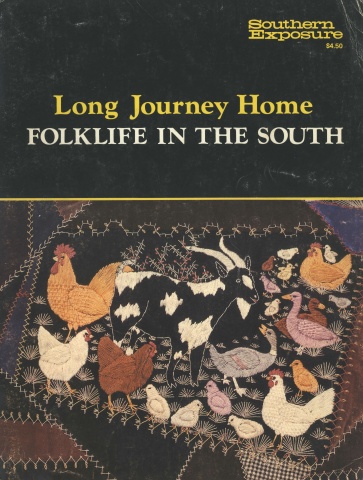 This article originally appeared in Southern Exposure Vol. 5 No. 2, "Long Journey Home: Folklife in the South." Find more from that issue here.
In the fall of 1928, four men from New York drove a couple of dusty touring cars into Johnson City, Tennessee. At the foot of the Smoky Mountains and just a few miles from North Carolina, Johnson City was in many ways a modern town, with two newspapers, a collection of active civic clubs, a budding interest in tourism and a Chamber of Commerce concerned with the need for new industries. Yet it was rather remote, and the mountains surrounding it were remoter still; the old ways held. Medicine shows pitched their tents across from the courthouse, and the Klan advertised in full page spreads in the local Staff-Chronicle. 
To the men from New York, Johnson City was backwoods — or as backwoods as they felt they could get and do their work. The men worked for the Columbia Phonograph Company, and they were in town to record some genuine old-time "hill country" music. Since 1924, the companies had found a strong market for such music in the South, and they set out to cater to this market. They first tried hiring trained singers to imitate country singers, believing that the real article was a bit too strong for anyone. They were wrong; their customers wanted the real thing. Next they tried bringing singers to the New York studios, singers like Charlie Poole with his "Don't Let Your Deal Go Down." But this was cumbersome and expensive, and made sense only if the singers had a large repertoire; many excellent ones did not. The only answer was for the companies to go into the South after the material, and by 1927 new recording technology made their journey possible. Hence the Columbia trip to Johnson City. 
The man in charge of the expedition was Frank Walker, the director of Columbia's "Old Familiar Tunes" series. (Nobody called it country music then, nor did anyone call it "hillbilly" music — unless he wanted a fight.) His assistant was a little man named Bill Brown, who worked with the musicians to be recorded, loosening them up, offering them a drink if necessary, trying to make everything seem normal. Walker and Brown took rooms at the city's plushest hotel, the John Sevier, and put an ad in the local paper: "Can You Sing Or Play Old-Time Music? If so, call Mr. Walker for a tryout with Columbia records." The word spread, and soon Walker and Brown had their hands full of aspiring musicians from the nearby hills. The Grant Brothers, from nearby Bristol, recorded a song called "Tell It To Me," known widely today as "Cocaine Blues;" a string band called The Roane County Ramblers, from the other side of Knoxville, recorded a version of the original "Tennessee Waltz," a low, lilting mountain melody quite different from the later Nashville hit. Someone named Richard Harold sang about "The Battleship Maine" and the Spanish-American War. Family groups abounded: the Bowman Family, the Reed Family, the Hodges Family. Brothers recorded together; parents recorded songs and even their children recorded songs. One enterprising music store owner from Kentucky brought a whole truckload of musicians into the session. "We were herded together like cattle," recalls one bitterly. But most of the feelings were good, and the little makeshift studio which had been a cream separation station, rang with music far into the night. 
First Decade of Country Music 
Long before Nashville emerged as the center for country music, large numbers of semi-professional performers — string bands, singers, fiddlers, gospel singers — were recorded in small cities across the South by traveling field units of major commercial record companies. From 1925 to 1935, the first decade of country music, nearly all the recording was done at temporary field studios set up across the South. In some cases, a field recording unit would follow the pattern set by Walker in Johnson City. In other cases, field units sent advance scouts into a certain area to line up acts ahead of time. Regardless of the method used, the talent was there and willing to record — not with the idea of getting rich off of records (no one in the 1920s did that), but for the experience of preserving their music on wax. 
This first generation of country music performers were folk musicians more than professionals; they were farmers, barbers, mill workers, mechanics, miners, sign-painters, people who made music on the side, for their own enjoyment, or for a Saturday night square dance or a church singing on Sunday. Some groups recorded in the field did go on to become full-time professionals, but not many; most of the groups recorded a handful of tunes and faded back into obscurity, leaving behind only their splendid "honest" music on the fragile 78 rpm records. 
And what music it was: examples of Southern folk art at it's best, its purest, its least self-conscious. Some of the older artists found by the field units were in their sixties and seventies in the late 1920s, and they had performing styles and repertoires that dated back to the Civil War. Years later the Library of Congress, under prodding from the New Deal, would begin to preserve the fast-vanishing folk music of the South by sending folklorists like Alan Lomax into the field with portable recording units. But 10 years earlier, the commercial record companies like Columbia, Victor, Vocalion, Brunswick and Okeh had done much of the same work, often with better equipment, and often more extensively — not because the music was folklore that needed to be preserved, but because it was a good, salable, commercial product. 
The people of the South bought these records, and in surprising quantities: some "Old-time" records sold as many as 200,000 copies — a giant hit by 1928 standards. But for years people interested in folk music and Southern culture in general ignored these commercial records and their invaluable legacy. If a person was recorded by the Library of Congress, he was a "folk artist"; if the same person recorded for Columbia, he was just a "hillbilly singer." So the records languished, went out of print, were gobbled up by shellac drives during the War, and became collectors' items, preserved by a few dedicated enthusiasts and fans. It is only in the last 10 years that the richness of this commercial collection of folk culture has been recognized and accorded the proper respect and study. Many of the old records have been reissued on LPs, and new generations of listeners have been turned on to a pre-bluegrass, pre-Nashville, pre-country type of music that is matchless in its complexity, depth of feeling and invention. Despite the richness of these commercial phonograph archives, recent evidence suggests they don't reflect the full scope and complexity of the Southern string band music. Every region has stories of "legendary" local musicians who refused to record for various reasons. We know about dozens of artists influential in the development of the music in the 1900 to 1930 era who never made a record. There was north Georgia's Joe Lee, who had a lot to do with introducing the long-bow style into the driving Georgia fiddle music; there was Alabama's Bud Silvey, acknowledged as better than John Carson or Gid Tanner or any number of well-recorded fiddlers, who refused to record because he sensed, rightly, that the commercial companies were exploiting the old-time musicians. Kentucky's Ed Haley, celebrated in verse by Jesse Stuart and respected by nearly every major Kentucky fiddler, was similarly suspicious of the record companies, and afraid that a recording would only make it easier for people to steal his stuff. Ike Everley and Mose. Rager, who started the Kentucky thumb-picking guitar style popularized by Merle Travis and Chet Atkins, never recorded anything of real significance. 
The recorded legacy of old-time music may well not represent the best musicians of the time — only the more outgoing, aggressive, or even opportunistic. Also, the companies themselves discriminated in odd ways. One talent scout didn't like the female voice, so he seldom recorded women performers; another didn't like "banjo songs" — songs done only with banjo accompaniment — and so he largely ignored those. Ralph Peer, the man who did more than anyone to commercialize the Southern folk music, eventually wouldn't listen to an act unless they had original songs which he could copyright. "No matter how good a group was," he later recalled, "if they didn't have their own songs, I didn't even see them." Columbia Records was fond of doing most of its recording in Atlanta, which meant that most of the talent came from north Georgia. Areas like the Ozarks, south central Mississippi, north central Tennessee, or the Kentucky barrens — areas which had fascinating musical traditions and styles — were woefully underrepresented on the commercial records of the day because the companies happened not to stage any field recording sessions there. Ironically, one poorly represented tradition was the music of the early Nashville area, the same tradition that generated the Grand Ole Opry. Until the mid- 1940s, only one recording session had been held in Nashville; that was by Victor in 1928, and it was considered a failure. Nearly half the sides were never even released, and Victor never returned to document the early Opry tradition. 
A Name On A Dusty Label 
In spite of the shortcomings of these records — they were recorded under primitive conditions, and give a distorted picture of the variety and scope of Southern music — they remain our best link to genuine old-time music. That link, however, was not enough. As appreciation for the original sound grew, it became apparent that modern aesthetic demands could not be fully satisfied by the music itself. Listeners wanted to know more about the people behind the music. Today the artist himself is a culture hero, and modern LPs are lined with information about the artist or his image; magazines like Rolling Stone surround a release with yards of copy placing the album in "context." The old 78s had only a name on a dusty label, and often that name was phony. What could such a name from the 1920s tell a person of the 1970s? Who were these people who called themselves The Skillet Lickers? Was there really a Doctor Smith and did he really have a band called The Champion Hoss Hair Pullers? Which Scottsdale was The Scottsdale String Band from? What possessed a man named Fisher Hendley to record a strange tune called "Hop Along Peter" with a band he called The Aristocratic Pigs? 
As interest in old-time music developed in the 1960s, it led to frustration. A small cadre of scholars, enthusiasts and musicians, armed only with the most slender of clues, began tracking down some of the names on the old labels. Among the pioneers in this area were Homer and Wilbur Leverett (well-known gospel singers), Mike Seeger (himself a leader in the folk revival), Rich Nevins and Dave Freeman (later to lead the reissue program for the old records), and Bob Pinson (Country Music Foundation), Archie Green (John Edwards Memorial Foundation), and Ralph Rinzler (Smithsonian Institution). Many trails ended in lonesome country graveyards, but some led to the performers themselves, alive and well, and, in a few cases, still performing. Artists like banjoist Dock Biggs, singer Tom Ashley (who recorded "The Coo Coo" back in 1929) and fiddler Clark Kessinger, made successful comebacks after being "rediscovered." There were indeed people behind these old records, but it took patience, detective work, and a lot of dumb luck to follow the clues and ferret them out. 
In the early 1970s, I began to gather material for a study of what I then called the commercialization of folk music; I wanted to learn just how these old records had been made, what the music business was like in the 1920s, and how the records (and record-making) had affected the musicians and their communities. I was living near Nashville, a seemingly logical starting place to track down the whereabouts of older musicians. But I quickly found that the musicians in Nashville were two or even three generations removed from the musicians of the '20s; to a veteran Nashville musician, "the old days" connotes the 1940s, not the 1920s. There was also a certain amount of historical parochialism; since many denizens of Nashville have convinced themselves that country music began in the city in the 1940s, few were interested in older musicians from other areas of the country.
About this time I also discovered that if you collated the "master numbers" of the old 78s — the file numbers assigned to the recordings before release — you could figure out what records were recorded at a particular session in Knoxville in August, 1929. Since travel was not easy in the 1920s — especially in the mountains — it was logical that many of the people in such a session would come from the surrounding area. This gave me a good geographical starting point for locating lost musicians. Local newspapers often wrote about these field recording sessions, some in great detail. Some newspapers in the South were pretty condescending toward music of this sort, but the recording activities in a sleepy town did make news. Thus stories often gave the names of the musicians and, in some cases, their home towns. Once you had a name and a town, it was sometimes a simple matter of checking with long distance information. 
In other cases, it was not so simple. There was, for example, the story of the Tennessee Ramblers. This band had recorded in Knoxville in 1929, and had played in a fascinating style that featured Hawaiian guitar and fiddle leads. I had heard their rare original records at a friend's house, and we noticed that the only clue to the identity of any band member was the name "Sievers" listed as composer for one of the songs — and this might well have been some Tin Pan Alley song plugger. By coincidence, a few days later we were in the Knoxville area digging around in an antique shop and trying to bargain with the owner over some old records. The dealer began to talk about all the musicians he had known throughout the years and I was trying to figure out how to get him back to the price of the records when I heard the name "Sievers" fly by. 
"Is there a musician named Sievers around here?" I asked. 
"Yes, of course; doesn't everybody know about Mack Sievers and that band he had, used to be called the Tennessee Ramblers?" 
We went into the back of the shop and the dealer called his old buddy, Mack, and pretty soon I was talking on the phone to a pleasant, articulate man who was giving me details about old-time music in Knoxville faster than I could scribble them down. He invited us to visit him the next day at his wife's cafe in Clinton, Tennessee, and he would tell us more, and ask his sister to come up as well.
We found the cafe without any trouble, and soon Mack and his sister, Willie, were telling stories about their lives as musicians in the 1920s. Like many early string bands, the Tennessee Ramblers had been a family affair; it had originated with Mack and Willie's father, Fiddlin' Bill Sievers. But there were some interesting differences. Willie, for example, did not go along just to sing harmony or dress up the act; she was a widely known guitar soloist, and her single-string solos won her a good many contests in her day. She was even featured in an early Gibson catalogue. Later that night Mack and Willie brought out their scrapbooks, and we brought out our session lists, and pretty soon we had rundowns on nearly everyone who had recorded at the Knoxville sessions — including a couple of blues bands. Mack had kept in touch with many of the older musicians in the area, and he telephoned a number of them for us, and even offered to go see them with us. 
But the best was yet to come. Mack asked if we would like to hear how their band sounded today. I was dumbfounded; finding old musicians from the 1920s alive and alert is rare enough; finding them still performing was something one didn't even dare hope for. The Ramblers set up and began to play a delightfully eclectic mixture of old-time and swing-style music. Willie now played a big amplified National guitar, and Mack had traded his dobro in for a single-neck steel. In some numbers he picked up his father's old fiddle, or his fivestring banjo, and in some numbers Willie sat down at the piano to romp through an old country barrelhouse number learned from Carl Martin and Howard Armstrong when they played on the Knoxville street comers long before they gained fame as Martin, Bogan and Armstrong. 
"We call ourselves the Novelty Hawaiians now," explained Mack. "When Father died, we decided we had to shift away from the older fiddle music, so now we play a little bit of everything. And we still get quite a few bookings a year in the area." In some ways the Sieverses have come a long way from the sound of the Ramblers; they have professionalized to some extent, and modernized, and they would probably offend bluegrass purists today. Yet Mack says, "The reason we played tunes like 'Hop Light Ladies' and 'The Preacher Got Drunk and Laid His Bible Down' is not because they were old or old-time sounding — back then we played 'em because that was the popular type of music. We played the way Dad learned to play way back there in the hills, but back then people wanted that." 
The Perry County Music Makers 
Another instance of dumb luck led to an even more interesting group. I teach at a university in middle Tennessee, and as a matter of routine I mention to every new class my interest in finding old-time musicians. Since the students are largely from rural Tennessee communities, this sometimes brings in unexpected dividends. In early 1974, I was putting the finishing touches on an essay about Tennessee string bands and had been puzzling about a strange group called The Perry County Music Makers. This group had recorded four sides in 1930, in the depth of the Depression, and their sales were almost negligible. Yet their sound was unique; the lead was played on a strange stringed instrument that the label called a "zither." It obviously wasn't a zither as is traditionally known, but apparently some sort of dulcimer — which was often called a "zither" by careless writers of the time. 
Bets were down that the group's name referred to Perry County, Arkansas. I had just written that the sound of the group suggested that Perry County, Kentucky, would be a better guess for their home. I had an elaborate chain of reasoning for this contention, but it was all blown to pieces one day when a student came into my office and said I might be interested in a great aunt of his who used to play in a band called The Perry County Music Makers. "A Kentuckian?" I asked hopefully. No, he and his family hailed from remote Perry County, Tennessee, a tiny county nestled up against the Tennessee River halfway between Nashville and Memphis. We set up an interview with his aunt, Mrs. Nonnie Presson, and her brother, Bulow Smith, who both lived in the area. Again, I was hoping that Mrs. Presson and her brother would simply be able and willing to fill me in on the details of their career, where they learned their songs, how they came to make records. Again, I was pleasantly surprised. When we finally got to Bulow's house — we had to ford a creek to get there — we walked in to find Nonnie and Bulow set up with their instruments and ready to play; they had assumed that was why we were coming. Nonnie's "zither" was stunning; it looked like an autoharp with thyroid trouble. It was in fact modeled on a German zither, but had 52 strings and was three times the size; Nonnie had it custom-built in the 1930s so she could "make herself heard" in string bands. 
The hollows where Nonnie and Bulow lived had been settled by German immigrants in the nineteenth century and Nonnie had been given a real zither when just a child, about 1913. Though she had never heard how a zither was supposed to sound, she took it and developed her own unique style, which took a little from church music, the popular ragtime and pseudo-Hawaiian pieces of the time and some from the emerging old-time music played at dances in the region. What resulted was a sound unlike anything I have ever heard; it was a shimmering, crystalline sound vastly different from the faint notes of the old 78s. 
After we recovered from our initial surprise at hearing Nonnie's zither, we began to talk. One of the songs Nonnie and Bulow had recorded in 1930 was an original called "I'm Sad and Blue." It had been reissued on a modern LP and picked up by a number of younger bluegrass groups. In fact, a short time before we visited Nonnie, we had heard her song performed by the Red Clay Ramblers as they won first place at an Alabama fiddling contest. We had taped their performance, and Steve Davis, a fiddling enthusiast and editor of The Devil's Box, brought out a cassette to play for Nonnie. 
"Listen to something," we said. 
She listened, and heard a song she had written 45 years ago being sung in high bluegrass harmonies by musicians young enough to be her great-grandchildren. Nonnie's face lit up with shock and surprise, and she started to say something, but then cocked her head and started listening critically and intently. When it was over, she offered a penetrating and detailed analysis on how the Ramblers had changed the harmonies and timing, and how theirs compared with the original harmonies. It dawned on me that Nonnie, unlike a lot of the older musicians we had found, had not retired from the music, had not distanced herself from it. Although she had been working for years almost in a vacuum, playing for her own enjoyment and an occasional supper or dance, she still had a passionate involvement in the music. 
In the late 1920s and throughout the '30s, Nonnie and Bulow had tried to professionalize their music. They played in everything from medicine shows to Nashville radio, and for a time had their own tour group — a venture which ended up somewhere in the Dust Bowl of west Arkansas. They returned to Perry County just before the War, and decided to "settle down." Nonnie kept going back to her music, writing songs she put in her trunk, or carrying them in her memory. Nonnie had much the same gift that A.P. Carter had: she could write a song so much in the folk idiom that it came out sounding like something that had been around for years. And when she and Bulow sang these songs — often helped by their niece, Virginia Claybome — it sounded like a cross between the Carter Family and the Chuck Wagon Gang, with rich, full, low harmonies completely different from the bluegrass harmonies that so often pass for traditional music today. 
We began to appreciate the real depth of Nonnie's creativity when Steve Davis and I decided to record the group for a record company Steve had recently started. Nonnie and Bulow hadn't been playing much together, but as they worked on the album, they began to recall old songs and even comedy routines that they had done years before. In some cases they couldn't reconstruct all the words of an original song, so Nonnie would dig into her trunk for tattered hand-written texts or, in a few instances, just compose new sections. 
One of the songs they sang was an early version of "Truck Drivin' Man," one of the most popular Nashville truckers' songs. Their version was certainly nice, but we doubted that such a modern song would fit in the album. The next time we visited, about two weeks later, Nonnie said, "You said you didn't think we could use that other truck driving song, so I wrote us one of our own." They launched into their own version of a trucking song which captured beautifully the feeling of trucking 30 years ago, before the diesels and CB radios and air conditioning. Needless to say, the song went onto the album, and six months later had even made it into a scholarly paper on trucking songs. 
In the summer of 1976, after some convincing, Nonnie and Bulow and Virginia took their music to Washington for the Smithsonian's Bicentennial Festival of American Folklife. There was a ruckus with Eastern Airlines about Nonnie carrying her zither up in the passenger compartment, but art triumphed again. Nonnie and her crew got to Washington and enjoyed it immensely. They couldn't get over the sheer number of good musicians at the Festival, and they stayed up half the night jamming, listening, and visiting with the musicians on the vast program. I think it was only then that Nonnie began to appreciate the uniqueness of her music. She and the band came back from Washington with many new friends, some of whom have continued to write and visit. These days Nonnie sits pretty much alone in her little house in a hollow near Pine View Community; her husband died last year, and her brother has been ill. Making a musical comeback at age 76 does strange things to your sense of reality, but Nonnie can handle it; she wrote, "For me, music is the thread that connects heaven and earth." 
Keeping the Music Alive 
Nonnie's story represents one of the bonuses of tracking down the founders of old-time music. The Perry County Music Makers had never been adequately recorded because they had the misfortune to peak during the Depression, when the entertainment business was at rock bottom. Only through a fierce determination did they keep their music alive all these years. How many people lacked that determination, and how much music died unre- corded and virtually unheard? How many good old fiddlers finally gave it up just a few years before the renewed interest in their music that's now sweeping the South? How many are there like old John Foster, a fine singer who recorded some hauntingly beautiful vocals between 1927 and 1930, but who are now convinced that their only hope for performing lies in the modern Nashville style? Shortly after visiting Foster and playing him a reissue of some of his best works, he sent me a Polaroid picture of himself, sitting in a cowboy hat, string tie, flowered shirt, big electric Fender across his knees, "ready to go again." 
Obviously, not all "rediscovered" folk musicians from the 1920s can still play. For many, the task of overcoming the years of neglect and inactivity is simply too great; even when encouraged, many simply don't have the energy to revive lost skills, and many others get discouraged in the face of their past excellence. I remember vividly one scene in middle Tennessee, at the home of an old fiddler who had recorded several long-bow styled masterpieces in 1929 and 1930. He had met us at the door with his fiddle in hand and explained, "I haven't had this old fiddle out of the case in 12 years, but after you called I got it out and warmed up a little. I can give you at least a tad of that stuff I used to play." For some 20 minutes he played both some of his old tunes and some more recent ones he had never recorded. The fiddling was a bit stiff, but we were learning about techniques and tunes, and enjoying it immensely. 
Then someone suggested listening to some of our host's old 1929 records, which we had brought along on a cassette. Like many old-time musicians, this fiddler had kept none of his old recordings, and had not heard them in years. Strange things happen to people when you bring back the past that suddenly and vividly. Some act embarrassed, some try to act casual; some are moved to tears, and others listen intently with a super-critical scrutiny. This particular man belonged to the last category. He listened to all of his records we had on tape, then wordlessly got up, shook his head, and put his fiddle away. He didn't play any more for us that afternoon, and it took considerable coaxing to get him to play again at all. He felt that he could never recapture the precision and drive of those records made 45 years before, and felt foolish playing before people who defined his music in terms of those old discs. 
Other musicians are past even attempting to revive their old skills, but this doesn't necessarily mean their music ceases to be a living force. There are many examples of younger musicians learning and absorbing the techniques of older performers. In the 1960s, during the folk revival, many young Northern musicians embraced Southern old-time music with a passion far greater than young Southern musicians. Even in Tennessee fiddling contests today, the most archaic-sounding string band music is apt to come from younger, and in many cases, transplanted Northern musicians. (Middle-aged Southern traditional musicians occasionally resent such efforts, and some refer to pre-bluegrass styles performed by younger pickers as "cave music.") 
However, in a number of instances older recording artists from the 1920s have passed on their music to younger musicians from the same area and tradition. This is the classic pattern of transmission folklorists like to think occurs in most genuine folk music; it's quite rare today, though, to find the music being passed on without some degree of self-consciousness, i.e., without some notion on the part of the younger musicians that they are preserving some rare and fragile thing. In some wonderful cases, the older music is still meaningful and natural on its own terms to the younger generation of performers; the old sentimental songs are not seen as camp, the fiddle tunes not as antiques. It's just music. 
This type of traditional survival is illustrated by the fiddle and banjo team of W.L. Gregory and Clyde Davenport from Monticello, Kentucky. I first heard W.L. and Clyde through Dick Burnett, a blind fiddler and banjoist who was one of the first Kentucky mountain musicians to record when he made "Lost John" in 1926. Dick was in his nineties when I met him in 1971, and was one of those artists who could not hope to perform again. His long-time partner, Leonard Rutherford, one of the smoothest fiddlers to ever record, had died in 1952, and I felt Dick's memories were the last link to the team's unique and archaic fiddle and banjo style. One afternoon while visiting Dick, we complained that it was sad that we had never heard the Burnett and Rutherford style in person. 
"Well, I'll tell you," said Dick, "you come over here Sunday afternoon on the front porch and listen to this local veterinarian named Gregory and his partner pick. They play all our tunes, and they play 'em right. They should; Leonard and me taught 'em everything." He was right. We came that next Sunday, and we heard W. L. Gregory and his partner Clyde hammer out Burnett and Rutherford tunes for two hours. It was uncanny. They were Burnett and Rutherford incarnate. They even played the tunes in the same key as the old records and, as they played, Dick sat in the comer and sang snatches of "Willie Moore" and "Man of Constant Sorrow. " 
We later recorded two albums with Gregory and Davenport, and the team went to a number of folk festivals, spreading even further the music of Burnett and Rutherford. The "local veterinarian" has helped to preserve Burnett and Rutherford's music not because he is a folklorist, not because he is a self-conscious folk musician, but because it is music he and his friends in Wayne County have loved. We weren't surprised when we sold more copies of W. L. Gregory's albums in Wayne County than anywhere else in the country. We were glad to sell albums in Chicago and Boston, but it was also nice to know that there are places where an archaic string band style dating from the nineteenth century could still be appreciated by the culture that generated it. 
In the last few years, we have found other instances of older groups transferring their style and music to younger groups in the same area, in the same culture. For instance, two Alabama coal miners named the England Brothers have absorbed much of the music of the Delmore Brothers, one of the classic singing duos of the 1930s. The Englands have just been recorded and are only now overcoming their surprise that there is an audience for a music they had preserved for their own personal aesthetic. Traditionally the old music is passed from father to son or from father to daughter, and is preserved as a sort of family heritage in addition to a broader cultural heritage. North Carolina fiddler Tommy Jarrell, known as the finest old-time musician in the country today, preserved the fiddle tunes and styles of his father Ben Jarrell who had recorded in the 1920s. Thus the trail to old-time artists can yield results even when the original artists are dead or no longer able to play. 
Old Times Recycled 
The music also survives through the phenomenon of the "reissue" record album: modern LPs that contain remastered tracks taken from the old 78s. It is almost impossible for a young fan today to find the original 78 recordings by influentials like Charlie Poole, Uncle Dave Macon, or the Cartel- Family, and difficult to find the proper equipment to play it on if he does. During the last 10 years, various companies have answered this challenge by issuing colorful, well-annotated albums containing the best of the old 78s; there are some 200 such albums currently on the market, available in bluegrass shops, specialty stores, and through mail-order sales. 
One of the first companies specializing in old-time reissues, and still one of the best, is County Records, operated out of Floyd, Virginia, by an ex-New Yorker named Dave Freeman. When Freeman started in 1965, there were only a handful of country reissues available. To his delight, Freeman soon found that his records appealed not only to young musicians, folklorists, and other record collectors, but also to the rural Southern society that had originally supported the music. 
In 1971 a group of students from the Boston area, drawn together by their commitment to folk music and a desire to demonstrate its importance to their generation, formed Rounder Records. One of their first projects was to lease from a major company the rights to the recordings of Blind Alfred Reed, a skilled West Virginia singer who composed a number of strong populist protest songs like "How Can A Poor Man Stand Such Times and Live?" Rounder directed its records toward a young, urban, well-educated audience, but soon expanded to become a major influence on the music market of the 1970s. Other companies soon entered the picture, and today, fans have access to more authentic old-time music than at any time since the 1920s. 
Companies like County and Rounder are intensely scrupulous about paying royalties to the old artists whose work they have reissued. Having his 50-year-old record on a modern LP and hearing his music praised by enthusiastic long-haired, bearded musicians of the 1970s can have a profound effect on a retired musician. In many cases the royalties from the modem reissues are the first royalties the performer has received. It was all too common in the 1920s for the commercial companies to pay a musician a simple flat fee, usually $50 a side, for making a record. Often he never knew how well his record was selling, or how far the record may have carried his music. In 1926, for instance, one major record company sold an average of 25,000 copies of each "hillbilly" record it released that year; the records were retailed for 75 cents apiece. This means that a typical record generated a total income of $18,750 between manufacturer and middleman, and that the company itself, wholesaling the record at 35 cents and absorbing a 50 percent production cost, would easily have realized a profit of over $4,000. This particular company issued over 80 records like this in 1926. A few performers who sensed the dimension of the exploitation insisted on royalty payments; and usually had to settle for 1/4 cent per record, if they were lucky. 
No doubt the commercial record industry of the 1920s did preserve an immense amount of fine music, and they did provide a means for the music to develop into a viable art form, modern country music. But this same industry had an ugly, exploitative side which emerges when you look at the situation in human terms. Today, though, there's a new sense of what Archie Green calls "cultural ecology" which is bringing about a broader appreciation of Southern traditions. It's a recognition that "tradition" is not some quaint, fragile hothouse plant that's best admired behind glass, but rather a relevant, living force. People like Nonnie Presson aren't getting rich by being "rediscovered," but then that was never their motive for making music. Now at least they know someone out there is listening, and they know the benefits are flowing both ways. 
Today, more people than ever before are interested in finding the older musicians, persuading them to play again, recovering their music and understanding their culture before it is too late. Musicians who were in their twenties when they recorded in the 1925 to '30 era are approaching their seventh decades. Soon the first generation of country musicians (or, if you wish, the last generation of pre-media musicians) will be gone completely. They will leave a lot of questions unanswered, a lot of songs unsung. And we do have a lot of questions for some of them, including some groups we've been tracking for years. 
Where are the members of the Bird Family, whose glistening twin mandolin work anticipated bluegrass styles by a generation? Where are the Johnson Brothers, who pioneered the use of the Hawaiian guitar blues and became one of the first groups to try to copyright their own material? Where is the fantastic left-handed fireman who called himself Seven Foot Billy who played "Spanish Fandango" on his big Gibson guitar, and stomped off his fiddle band by saying, "Bust down!" Are they long since dead? Or turned into insurance salesmen? Or preachers? Or are they still quietly picking away on back porches, unaware that somewhere, someone is interested in their music? 
Tags
Charles K. Wolfe is an associate professor at Middle Tennessee State University, Murfreesboro. He has produced a number of records and radio programs, written frequently on Southern music, and is the author of The Grand Ole Opry: The Early Years: 1925-35, published by Old Time Music in 1975. (1977)