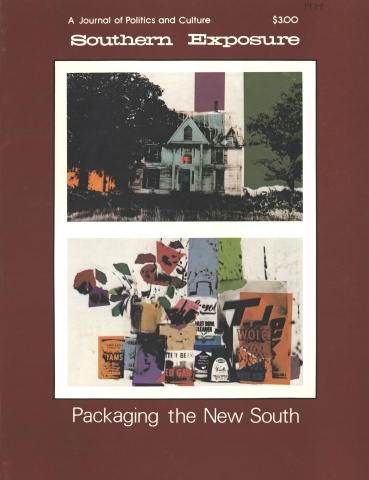 This article originally appeared in Southern Exposure Vol. 6 No. 1, "Packaging the New South." Find more from that issue here.
For more than a year, the pressure had been rising: Southern public officials seeking evidence of Communist subversion in the civil rights movement had been zeroing in on the Highlander Folk School, a racially integrated adult education center on the Cumberland Plateau near Monteagle, Tennessee. An undercover agent sent there by the governor of Georgia had come back with photographs of whites and blacks dancing and swimming together, and with a group picture showing Martin Luther King, Jr., in the company of a writer for the Communist Daily Worker. The attorney general of Arkansas had charged that Highlander was "flying in formation'' with the NAACP, which he denounced as an "agent of a Communist conspiracy designed to set up a 'Black Republic' in the South. " Mississippi and Alabama officials, likewise given to equating integration with communism, were also urging the governor and the legislature of Tennessee to eliminate what many arch-segregationists in the region were calling "a Communist training school teaching methods and tactics of racial strife. " 
The year was 1959. For more than a quarter of a century, the Highlander Folk School had held firmly to its small base in Grundy County. Occasionally, it had received substantial support from among "the common folks'' in the area; frequently, it had been a controversial presence resented and opposed by the county's power holders. It could claim not just to have survived, but to have been an effective voice for unionism, integration and the rights of the poor. But in the climate of fear and defiance that was sweeping the South in reaction to the movement for racial equality, an irresistible consensus was forming in Grundy County and elsewhere across Tennessee and the South: Highlander was a symbol of radicalism and discord. It would have to go. 
First a resolution was introduced in the Tennessee General Assembly "to Investigate the Subversive Activities of the Highlander Folk School. " It passed both houses with scant opposition, and was signed by Governor Buford Ellington. 
Then, five members of the legislature appointed by the governor held dosed and open hearings in Tracy City, near Monteagle, and in Nashville, the state capital. They heard an outpouring of allegations against the folk school and a few voices in defense of it. 
Next, the committee presented a condemnatory report to the House and Senate, and urged them to direct the district attorney general to bring suit against Highlander for the revocation of its state charter. The legislature quickly passed a resolution to that effect without debate, and again Governor Ellington added his signature. 
There followed a raid on the school by the district attorney and state and local police; the arrest of four persons for possession of whiskey and interference with police officers; a court hearing on whether the school should be padlocked as a public nuisance; a jury trial to determine whether its charter should be voided; a conviction, and two futile appeals. Finally, in the early winter of 1961, a court-appointed receiver sold the holdings of the Highlander Folk School at public auction. 
The investigation, raid, hearing, trial and conviction all took place swiftly, between February and November, 1959. The appeals required almost two years. The forced sale was over in a matter of hours. Twenty-nine years after its founding, the Highlander Folk School was finally gone from Grundy County. 
Myles Horton remembers. He was Highlander's first and only director during all the years of its existence in Grundy County — and for a while after it was "reborn" as the Highlander Research and Education Center in Knoxville. Now seventy-two years old, he lives in semi-retirement as director emeritus of the "new" Highlander Center at its mountain-top location in Jefferson County, east of Knoxville. 
"I was in Europe when they staged the raid," he recalls. "They arrested Septima Clark and Guy Carawan and a couple of others, charged them with illegal possession and sale of alcohol and resisting arrest. When the cops threatened to break down the door of my home with an axe, they were given a key. They found a little gin in there, and down in the basement they found an empty ten-gallon keg with an open bunghole. It smelled like whiskey to them, so they poured a little water in it and sloshed it around, and then they got one of the highway patrolmen to taste it. At the hearing, he testified that it tasted like liquor, said it was god-awful. So I went home and checked that old barrel, and found out it had mouse droppings in it. When I saw the cop the next day, I said, 'You know what you drank? You drank mouse turd soup.' He turned pale." 
Horton chuckles at the recollection. He is a garrulous man, given to easy laughter, and he nourishes a Southerner's penchant for anecdotes and stories. He looks considerably younger than his years. It is hard to imagine him as a radical of the 1930s. 
"We had some trouble in our early years," he says, "but the first twentyfive years were relatively non-controversial compared to what happened in the late '50s. It was the temper of the times — to be specific, it was the race issue — that brought on all the trouble. Ironically, it was outside agitators from the state governments of Georgia and Arkansas who applied the pressure. Governor Ellington, in my opinion, didn't have enough sense or ability or energy to lead an attack on Highlander. He was a neuter — a racist, but not an energetic one, like Marvin Griffin or Orval Faubus — and he agreed to the Highlander purge because he was under pressure, not because he believed the charges against us." 
Time may have mellowed Horton's memory of the folk school's early years. Hulan Glyn Thomas, who wrote about them in a Vanderbilt University master's thesis in 1964, recorded numerous examples of hostile opposition to Highlander from its origin until the beginning of World War II. The school's commitment to the laboring classes and to the labor movement in the South incited the wrath of courthouse power blocs, anti-union industrialists, some religious leaders (including evangelist Billy Sunday), the American Legion and the Ku Klux Klan. 
Horton, a Tennessee native who studied at Union Theological Seminary in New York and at the University of Chicago, had returned home in the middle of the Great Depression intent on applying adult education methods he had learned in the Danish folk school movement to the needs of unemployed miners and timber cutters in the mountains. He had the encouragement and support of such noted Socialists and "social gospel'' Christians as Norman Thomas and Reinhold Niebuhr. Labor union leaders also welcomed his determination to develop an outpost on the frontier of the labor movement in the South. Horton and Don West, another young Southerner interested in the transplantation of the Danish folk school idea in the mountains, secured the use of a Grundy County farm owned by Lillian Johnson of Memphis, and from the start, their efforts at participatory democracy were controversial. 
They set up evening classes, music lessons, a library and other programs for adults in the community — but their union organizing activities and general support for unemployed and unrepresented working people drew such fierce opposition that Lillian Johnson was put under heavy pressure to evict them from her land. (After a few years she finally deeded the property to Highlander, but in 1934, after Don West had departed, Horton was offered an alternative site in Fentress County, one hundred miles to the northeast, and actually chartered the school in that county because he anticipated losing the Grundy site.) 
In 1940, an organization called the Grundy County Crusaders launched a campaign of harrassment and intimidation to drive Highlander out of the area, and others who saw liberalism, unionism, socialism and communism as one and the same — and racial integration as the proof of the pudding — kept Highlander in a state of uncertainty throughout the 1930s. Even the liberally inclined Nashville Tennessean saw fit in 1939 to infiltrate the school with an investigative reporter and to publish his series of articles purporting to expose a hotbed of Communist activity there. A ccording to the Hu/an Thomas thesis, Highlander probably survived its first decade only because the pro-labor Roosevelt Administration was in office — and because "the profound shock of Pearl Harbor... destroyed much of the remaining opposition to the radical left, and Highlander was no exception. " 
If Horton's remembrance of the distant '30s has softened, his recollection of more recent years — and particularly of 1959 — seems much more detailed and precise. In a matter-of- fact manner, without apparent bitterness, he talks about Highlander's year of crisis: 
"The whole thing was a put-up job. The legislative investigating committee admitted it could find no proof of communist activity — it couldn't, of course, because there wasn't any — but they told A.F. Sloan, the district attorney general, to sue us for the revocation of our charter anyway, because we were in technical violation of some state laws. That was in March, as I recall. It took Ab Sloan until the end of July to move against us. That's when they staged the raid, during a workshop on school desegregation, and arrested Septima Clark and the others. She was our director of education, a black woman from South Carolina, a marvelous person. They were arrested and jailed, but never brought to trial. Sloan got what he was after — that little bit of alcohol in my house — and that was all the excuse he needed to take us to court. 
"There was a preliminary hearing, and then in September, at the Grundy County courthouse in Altamont, there was a three-day hearing in circuit court after Sloan had asked for an injunction closing us down as a public nuisance. That was the so-called 'padlock' hearing, before Judge Chester C. Chattin. We had a young lawyer from Nashville named Cecil Branstetter representing us. The state had Sloan and three or four other lawyers.'' 
Sloan had given a revealing quote to the press after the raid. "The members of the legislative committee gave me information mostly on integration and communism, " he said, "and I wasn't satisfied I could be successful on that. I thought maybe this [raid to find whiskey] was the best shot, and I think now I'll be successful." In the files of Nashville and Chattanooga newspapers, in a book on Highlander by Frank Adams (Unearthing Seeds of Fire,), in a Vanderbilt master's thesis by Joan Hobbs and in the voluminous record of court proceedings, the full picture of Sloan's successful prosecution is preserved in great detail. 
The state's strategy in the padlock hearing seemed primarily to be to present Highlander as a place where illegal and immoral behavior between whites and blacks went on routinely. A parade of state's witnesses, most of whom were shown on cross-examination to have police records or reputations of unreliability in the community, testified to having witnessed wild parties, drunkenness and open sexual intercourse between whites and blacks at the school. One man said Highlander had a reputation in the community as "an integrated whorehouse." Another, edging closer to the truth, said "people don't like it" that Highlander was integrated. "Don't allow them [black people] on this mountain," he added. (Although the folk school had included blacks in its programs from the beginning, none had ever lived in Grundy County.) 
John Clark, one of only a handful of local people to testify for Highlander, said he had never witnessed any immoral behavior at the school; it was opposed, he said, because people in the community "don't like the colored folks. That is the main burning issue. " 
Defense attorney Branstetter called about twenty witnesses, all of whom denied categorically the charges that had been made. They were treated roughly on cross-examination by Sloan and his prosecution team, who drew repeated protests from Branstetter and an occasional admonition from Judge Chattin. 
In closing arguments, prosecutor A. A. Kelley asserted that "there is proof in here, abundance of it, that [Highlander] is a place where moonshine whiskey was kept and stored. Great quantities, and where bonded whiskey exists. Rums. Gins. Vodkas. And the whole range and gamut of the fancy, fine drinks." Attorney General Sloan, repeating the testimony that Highlander was thought of in the community as "an integrated whorehouse, " said in his dosing statement: "I don't care if it is integrated or not. I am after it. It is against the law to have one of them in Grundy County . . . . We are not interested in that school for what it teaches. We are not interested in that school for the type of students that it has . ... I filed this [complaint] to try to stop it before they trained the youth of this country to follow the footsteps of those people that were caught in sexual intercourse out of wedlock. That is the kind of practice that I am against. . . not what they teach. " 
In the testimony, there had been an admission by Myles Horton and others that beer was made available at cost to participants in the school's workshops and programs who wanted it. Sloan charged that the practice amounted to selling beer without a license, and likened the school to the sort of "roadside honky-tonks" he was pledged to eliminate. 
At the end, Judge Chattin issued a ruling from the bench. "I don't see anything at all to the charge of immorality," he said. "I don't think the state has made out its case at all on that point. As to the charges of fighting, quarreling, and drunkenness, not here. The only thing I see wrong is the sale of beer....I think that the proof shows by great preponderance that they have been selling beer out there.... That is a nuisance, to permit the sale of beer without a license. " He issued a temporary padlock order on the school's main building, allowed continuation of the school's programs elsewhere on the grounds, and set an early November trial date to determine whether there was sufficient evidence to justify the revocation of Highlander's state charter. 
The original cause for the attack on Highlander — the allegation that it was tainted by communism — had receded from view. The charges of immoral behavior had been thrown out by the court. But the climate of hostility and outrage against the school was, if anything, more intense than ever. The state was determined to carry out its purge. 
May Justus remembers. She is eighty years old now, living alone in a small house near the old Highlander property. A native of the Tennessee mountains, she came to Grundy County in 1925 with Vera McCampbell, a colleague of hers at a Presbyterian mission school in Kentucky. They taught in the local schools — Miss Justus until 1938, when she turned her talents to writing books for children (she has now written over sixty), and Miss McCampbell until 1958, when she was fired from her teaching job for attending a Highlander event at which Eleanor Roosevelt and Harry Golden spoke. In 1959, May Justus was Highlander's secretary-treasurer. She testified in defense of the school during the legislative investigation and in court. When one interrogator suggested that she might have come under "suspicion" because of her involvement with the folk school, she replied: 
"Sir, a person must live by his Christian principles regardless of what human beings think about him. As long as I can lie down and sleep at night, knowing that I have lived right, people can think what they want to about me." 
She has remained in the community, holding steadfastly to her belief in Highlander and her own commitment to its purposes. "I'm surrounded by a great deal of love," she says serenely. "My children from the days when I taught school never were against me. They know me, and we understand each other's feelings. These people have come to be my family, the only children God ever gave me. I'm devoted to them, and they to me. Some of them are in their sixties now." She recalls: "I offered to resign from my church, but not from the Kingdom of God. Many people were shocked and angered at my association with 'niggers,' but an eighty-year-old elder in the church told me, 'I know a lady and a Christian when I see one. Don't leave.' So I never did. I harbor no bitterness. I had none at the time. Those who hated Highlander — they are what they are, and can't help it. There are reasons why, scars they didn't cause. I was never threatened, and I was never afraid. I had been there so long, I was confident they wouldn't harm me, even though they didn't approve." 
The people of Grundy County haven't changed their views about Highlander or about integration, Miss Justus says: "The trial didn't have anything to do with beer, or with Myles Horton's personal gain — those were just excuses, ridiculous charges. No, it was about racism. People here just couldn't think of blacks as human beings. 'We don't want them niggers in our county, even going through our town,' they would say. The first thing I learned when I came here was, no blacks. Total segregation. It went deep — a feeling of superiority, of 'white is right.' Not even one black family lives in the county today, and never has. That's what it was about, and that view hasn't changed. If the trial was being held here now, and you picked a jury at random, it would end up the same way. 11 was not just the unlettered and illiterate of Grundy County who were against Highlander, though. It was also the upper class, the rulers — lawyers, doctors, politicians, here and in places like Nashville. They were wrong. In the long and shameful history of human bondage and slow emancipation, Highlander will some day have a bright chapter." 
Septima Clark remembers, too. She is also nearing eighty, living now in her native Charleston, South Carolina, where in 1956 she was dismissed from her teaching job for being a member of the NAACP. ''I had forty-one years of service," she says quietly. ''They took my pension. But I have recently received $7,200 from the state — ten percent of what they owed me — and next year, I'm supposed to get my pension. There are thirteen black members of the legislature now, and one of them got it for me." 
The Citizenship Education Program Mrs. Clark developed for Highlander became the basis for future gains in black voter registration in the South. "Many of the achievements we made in the civil rights movement started with that Highlander program," she says. "You can see the results everywhere — in black elected officials, in voters, and now in the efforts of Indians and Appalachian whites to get their rights. The segregationists were scared of Highlander. They said Myles Horton was taking money from the school, but integration was what really worried them. Myles didn't — he was doing people a favor, helping people. They just wanted to get rid of him and the school." 
Mrs. Clark is now a member of the same school board that dismissed her more than twenty years ago. "It just goes to show," she says, "that we can get something done nonviolently." 
The trial opened in Altamont on November 3, and lasted four days. The state's opening claim was that Highlander's charter should be revoked for three reasons: it had sold beer and other items without a commercial license; Horton had received property and money from the school — in other words, had realized personal gain — in violation of the charter; and the school had permitted whites and blacks to attend together, in violation of a 1901 state law. (The US Supreme Court's 1954 Brown decision had voided that law, but the state claimed that the court's ruling affected only public schools, not private ones such as Highlander.) 
Cecil Branstetter, for the defense, conceded to the latter charge and invited conviction on it. Highlander had always been integrated, he said, and welcomed an opportunity to defend its position in court. 
With Judge Chattin presiding, it took more than a day to seat a jury. Both Branstetter and Sloan, the district attorney general, probed each prospective juror for his or her views on segregation; some heated exchanges took place, and several jurors were seated over Branstetter's objection. But before testimony commenced, the judge limited the jury's consideration to two issues — illegal commercial sales, and Horton's personal gain. The race issue, like the charges of communism and immorality, would not be argued in court. (A deposition of Edwin H. Friend of Atlanta was permitted in the court record, however. Friend had attended Highlander's 25th anniversary celebration in 1957 as an undercover agent for Georgia Governor Marvin Griffin. While there, he had photographed Martin Luther King, Jr., and others with Abner Berry, a columnist for the Communist Daily Worker who also had concealed his true identity from Highlander officials. The photograph was later given wide circulation as "proof" that King attended "a Communist Training Center." In his deposition, Friend said his assignment as a Georgia undercover agent was "to go to Monteagle, Tennessee, to the Highlander Folk School and find out whether that malignancy of the NAACP and Communism was leaking out over Georgia. ") 
The state's case included testimony from beer distributors that they had delivered cases of beer to the school, and testimony from others — including Myles Horton — that the school's executive committee had conveyed title to Horton's house and sixty acres of land to him. The property transfer would prove to be the straw the state would seize. 
Highlander was shown to have assets of about $175,000, including two hundred acres of land, a dozen buildings, and a library containing several thousand volumes. Its income of about $70,000 a year came almost entirely from foundations, and was spent on modest salaries for its small staff and on the operation of its workshops and programs. From 1932 until 1954, Horton had received only subsistence funds and necessary expenses — no salary. He and his wife and two children lived on the premises, as did his mother and father. 
"The executive committee of Highlander transferred the title of my house to me in about 1956," Horton recalls. "My wife, Zilphia, had died, and the committee wanted to make the transfer so my kids would have a home if something happened to me. We had built the house with our own money on land sold to us by Highlander, and my parents had done the same thing. We paid the school for the land and built on it some years earlier, but we had left it in the name of Highlander, and that's what the committee changed. They said I had put twenty-four years of equity into the place, I had earned it, and it should be mine. They also put me on a salary in about 1954 — $1,200 a year, as I recall — and by 1959 my salary was something over $5,000 a year. Sloan was very clever. He hammered away at that, made it look like the school was being operated for my personal gain and benefit. He told the jury, 'It's not what he's getting, but what he's going to get. He's got it set up so that some day, he can cut the melon — when he gets ready, he can take everything.' The jury was led to believe I would do that — and they convicted me on that." 
When testimony ended, there was little doubt of the outcome, in final arguments, Sloan and A. A. Kelley bored in on the property transfer. "He got it for nothing, " Sloan said derisively. "Deeded it to himself. " Branstetter's passionate assertion that the state hadn't proved its case appeared not to move the jury. Before they retired, Judge Chattin told them: "There will be only one issue for you to determine, and that is this, Has Highlander Folk School been operated for the personal gain of Myles Horton?" At ten minutes past two on the afternoon of November 6, the jury filed out. Forty-five minutes later, they were back. The verdict: yes, Horton had profited; he was guilty. 
Four of the jury members who still live in Grundy County remember. Noah White, Paul G. Cook, Douglas Partin and Colleen Meeks — the only woman on the panel — remember the issues and the outcome, and they are as convinced now as they were then that their decision was the right one. 
"They were selling beer and whiskey without a license," Partin says. "The prosecutors had pictures of it, they had proof." 
White goes further. "Horton admitted he took grant money for himself," he says. "He profited, and didn't pay tax on it. All I can say is, justice was done. If that place was down there now like it was then, somebody would blow it away. It wasn't the race thing— that didn't influence me, and wouldn't now." 
And Paul Cook: "I didn't want to sit on that jury, but I was sworn to tell the truth. A decision under oath is a very sacred thing. I decided without a doubt in my mind that Myles had profited, and they had sold beer without a license. They weren't paying taxes, either, or having classes, or using textbooks. That integration business, that didn't have anything to do with it. Lots of folks around here resent the colored, and we still don't have any in this county — but they'd have been in trouble without the niggers, and you'd get the same decision now, if the trial was today." 
And finally, Colleen Meeks. She is the postmaster at Coalmont now. "Everybody thought I was just a little housewife out there, with her mind at home," she says. "I had no preconceived idea, knew nothing of it, and I didn't want to be called. I was scared. This was big doings. But I wouldn't be intimidated — I'm not like that. If Branstetter had convinced me, I'd have voted for his side, and I'd have stuck by my guns. It was a simple question: Did Horton profit, or did he not? I decided from the evidence that he did, and my conscience is clear about it. I had no bitterness toward those people. They were good people, some of them. Horton conducted himself admirably. He was a gentleman, an educated man — but he profited from the school. The race thing? Well, this county won't tolerate blacks — never would, and it's still that way - but I honestly don't think that influenced us. I know it didn't influence me." 
What is "personal gain"? In his charge to the jury, Judge Chattin had made no distinction between legitimate and illegitimate compensation. Branstetter protested, and after two conferences with counsel at the bench, the judge reluctantly made a clarification to the jury: the payment of salary or conveyance of land in lieu of salary does not constitute personal gain. But the damage had been done. Highlander was worth thousands of dollars, it received money from out of state, grants from New York foundations, gifts from the likes of Eleanor Roosevelt — and Horton was in charge, he parceled out the funds, and now he held title to a house, to land.... 
On February 17, 1960, Chattin issued his ruling in the Highlander case. On the charge of Horton's personal gain, he agreed with the jury. On the two issues he had reserved to himself, he also ruled against the school: it had sold beer and other commodities without a license, and it had allowed whites and blacks to attend school together, in violation of Tennessee law. He ordered Highlander's charter to be revoked and appointed a receiver to liquidate its holdings. Court costs would be paid from the school's assets. He told Horton in the ruling to "wind up your affairs. " 
Cecil Branstetter remembers. He had fought a hard fight. The jurors remember him as "the smartest lawyer I ever saw" and "the man I'd want to represent me if I ever got in trouble." Immediately after the trial, he had filed an affidavit swearing that a deputy sheriff had told him that he, the deputy, had told members of the jury during the trial that Highlander "should be run out of the county." (The state had quickly responded with sworn statements from all twelve jurors that no one had tried to influence them.) 
Branstetter had sought a new trial, citing thirty-two errors in the proceedings, and when that had failed, he had appealed to the State Supreme Court. A year later, in April of 1961, the five judges of that court had unanimously upheld Judge Chattin's ruling on Horton's gain and the school's sale of beer, but found it "unnecessary for us to pass upon the constitutional question as to the mixing of white and colored, male and female, in the same school." Branstetter had then taken an appeal to the U.S. Supreme Court, which on October 9, 1961, denied Highlander a hearing. (Burke Marshall, who headed the civil rights division of the justice department under Attorney General Robert Kennedy, had written Branstetter a letter of regret, saying the government could not file an amicus curae brief in behalf of Highlander because of the lack of "any federal question at all" in the case.) 
"What was clear from the first," Branstetter recalls, "was that the state wanted to get rid of Highlander. The raid was a farce, a publicity thing, the kickoff of the campaign. Once the jury had ruled with respect to Horton's personal gain, it wasn't necessary for the State Supreme Court to pass judgement on the segregation issue, and they left it out for fear of a reversal. We could find no precedent for the state's revocation of the charter, and there has been none since, but the law is clear: the charter of a nonprofit corporation can be revoked for cause, and since there are no stockholders, no owners, the property escheats to the state. That's what happened. Everything Highlander had was turned over to a receiver and sold at auction." 
And Scott Bates remembers. A French professor at the University of the South at Sewanee, three miles from Monteagle, he had testified at the trial in behalf of Highlander, and later had served as president of its board of directors. He remembers May Justus as being "valiant, courageous" in her lonely stand in the community, remembers others around Monteagle who supported the school but were afraid to say so publicly, remembers Horton as "a generous man who never profited from the school, far from it." 
Bates also remembers Saturday, the 16th of December, 1961, when all the belongings of Highlander were sold at auction: "It was a grim affair. We had hoped to salvage the library, but we had no money. The auctioneers told us they wouldn't sell it unless they got a bid of at least $3,000, but they let it go for $500 to a secondhand book dealer from Chattanooga. It was like a picnic, a circus — hundreds of people came, eager to take away mementos of the school. It was like the dissection of a corpse. Later, some lawyers involved in the prosecution of Highlander bought some of the land." (The chief prosecutors — A. F. Sloan, A. A. Kelley, Sam Polk Raulston — are all dead. Only C. P. Swafford of Dayton, an assistant attorney general who sat at the prosecution table but took a minor part in the case, is still living. He says he knows nothing about who bought the land. As to Highlander, he says: "As I remember, the community just didn't want things like that to go on in the county. Drinking, big parties — they just wouldn't put up with it, it was not a good atmosphere, especially for the young people. I really don't remember much about the facts. I had a very small part in the trial.") 
Both the house belonging to Horton and the house of his parents were considered assets of the school, though they had built and paid for them with their own money. They were included in the auction, as was everything else except personal effects. The sale of buildings and land netted $53,700 for the state's treasury. In his book on Highlander, Frank Adams says, "Lawyers from the Grundy area bought Highlander's library and turned the building into a private club." 
But Highlander was not through, and the controversy surrounding it had not run its course. Even as appeals of the court ruling were being pursued, Myles Horton made application to the Tennessee secretary of state for a new charter. His request listed new incorporators, a new location (in Knoxville), and a new name — the Highlander Research and Education Center — but the objective was dear: to set up a successor organization to the Highlander Folk School. The state resisted, saying such a charter would be illegal, but Horton threatened to sue, and Branstetter, knowing the state had no authority to refuse the application ("it was an administrative function — they couldn't judge it before the fact''), pressed his advantage. The charter was issued. 
Several years later, when Buford Ellington was again Tennessee's governor, the legislature tried again to investigate the "reborn " Highlander for alleged subversive activities. 
"It was in the mid-sixties," Horton recalls. "When I heard what the legislature was up to, I sent Governor Ellington a personal message. I told him we had cooperated once, but we wouldn't do it again — we wouldn't turn over any information. He would just have to send me to jail, and live with the consequences. I was told later that Ellington tried to get the investigation bill defeated, but he couldn't do it. The legislature had inadvertently failed to pass an appropriations bill for the investigation, though, and Ellington wouldn't let them have the money. Then Chuck Morgan, representing the American Civil Liberties Union, put an end to it all when he went into federal court in Nashville and got an injunction blocking the investigation. I think it was the only time an injunction was ever granted to block a state legislative investigation." (Morgan's recollection of the case is also vivid. "They had overreached," he says. "Used the word 'subversive' without basis. We got it voided for vagueness, got an injunction — and the state didn't appeal.") 
There were other ironies, early and late, and often unreported. An early incident occurred in 1935. A coalition of Southern liberals and radicals sought to stage an All-Southern Conference for Civil and Trade Union rights in Chattanooga, but the local American Legion got up in arms, and some of its members chased the delegates out of town. Most of them, including a small group of students and teachers from Commonwealth College in Arkansas, ended up at Highlander, where they heard speeches and passed resolutions against lynching and other violations of human rights. One of the Commonwealth delegates to the conference was a young radical from the Ozarks by the name of Orval Faubus. The later-to-be governor of Arkansas is best remembered now for his attempt to prevent desegregation of Little Rock's Central High School. He has never publicly acknowledged his presence at Highlander, but he has been heard to admit it privately. 
A later behind-the-scenes incident happened in 1965, after the Tennessee State Library and Archives had acquired some of Highlander's private files. While the collection was being catalogued, some unsigned "poison pen'' letters were circulated in the state administration, charging that the library director was "in complete agreement and sympathy with Myles Horton and all that his Communist backed school stood for. " The material was impounded for several months while the librarian's job hung in the balance. In the end, he was given a vote of confidence by the commission overseeing the library and archives, and the Highlander papers were again made available for public use. 
One further irony still exists. It can be found in the Tennessee statutes. Chapter 37 of the Tennessee Code Annotated — "Segregation of Races" — still contains the 1901 act prohibiting interracial schools. In brackets, it is designated "Unconstitutional, " but it has never been repealed by the legislature. 
In the aftermath of the Highlander trial, several of the key figures in the case were advanced to higher positions, Judge Chattin was appointed to the State Court of Appeals in 1962, and A.F. Sloan, who had been his close associate since 1947, was named to replace him as judge of the circuit court serving Grundy and adjacent counties. Judge Chattin was further elevated in 1965 to the State Supreme Court, where he served for nine years. Sam Polk Raulston, another of the prosecution attorneys, also was made a circuit judge. 
It is Myles Horton's belief that those promotions were, in effect, rewards. He says: "I think both Sloan and Chattin were told — by Ellington, I suppose — that if they would get rid of Highlander, they'd be promoted. And they were — quick." Cecil Branstetter doubts things were done that bluntly. "I have no evidence of knowledge of a deal regarding Judge Chattin or Ab Sloan," he says. "I doubt if there was any agreement, any clear understanding that they would be moved up. That wasn't necessary. What they did simply came out the way the state wanted it to come out — and in the predictable sequence of events, it just naturally follows that their careers would be enhanced." 
As it turns out, Branstetter is probably right. Because Judge Chester Chattin, like all the others, remembers too. 
He lives in retirement in Winchester now, just twenty miles or so from the old Highlander property. He remembers that "the American Legion up there had been pushing against Highlander for years. No disturbance or anything - they just wanted to get rid of it legally. The school didn't teach anybody anything, I don't reckon — they just had a good time, and then Horton turned it into that mess. The main point, as far as I was concerned, was that the trustees had deeded part of the property to him, and that violated the charter. The state brought in all that other business, but the main thing was the property, and I was upheld on that. I also ruled against them on the race issue. I made a mistake on that. The Supreme Court should have reversed me on that. But Horton was after all the property. He wanted it in his name. Without a doubt, he violated the charter." 
Does the judge consider his later advancement in any way an expression of appreciation for his handling of the Highlander case? 
"A favor? No, there's nothing to that. I went on to the Court of Appeals two years after I ruled in that case. Nobody up there tried to help me because I didn't ask for any help. One of the judges had died, and I called Governor Ellington at the mansion and told him I would be interested in the job if it was open. He said he had already promised it to somebody else, but if the man didn't take it, he'd call me back. And he did. It was Governor Frank Clement who first appointed me to the circuit court back in 1958 — and later, in 1965, he appointed me to the Supreme Court. I had managed his first campaign in this district. No, nobody gave me any special help or did me any favors. I was just lucky, being in the right place at the right time." 
The old Highlander near Monteagle is a subdivision now, featuring modern two- and three-bedroom homes on a half-acre or more of plateau soil. There is a cemetery close by, next to a patch of woods beside a gravel road; among its permanent occupants are the wife and father of Myles Horton. Horton's one-time house, a handsome log structure, is surrounded by a chainlink fence. The sign on the gate says "Doris' Beauty Shop." 
The new Highlander across the mountains in Jefferson County carries on the forty-five-year-old mission of its predecessor. Myles Horton is still around, but he doesn't play much of an active role in Highlander's adult education programs any more; that responsibility rests mainly with Mike Clark and other younger men and women. The focus of those programs has shifted with the times - from labor organizing to black liberation to the interests of mountain people — but the idea of Highlander hasn't changed. 
"They called us communists," Horton remembers, smiling, "but they misunderstood. We've always been after something more radical than communism. What we've been after from the beginning is democracy." 
Tags
/*-->*/ /*-->*/ /*-->*/ /*-->*/ John Egerton is a Nashville-based freelance writer. His fifth book, Generations: An American Family, will be published in 1983 by the University Press of Kentucky, after being turned down by more than a dozen commercial publishers.(1983)