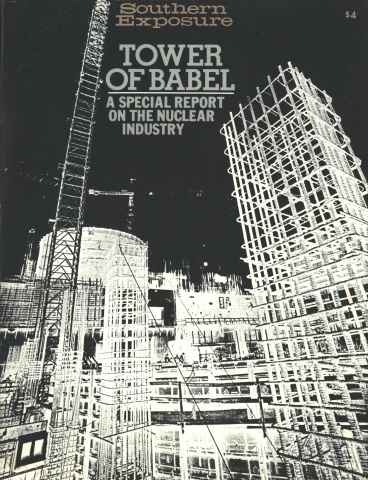 This article originally appeared in Southern Exposure Vol. 7 No. 4, "Tower of Babel: A Special Report on the Nuclear Industry." Find more from that issue here.
Many local anti-nuclear groups are now considering proposing regulations similar to the Charleston ordinance in their own communities. Our experience reveals that a local initiative focusing on the passage of a transportation ordinance can also be an effective mechanism for raising public awareness of the hazards of low-level radiation, waste disposal and catastrophic accidents and for illustrating the ineffectiveness of present federal regulation. Charleston passes on these words of advice to other groups considering a transportation ordinance. 
Can your group handle the task? You do not need 100 active members. You must have several dedicated members who can work hard for an extended period of time and other folks who can rally for needed support. You need not have three or four lawyers in your group, but you must have access to legal information and support. And a receptive political climate is not a requirement. Let's face it, Charleston is not a hotbed of liberalism! 
One necessity is flexible and speedy decision-making. Like many anti-nuclear groups, Charleston Palmetto Alliance's normal mode of decision-making was as a committee-of-the-whole or something close to a full-group consensus method. When we started the ordinance work, we made all major decisions as a whole group. This proved to be a tactical disaster — particularly in relation to press contact. After months of chaos, we finally set up a five-person committee just to shepherd the ordinance. This committee functioned internally on a consensus basis, could make decisions and release statements within just a few hours, and also reported to the full group and coordinated support activities. 
Once you decide to try an ordinance, gather information: What spent fuel has been shipped/will be shipped through your community? Why is spent fuel dangerous? What are the consequences of a radioactive transport accident in your town? (A study useful for this purpose is NUREG 0194, Nuclear Regulatory Commission, "Calculations of Radiological Consequences From Sabotage of Shipping Casks for Spent Fuel and High Level Waste," available through National Technical Information Service, 5285 Port Royal Rd., Springfield, VA 22161; 703-557-4600, $4.50.) 
Document all information and statistics and try to keep this material in a central location. We were very slow to decide what information was vital and to centralize it. It is also helpful to develop visual aids such as graphs and maps very early for self-education as well as public display. 
Determine what local authority has jurisdiction over the flow of material over streets and highways. Usually the city or municipal corporation has this authority, but it could be the county or parish. Perhaps the jurisdiction is shared between city and county, and the county is the dominant force. In such a case, it might be more efficient to skip the city and propose an ordinance at the stronger county level. 
After you determine where to introduce the ordinance, find out how that governing body works. Who's on the council? How often does it meet? Who may introduce legislation? Must legislation be referred to committee? How is the agenda set? What are the standing committees? If your council has staff — such as secretary to the council or clerk of council — he or she may prove to be a goldmine of information. 
Then draft the ordinance. Carefully. Most municipal ordinances, including Charleston's, echo the 1976 New York City ordinance. But an ordinance must be tailored to fit the locale. Charleston's city budget, for instance, would not allow establishing or enlarging an office for the purpose of enforcing the ordinance as was done in New York City. Instead of having an office issue permits, the Charleston ordinance bans some materials, exempts other materials and requires notice to the chief of police on all other radioactive shipments. 
With ordinance in hand, go to the council. In Charleston it proved helpful, if not vital, to cultivate a knowledgeable sponsor to introduce the ordinance and to stand by it until its passage. Don't worry about finding someone who understands nuclear power language. If you can identify someone you trust who is respected by his or her cohorts, you're on your way. 
After the ordinance is introduced, muster your legal support. Council members often ask, "Isn't this a federal problem like airplanes that we can't regulate?" or "Doesn't this get us onto shaky constitutional ground by restricting interstate commerce?" Briefly the answers to these questions are "No, not yet," and "No." Legal opinions on these very issues have been written by staff attorneys in New York City, Washington, D.C., and Charleston. If your council has a staff attorney or refers this matter to an attorney for an advisory opinion, don't be bashful about submitting opinions from other communities. Such action may save everyone a lot of time and unnecessary work. 
Follow the ordinance through its levels of consideration. We found it helpful to assign two Alliance members to monitor each council person through the course of deliberation. A public hearing may be held. You may desire an "outside expert" to present your case. This usually requires, at the very least, expense money. For instance, we received a big boost from Dr. Karl Z. Morgan, noted health physicist from Georgia Tech, who gave a public address prior to the council's public hearing. Unfortunately, we were not very successful in locating expert support from local physicians, professors, or engineers. 
Politics is a game of empty statistics if warm bodies don't give support. The press is a vital link to the public. While the ordinance is being considered, it is crucial to tie every national nuclear incident to the local ordinance, to keep public attention on the ordinance. 
At every step of legislation, boosters of the ordinance should be present and ready to show their support. The hazards of a nuclear transportation accident cut across all racial, economic, religious and age differences. The diversity of your visible support will drive this point home. 
Cultivate the support of service groups, environmental groups, church groups and neighborhood organizations. Sending speakers to their meetings is a simple way to develop this support, but the timing is critical. If you go too early, as we did in several cases here in Charleston, you can give information but cannot request action. If you go too late, you often preclude an official endorsement. 
We also carried out petition drives in public places such as grocery stores and shopping malls and distributed leaflets and bumper stickers. Door-to-door drives in selected neighborhoods along transportation routes might be quite persuasive. A wise tactic would be to deliver copies of the petitions to the mayor or head of council just a few days before the final vote. 
Luck, timing and serendipity all played critical roles in the passage of Charleston's ordinance. But they also could have defeated it. Right down to the wire, we did not know if the regulation would pass. The night of the final vote, two sure supporters missed the meeting as a result of unforeseen personal conflicts. One supporter reneged during the debate, but on the last vote abstained. 
Our ordinance was being considered during Christmas. Some of our people were months late in finishing work necessary to push the ordinance further. But the delay proved fortuitous as it gave Three Mile Island a chance to fan the fires of public and political support. 
Even the best planning cannot foresee such events. All you can do is be as prepared as possible and act quickly when unexpected opportunities arise. 
For more information, contact: Charleston Palmetto Alliance, Box 582, Charleston, S.C. 29403. A small packet of ordinance information including the text of the ordinance and the testimony prepared for the public hearing is available from the above address for $5.00. A large packet — including legal opinions, assorted federal documents, and local statements — is available for $10.00.
Tags
Susan Dunn is an attorney and member of the Charleston Palmetto Alliance. (1979)