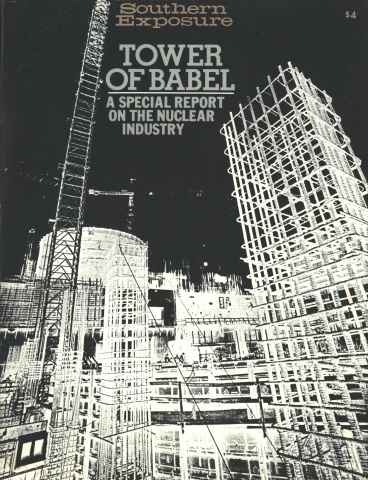 This article originally appeared in Southern Exposure Vol. 7 No. 4, "Tower of Babel: A Special Report on the Nuclear Industry." Find more from that issue here.
Although anti-nuclear activists have been attempting to organize in Mississippi since the early 1970s, the movement in those years consisted of just a handful of environmentalists and white college students who opposed Mississippi Power & Light Company's application to build a nuclear power plant at Grand Gulf, not far from Port Gibson. 
All that began to change this year, and today the movement is interracial and broad-based, involving hundreds and reaching thousands of people throughout the state. Local coalitions on the Gulf Coast, in Natchez, Hattiesburg, Jackson, Starkville, and Oxford are loosely affiliated with one another through the Mississippi Catfish Alliance. 
Even before the disaster at Three Mile Island, the Catfish Alliance was commanding increased attention in the Mississippi media, highlighted by coverage of the demonstration at TVA's Yellow Creek reactor site near Iuka last March 24. That's when Catfish became a statewide organization. Since Three Mile Island, interest in the movement has escalated enormously. 
The issue of nuclear danger has arisen in a number of ways in Mississippi. In southern Mississippi during the 1960s, a series of atomic bomb tests were set off underground in geological formations called salt domes. In the past couple of years, despite assurances by the government that nobody could possibly be harmed by the results of those tests, the water supplies in the area have been found to contain higher than normal levels of tritium. Toads and salamanders with severe deformities have also been found in the ponds. Despite these findings, the salt domes in that part of the state are now designated by the government as the likeliest place for the disposal of high-level radioactive waste. As a result, a group of citizens in Hattiesburg organized Mississippians Against Disposal (MAD), and have vocally opposed the use of the salt domes for high-level waste disposal. 
In the northeast corner of the state, members of the Sierra Club have helped organize the Mississippi Catfish Alliance to oppose TVA's plan to build a nuclear reactor at Yellow Creek. More recently, people have become concerned about the 100,000 houses in northern Mississippi and Alabama built on foundation blocks made from slag furnished by TVA which has turned out to be radioactive. 
Meanwhile, opposition to the Grand Gulf plant has grown, and Three Mile Island isn't the only reason. In April, 1978, a tornado hit the Grand Gulf site, cracked a large hole at the top of a nearly completed cooling tower, and dented the dome of the containment building. Zurn Industries, the construction contractor for the cooling tower, now says the damaged tower is unsafe and needs to be torn down. But MP&L, unwilling to spend any more than required and eager to get the reactor completed and into operation, has declared that the tower is safe and has gone to court to force the contractor to patch up the damage and finish construction as quickly as possible. 
Even before the tornado revealed MP&L's willingness to subordinate safety to profit, the black community of Claiborne County (where Grand Gulf is located) had begun to question MP&L's credibility. In 1973, before construction started at the site, a meeting was held at Alcorn State University between MP&L and local black leaders. Claiborne County is 74.9 percent black (1970 census), and MP&L promised that jobs and supply purchases would be justly allocated. Today the whole community sees how false these promises were. Only 17 percent of the skilled workers at the construction site — and only 20 percent of the manual laborers — are black. Supplies, too, have been purchased mostly from white merchants, according to Port Gibson residents. Charges of violating equal opportunity guidelines have been filed against MP&L by the U.S. Justice Department; the chief contractor, Bechtel Corporation, faces similar charges. 
After Three Mile Island, the Nuclear Regulatory Commission ordered a delay in the Grand Gulf plant construction. MP&L President Donald Lutken responded with threats, promising higher rates and power shortages if construction is not completed on schedule. (This is especially ironic considering MP&L plans to use only 20 percent of the plant's power in Mississippi.) 
All this has brought new people, including many black leaders, into the anti-nuclear movement for the first time. Representatives of the United League in Holmes County participated in an anti-nuclear music festival in Jackson in May, and invited a Catfish Alliance speaker to address a United League rally in Lexington the following month. The high point of interracial solidarity reached so far was a demonstration at the Port Gibson courthouse on June 2. The demonstration was unanimously endorsed by the Port Gibson NAACP (which still faces a legal battle with the local power structure over a boycott 12 years ago; a $1.2 million judgment against the NAACP has been under appeal for some time). Evan Doss — Claiborne County's tax assessor-collector and one of Mississippi's veteran black elected officials — was the leading speaker at the rally. Doss' speech was well received. He spoke mainly about the threat to public health and safety; the fact that there seemed to be no emergency evacuation plan; and the power company officials' poor efforts at communication with the community. 
A full range of topics and politics were covered by the other speakers. One was a local farmer who lives downwind from the reactor site and was concerned about the safety not only of his family but of his livestock and therefore of his livelihood. Some speakers were longtime Sierra Club environmentalists. Wayne James, one of the Republic of New Africa Eleven, sent an anti-nuclear statement from Parchman State Penitentiary. A speaker from Hattiesburg focused on the dangers of waste disposal. Another speech highlighted the political repression related to nuclear power and weapons, and MP&L's own racist and reactionary political record. 
More than 400 people — including 100 blacks — participated in the rally. After speeches and entertainment at the courthouse, demonstrators went by motorcade to the reactor site. There, in front of the damaged cooling tower - and in front of reporters and television cameras — they released helium-filled balloons complete with tags giving the date and place of release. Anyone who finds one of them downwind is thus informed that the path of the balloon would be the path of radiation in the event of an accident. The same day, about 100 demonstrators addressed the community of Iuka with a similar message about the dangers of TVA's Yellow Creek nuke. 
It is too early to know how TVA will respond to the growing anti-nuclear sentiment in Mississippi, but MP&L's response was immediate. A week after the June 2 demonstration, the company held its own meeting at the Port Gibson courthouse and tried to refute what had been argued during the demonstration. Activists from Jackson, Hattiesburg, Natchez, and other areas got calls from Port Gibson asking them to show up at that meeting. The power company representative tried to put down the objections from the community people, arguing that he was a nuclear engineer and knew how safe it was and that their fears were based on ignorance. He then tried to brand articulate anti-nuclear speakers as "outside agitators," but they and the local people responded that they had been asked by citizens of Port Gibson to come and provide this information. The anti-nuclear speakers clearly gained the favor of the Port Gibson audience. In July an MP&L nuclear promoter told an audience of Tougaloo College and Jackson State University students and faculty members that the anti-nuclear movement "reads like a Who's Who of the anti-Vietnam War movement." The audience responded by applauding the reply: "We were right to oppose the war, and we're right to oppose nuclear power." The MP&L man, swamped with penetrating questions and anti-nuclear arguments, launched into a defense of the U.S. war in Indochina. For the first time since announcing its nuclear plan, MP&L appears to be losing its composure in the face of mounting opposition. 
Anti-nuclear activists are now reaching out politically with their message. A slate of independent candidates for Public Service Commission is campaigning against nuclear power. The candidates are Linda Lewis, a white Catfish Alliance activist from Oxford in the Northern District; Sarah Johnson, a black councilwoman from Greenville in the Central District; and Ayres Haxton, a white welder from Natchez in the Southern District. Their platform also calls for an inverted utility rate structure to lift the burden from the poor while penalizing wasteful users of energy. 
Later Deveopments
Editor's update: On November 6th, the three candidates polled over 55,000 votes, or about 11 percent of the statewide vote. Linda Lewis received over 14 percent of the votes in her district, and Sarah Johnson defeated three other candidates in her home county, where the Greenville Delta-Democrat Times endorsed her. The Mississippi Conference of Black Mayors supported the campaign's platform, and predominantly black counties voted more heavily for the alternative slate of candidates. Lawrence called the final vote "a strong showing especially considering the lack of money for media exposure. . . . We'll be back. " 
One of the most insidious aspects of nuclear power is the increased use of police surveillance of anti-utility activists under the guise of protecting the public from sabotage. "Nuclear Power & Civil Liberties: Can We Have Both?" documents this surveillance on a state-by-state basis. Itis available for $5 from Citizens Energy Project, 1413 K St. N.W., Washington 20005. Linda Lotz at the Campaign for Political Rights, 201 Massachusetts Ave., N.W., Washington 20002, can also help locate information about spying in your area. 
The following memo, written by Ken Lawrence, describes a Southern example of police spying. 
"Last Monday I received a visit from Detective J.D. Saveli of the Jackson Police Department's intelligence division. He was seeking information about Jacksonians United for Livable Energy Policies as a result of a letter from JULEP to the mayor requesting use of a meeting room at city hall. I told Detective Saveli that JULEP considered police interest in our activities to be an unconstitutional violation of our rights, and an abuse of authority. I learned later that he contacted at least one other JULEP member who was apparently unaware of our policy on police misconduct. 
"I have three times attempted to reach Mayor Dale Danks to discuss this matter, but he has failed to answer my message. This morning I telephoned Police Chief Ray Pope, since I had been unable to reach Mayor Danks. Chief Pope was aware of my concern, and attempted to trivialize it, saying, 'This is a tempest in a teapot.' Chief Pope stated he just happened to be in the mayor's office when the mayor's secretary received the letter. She wondered out loud what kind of group JULEP was, and he told her he could probably find out. As a result, I was visited. 
"I reminded Chief Pope that he has told me and other members of the public that he does not permit the police to investigate lawful activity of any individual or organization or group, that they investigate only criminal activity. If the chief's version of the facts is true, he is saying that he has the personal authority to use his intelligence-gathering unit as his own private snoop agency. Of course, it is possible that the actual request for an investigation originated with the mayor's office, as Detective Saveli said. That also would be illegal. Even were these officials unaware that such surveillance is illegal, Chief Pope's public pronouncements that the police do not engage in such surveillance when in fact they do is an example of why the police are so distrusted and why police-community relations have deteriorated so much over the past several months."
Tags
/*-->*/ /*-->*/ /*-->*/ /*-->*/ Ken Lawrence, 42, is a writer and activist living in Jackson, Mississippi. He is a long-time friend of the Institute for Southern Studies. Dick Harger, 50, teaches psychology at Jackson State University. Both have been friends of Eddie Sandifer for many years. (1985)