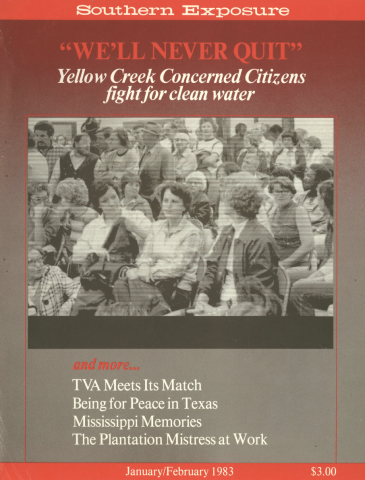 This article originally appeared in Southern Exposure Vol. 11 No. 1, "'We'll Never Quit:' Yellow Creek Concerned Citizens fight for clean water." Find more from that issue here.
These are all of my notes and jottings," says the quixotic Ignatius J. Reilly near the end of A Confederacy of Dunces, the madcap novel by John Kennedy Toole that captured the 1980 Pulitzer Prize for fiction. "We must never let them fall into the hands of my mother. She may make a fortune from them. It would be too ironic."
In the uncanny and inexplicable way in which life sometimes imitates art, Reilly's "notes and jottings" — that is to say, Toole's Dunces — did, in fact, fall into the hands of the author's mother, and she did make a fortune of sorts from them, and that turn of events was indeed too ironic for words.
The story of the late and sudden rise of Dunces is familiar by now to most book lovers: Toole, frustrated and depressed by 10 years of failure in his search for a publisher, gave up in despair and committed suicide. His mother took up the cause and spent another fruitless decade continuing the search. Finally, she persuaded novelist Walker Percy to read the manuscript. He liked it, and after some frustrations of his own, he found a home for the book — not in the family of prestigious New York publishers, but at Louisiana State University (LSU) Press, near Percy's and the late Mr. Toole's own Louisiana home.
The literary and financial success that followed the publication of Toole's work was made all the more remarkable by the fact that neither LSU nor any other university press in the nation has built an impressive record of publishing fiction; most, in fact, have never published a single novel.
In the opinion of many university press editors and publishers, what happened to Dunces was an anomaly, a stroke of beginner's luck. Even Leslie Phillabaum, the director of LSU Press, candidly characterizes the book's success as "a fluke." Far from crowing about the victory of an institutional David over the Goliaths of the publishing industry, Phillabaum and his counterparts in the universities insist they don't have the resources to compete with the big-league commercial publishers.
It is no doubt true that the so-called trade press — the commercial book industry in New York and elsewhere — has a corner on the fiction market, notwithstanding the achievements of an occasional novel like Dunces. But in the field of nonfiction, the dominance is not so complete. The university presses have always done rather well with nonfiction, winning some national awards and occasionally even posting impressive sales. In the marketplace, their share of the bookbuyer's dollar still amounts to only pennies, but qualitatively, they are competitive with — and sometimes superior to — the commercial companies.
Now, with book publishing in general suffering a severe depression, the university presses as a group seem relatively more stable than their commercial opposites; some, in fact, are doing quite well, and a few may actually be in better shape than ever.
There are some obvious explanations for this pattern. To begin with, most of the academic presses are small, subsidized operations that deal in modest numbers (whether titles or copies in print) — and on such a scale, even a little bit of improvement is very noticeable. Further, the presses clearly are moving toward more commercial or popular (as distinct from scholarly) books, and these, in combination with books of state and regional interest, have boosted sales. The university presses also are advertising, promoting and marketing their wares more aggressively than they have in the past — perhaps because the universities themselves are in financial straits and are thus unable to guarantee continued high subsidies to their publishing houses. (If university presses are in fact enjoying a measure of success, it is worth repeating that the improvement is relative; some are doing better than others, but none are doing well enough to prosper without support from their parent institutions.)
Increasingly, experienced writers of nonfiction whose works formerly were published in the commercial houses of New York and other cities are either being turned away there or are turning away themselves in search of calmer and more stable (though potentially less profitable) outlets. At bottom it is a case of numbers: many books that were considered marginal in the trade press are becoming sales leaders in the low-volume university press market.
These signs of change in the book publishing industry can be precisely illustrated by focusing on a single subject area: books about the South. While Southern subjects have been especially hard hit in the general decline of New York publishing, the Southern titles emanating from university presses appear to be rising in both quantity and commercial quality. Almost unnoticed, academic houses have become the primary publishers of nonfiction books about the South — and included on these contemporary lists are a number of books that would have been published with pride and some success in New York a few years ago.
Academic publishing in the United States is principally a twentieth-century development; only four presses now in existence have operated continuously since before 1900. Johns Hopkins, the oldest, was begun in 1878, followed by Chicago, Columbia and California. By 1920 there were 12; by the end of World War II, 35. Included in the latter group were the first Southern university presses — at Duke, Georgia, LSU and North Carolina. Now, of the approximately 80 academic presses operating across the nation, about one fourth are in the South.
The traditional function of the presses has been to promote scholarship by publishing esoteric volumes with great academic merit but little sales potential. Universities have subsidized the enterprises, largely in recognition of their contributions to scholarly inquiry and to institutional prestige. Almost from the first, however, the presses have tended to include some non-scholarly titles on their lists — books of state and regional interest, and books for lay readers.
But the rising cost of producing expensive books that few people buy has put all university presses under a financial strain and put a small number of them out of business. For the survivors, the only logical response to the threat of extinction is to increase revenues, and most of the presses have pursued that objective in two ways: by adding still more commercial titles to their lists and by promoting them more vigorously through the usual channels of book marketing.
By pure coincidence, the post-civil rights, post-Carter-era decline of trade books on Southern subjects has come about just as the university presses have gone looking for commercial titles to save them from financial jeopardy. The result is shaping up as a happy marriage of convenience between some experienced authors with new manuscripts but no publishers, and some nonprofit publishers unaccustomed to five-figure sales but stimulated by such prospects.
The commercial books bring in revenue which helps to replace declining subsidies and covers some of the losses from low-sales scholarly volumes. In return, the authors get quality editing and printing, books that stay in print, and occasionally enough income to make the undertaking seem worthwhile. In the midst of the book depression, these alliances are among the few signs of promise for the future.
"It's not just books about the South that fall into this pattern," says LSU's Leslie Phillabaum. "This is a nationwide phenomenon. All kinds of books that would have been on the commercial trade lists a few years ago are not being taken on at all by the big houses now. But a sales volume that they would consider marginal or modest is very respectable in university press terms. We're picking up some of these titles, and they help to carry the scholarly books that still make up about 85 percent of our catalog."
Carol Orr, director of the University of Tennessee Press, sees this trend as a distinct benefit to all concerned. "We now have a chance to get authors and manuscripts that we couldn't have attracted 10 years ago," she says. "The commercial houses took more chances then than they do now — but they weren't necessarily successful. Many of the books lost money, and many of the authors were unhappy. There's a certain kind of book that university presses can handle better than commercial presses — and now, we're getting more of them."
One such book now on the Tennessee list is called The Celluloid South: Hollywood and the Southern Myth. Written by Edward D.C. Campbell, Jr., a Virginia historian, it examines the development of the "Hollywood Southern," which, like the "Western," was a genre based on romanticized mythology. The New York publishers to whom Campbell spoke about his manuscript "wanted a more popular version of the story," he says. On the advice of a friend, he took it instead to Tennessee, and now he considers himself "very fortunate" to have made that choice.
Since its publication in December, 1981, the book has sold more than half of its initial press run of 3,000 copies — not enough to have kept it alive on a New York list, but enough to make both Campbell and his Tennessee editors pleased with their relationship. "I couldn't have asked for more from them," he says — and Carol Orr happily returns the compliment.
Outside the region, one of several presses with a longtime interest in Southern subjects is at the University of Illinois. Director Richard Wentworth now has four country music books on his list, including biographies of three historic figures in the field: Bob Wills, Jimmie Rodgers and Hank Williams. The press also is reprinting Voices from the Mountains, a 1975 book on the music of Appalachia by Guy and Candie Carawan; in spite of hardcover and paperback sales totaling more than 12,000 copies, New York publisher Alfred A. Knopf allowed the book to go out of print.
Wentworth says three to five of the 50 titles Illinois publishes each year are sales leaders that help to offset losses incurred by most of the others. These manuscripts, variously labeled commercial, trade, regional, specialized or popular, are more accessible to university presses than they used to be. And, says Wentworth, "I think we do well with them — often better than the commercial houses."
Another Appalachian book that Wentworth is pleased to have is Power and Powerlessness: Quiescence and Rebellion in an Appalachian Valley, by John Gaventa. An incisive portrait of the Clear Fork Valley in the mountains of Kentucky and Tennessee, the book has won four major honors, including the top award of the American Political Science Association. Originally published by Oxford University Press in England, it was picked up in this country by Illinois after the autonomous New York division of Oxford (and the University of Tennessee Press) turned it down. (The British Oxford Press was established in 1478; the American version still has "University" in its title, but it functions in essence as a commercial house, issuing several hundred titles each year.)
Gaventa, who is associated with the Highlander Center in Tennessee, is more pleased with the handling of his book by Illinois than by Oxford. Another book which Gaventa helped to compile and edit — a painstaking land ownership survey of 80 central Appalachian counties — will be published in 1983 by the University Press of Kentucky. (See excerpts in Southern Exposure, January/February 1982.)
One more book with commercial potential that has found its way to Illinois is a critical study of the eastern Kentucky coal industry by Harry Caudill, the well-known author of Night Comes to the Cumberlands. "Half a dozen years ago, this book would have gone to New York," says Wentworth. Caudill, now a professor of history at the University of Kentucky, did in fact seek a commercial publisher for his manuscript, only to find that Appalachia had become passé in the East.
He then took it to the University Press of Kentucky, where after lengthy consideration a contractual agreement could not be reached. (One chapter of the Caudill book deals with the contemporary "moguls and power brokers" of Kentucky industry, including former Governor Bert T. Combs and William B. Sturgill, who happens to be the chair of the University of Kentucky Board of Trustees.) Caudill finally took the book to Illinois, where it will be published in 1983.
Unlike commercial houses, university presses do not customarily entrust to individual editors the responsibility for making contracts with authors. A peer-review method often is used, with outside readers or committees of scholars holding the power to make or break a manuscript. Says one anonymous writer who has viewed the process from both ends: "It's a bad system, an 'old boy' network that's manipulated all the time — but it cuts both ways. It can kill a controversial book one day and save one the next."
Seen in their institutional context, university presses probably would be considered foolhardy if they made a practice of goring their own oxen; in any case, they seldom do. Harry Caudill insists that he holds no ill will toward the Kentucky press for denying him a contract. "They've got two of my books on their list," he says, "and I thoroughly enjoyed working with them. On the new book I'm happy to be associated with a fine press like Illinois."
Kentucky has a number of prized titles on Appalachia — including, most recently, John Day's Bloody Ground, a stark, grim portrait of Depression-era Appalachia written by a Lexington newspaper reporter in 1941. Originally published by Doubleday, Doran & Co. in New York, the book was lost in the turmoil of World War II. Forty years later, Kentucky resurrected the classic and sandwiched it between contemporary comments by two of the state's most respected historians and writers — Thomas D. Clark and the self-same Harry Caudill.
Another writer of Appalachian social and economic observations, David E. Whisnant, has seen one of his books bounce from university to commercial presses and back for almost a decade. Now a professor of American studies at the University of Maryland-Baltimore County, Whisnant was living in North Carolina in the early 1970s when he reached an agreement with the University of Tennessee Press to write Modernizing the Mountaineer, a hard-hitting look at the exploitation of Appalachia by a succession of public and private individuals, groups and agencies. Whisnant spared no one, friend or foe, in his assessment of Appalachia's "saviors" — and not least the Tennessee Valley Authority, which has its headquarters in Knoxville, a few blocks from the University of Tennessee. After many months of delay, the author was told by UT Press officials (predecessors of Carol Orr) to take out his chapter on TVA. When he refused, his contract was canceled.
From there, Whisnant went to Bert Franklin, Inc., a New York publisher and reprint house. Another contract was negotiated and the book went into production, but for reasons that remain unclear, finished copies were never put on the market. On the advice of a lawyer, Whisnant finally withdrew the book and offered it to Appalachian Consortium Press in Boone, North Carolina.
After a delay of nearly six years, the book is at last available, thanks to the efforts of the consortium. For the past 11 years, this association of seven Appalachian colleges and universities, three state and federal agencies and a regional historical society has published an average of three titles a year as part of its diverse activities in behalf of regional advancement.
"The consortium has done all it could to save the book from total extinction," says Whisnant. "It never would have made it without them." In 1983, the University of North Carolina Press will publish a new book by Whisnant — a study of the politics of culture in Appalachia.
Appalachia is by no means the only Southern topic to capture the attention of university presses in recent years; scores of new books about the South appear annually. Most of them are noted briefly in the back pages of each issue of this magazine. Here, in short summary, is a random list of recent titles on a wide array of subjects:
• Revolt Against Chivalry: Jessie Daniel Ames and the Women's Campaign Against Lynching, by Jacquelyn Dowd Hall (Columbia University Press, 1979). First as an award-winning dissertation and now as a book, this biography by a University of North Carolina historian and oral history program director illuminates the life of a courageous feminist of the 1920s and '30s who emboldened white women to join her in a movement to prevent lynching in the South. (Earlier, Columbia published In Search of the Silent South: Southern Liberals and the Race Issue, by Morton Sosna — a broader examination of white liberalism in the South in the early decades of this century.)
• Tomorrow is Another Day: The Woman Writer in the South, 1859-1936, by Anne Goodwyn Jones (LSU Press, 1981). Combining biography and literary analysis, this book by an Allegheny College English professor examines the lives and works of seven white women writers of the South: Augusta Jane Evans, Grace King, Kate Chopin, Mary Johnston, Ellen Glasgow, Frances Newman and Margaret Mitchell. The conclusion: that they and the characters they created were shaped and bound by the unwritten code of Southern ladyhood. (A more recent issue from LSU is One South: An Ethnic Approach to Regional Culture — a collection of essays on regional identity by University of North Carolina sociologist John Shelton Reed. LSU also published in 1982 A Band of Prophets: The Vanderbilt Agrarians After Fifty Years — proceedings from a 1980 conference on the Agrarian phenomenon, edited and introduced by Vanderbilt University professors William C. Havard and Walter Sullivan.)
• Why the South Will Survive, by 15 Southerners (University of Georgia Press, 1981). In self-conscious emulation of the style of the Agrarians' manifesto, I'll Take My Stand, another wave of Southern white men rise, in the words of editor Clyde N. Wilson, in "unembarrassed embrace of the notion that the South is a national asset, a priceless and irreplaceable treasure that must be conserved." (Former Mississippi representative and TVA director Frank E. Smith has edited and published a similar collection of essays at the Yazoo Press in Vicksburg, Mississippi. The book is called I'll Take My Stand, by 22 Southerners.)
• In Struggle: SNCC and the Black Awakening of the 1960s, by Clayborne Carson (Harvard University Press, 1981). Stanford University historian Carson spent almost 10 years pulling together the story of the Student Non-Violent Coordinating Committee, from its emergence at the end of the 1950s to its dissolution at the beginning of the 1970s. His analysis is sympathetic but even-handed and carefully researched.
• Dixie's Forgotten People: The South's Poor Whites, by J. Wayne Flynt (Indiana University Press, 1979). As a systematic search for definition and understanding of this Southern minority group, Auburn University historian Flynt's study uses oral history, statistics, synthesized research, photographs and the author's own sensitive interpretations to cover seldom-explored territory.
• The Idea of the American South, 1920-1941, by Michael O'Brien (The Johns Hopkins University Press, 1979). In the tradition of W. J. Cash's classic The Mind of the South, historian O'Brien pursues a variation on the same theme, examining in particular the conflict between the so-called liberal sociology of Chapel Hill and the conservative aesthetics of Nashville — Howard W. Odum et al. versus the Agrarians and their descendants. It was — and is — a lively debate.
However much the university presses may have gained from the surrender by commercial houses of marginal books in general and Southern books in particular, it is unrealistic to expect that they will ever be able to do what the trade press did in its heyday. For one thing, the university presses generally lack the resources to produce and market books in great volume. For another — especially ironic in this "marketplace of ideas" — political realities sometimes place limits on their freedom of the press, limits that their commercial counterparts seldom face.
University presses also must continue to produce mostly scholarly works that are frequently expensive to issue and rarely pay for themselves. The combination of high production costs and low potential sales inevitably results in jacket prices that border on the prohibitive. Almost all of the hardcover nonfiction mentioned above is priced in excess of $16. Two of the books — Jacquelyn Hall's Revolt Against Chivalry and Clayborne Carson's In Struggle — cost over $20, and one — the book on women writers by Anne Jones — sells for $37.50.
"Volume for volume, our prices are competitive with the commercial houses," says Carol Orr of the University of Tennessee Press, "but there's no way we can get 1,000 or 2,000 copies of a book for the same unit price as someone who's producing 10,000 or 20,000."
The experience of one more writer offers a good summary of both the strengths and weaknesses of contemporary university publishing.
Anthony P. Dunbar's Against the Grain: Southern Radicals and Prophets, 1929-1959 was published in 1981 by the University Press of Virginia. Dunbar, whose two previous books were published commercially, began this book about 10 years ago as a moonlighting venture and kept pursuing it while working for a succession of civil-rights and social-action organizations in the South. He talked to Pantheon and Doubleday about his project, but neither was interested in buying it; LSU Press also turned it down. Finally, on the advice of an editor, he took it to Virginia.
In its first year, Against the Grain sold out its initial printing of 1,000 copies; an even smaller second printing was produced, and most of them have also been sold. Reviews have been uniformly favorable. The book has received an award from the Unitarian Universalist Church, and it was among three finalists for the 1982 Robert F. Kennedy book award. For a carefully documented book issued in very modest numbers by a small press, it hasn't done badly at all.
"I take some satisfaction from the fact that the University Press of Virginia published this book about some controversial people who were mistakenly rejected by Virginia and the South in their day," says Dunbar, but he avoids any criticism of the press. "I assume a sharecropper mentality on that subject," he explains with a smile. "The rule is, 'Speak no ill of your publisher, or anyone else's publisher, because you might be going to them sometime with your hat in your hand.'"
But criticism from the author is not necessary to expose the Virginia press's green-eyeshade-and-armbands approach to the contemporary practice of book publishing that virtually guarantees its authors — and, of course, the press itself — a poor showing in the marketplace.
Inexplicably, the dust jacket on Dunbar's book bears his name and the title only on the spine; the cover has a photograph but no words at all. Inside, the book is well designed and edited, but the silence of the jacket more than offsets that good effect.
In the critical marketing area, most bookstores and distributors have shunned the book because Virginia offers a discount of only 20 percent — half the rate now considered standard. Review copies also have been scarce (a written request for one to aid in the preparation of this article brought no response), and promotional efforts by the publisher can only be described as extremely limited.
These shortcomings are in no sense limited to the University Press of Virginia; a good many other presses are also behind the times. Speaking generally, Dunbar summarizes the advantage still held by the commercial presses:
"If I had a new book to sell, I'd start again in New York, in the hope of reaching more readers. That's what people write books for; writing for the ages may yield some satisfaction, but not much. A book has to have lots of readers to be successful — and it's a rare thing, almost a fluke, for a university press to get a big audience."
Tags
John Egerton is a Nashville-based freelance writer. His fifth book, Generations: An American Family, will be published in 1983 by the University Press of Kentucky, after being turned down by more than a dozen commercial publishers.(1983)
John Egerton's latest book is Nashville: The Faces of Two Centuries. (1980)
Tennessee free-lance writer John Egerton is teaching magazine journalism at Virginia Tech in Blacksburg this year. (1978)