CDC Director Gerberding resigns, leaves behind a controversial legacy
Dr. Julie Gerberding offered her resignation from the Centers for Disease Control and Prevention Friday to President-Elect Barack Obama, effective Jan. 20.  Gerberding, who has served as director of the of the Atlanta-based research facility since July 2002, was often mired in controversy. 
During her tenure at CDC, "critics lambasted her, accusing her of sacrificing science for politics and carrying the Bush agenda on global warming and other issues into the world of scientific research,"
reports
the Atlanta Journal-Constitution. 
In 2007, she was criticized for hewing closely to the Bush administration's politics, allowing the White House to censor her Senate testimony on the impact of climate change on public health. The deleted section of her testimony included the statement that "catastrophic weather events such as heat waves and hurricanes are expected to become more frequent, severe and costly," according to the paper. Critics argue that she not only allowed politics to intrude on the agency's scientific work, but her 2003 agency reorganization prompted an exodus of high-level scientists and wrecked morale at the agency. In 2005, five previous CDC directors wrote Gerberding a joint letter expressing their concern about what was happening to the agency. 
From the Journal-Constitution:
 
[F]or much of her tenure, many CDC employees lacked confidence in her vision for the agency. Just 48 percent of CDC staff said they had a high level of respect for the agency's senior leaders, according to results released last year of a federal survey of government employees. 

Last year, congressional investigators concluded the CDC failed "in almost every respect" to protect Hurricane Katrina's victims from dangerous formaldehyde fumes in government-provided trailers. And Gerberding was accused of playing politics by refusing to reappoint the director of the agency's worker safety division -- a man widely respected by business leaders, labor unions and lawmakers. 
Ignoring the Gulf Coast's Toxic Trailers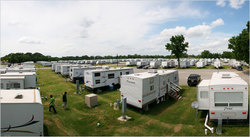 For Gulf Coast advocates, the agency's slow response to survivors' complaints about formaldehyde fumes was further proof of Gerberding's inability to respond to a public health crisis.
Facing South
reported
how the CDC not only complied with FEMA's demands not to consider long-term impacts like cancer, but also dragged its feet before finally studying the trailer contamination. Formaldehyde has been linked to breathing problems and cancer, but federal agencies have downplayed the exposure, which placed tens of thousands of people at risk for health problems. Gerberding herself has continuously reiterated that the formaldehyde issue was not a public health emergency. More than 141,000 families were housed in FEMA trailers following the 2005 disaster, and children living in FEMA trailers have been declared some of the
sickest children in the nation
. 
Tests conducted by the Sierra Club in early 2006 revealed dangerously high levels of formaldehyde in FEMA trailers -- some 88 percent of trailers tested had formaldehyde levels above the federal recommended limit -- but FEMA and the CDC ignored this problem for two years before testing the trailers themselves, confirming high levels and relocating residents.
Facing South 
reported
on other examples of the agency's failure to protect public health under Gerberding, such as the
negligent public health studies
conducted by the Agency for Toxic Substances and Disease Registry, a division of the CDC. 
Public health advocates have floated the names of possible replacements for Gerberding, including James Marks, a former senior CDC official who currently serves as a senior vice president at the Robert Wood Johnson Foundation; Helene Gayle, a former CDC director for HIV/AIDS and president and CEO of CARE; and Thomas Frieden, commissioner of the New York City Department of Health and Mental Hygiene.