14 arrested in W.V. trying to stop Massey's mountaintop removal "madness"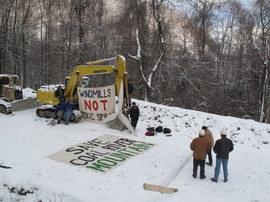 Demonstrating environmental activists' growing willingness to take nonviolent direct action in the fight against dirty coal, 14 people were arrested yesterday for trespassing during a protest at a mountaintop removal mining site in West Virginia.
The action took place on Coal River Mountain in Pettus, W.V., where Massey Energy plans to begin a mountaintop removal operation that will involve blasting over underground mines and near the Brushy Fork Impoundment -- a dam holding some 7 billion gallons of toxic coal sludge.
"Blasting beside the dam, over underground mines, could decimate the valley for miles," said Gary Anderson, an opponent of the project who lives near the site. "The 'experts' said that the Buffalo Creek sludge dam was safe, but it failed. They said that the TVA sludge dam was safe, but it failed. Massey is setting up an even greater catastrophe here."
Buffalo Creek, W.V. was the site of a 1972 coal sludge dam collapse that killed 125 people. A 2008 report by the federal office of Surface Mining
found serious problems
with the W.V. Department of Environmental Protection's regulation of coal waste dams.
In November, WVDEP approved Massey's permit to begin the mountaintop removal operation but denied public participation in the decision-making process. Opponents of the operation are asking the company to consider using the site for a wind farm instead.
Charles Ballard is a resident of Dry Creek Holler at the foot of Coal River Mountain, and he spent 22 years as an underground coal miner in West Virginia. "What they're doing to the mountains around here is messing up every damn thing we have in these mountains," Ballard said in a
letter
[pdf] sent by the protesters to Massey Energy CEO Don Blankenship. "I'm hoping that this wind farm gets built because it'd be much better than to have a huge mountaintop removal mine." 
James Hansen, a NASA scientist and leading climate change expert, has called on President Obama to review what's happening at Coal River Mountain and to, in his words, "stop the madness."
Yesterday's action in West Virginia is part of a
growing grassroots movement
that's using civil disobedience tactics to protest dirty energy. The first such
national protest
is planned for March 2 at the Capitol Power Plant in Washington, D.C.
(Photo from Climate Ground Zero by Chad Stevens, one of those arrested in the action)
Tags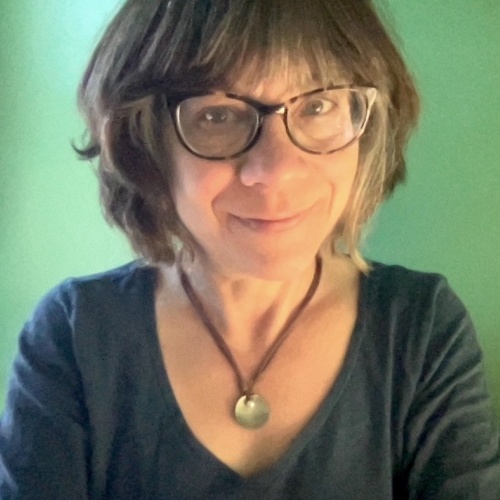 Sue is the editorial director of Facing South and the Institute for Southern Studies.