Can labor pave the road to economic recovery?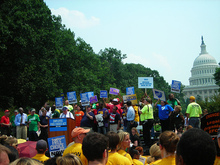 Earlier this month more than 4,000 workers rallied on Capitol Hill in Washington, D.C. to deliver the cards, petitions and signatures of one and a half million Americans demanding the passage of the Employee Free Choice Act. 
The EFCA is labor's number one priority this year, and labor rights advocates say that the act's passage could help to restore balance between workers in their negotiations with employers. 
Labor rights advocates say that the three pillars of the EFCA could turn the tides for labor: making it easier for workers to organize a union by allowing majority sign-up, also known as "card-check," union authorization; imposing binding arbitration on employers and the union if they fail to negotiate a first contract under certain deadlines; and creating stiffer financial penalties for employers who violate workers' rights during organizing campaigns or contract negotiations. 
The act was first introduced in 2003 and won approval in the U.S. House of Representatives in March 2007, but a Republican filibuster prevented it from coming up for a vote in the Senate. Even though the EFCA has yet to even get floor time in the 111th Congress, groups on both side of the issue are already battling on numerous fronts across the nation. 
The Corporate Response 
Calling the EFCA an "Armageddon for business," Corporate America is waging a multimillion-dollar PR and ad campaign against the EFCA. Much of these corporate campaigns have focused on the EFCA's card-check provision. 
Corporate shills such as Americans for Prosperity are putting on country-wide forums -- "Save my Ballot" tours and "Say No To Card Check" events -- that businesses claim are aimed at protecting "the right to vote for millions of workers across the nation." 
What is the Union Advantage?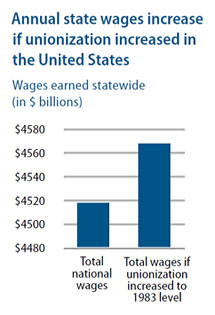 The Road Ahead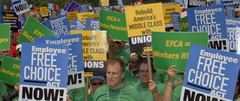 In December 2008, Senate Majority Leader Harry Reid (D-Nev.), called EFCA an "important piece of legislation" and promised that the Senate would try to take it up this summer. 
Needless to say, the national stage is set, and both sides of the issue are already far along their way in fighting what could be the most important battle for labor rights' in a generation.