The battle over the Employee Free Choice Act continues in Congress and in PR campaigns across the county. The EFCA, seen as the most important power struggle between labor and business in a generation, was introduced in the House of Representatives and the Senate on March 10th.  Over the past few weeks, corporate lobbies have stepped up their work against the bill, producing anti-EFCA PR campaigns that claim that the pro-worker bill would put an end to National Labor Board "secret ballot" elections and enable union leaders to intimidate and coerce workers into signing cards to join a union.

But labor rights' groups have been quick to challenge the "EFCA myths," underscoring that the bill does not put an end to secret-ballot elections but instead allows workers to choose between the NLRB elections or a process dubbed "card-check." Card-check allows a union to represent workers when the majority of employees sign a card expressing their desire to join the union.

Labor groups have also pointed out that the anti-union tactics of employers are at the heart of workplace intimidation and rights suppression. Many unions end up pursuing card-check campaigns simply because secret-ballot elections are easily manipulated by employers during the long pre-election period.

Studies by economists such as Cornell University's Kate Bronfenbrenner indicate that employers routinely try to intimidate workers--and frequently violate the law--in the run-up to NLRB union elections. Bronfenbrenner's research found high levels of corporate interference and intimidation. In those weeks leading up to the election, employers often use the time to engage in coercive anti-union campaigning to influence workers not to vote for the union. During this period, workers face harassment, intimidation, and the risk of being fired simply for trying to exercise their right to organize.

According to Bronfenbrenner's research:
9 in 10 employers facing a union campaign force employees to attend closed-door "captive audience" meetings to hear anti-union propaganda;
80 percent train supervisors on how to attack unions and require them to deliver anti-union messages to workers they oversee;
Half of employers threaten to shut down the plant if workers unionize (only 2 percent actually do);
3 out of 4 hire outside consultants to run anti-union campaigns, "often based on mass psychology and distorting the law."
A study released this month by the Center for Economic Policy Research found similar rates of intimidation. In Dropping the Ax: Illegal Firings During Union Election Campaigns, CEPR found a steep rise in illegal firings of pro-union workers in the 2000s relative to the last half of the 1990s: 1 in 5 union organizers or activists can expect to be fired as a result of their activities in a union election campaign. Since 2000, illegal firings have marred over 1 in 4 NLRB-sponsored union elections, reaching 30 percent of elections in 2007, the study finds.

According to the CEPR study:
...an important part of the decline in private-sector unionization rates is that aggressive--even illegal--employer behavior has undermined the ability of workers to create unions at their work places. The National Labor Relations Act (NLRA) penalties associated with illegal firings are small: back pay for illegally fired workers minus any earnings that workers had after they were fired. Current law has given employers a powerful anti-union strategy: fire one or more prominent pro-union employees--typically workers most involved in organizing the union--with the hope of disrupting the internal workings of the organizing campaign, while intimidating the rest of the potential bargaining unit in advance of the NLRB-supervised election.
This is the type of harsh environment that suppresses unionization and any chance at actual free and fair elections, labor advocates argue. Polls find that nearly three in five American workers say they would vote to join a union if they could. But intimidation, firings and harassment often hamper the cause.

Even though workplace intimidation is one of the biggest barriers preventing workers from unionizing, labor rights activists point out that current laws are also stacked against workers. According to a recent Human Rights Watch report, companies break U.S. labor laws with impunity and often factor in potential penalties as the cost of doing business. As HRW explains: "US labor law currently permits a wide range of employer conduct that interferes with worker organizing. Enforcement delays are endemic, regularly denying aggrieved workers their right to an 'effective remedy.' Sanctions for illegal conduct are too feeble to adequately discourage employer law breaking, breaching the international law requirement that penalties be 'sufficiently dissuasive' to deter violations."

Enter the EFCA

These sort of anti-union intimidation tactics have been able to force workers into voting "no" during times of elections. The CEPR study provides evidence that since about 1980, employers have engaged in a systematic attack on unions that has had an impact on rates of unionization. For the past couple of decades, union membership in the United States has rapidly decreased, leading to slipping workforce power and fewer benefits for employees. In 2008, union membership sat at just 12.4 percent, a far drop from the 20.1 percent of 1983, according to the Bureau of Labor Statistics.

In its study of worker abuse in the United States, Human Rights Watch found that the EFCA would remedy many of the deficiencies in current labor law and "create a more level playing field" for U.S. workers. The bill would create stiffer penalties for union-busting campaigns and establish an arbitration process that requires businesses to negotiate with their employees.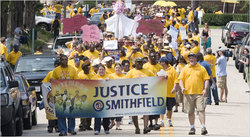 Labor rights' groups point to the 17-year battle to unionize the Smithfield Foods packing plant in Tar Heel, N.C. as a perfect example of why the EFCA is so necessary. In December 2008, by a vote of 2,041 to 1,879, workers at Smithfield Foods' massive hog plant voted to unionize the plant in what had become one of the most closely-watched labor battles in the country. But it was a long journey to get there.

Smithfield worked to keep the union out of the plant using fear and intimidation to keep workers in line. In this hostile climate, Tar Heel plant workers tried twice in the 1990s to organize, and Smithfield responded with illegal union-busting tactics to interfere with the vote -- including firings, worker surveillance, deportation threats, sexual harassment, intimidation and violence. A 2005 report by Human Rights Watch singled out Smithfield for creating a "climate of fear" among workers, including intimidation, harassment and even beatings of suspected activists. Smithfield was forced to pay $1.1 million in back pay plus interest to employees who had been fired for union activity after a federal judge ruled in the union's favor in 2006, finding Smithfield guilty of "intense and wide-spread coercion."

Labor advocates argue that the EFCA could make a difference in cases like Smithfield. As David Bacon writes:
To get out of the box, today's labor movement pins its hopes on the Employee Free Choice Act. This proposal would require a company like Smithfield to negotiate a union contract if a majority of workers sign union cards. It would avoid the kind of union election that took place in 1997, where the idea of voting freely became a farce in an atmosphere of violence and terror. EFCA would also put penalties on employers who fire workers for union activity. At Smithfield, the company was only obliged to pay fired workers for their lost wages, and even then was allowed to deduct any money they'd earned during the decade their cases wound through the legal system. EFCA would substantially restrict the kind of anti-union campaign Smithfield mounted for 15 years.
EFCA would reform labor law in this area by creating real penalties for unfair labor practices, such as:
Civil fines of up to $20,000 per violation against employers found to have willfully or repeatedly violated employees' rights during an organizing campaign or first contract drive.
Triple back pay for workers fired or discriminated against for pro-union activity during a drive.
Having the NLRB seek a federal court injunction when there is reason to believe a company has violated workers' rights during a drive, such as firing or threatening to fire union supporters.
For more statistics on workplace intimidation, check out the recent Facing South newsletter index, Anti-union bullying by the numbers. For more information on the Smithfield campaign, read How Employee Free Choice Act Would Have Helped at Smithfield.