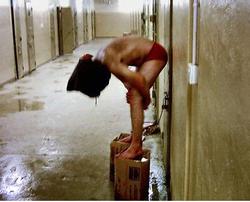 A federal court in Virginia ruled this week that four former Abu Ghraib detainees who were tortured and later released without charge can sue a military contractor that carried out interrogations for the United States.

CACI International of Alexandria, Va. was sued last July by a legal team including attorneys with the Center for Constitutional Rights, which also filed suit against private contractor Blackwater -- the North Carolina-based company now known as Xe -- over the mass shooting of Iraqi civilians in a Baghdad square.

The lawsuit against CACI alleges that company employees participated in physical and mental abuse of detainees including electric shocks, repeated brutal beatings, sleep deprivation, sensory deprivation, forced nudity, stress positions, sexual assault, mock executions, humiliation, hooding, isolated detention and prolonged hanging from the limbs.

The lawsuit also charges that the company destroyed documents, videos and photographs; prevented the reporting of the torture and abuse to the International Committee of the Red Cross; hid detainees and other prisoners from the International Committee of the Red Cross; and misled non-conspiring military and government officials about conditions at the Iraq prison.

In the latest development in the case, U.S. District Court Judge Gerald Bruce Lee denied CACI's motion to dismiss the detainees' claims of multiple violations of U.S. law including torture, war crimes and civil conspiracy. CACI sought immunity from the suits, claiming that the actions of its interrogators were beyond judicial review.

The ruling stated that "the fact that CACI's business involves conducting interrogations on the government's behalf is incidental; courts can and do entertain civil suits against government contractors for the manner in which they carry out government business. CACI conveniently ignores the long line of cases where private plaintiffs were allowed to bring tort actions for wartime injuries."

The court also rejected CACI's attempt to deflect the suit by invoking the political question doctrine, which holds that certain matters do not belong in federal court because they properly fall under the decision-making authority of elected officials. Said the court:
While it is true that the events at Abu Ghraib pose an embarrassment to this country, it is the misconduct alleged and not the litigation surrounding that misconduct that creates the embarrassment. This Court finds that the only potential for embarrassment would be if the Court declined to hear these claims on political questions grounds. Consequently, the Court holds that Plaintiffs' claims pose no political question and are therefore justiciable.
"The Court's decision confirms that private military contractors like CACI cannot act with impunity," said CCR Attorney Katherine Gallagher. "They must act within the bounds of law and can be held accountable for their participation in the atrocities at Abu Ghraib and the other facilities in Iraq."

The plaintiffs in the case are are Suhail Najim Abdullah Al Shimari, Taha Yaseen Arraq Rashid, Sa'ad Hamza Hantoosh AI-Zuba'e and Salah Hasan Usaif Jasim Al-Ejaili, all Iraqi citizens who were released from Abu Ghraib between 2004 and 2008 without being charged with any crime.

The lawsuit also initially named as defendants L-3 Services Inc. (formerly known as Titan Corp.) and Timothy Dugan, a former CACI employee. However, L-3 and Dugan have since been dismissed.

Despite the lawsuit pending against it, CACI was awarded a new $40 million U.S. Army contract earlier this month to provide night vision equipment.

(Photo of prisoner abuse at Abu Ghraib taken by U.S. military personnel from Wikimedia Commons)