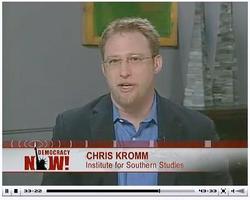 I'll be joining Amy Goodman of Democracy Now! as she hosts her show in North Carolina at 8 am today (Thursday, April 9). Tune in to hear us talk about the latest news and issues in the South.

You can also check out this list of the 765 stations that carry Democracy Now! to listen on a station near you! Here are some Southern state links:

Amy is in North Carolina as part of her national speaking tour, promoting her compelling new book Standing Up to the Madness (with brother David Goodman).