Seven people were arrested for trespassing Sunday during a nonviolent protest against a Massey Energy subsidiary's plans to blast just 100 feet away from a massive dam holding back billions of gallons of toxic coal waste in the mountains of West Virginia.

The Brushy Fork impoundment (pictured below at left), located in Raleigh County, W.V., is the largest such coal impoundment in the country, holding some 7 billion gallons of what's known as coal sludge or slurry -- the poisonous, chemical-laden goo left over after processing coal. According to data gathered by the state Department of Environmental Protection and cited in a citizens' report, coal sludge contains dangerously high levels of toxic elements including arsenic, cadmium, chromium, lead and mercury, as well as more complex chemicals used in the washing process.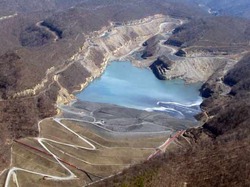 Massey Energy's own filings with the state Department of Environmental Protection estimate a minimum death toll of 988 people should the dam break. Within three hours of a break, floodwaters would reach over 38 feet in the town of Peytona, W.V., which lies more than 26 miles downstream. The impoundment is built over a honeycomb of abandoned underground mines, raising questions about its long-term stability.

The facility has already experienced serious problems. Marfork Coal has been cited for more than 200 violations, including at least 46 at the coal processing plant associated with the Brushy Fork impoundment and another 72 at the impoundment itself, according to Coal River Mountain Watch. In December 2005, the coal processing facility released at least 10,000 gallons of toxic sludge into the Coal River, which serves as a drinking water source for thousands of people living downstream.

The Sunday afternoon protest involved more than 70 people and took place at Massey's Marfork mining complex near Whiteville, W.V. The arrests came when seven people approached the entrance to the coal sludge dam and refused a request from the West Virginia State Police to leave. Two other people were arrested at the Marfork facility Sunday morning after boating onto the impoundment and floating a banner that read, "No More Toxic Sludge." They were charged with misdemeanor trespass and littering.

The protests are part of a growing movement in which anti-coal and climate justice activists are employing techniques of nonviolent resistance. Also this weekend, six activists were arrested after they chained themselves to a dump truck at a Patriot Coal-owned mine on West Virginia's Kayford Mountain to protest mountaintop removal.

As participants in the Brushy Fork protest walked toward the dam's entrance, organizer Bo Webb with Coal River Mountain Watch cheered them on through a megaphone. "They literally put their lives at risk, they put it on the line, in order to protect and save Appalachia's mountains from corporate annihilation, and American democracy from corporate takeover," Webb said.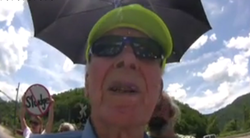 Also participating in the protest, but not among those arrested, was Ken Hechler (photo at right), a Democrat who represented West Virginia in Congress from 1959 to 1977. The only member of Congress to march with Dr. Martin Luther King at Selma, Ala., Hechler went on to become the lead architect of the Coal Mine Safety and Health Act of 1969, which created tough safety regulations to protect mine workers from coal dust and other dangers. He went on to serve as West Virginia's Secretary of State from 1985 to 2001.

"We live in a free country, and you can go up and down the street swinging your arms as a free person. But if somebody comes along, and you hit that person in the nose, your freedom ends where that person's nose begins," the 94-year-old Hechler told the gathering. "So I say to you here, the freedom of Massey is a clear and present danger to everyone that lives below Brushy Fork. Their freedom ends because they have put thousands of people at risk."

Hechler brought up the 1972 Buffalo Creek disaster, when a similar dam located on a hillside in Logan County, W.V. broke, unleashing more than 132 million gallons of coal sludge into 16 communities. That disaster killed 125 people, injured more than 1,100 and left more than 4,000 homeless.

Here's a clip of the Brushy Fork protest courtesy of Fluxview:



(Photo of Brushy Fork coal sludge impoundment from March 2009 taken by Vivian Stockman of the Ohio Valley Environmental Coalition during a flyover courtesy of SouthWings. Photos of the protest are stills taken from the video above.)