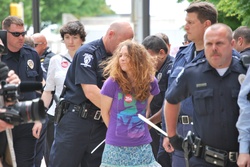 Today marks an important moment in the intensifying political battle over our energy future.

This morning in Charlotte, N.C., a coalition of health, social justice, faith and environmental groups is holding what's billed as a "Call to Conscience" action urging Duke Energy CEO Jim Rogers and Gov. Beverly Perdue to cancel construction of the massive new coal-fired power unit being built at the company's Cliffside plant in the Blue Ridge foothills. Participants will gather at 10 a.m. at Marshall Park and march to Duke's corporate headquarters, where some are prepared to get arrested.

The action is part of a growing campaign of nonviolent civil disobedience -- or what Indian freedom leader Mahatma Gandhi preferred to call "satyagraha," a Sanskrit term for "truth and firmness" -- aimed at halting the environmental destruction associated with coal power.

"Those of us heeding the scientists' warnings feel we must persist with all available nonviolent efforts until construction of Cliffside is halted," said Beth Henry, an activist with the Stop Cliffside Coalition that organized the protest. "That plant is simply not needed, and we urge CEO Jim Rogers to join the surging clean energy revolution."

Burning pulverized coal using conventional technology, the 800-megawatt Cliffside unit would emit an estimated 6 million tons of carbon dioxide to the atmosphere annually over a life-span estimated at 50 years. On Friday, the U.S. Environmental Protection Agency declared carbon dioxide and other greenhouse gases a danger to "the public health and welfare of current and future generations," opening the way for new regulations of coal-fired power plants and other industrial facilities.

And greenhouse gases are not the only pollution problem associated with Cliffside. The plant plans to dump its coal ash waste into toxic sludge ponds like the one that failed catastrophically last year at the Tennessee Valley Authority's Kingston coal plant. It would also emit to the air tons -- though the exact amount remains controversial -- of hazardous air pollutants including mercury, arsenic and dioxins.

Earlier this year, the United Nations' Intergovernmental Panel on Climate Change told Congress that the current rate of carbon emissions could continue for only about six years before reaching a tipping point that could lead to dramatic changes even worse than the problems many of us are already experiencing in the form of increasingly extreme weather, rising sea levels and worsening wildfires.

The growing urgency of the climate crisis has led prominent leaders to call for direct action to stop the building of new coal-fired power plants. In 2007, former Vice President Al Gore told New York Times columnist Nicholas Kristof,  "I can't understand why there aren't rings of young people blocking bulldozers, and preventing them from constructing coal-fired power plants." That same year, Dr. James Hansen, the top climate scientist at NASA, said, "It seems to me that young people, especially, should be doing whatever is necessary to block construction of dirty coal-fired power plants."

Gore and Hansen clearly recognize the important role nonviolent direct action has played in nearly every major social change movement in U.S. history, from the Boston Tea Party to the anti-slavery, women's suffrage, labor, civil rights and anti-war movements. As peace activist Gordon Clark has observed:
"Nonviolent direct action can dramatize an injustice or danger to the general public as few other actions can. It both provokes other people to act and speak -- often people who had previously been silent -- and it opens up political space for them to do so. Nonviolent actions are acts of courage that inspire others to follow. They are acts of leadership."
Last month, a coalition of about 50 groups held a protest outside the U.S. Capitol's own coal-fired power plant in Washington, D.C., with some arrested for engaging in civil disobedience. Similar strategies have also been used across the South, at Dominion Power's headquarters in Virginia, on Zeb Mountain in Tennessee, and at a mountaintop removal mining site in West Virginia.

Climate activists are borrowing yet another Gandhian tactic and launching a fast today calling attention to the need for the U.S. and other industrialized countries to reduce greenhouse gas emissions by at least 25 to 40% below 1990 levels by 2020 -- a target set at a 2007 United Nations climate conference in order to avoid catastrophic climate disruption. The organizers of the action -- called Fasting for Our Future -- are affiliated with groups including the Climate Crisis Coalition, Indigenous Environmental Network, Religious Witness for the Earth, and Alliance for Appalachia.

Here is organizer Ted Glick's explanation for why they're fasting:
Fasting is a simple yet profound way of combining the spiritual and the political. Mahatma Gandhi, the most famous nonviolent revolutionary of the 20th century, called it "the sincerest form of prayer." It communicates seriousness and urgency without violence, thereby making it easier for those who hear about a fast to think about the issues of the fast; it focuses peoples' attention.
Some people have signed up to fast for one day, but others plan to continue fasting for as many as 4. With the fast starting as Congress returns from spring recess, the organizers are aiming for strong federal legislation that mandates a significant decrease in greenhouse gas pollution, discourages the building of new coal plants, and utilizes either a 100 percent auction of pollution credits or a substantial carbon fee to ensure the shift to greater efficiency and renewable energy happens quickly.

(Photo of two activists getting arrested at Duke Energy's headquarters on April 20, 2009 from the Stop Cliffside coalition's website)