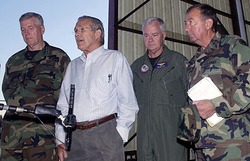 A story in the latest GQ magazine offers fresh revelations about actions taken by former Defense Secretary Don Rumsfeld following Hurricane Katrina, with former Bush administration officials blaming him for the delay in getting U.S. military assistance to New Orleans in the disaster's immediate aftermath.
"And He Shall Be Judged,"
a story by freelance writer and former Texas Monthly reporter Robert Draper, draws on "conversations with more than a dozen Bush loyalists, including several former cabinet-level officials and senior military commanders" to reveal "intense feelings of ill will" toward Rumsfeld. Bush administration insiders accuse of him of arrogance, stubbornness, obliviousness and ineptitude that contributed significantly to the failures of the Bush presidency -- including the administration's badly bungled response to Hurricane Katrina.
It turns out that Rumsfeld played a key role in delaying the deployment of military rescue personnel to the drowned city of New Orleans. Draper tells the story of an Air Force helicopter pilot assigned to take a White House team to tour the devastation two days after the storm made landfall. When someone on the team asked the pilot if they were keeping him from rescuing people from rooftops, he said his entire unit was still sitting at Hurlburt Field Air Force base in Florida wondering why they hadn't been deployed yet. Draper writes:
The search-and-rescue helicopters were not being used because Donald Rumsfeld had not yet approved their deployment -- even though, as Lieutenant General Russ Honoré, the cigar-chomping commander of Joint Task Force Katrina, would later tell me, "that Wednesday, we needed to evacuate people. The few helicopters we had in there were busy, and we were trying to deploy more." And three years later, when I asked a top White House official how he would characterize Rumsfeld's assistance in the response to Hurricane Katrina, I found out why. "It was commonly known in the West Wing that there was a battle with Rumsfeld regarding this," said the official. "I can't imagine another defense secretary throwing up the kinds of obstacles he did."

The following day, Draper reports, Homeland Security Secretary Michael Chertoff called Rumsfeld to tell him he would need "several thousand" troops. However, Rumsfeld disagreed, saying he would tell President Bush they didn't need any more than the National Guard -- even though the Guard had not arrived in the areas where it was needed in sufficient numbers.
On the Friday following the storm's Monday landfall, President Bush convened a meeting in the Situation Room, Draper reports:
According to several who were present, the president was agitated. Turning to the man seated at his immediate left, Bush barked, "Rumsfeld, what the hell is going on there? Are you watching what's on television? Is that the United States of America or some Third World nation I'm watching? What the hell are you doing?"

Rumsfeld replied by trotting out the ongoing National Guard deployments and suggesting that sending active-duty troops would create "unity of command" issues. Visibly impatient, Bush turned away from Rumsfeld and began to direct his inquiries at Lieutenant General Honoré on the video screen. "From then on, it was a Bush-Honoré dialogue," remembers another participant. "The president cut Rumsfeld to pieces. I just wish it had happened earlier in the week."

But it wasn't until the following day -- Saturday, Sept. 3, five days after the storm made landfall in Louisiana -- that Bush finally ordered Rumsfeld to send in troops. Why the delay? Draper reports that Rumsfeld "didn't like the concept" of using active-duty troops in a domestic situation.
Consequently, mercenaries with Blackwater -- the controversial North Carolina-based company that has since
changed its name to Xe
-- were on the ground in the disaster zone sooner than active-duty U.S. troops.  On Thursday, Sept. 1, Blackwater dispatched a SA-330 Puma helicopter to the Gulf Coast help evacuate people from flooded areas, according to
a company press release
. Less than a week later, the company's employees were already patrolling the streets of New Orleans under a contract with the Department of Homeland Security,
as Jeremy Scahill and Daniela Crespo reported at the time
.
And Katrina wasn't the only Gulf Coast disaster in which Rumsfeld played a less-than-constructive role, according to Draper. In the midst of Hurricane Rita, which hit Louisiana and Texas shortly after Katrina in September 2005, Fran Townsend, an assistant to the president for homeland security, learned that Texas governor Rick Perry had expressed willingness to hand control of the National Guard to the federal government. But when she called Rumsfeld to get his OK, she was told he was "at an event" -- which turned out to be a ball she had declined to attend because of the crisis. When she asked to speak to his detail, she was told he would not talk to her until the ball was over. Draper reports:
Later in the evening, her phone rang. It was Chief of Staff Andy Card. "Rumsfeld just called," said Card. "What is it you need?"

Livid, Townsend said, "I want to know if the president knows what a fucking asshole Don Rumsfeld is."

Sighing, the chief of staff replied, "It isn't you, Fran. He treats Condi the same way. Me, too. He's always telling me I'm the worst chief of staff ever."

(In this Defense Department photo taken at a briefing on Hurricane Katrina relief efforts in Baton Rouge, La. on Sept. 4, 2005, Rumsfeld stands second from left with, from left, Chairman of the Joint Chiefs of Staff Gen. Richard Myers; U.S. Navy Admiral Timothy Keating, commander of U.S. Northern Command; and Army Maj. Gen. Bennett Landreneau.)