A coalition of immigrant and civil rights groups
held a vigil
in front of the Atlanta headquarters of the Immigration and Customs Enforcement agency last week to mark the three-month anniversary of Roberto Martinez Medina's death in immigrant detention in southwest Georgia.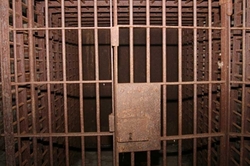 Before his death, Medina, a 39-year-old Mexican national, was held on immigration violations at the Stewart Detention Center in Lumpkin, Ga., a federal ICE facility. For three months the immediate cause of Medina's death remained unclear. The autopsy results were finally released last Thursday by the Georgia Bureau of Investigation, noting that Medina died of myocarditis, an inflammatory heart disease. 
Medina's death in March marked the latest in the mounting number of immigrant deaths in ICE detention centers. For the past year, stories of inadequate health care for immigrant detainees and a slew of questionable deaths in immigration custody have been surfacing. Even though Medina died of apparent natural causes, immigrant advocates maintain that these immigrant deaths, as well as the stories detainees continue to tell about abuse and neglect, raise questions about the adequacy of medical practices in the jails and private prisons under contract to hold immigrant detainees, as well as underscore the lack of overall accountability in U.S. immigrant detention. 
Rights advocates have pointed out that many of the reported immigrant deaths could have been prevented through timely and effective access to medical care. But due to the absence of enforceable standards and an independent oversight mechanism, ICE and the corporations that contract with it for the most part escape accountability, advocates say. 
Amnesty International released a
report
last March criticizing the system of immigrant detention in the United States. The report found that tens of thousands of immigrants have been held without access to due process and many have been left to "languish" in deplorable conditions. In the last few months groups such
Human Rights Watch
and the
Florida Immigrant Advocacy Center
have also released reports detailing startling levels of immigrant abuse in detention centers and a real
lack of adequate medical care
. 
Profiting From Immigrant Detention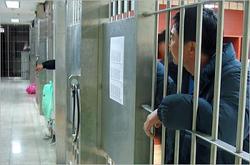 ICE oversees a network of federal centers, county jails and privately-run, for-profit prisons that detain and process undocumented immigrants; more than 30,000 immigrants are incarcerated in the U.S. on any given day. Many of these facilities are located in the South and Southwest. 
Facing South has
reported
on the large-scale immigration raids that have swept across the country in the last couple of years. The heightened anti-immigration actions have left federal authorities struggling to cope with rapidly rising numbers of detainees. Arrests have
overwhelmed detention systems
and local jails. 
In turn, over the past couple of years, immigrant detention has become the nation's fastest-growing form of incarceration. The private prison industry in the United States is making a fortune on the exponential increase in the number of immigrants detainees, and despite the economic downturn, the industry is currently experiencing the largest business demand in its history. 
Many of these private prison corporations are looking to open more detention facilities for immigrants. But human rights advocates point out that many of these for-profit facilities being built to house the overflow are problem-riddled and lacking in oversight. In fact, privately-run detention centers are continually plagued by scandal, lawsuits and controversy surrounding prisoner maltreatment. 
For years, the Florida-based GEO Group, a private corporation that owns and operates correction facilities and is contracted to manage five of ICE facilities, has been at the center of scandal in its private prisons and detention centers in places such as Louisiana, Pennsylvania, Idaho, and Texas. Charged with squalid conditions, prison abuse, ill treatment of prisoners and even prisoner deaths, the corporation has faced several lawsuits by prisoner family members who say the facility did not provide adequate medical care or proper supervision for inmates. 
The Nashville-based Corrections Corporation of America, the nation's largest private prison company, operates six ICE facilities, and has a long, documented history of abuses in its prisons. The CCA runs the same detention center in Lumpkin, Ga., where Medina was held. In 2007, nearly 1,000 immigrant prisoners at the 1,500-bed facility in Lumpkin went on a hunger strike protesting conditions including lack of medical care. 
Georgia Detention Watch
, an Atlanta-based coalition of immigrant rights advocates, released a
report
in April on detention conditions at the CCA-run Stewart Detention Center in Lumpkin. Calling the conditions at the CCA-run facility "grossly inadequate," the report found that detainees were denied food and medicine as punishment, there were too few working toilets, detainees were placed in solitary confinement without a disciplinary hearing, the facility lacked necessary medical care, and it served undercooked and expired food.  
Rights groups continue to demand accountability and transparency from ICE in regards to its CCA-run facilities. From October 2003 through Feb. 7, 2009, 18 people died in immigration detention custody in facilities operated by CCA alone,
reports
the Atlanta Journal Constitution. 
Private prison corporations such as the CCA and the GEO Group are seeing an exponential growth in business and stock prices, even though stories of their inadequate facilities continue to stream into the public. In 2008, the GEO Group reported nearly $60 million in profits, and the CCA posted profits of more than $150 million. And the profits continue to soar. 
[CCA] has partnered with the federal government to detain close to 1 million undocumented people in the past 5 years until they are deported. In the process, Corrections Corporation of America has made record profits. Critics suggest the CCA cuts corners on its detention contracts in order to increase its revenue at expense of humane conditions. Thanks to political connections and lobby spending, it dominates the industry of immigrant detention. CCA now has close to 10,000 new beds under development in anticipation of continued demand.
CCA plans to open a new facility in Gainesville, Ga. similar to its Lumpkin facility. Rights advocates say that the prospect of yet another CCA-run immigrant detention facility should trouble lawmakers. 
Immigrant advocates are also demanding greater transparency and swift and public investigations for deaths in immigration detention. Groups are calling on Congress and the Obama administration to create enforceable standards binding ICE and corporations such as CCA to humane standards of care for the detainees and to ensure an effective and independent oversight mechanism.