EPA releases locations of high-hazard coal ash dumps; most are in the South
After initially saying it would not release the information due to "security concerns," the Environmental Protection Agency relented Monday and disclosed the locations of the nation's 44 "high hazard" coal ash dump sites.



These are the surface impoundments holding the waste from coal-fired power plants where a failure of the containment structure -- like the one that occurred last December at the Tennessee Valley Authority's Kingston plant in Roane County, Tenn. -- could kill significant numbers of people.

The South is home to 24 of the 44 high-hazard sites. North Carolina has the most of these sites at 12, followed by Arizona with nine and Kentucky with seven. Meanwhile, North Carolina-based Duke Energy is the utility with the most facilities on the list, with 10. All of those are located in the company's home state.

"The presence of liquid coal ash impoundments near our homes, schools and business could pose a serious risk to life and property in the event of an impoundment rupture," said EPA Administrator Lisa Jackson. "By compiling a list of these facilities, EPA will be better able to identify and reduce potential risks by working with states and local emergency responders."

Coal ash dump sites contain dangerous levels of arsenic, lead, mercury and other toxins that can contaminate drinking water or inundate nearby communities, as happened last year in Tennessee.

The following are the sites on the EPA's list, arranged by state (click on chart for a larger image):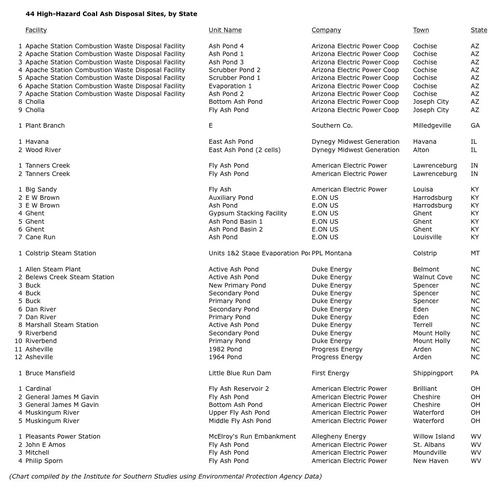 The list was compiled with information submitted to EPA by the electric utilities in response to the agency's March 9, 2009 information request. The EPA says the 44 units will receive priority attention as the agency continues to assess the safety of the nation's coal ash impoundments.

Sen. Barbara Boxer (D-Calif.) pressed the EPA to release the information, arguing that it was essential for people to know the sites' locations so they could press local authorities to act to make them safer. At a press conference held earlier this month, she complained of feeling "muzzled" by the agency.

EPA has promised to issue a proposed regulation for the management of coal combustion wastes by Dec. 31, 2009. At the present time, these facilities are not federally regulated.

In North Carolina, state Rep. Pricey Harrison (D-Greensboro) has proposed a bill that would impose tougher state regulations on these facilities. However, it faces stiff opposition from the state's utilities, which are major political donors and powerful lobbying forces [pdf]. 

(Image of home inundated by December 2008 TVA ash spill from the company's aerial footage)
Tags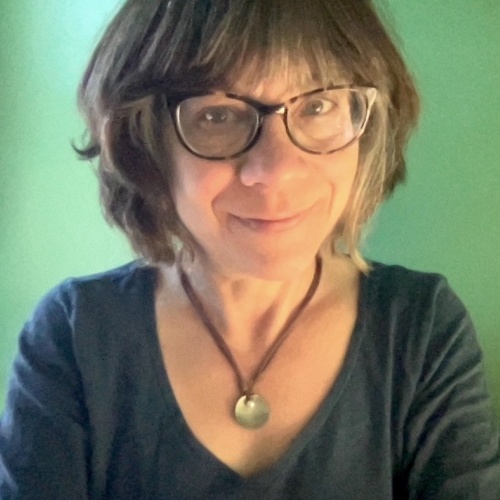 Sue is the editorial director of Facing South and the Institute for Southern Studies.