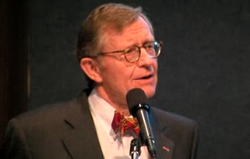 Ohio State University President E. Gordon Gee resigned from the board of Virginia-based Massey Energy on Friday, a few months after the launch of a campaign that made the case his work for the mountaintop mining company was incompatible with his efforts to promote clean energy. Gee had served on the board of the company for nearly nine years, and
was re-elected by shareholders just last month
.
"His resignation has strengthened the new consensus that mountaintop removal is an atrocity that must be stopped," said Sandy Buchanan of
Ohio Citizen Action
, the group that started the campaign to urge Gee to step down.
The fourth-largest coal producer in the United States in terms of revenue, Massey has mining operations in Kentucky, Virginia and West Virginia. It controls about a third of all Central Appalachian coal reserves, and mines more coal by strip mining -- which includes mountaintop removal -- than any other company in the region,
according to Ohio Citizen Action
.
In February, Gee delivered
a speech at the Brookings Institution
in Washington, D.C. in which he called for involving universities in restructuring U.S. energy supplies. "America's utter dependence on fossil fuels weakens us in a critical way," he said. "As supplies dwindle and our environment suffers potentially irreversible damage, we cannot sit idly by."
Soon after that speech, activists began pressing Gee to resign from Massey. Last month, four environmental organizations -- Earthjustice, Friends of the Earth, Greenpeace and the Sierra Club -- wrote a
letter
urging Gee to step down from the board, saying that the association "undermines your own standing as an advocate for clean energy sources and confers undeserved credibility on Massey's terrible environmental record."
In 2008 alone, Gee received $219,261 in fees and other awards related to his seat on the Massey Board,
according to the journal Business First of Columbus
.
Besides pointing out Massey's involvement with mountaintop removal, which has flattened almost 500 of Appalachia's peaks and buried nearly 2,000 miles of its streams, the campaign pointed to other problems with the company's environmental record -- including the fact that during Gee's time on the board, the company committed Clean Water Act Violations that led to a $20 million fine, the largest the Environmental Protection Agency has ever levied against a company for wastewater violations. Massey violated its Clean Water Act permits more than 4,500 times between January 2000 and December 2006.
Pressure is building for Massey to clean up its act. Earlier this year, Santa Clara University -- a Jesuit institution in California's Silicon Valley -- divested its holdings in the company. In his state of the university speech, President Michael Engh
said the investment had been made "unknowingly"
and contradicted the school's "ethical guidelines for investment." And in 2007, a coalition of environmentally concerned investors including the North Carolina treasurer
targeted 10 companies it identified as lagging behind industry peers in responding to climate change
; Massey was among them for failing to disclose how it intends to respond to pressure to cut greenhouse gas emissions.
The company has also been the target of civil disobedience. Last week, we
reported on nonviolent protests
against a plan by a Massey subsidiary to begin blasting 100 feet away from a dam holding back billions of gallons of toxic coal sludge from a coal processing facility in Raleigh County, W.V. The company is proceeding with the plan despite the fact that its own filings with the West Virginia Department of Environmental Protection acknowledge that more than 900 people would die should the dam break.
A
news release
put out by Massey on Friday acknowledging Gee's resignation did not mention the controversy over the company's environmental practices. Massey Chairman and CEO Don Blankenship said Gee resigned in order to "devote his attention to Ohio."
(Image of Gee is a still from the video of his February 2009 Brookings speech)