VOTING RIGHTS: DOJ finds Georgia voter screening inaccurate and discriminatory
In a decision praised by voting rights advocates, the U.S. Justice Department ruled against Georgia's voter verification program, calling the citizenship screening system inaccurate, flawed and discriminatory against minorities.The DOJ has rejected Georgia's system of using Social Security numbers and driver's license data to check whether prospective voters are citizens, a process that was the subject of a federal lawsuit before the November election.
In
a letter sent last week
from Civil Rights Division Acting Assistant Attorney General Loretta King to Georgia state officials, the DOJ said that Georgia's voter verification program is frequently inaccurate and has a "discriminatory effect" on minority voters, subjecting a "disproportionate number of African-American, Asian and/or Hispanic voters to additional, and more importantly, erroneous burdens on the right to register to vote." The letter went on to say that the system "does not produce accurate and reliable information and that thousands of citizens who are in fact eligible to vote under Georgia law have been flagged." The ruling bars Georgia from continuing the citizenship verification, although the state can appeal to the DOJ to reconsider.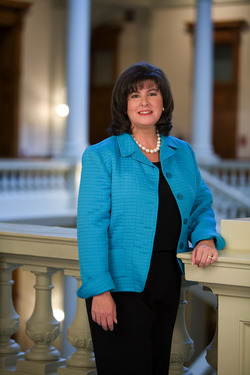 Georgia Secretary of State Karen Handel, whose office holds the statewide responsibilities for administration of elections, and who is a Republican candidate for governor, called DOJ's decision, "a shocking disregard for the integrity of our elections." She argued that the ruling means the state could be inundated with non-qualified voters. Handel's office said they will be considering their options, including suing the Justice Department in federal court.
Handel and her aides created the verification system in 2007, extending the state's requirement to verify a voter's identity at the time of registration to include the verification of citizenship as well. The citizenship verification program matches information a potential voter has submitted with information maintained by the state Department of Driver Services and the federal Social Security Administration. Voters are "flagged" when they have non-matching information.
According to the DOJ analysis, Georgia's program "flagged a large number of persons who have subsequently demonstrated that they are in fact citizens, Indeed, of the 7,007 individuals who have been flagged...as potential non-citizens, more than half were in fact citizens."
The DOJ also calculated that although blacks and whites made up equal numbers of the newly registered, blacks were flagged 60 percent more than whites. The DOJ similarly found that "Hispanic and Asian individuals are more than twice as likely to appear on the (flagged) list as are white applicants." In essence the program puts an undue burden on blacks, Hispanics and Asians to prove their citizenship when trying to vote.
"These burdens are real, are substantial and are retrogressive for minority voters," said  King.
Voting and civil rights advocates applauded the DOJ ruling, calling it a victory for protecting eligible voters. U.S. Rep. John Lewis (D-Ga.), a veteran of the Civil Rights Movement, said Georgia's system of citizenship checks was "an attempt to take us back to another dark period in our history when people were denied access to the ballot box simply because of their race or nationality."
"We are pleased that the Department of Justice correctly found that Secretary Handel's verification procedures are inaccurate and discriminatory," said Jon Greenbaum, director for Lawyers' Committee for Civil Rights Under Law. "Preventing these procedures from going into effect will prevent Secretary Handel from keeping many thousands of eligible Georgia voters off the rolls."
Systematically purging voters
Georgia's system was used last year, in the months before the 2008 general election, and was highly criticized by voting rights advocates. In fact, the state became a hotbed of voting rights issues during the entire election cycle, and Facing South
reported
extensively on Handel's controversial system of verifying citizenship that led to the purging of voters whose citizenship was called into question by the state's database.
Voting rights groups had pointed out several flaws in Georgia's voter verification system at the time, but the first legal challenge came in October 2008 when
the ACLU sued the state of Georgia on behalf of Jose Morales
, a Cherokee County voter who was wrongfully targeted to be purged from the roles despite having become a citizen in November 2007. Voting rights advocates argued that Georgia's efforts amounted to a "systematic purging" of rolls just weeks before the election. Morales wasn't alone in potentially losing his right to cast a ballot. Almost 200,000 individuals were tagged, according to the DOJ, as a "non-match." Meaning when the databases were queried, any information that didn't match put the individual at risk for losing their voting privileges. Another report flagged the 7,007 people as potential non-citizens.
A three-judge federal panel ruled that Handel had to submit the contested voter registration procedures to the DOJ for Section 5 review, also called "preclearance" under under the Voting Rights Act of 1965. Section 5 of the VRA requires federal approval of all changes to election law and voting procedures in Georgia and several other states with histories of discrimination and Jim Crow voting practices.
The relevance of the VRA
Voting rights advocates point out that the DOJ ruling once again proves the vital importance and relevance of the Voting Rights Act. The U.S. Supreme Court is currently considering arguments on the constitutionality of Section 5 of the VRA. Georgia Gov. Sonny Perdue has weighed in on the Supreme Court case, filing a brief arguing that Georgia has demonstrably transcended its unfortunate past with regard to voting rights. Similarly, Handel contended that "continuation of the Voting Rights Act has nothing to do with ensuring fairness in elections. It is pure politics in its worst form and a ridiculous solution in search of a problem that left the South decades ago."
But voting rights advocates have pointed out that the discriminatory impact of Georgia's voter certification program is more evidence that Georgia in fact should not be exempt from Section 5 of the Voting Rights Act.
Laughlin McDonald, director of the ACLU Voting Rights Project, said that the DOJ ruling "shows the continuing need" for Section 5 of the Voting Rights Act. "Absent the preclearance requirement, there is no doubt that racial and language minorities in Georgia and other covered jurisdictions would be subject to new forms of discrimination in voting," McDonald said.
The DOJ decision marks the first time the new administration has weighed in on Georgia's election laws. This month's decision comes as Georgia awaits word on whether another another voting law change will pass the DOJ preclearance. The bill,
S.B. 86
, was a measure signed by Georgia Gov. Sonny Perdue on May 5 that would require every new voter to present proof of citizenship upon registration.
Georgia became the second state - following Arizona's lead - to pass such a law
, and the law is considered far more restrictive than any other photo ID requirements that have passed around the country.