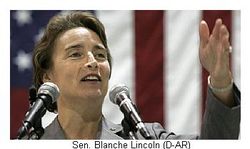 As followers of the health reform debate know, today
the Senate Finance Committee voted down
15 to 8
a measure to include a public insurance option to the Senate bill.All 10 Republican members of the committee voted against the amendment,
introduced by Sen. "Jay" Rockefeller (D-WV)
, which includes what advocates call a "
robust public option
."
Five Democrats also voted "nay": Max Bacus of Montana, Tom Carper of Delaware, Kent Conrad of North Dakota, Blanche Lincoln of Arkansas and Bill Nelson of Florida.
Yet these Democrats represent states that may be most in need of a public insurance choice to compete with private plans.
Four out of five of the Democrats who voted "no" on Rockefeller's amendment come from states where one insurance company controls 42% or more of the market
-- a level of market dominance that the Department of Justice legally defines as "highly concentrated."
Here are how these senators' states rate for insurance market concentration:
STATE -- % OF MARKET CONTROLLED BY BIGGEST COMPANY
*
NORTH DAKOTA -- 89%
controlled by Noridian/Blue Cross Blue Shield ND
ARKANSAS -- 75%
of health insurance market controlled by Blue Cross Blue Shield AR
MONTANA -- 75%
controlled by Blue Cross Blue Shield MT
DELAWARE -- 42%
controlled by CareFirst/Blue Cross Blue Shield
FLORIDA -- 30%
controlled by Blue Cross Blue Shield FL
Only one of the Democrats -- Sen. Bill Nelson from Florida -- comes from a state without a "highly concentrated" health insurance market, although it's notable that the state's top two insurers (BCBS and Aetna) together control 45% of the market.
Nation-wide,
94% of insurance markets are near-monopolies
-- and as Facing South reported earlier, the metro area with the worst concentration in the country (Texarkana, 97%)
falls in the district of fierce public option opponent and Blue Dog Rep. Mike Ross (D-AR)
.
* Most of this data can be found in the American Medical Association's 2007 report on competition in health insurance [pdf]; the North Dakota figures come from this recent report published by Health Care for America Now! Note that North Dakota figures include accident and health coverage.