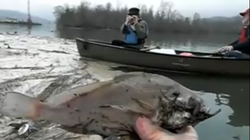 A dam collapse at the Tennessee Valley Authority's Kingston power plant in eastern Tennessee last December sent a billion gallons of toxic coal sludge oozing over a nearby community and into the Emory and Clinch rivers, devastating the local environment.



But despite the pollution burden already borne by neighbors and downstream residents because of that disaster, state regulators recently handed the TVA permission to dump even more toxic coal waste from the Kingston plant into the Clinch -- a river the Environmental Protection Agency already classifies as impaired due to high levels of pollution.

Last month the Tennessee Department of Environment and Conservation (TDEC) granted TVA a permit under the Clean Water Act that will allow the federal corporation to discharge wastewater polluted with toxic arsenic, mercury and selenium into the river from the plant in Roane County. The discharge will come from from a pond that will hold liquid waste collected from a new air pollution scrubber.

That permit is being challenged by three environmental advocacy groups -- Earthjustice, the Environmental Integrity Project and the Sierra Club.

"The Clean Water Act requires TDEC to eliminate toxic discharges from the Kingston plant," says EIP Attorney Lisa Widawsky. "Instead, incredibly, TDEC is authorizing new discharges of toxic heavy metals -- to the tune of one million gallons a day -- into the same river devastated by the Kingston coal ash spill."

As Earthjustice notes, TVA is not the only electric utility that's sacrificing water quality as it works to clean up air pollution: Coal-fired plants nationwide are installing new air scrubbers, but the EPA has not yet set national standards limiting wastewater discharges from these scrubber systems. As the agency noted in its recent announcement that it was planning to craft those standards:
Air pollution controls installed to remove pollution from smokestacks have made great strides in cleaning the air people breathe, saving lives and reducing respiratory and other illnesses. However, some of the equipment used to clean air emissions does so by "scrubbing" the boiler exhaust with water, and when the water is not properly managed it sends the pollution to rivers and other waterbodies. Treatment technologies are available to remove these pollutants before they are discharged to waterways, but these systems have been installed at only a fraction of the power plants.
The environmental groups want TDEC to require the plant to eliminate the toxic discharges by installing a zero-discharge systems. They say that about a third of all power plants nationwide have installed such systems.

"This river has been through enough," says Earthjustice Attorney Megan Klein. "It is time for TVA to start taking its responsibilities to protect the public seriously and to install pollution controls for water as well as air."

(The image above is a still from a video of environmental advocates' trip canoe along the Clinch and Emory rivers immediately following last December's ash spill from TVA's Kingston plant.)