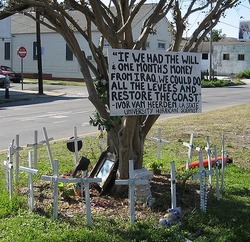 The former deputy director of the Louisiana State University Hurricane Center is suing the university and four former supervisors, claiming he was harassed and eventually
fired from his job
because he blamed the devastating post-Katrina flooding of New Orleans on shoddy work by the U.S. Army Corps of Engineers.
Dr. Ivor van Heerden led the comprehensive investigation into the flooding by the State of Louisiana Forensic Data Gathering Team, known as "Team Louisiana." Van Heerden called the Army Corps' levee design a "geotechnical engineering failure," and his 2006 bestselling book
"The Storm"
attributed 80 to 90% of the flooding in New Orleans to levee design failures.
Filed last week, the lawsuit alleges that LSU officials attempted to silence van Heerden -- who did not have tenure -- because they believed his findings jeopardized the school's federal funding. And that's not all,
according to a press release
from Katz, Marshall & Banks, a Washington-based firm that specializes in representing government whistleblowers:
Later, in April 2007, shortly after the final report of Team Louisiana, Dr. van Heerden was asked to serve as an expert witness for the plaintiffs against the federal government and the U.S. Army Corps of Engineers in a lawsuit that alleged engineering design and maintenance errors at the Mississippi River Gulf Outlet (MR-GO).  As required by LSU procedure, Dr. van Heerden requested permission from the university to testify, but received no response for months. When LSU Chancellor Sean O'Keefe finally responded, he stated that "Dr. van Heerden would be fired if he testified against the Corps," the lawsuit alleges.

The suit charges that the defendants violated not only van Heerden's First Amendment rights, state law and university contract but also "placed the bureaucratic interests of university officials above the health and safety of millions of people who live in the path of the hurricanes that threaten the Gulf Coast every year."
"Speaking the truth should not cost you your job or allow others to smear your reputation in order to protect their own interests," said David Marshall, van Heerden's attorney. "Dr. van Heerden seeks justice not solely for himself, but for the principles of free speech, academic freedom and the right of scientists and university faculty to speak freely without fear of retaliation."
Besides the LSU Board of Supervisors, the other defendants named in the suit are former Vice Chancellor for Research and Economic Development Brooks Keel, Associate Vice Chancellor for Research and Economic Development Robert Twilley, Department of Civil and Environmental Engineering Chairman George Voyiadjis and College of Engineering Dean David Constant.
(Photo by Infrogmation via Wikimedia Commons.)