REPORT: Economic woes threaten to drive down 2010 Census count
As the nation prepares for Census Day on April 1, the Institute has released a new report [pdf] which finds that areas of North Carolina are at high risk of not being fully counted in the 2010 Census due to the economic recession and housing crisis that have hammered parts of the state.

The study, "Counting in a Crisis," measures how North Carolina counties have been affected by job losses, business layoffs and home foreclosures -- economic troubles that officials say make it difficult to get an accurate Census count.

Using these economic warning signs combined with other indicators, the report ranks all 100 N.C. counties by their risk of being undercounted in the 2010 Census. An undercount could cause counties to lose millions of federal dollars tied to Census data.

This is the first study to show how the "Great Recession" and housing crisis put communities at risk of not getting a full Census count in 2010, and hopefully will be a wake-up call to officials and civic leaders to redouble their outreach efforts in hard-hit areas in North Carolina and the country.

You can read the full report here [pdf]. Among the findings of the report:

A FULL CENSUS COUNT IS CRITICAL: Over $400 billion in federal funds each year are distributed to states based on Census data. In 2008, North Carolina received $11.7 billion in funding tied to the Census. The state stands to lose $987 in Medicaid funding alone for each person who's not counted in 2010.

JOB LOSSES PUT COUNTIES AT RISK: 28 counties have jobless rates of 13 percent or higher, and in 20 counties the rate has increased three percentage points or more in the last year. Mass layoffs have devastated counties like Rowan and Scotland, where nearly 10 percent of the workforce has been hit by permanent job cuts.

THE HOUSING CRISIS POSES A BIG CHALLENGE: Home foreclosures make it hard for Census forms and outreach staff to reach residents. Since 2005, 37 N.C. counties have seen 10 percent or more of residents' homes go into foreclosure. In 10 counties, the foreclosure rate has shot up 90 percent or more over the last year.

Here's a map of how North Carolina's counties rank in terms of economic dislocation: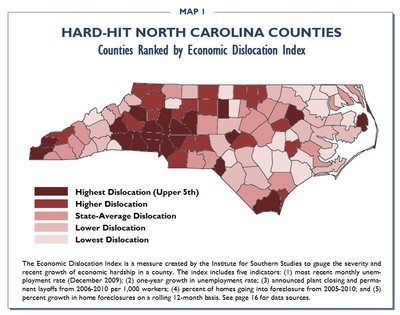 The report also shows why Census officials, state leaders and civic groups need to consider recent changes in the economy if they want to boost Census participation.

Many Census outreach efforts in 2010 have targeted areas that had large "Hard-to-Count" populations in the 2000 Census. But using data from 2000 may miss areas hard-hit by the recession and housing crisis, which started in 2007. For example, the Census Bureau's list of 25 N.C. counties with the largest "Hard-to-Count" populations doesn't include 15 counties that have lost the most jobs and homes since 2005.

Here's a map showing the overall undercount risk North Carolina counties face when you combine economic and other risk indicators: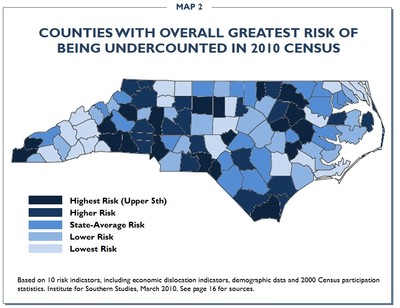 This much is clear: In the coming months, an accurate Census count will depend on groups reaching out to the new "Hard-to-Count" populations created by the big changes in North Carolina's economy.

If hard-hit counties end up losing federal funding because job layoffs and vacant homes depressed their Census count, it will make a bad situation even worse.

For a sortable online table ranking all 100 North Carolina counties by 10 Census risk factors, visit here.
Tags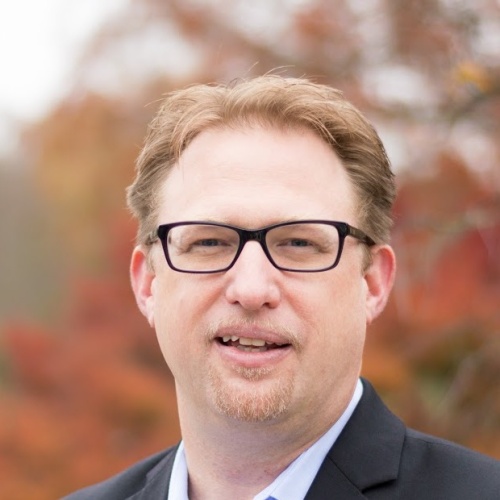 Chris Kromm is executive director of the Institute for Southern Studies and publisher of the Institute's online magazine, Facing South.