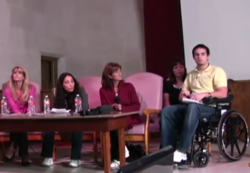 There's growing evidence that serious health problems threaten the Gulf Coast's residents, cleanup workers and seafood consumers in the wake of the BP oil disaster. But so far the federal agencies in charge of responding to the disaster have failed to take adequate steps to help the injured and prevent further harm.
That was the message delivered at a forum on BP spill-related health issues held last Saturday at New Orleans' First Unitarian Universalist Church. The lead speaker was
noted environmental scientist and activist Wilma Subra
, a leader in independent citizen efforts to document and address the disaster's effects.
"The environmental and human health impacts of the BP spill will last for generations," Subra told the gathering. "This is what we have to look forward to."
Since the BP spill began last April, Subra has worked with the Louisiana Environmental Action Network (LEAN) to track the environmental and health impacts from both the crude oil and the chemical dispersants used to break up the slick.
About 200 million gallons of oil were released into the Gulf from the failed well 40 miles off the Louisiana coast. Meanwhile, about 1.84 million gallons of Corexit 9500 and 9527 -- solvents that themselves
are petroleum-based
-- were applied at the wellhead and to the water's surface.
The health impacts from oil and dispersants are similar, including headaches, nausea, vomiting, dizziness, respiratory and nervous system problems, damage to blood cells and the reproductive system, and birth defects. Pointing to slides showing the health effects of the
oil
and of the
dispersants
, Subra said she has observed all the health impacts on those lists except for genetic, reproductive and developmental damage -- and that's probably only a matter of time.
"Are we not seeing them, or are people not associating developmental and reproductive damage [with the spill]?" she asked. "Probably people are not associating them."
While the dispersant was officially applied only up until last July and was not supposed to be sprayed within three miles of the shore, Subra has heard from people in coastal areas who say it was still being sprayed by plane and boat as recently as this month. While she has passed those reports on to federal officials, she hasn't seen any action taken yet.
"The feds will listen to me but they won't talk back to me because they say it's a criminal investigation," Subra said. "But that doesn't give any help to the people in this room and the people of the coastal areas."
Toothless directives
One of the groups that experienced the most intense exposure to the toxins in the oil and dispersant were the cleanup workers, among them many local fishermen idled by the spill. Though workers were at risk of exposure via inhalation, ingestion and skin contact, BP did not provide them with adequate training and equipment to protect them from harm.
So LEAN stepped into the gap last May, providing cleanup workers with respirators and cartridges, gloves, sleeve protectors and booties -- only to have BP
threaten to fire the workers
for using the gear.
LEAN and attorneys representing cleanup workers challenged BP's policy on protective equipment in U.S. District Court in early May. As a result of the action, BP signed a consent decree to take responsibility for workers' protection. But that didn't always happen.
"Fishermen fearing the loss of their jobs wouldn't speak up," Subra said. "Their wives spoke up, telling everybody they could how sick their husbands were -- until BP told the husbands that if your wives don't shut up you'll lose your job."
Next Subra went to the federal Occupational Safety and Health Administration, which issued a directive on May 16 requiring BP to provide the necessary gear. But again, workers did not always get the promised equipment.
In response to concerns about the workers' health, the National Institute of Environmental Health Sciences, part of the federal Department of Health and Human Services,
announced
last September that it would conduct a multi-year study to monitor the health of Gulf cleanup workers and volunteers.
But as Subra noted, that research excludes residents of coastal communities who were not part of the cleanup effort. In addition, the study -- which is funded with $10 million from the federal government and another $10 million from BP -- will not refer participants to medical care.
"Tracking is wonderful," said Subra, "but if you don't have medical care to refer them to you're just sending them back home sick."
Seafood safety questioned
The safety of Gulf seafood is another pressing concern for the region's residents, as it's a big part of many people's diets in coastal communities.
Since the spill, Subra has worked closely with LEAN to monitor the presence of toxins in coastal ecosystems and also the tissues of various seafood species. She's found high levels of hydrocarbons, with fingerprints matching those of BP's crude,
in coastal soils and vegetation
as well as in
oysters, shrimp, crab, mussels and fish
that were not visibly oiled.
But their findings have not always been well-received.
"We've had a lot of pushback from the oyster industry," reported Subra, "and a lot from the federal and state agencies."
Subra pointed out that Dr. Jane Lubchenko, administrator of the National Oceanic and Atmospheric Administration, held a press conference last September where she repeatedly stated that Louisiana seafood is "free of contamination." Standing behind Lubchenko at the time was a representative of the state's seafood industry.
But as Subra noted, even data collected by federal agencies showed that 43 percent of all oysters and 24 percent of other seafood sampled through last August contained oil spill-related pollution. Though the contaminants were below levels the Food and Drug Administration has established as safe, they were still present.
After Subra contacted NOAA about the misinformation, Lubchenko changed her statement to acknowledge that the seafood sampled did show contamination, though below official levels of concern.
But those levels of concern are another source of anxiety for Subra and others. For one thing, the FDA safety standards set after the BP spill
allow higher levels of oil contaminants
to be present in seafood than was allowed after other major oil spills.
In addition, the FDA's safe levels are based on consumption rates that are unrealistic for many Gulf residents. For example, the agency's safe level for shrimp is based on the assumption that a person eats just four jumbo shrimp per week. When Subra asked the audience if they eat just four jumbo shrimp in a sitting, let alone a week, they laughed.
"The levels of concern were based on criteria that wasn't appropriate for the population they were applying those levels to," she observed.
Poisoned blood, damaged brains
The latest research from Subra and LEAN shows that the oil has contaminated not only the Gulf's coastal wetlands and seafood but also
the blood of people exposed
to the spill.
So far they've conducted blood tests on a dozen people -- including two children -- who were exposed to the oil in some way. All showed blood levels of various toxic hydrocarbons that were elevated far above what's typical for U.S. residents.
"They're way over what you would find in the normal population," Subra said.
For example, all 12 showed unusually high levels of
ethylbenzene
, a suspected carcinogen, and 11 had unusually high concentrations of
xylenes
, which can cause respiratory problems and damage the liver and kidneys.
Other toxic hydrocarbons found at elevated levels in the subjects' blood were
benzene
, a known carcinogen, as well as
2-methylpentane
,
3-methylpentane
and
isooctane
. The two children showed some of the highest levels of the toxins, with one of them -- the 10-year-old son of crabbers in Mississippi -- suffering severe respiratory problems thought to be related to the exposure.
Following Subra's presentation, a panel of Gulf residents spoke of their frustration over the government's refusal to adequately address their health concerns. They included Robin Young with Guardians of the Gulf in Orange Beach, Ala. and Cherri Foytlin with Gulf Change in Grand Isle, La. Foytlin was among those whose blood was tested by LEAN and found to have unusually high levels of petrochemicals.
"What does it feel like to not be heard, to not be important enough to protect your very life?" Foytlin asked through tears.
Also on the panel was Paul Doomm, a formerly healthy 22-year-old resident of the Florida Panhandle who was set to join the Marine Corps when the BP disaster happened.
Against the advice of his parents, Doomm continued to swim in Gulf waters and eat Gulf seafood following the spill. By July, he had developed severe headaches and dizziness. By Thanksgiving, he was paralyzed on the left side of his body and began suffering frequent seizures. Tests have found lesions on his brain, but doctors -- and he's seen more than 90 -- still don't know what caused them.
Now forced to get around in a wheelchair, Doomm strongly suspects his condition is connected to the chemical exposure. He's currently awaiting test results for spill-related toxins in his blood.
"If I'm not able to walk again and lead a normal life," he said, "at least I'll be able to know what's going on."
Immediately following his talk, Doomm suffered a seizure on stage. He left the church in an ambulance.
* * *

Subra's presentation is available on FluxRostrum's YouTube channel here. For the rest of the panel's presentations, click here. You can read more about Paul Doomm's experience and find a video of his presentation and its disturbing aftermath at Bridge the Gulf's blog here.

The photo above is a still from FluxRostrum's video of the panel discussion. Pictured from left to right are Robin Young; Cherri Foytlin; Long Beach, Miss. resident Denise Rednour; and Paul Doomm's mother, Kathy Doomm, with her son in the wheelchair.