Rick Perry: Preacher, prophet ... president?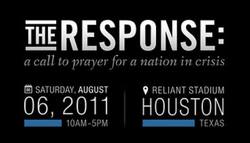 By Forrest Wilder, Texas Observer
As he took the stage for his sermon, Rick Perry appeared positively beatific in the glow of 30,000 primed for his appearance at The Response. Up until the eve of the event, Perry had played coy about his role. Maybe he wouldn't even speak, he hinted last week as waves of criticism buffeted the event. But there he was, a perfectly-coiffed, chiseled politician addressing the evangelical rank and file. Before he began, Perry turned to hug Alice Patterson, a self-proclaimed apostle from San Antonio who believes the Democratic Party is controlled by "an invisible network of evil comprising an unholy structure" released by the demon Jezebel.
"Amen," Perry began, pressing his hands together briefly into a prayer teepee. And then: 12 minutes of unvarnished, unapologetic Christian evangelicalism.
"Like all of you, I love this country deeply," he said. "Thank you all for being here. Indeed the only thing that you love more is the living Christ." Uproarious applause.
Perry then attempted -- successfully, it appears, given the media coverage -- to "depoliticize" his role in The Response.
"His agenda is not a political agenda. His agenda is a salvation agenda." Perry added: "He's wise enough not to be affiliated with any political party. Or for that matter, he's wise enough not to be affiliated with any man-made institutions."
"Blow the trumpet in Zion," Perry read to cheers and applause, a verse favored by Christian Zionists like San Antonio's John Hagee, who spoke later in the day.
Later, the money-shot that sent the crowd soaring: "Father, our heart breaks for America," Perry said, as some began speaking in tongues. "We see discord at home. We see fear in the marketplace. We see anger in the halls of government. And as a nation, we have forgotten who made us, who protects us, who blesses us, and for that we cry out for your forgiveness."
Was it a political event? That was the question that consumed the media in its coverage. 'No' often seemed to be the answer apparently because there wasn't a 12-point agenda hammered out by a subcommittee in a room somewhere and distributed to the media.
That's a political gamble as well as a statement of faith.
The message of The Response, initiated by a political leader, is political even as it eschews politics: "There are threats emerging within our nation and beyond our borders beyond our power to solve."
But:
"There is hope for America. It lies in heaven, and we will find it on our knees."
Coming from a prominent politician who wants to be president, this is a message of, "I got nothin'. Let's see what God can do."
The Response was a gathering of the different tribes of American fundamentalism -- Christian Zionists, prayer warriors, apostolic and prophetic types, etc.  -- under the umbrella of political and spiritual revival.
The notion that a governor had initiated the event was not lost on the speakers. Indeed, it was integral to the power of the event.
"We pray for our governor, Rick Perry, who has had the courage today to call this time of fasting and prayer just as Abraham Lincoln did in the darkest days of the Civil War," said pastor John Hagee, the pastor that John McCain repudiated in 2008 after Hagee's anti-Catholic remarks became widely-known. "We thank you for his leadership, his integrity and his loyalty to God and country."
For weeks, prominent leaders in the New Apostolic Reformation movement, who were intimately involved in planning and promoting The Response, have been casting the event as supernaturally and historically significant. That point was underscored yesterday.
"This has been an historic day," said Doug Stringer, an apostle from Houston, toward the end of The Response. "I believe that something has transpired not just in the spiritual realm but in the natural realm as well."
Indeed, the last part of the day's program was billed as a prayer for revival in America.
"We are going to see a Third Great Awakening in American history,"  shouted Billy Humphrey, a leader of the International House of Prayer (IHOP) in Atlanta.
Melinda Garza, a woman from Mesquite, said she was encouraged by the idea but unsure of the exact nature of the message. "I'd never heard of the Third Great Awakening before," said Garza. "I'm not sure if he was speaking prophetically or he was just praying that we could usher it in."
One woman from Crowley interviewed after The Response was more sure.
"I really come away feeling blessed and thankful and encouraged for our country," she said. "Our country really needs revival, it needs some help."
And who could argue with that, at least in a generic sense?
But revival does have political meaning. Take, for example, the anti-abortion prayer uttered repeatedly -- and then sung -- at The Response. It is a popular part of the program at TheCall rallies:
 

 

Any major event is going to be judged by its attendance. So, how did The Response do? I would say, good but not great. Good because Reliant Stadium, which holds 70,000-plus, felt full of energy and excitement. Good because those who attended that I interviewed said they were impressed by the turnout. Good because the organizers (probably deliberately) lowballed turnout, thus lowering expectations on the eve of the event. Good but not great. Not great because Reliant was less than half-full. It doesn't matter if you're a rock band or a church, whether the devil or God is on your side, you don't rent out a venue with the hopes of only half-filling it.