Koch Jr.: Art Pope and the right's million dollar club
Twice a year, billionaires Charles and David Koch -- generous backers of Republicans and right-wing advocacy groups like Americans for Prosperity -- bring together a VIP list of wealthy conservatives to network, share ideas and talk strategy.

Last January's shindig at the Ranchos Los Palmas Resort and Spa in California became a magnet for protests after the location and invite list [pdf] of businessmen, operatives and conservative luminaries like Glenn Beck were leaked to the public.

This summer, the Kochs' friends convened again in the mountains of Vail, Colorado -- and this time, not only were the dates, location and attendees leaked, but Mother Jones magazine also ended up with audio recordings of the proceedings, which it has been releasing this week.

Among the details unearthed in the recordings is a speech given by Charles Koch, in which he thanks more than 30 donors who have given $1 million or more to Koch-related causes over the last 12 months.

One of the "great partners" singled out by Koch will be familiar to Facing South readers: Art Pope, the North Carolina retail magnate and rising conservative benefactor, along with his wife Kathy.

Pope isn't very well-known nationally, but he wields Koch-like influence in his home state. As Facing South documented in a series of investigations, Pope's family foundation supplies more than 90% of the income of right-wing groups in North Carolina; in 2010, groups connected to Pope accounted for 75% of the outside election spending that helped Republicans capture the state legislature.

But through his conservative philanthropy and support for Republicans, Pope has also emerged as an important national benefactor and operative, backing key groups linked to the Kochs like Americans for Prosperity, where he serves as one of four national directors.

When asked by the Raleigh News and Observer, Pope seemed to back away from the association, claiming that Koch had overstated his support:
Pope said Wednesday that the Pope Foundation had contributed during the past year "several hundred thousand dollars," but less than $1 million, to Americans for Prosperity.
Because Americans for Prosperity isn't required to disclose its donors, the exact amount Pope has given the group -- either directly, or indirectly through his business Variety Wholesalers and family foundation -- is impossible to verify through official records.

The evidence which is available suggests Pope's support has been considerable. Although the Kochs get most of the credit -- and infamy -- for Americans for Prosperity, Pope's family foundation is the group's second-largest backer nationally. According to a Facing South analysis of tax records, the John William Pope Foundation had given more than $1.9 million through 2010 to the Americans for Prosperity Foundation.

But Americans for Prosperity isn't the only right-wing group where the Kochs and Pope share an ideological -- and philanthropic -- interest.

Over the years, Pope's foundation has given to many of the same stridently anti-government, libertarian-oriented think tanks supported by the Kochs, only on a smaller scale (reflecting the size of their relative fortunes).

Here's a chart comparing some of the grants given by the Pope Foundation to those from three foundations led by the Koch brothers.* The time periods aren't exactly the same, but it offers a sense of their shared agenda: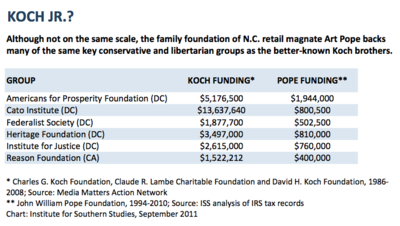 (click on image for larger version)

Only Pope knows if he has given $1 million or more -- through his family foundation, business and personal contributions -- to causes also pushed by the Koch brothers over the last year.

But that Art Pope has been a "great partner" to the Kochs in funding their common right-wing agenda is beyond dispute.


* The Charles G. Koch Foundation, Claude R. Lambe Charitable Foundation and David H. Koch Foundation.
Tags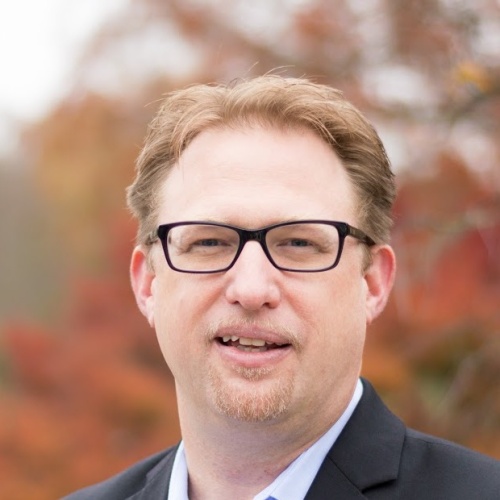 Chris Kromm is executive director of the Institute for Southern Studies and publisher of the Institute's online magazine, Facing South.