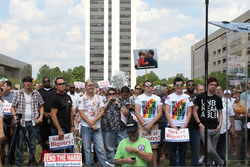 North Carolina is the
only state in the South
where the constitution does not currently ban same-sex marriage, but that could change next year.
The N.C. General Assembly voted this week to send a proposed constitutional amendment banning same-sex marriage to the state's voters during the May 2012 primary. The state House passed the measure Monday by a bipartisan
vote of 75-42
, and the Senate followed suit Tuesday with a
30-16 vote
, with no Democrats voting in favor. The measure needed 72 votes to pass the House and 30 to pass the Senate, and now needs a simple majority of voters to become part of the state constitution.
"It has been a point of pride that North Carolina was the only Southern state that has never done this," Alex Miller, executive director of gay-rights advocacy group Equality NC,
told
the New York Times. "But this is an ongoing war. They have succeeded in throwing up a temporary bulwark against the inevitable tide of history."
Supporters of the amendment originally wanted it on the ballot in November 2012 but moved it up to May after they were accused of a ploy to turn out conservatives for the general election. However, the revised timing could boost the chances for the measure's passage since large numbers of conservatives are expected to turn out for the Republican presidential primary.
The pro-amendment effort will be led by the
N.C. Values Coalition
, a conservative nonprofit lobbying group that has said it plans to work closely with churches that oppose same-sex marriage. Last week, the Republican legislative leadership coordinated a press conference in support of the gay-marriage ban that featured a number of clergy, including one minister who has
used his pulpit to denounce gay people
using hate speech.
But the state's business community has not jumped on the anti-gay marriage bandwagon. In fact, many business leaders have spoken out against the amendment, as McClatchy Newspapers
reports
:
About 80 business leaders signed a letter urging lawmakers to vote it down, and more than 200 businesses signaled their opposition on Equality North Carolina's website. A dozen business leaders called a news conference Tuesday, just before the Senate vote, to underscore that they think the idea is bad for business.

Among the North Carolina-based companies opposing the amendment are The Body Shop, Replacements Ltd. and Bank of America, while Facebook co-founder Chris Hughes -- a North Carolina native -- and his fiance Sean Eldridge have
pledged
$10 for everyone who "likes"
Equality NC's Facebook page
. One of the concerns of business leaders is that the amendment could complicate their programs offering benefits to unmarried employees' domestic partners.
Legal experts have also
raised concerns
that the amendment could jeopardize domestic-violence protections for unmarried couples; child custody and visitation rights; trusts, wills and end-of-life directives; and domestic-partner benefits for public employees. Officials with local governments that offer such benefits have
spoken out
against the measure.
As the fight over the amendment ramps up, North Carolina can expect to see money flood into the state. Committees raising funds around three 2008 same-sex marriage ballot initiatives in Arizona, California and Florida as well as an Arkansas measure banning unmarried couples from adopting or fostering children raised over $101 million, according to a
report
by the National Institute on Money in State Politics.
While supporters and opponents of the California measure raised similar percentages of their funds from in-state and out-of-state sources, opponents of the measures in the other three states raised a much higher proportion of their money from outside the state.
(Photo of opponents of the same-sex marriage ban at a rally outside the N.C. General Assembly by Charles C. Duncan Pardo via Raleigh Public Record.)