Civil rights groups call on Alabama automakers to oppose HB 56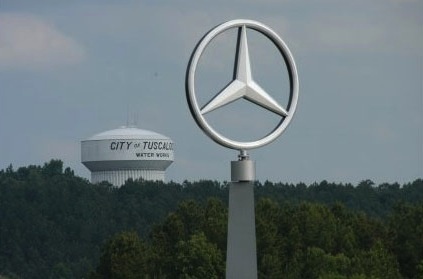 By Elena Shore, New America Media

Civil rights groups are turning to a new potential ally in the fight against Alabama's harsh immigration law: the state's top automakers.

A coalition of six of the nation's leading labor and human rights organizations sent out letters last month to Alabama's top three car manufacturers -- Honda, Hyundai and Daimler AG -- to urge them to use their influence to convince lawmakers to repeal the law. So far they have received a response from Hyundai, which has agreed to meet with the advocates.

As Alabama state lawmakers begin a new legislative session this week, the Leadership Conference on Civil and Human Rights, National Council of La Raza, National Association for the Advancement of Colored People, Service Employees International Union, United Auto Workers and Southern Poverty Law Center will be sending out more letters to the state's top 50 foreign investors.

Wade Henderson, president and CEO of LCCHR, is hoping that pressure from the state's automotive industry and other foreign investors doing business in Alabama will convince state lawmakers that HB 56 is a "major black eye for Alabama."

Alabama's HB 56, known as the toughest immigration law in the country, has been criticized by both Democratic and Republican elected officials since it went into effect last year. The law, which requires police to ask people for their papers during routine traffic stops, also forbids the government from doing business with anyone who is undocumented. This means that Alabamans need to prove legal residence every time they want to do something as simple as renew their driver's license.

Several state Republicans, including Sen. Gerald Dial and Sen. Jabo Waggoner, have said they plan to make some changes to the law to address what they call its "unintended consequences."

But national civil rights groups this week said tweaking the law is not enough.

"There is no fix for HB 56," Henderson said, during a press conference Monday. "The only option that makes any sense -- and the only option that will help Alabama restore its reputation in the U.S. and with the international business community -- is for the legislature to approve a complete repeal of this obnoxious law."

Foreign automakers have already seen the effects of the law on their own executives. In two separate, highly publicized incidents, Alabama police stopped a German executive at Mercedes-Benz and a Japanese Honda executive under the law.

Farmers in the state, meanwhile, have reported anecdotally that they don't have enough workers in the fields since the law went into effect and many workers fled the state. While statistics are not available of how many people actually left Alabama since the law was implemented, the University of Alabama estimates that there has been an exodus of some 40,000 people.

In a recent cost-benefit analysis, University of Alabama economist Samuel Addy found that the state's immigration law would also cost the state between $2.3 billion and $10.8 billion. According to his analysis, the law would lead to a reduction of between $56.7 and $264.5 million in state income and sales tax, and a reduction of 70,000 to 140,000 jobs.

Since HB 56 went into effect, Richard Cohen, president of the Southern Poverty Law Center, said their hotline has received 5,164 "anguished" calls from families reporting that their water had been cut off; domestic violence victims who were told they would be reported to immigration authorities; lawyers who were told that they had to turn in their undocumented clients; Latino workers who were denied wages.

Cohen said the hotline has even received a "wave of reports" from various counties of U.S.-citizen children being denied food stamps they were legally entitled to, simply because their parents are undocumented.

In short, said Cohen, HB 56 has led to a "climate of fear."

"Why would these 21st century companies want to do business in a state that is trying to replicate some of its most egregious sins of the past century?" asked Janet Murguia, president and CEO of National Council of La Raza (NCLR). "HB 56 harkens back to a very dark time in Alabama's past that does not bear repeating."

In fact, when Daimler first opened a Mercedes plant in Alabama in the 1990s, the company reportedly had concerns over the continued presence of the Ku Klux Klan in the state and made sure that the state had removed a Confederate flag it had flown at the capitol. Billy Joe Camp, director of the Alabama Development Office, told the Associated Press at the time, "I don't believe we would have ever gotten this plant if the Confederate flag was atop the capitol."

Next month, Alabamans will take to the streets to commemorate the 1965 marches from Selma to Montgomery. The message of the march this year will focus on two current legislative issues that recall a time when discrimination against communities of color was written into the law: this year's voter suppression efforts and Alabama's immigration law.

In building opposition to HB 56, civil rights groups are using a strategy similar to the approach they took in Arizona -- seek new allies in Alabama's business community. NCLR was among the groups that called for a boycott of Arizona after that state enacted its controversial immigration law SB 1070. Reports estimate that as a result of the boycott, Arizona lost about $750 million.

"In Arizona," Murguia observed, "we felt like the steps that we took have been validated. And we've seen, I think, a turning somewhat of the tide in Arizona, with the failure to pass more extreme legislation in this most recent legislature, but in particular, with the downfall of Russell Pearce, someone who was the architect of these laws."

Murguia noted that Alabama has a different economic landscape and they are not calling for a boycott of the state, but are using "a similar approach, in looking at the economic power to push back" against a harsh immigration law that has already had economic consequences.

In April, the Supreme Court is expected to rule in a case brought by Arizona Gov. Jan Brewer, who is challenging a federal judge's move to block of some of her state law's key provisions. The main provision in the Arizona law -- which allows police to ask people for their papers in routine traffic stops -- was replicated in the Alabama law.

"Obviously what the Supreme Court decides in that case will have a significant impact on Alabama," noted Cohen of the Southern Poverty Law Center.

But civil rights groups say they are not waiting for the court to address the problems in Alabama. As legislators begin their new session this week, civil rights leaders hope that the influence of the state"s auto industry will be the necessary push that will convince lawmakers to repeal HB 56.