VOICES: As BP trial begins, Gulf businesses and communities call for ecosystem restoration and economic opportunity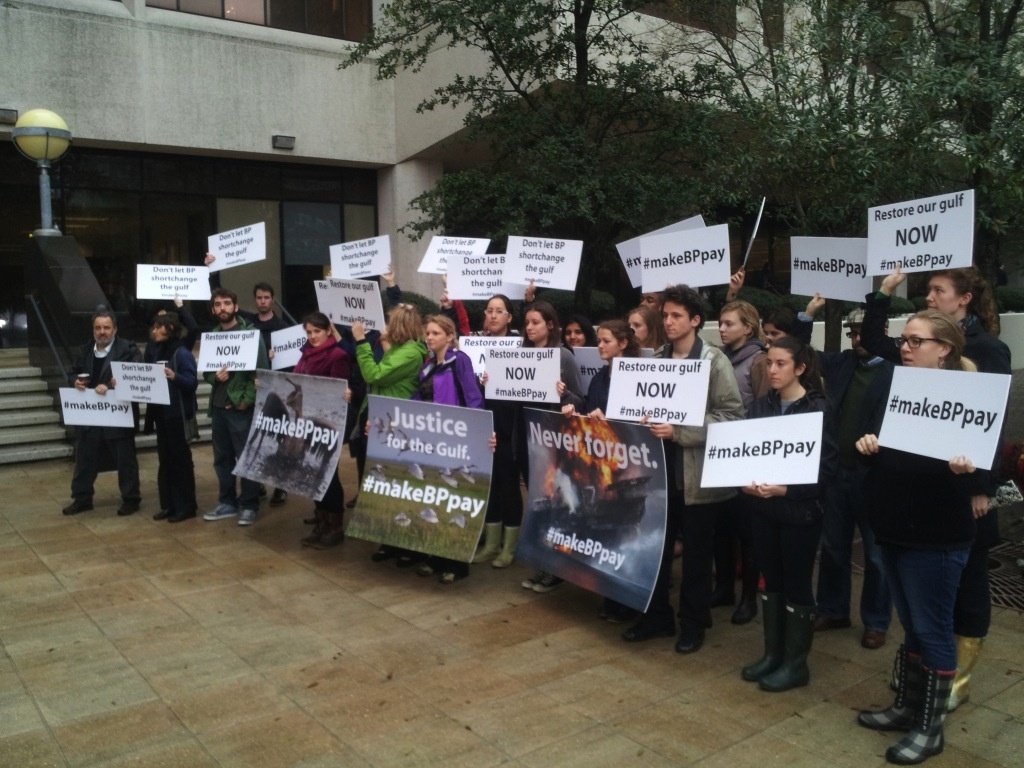 By Jeffrey Buchanan, Oxfam America
This week marks the beginning of arguably the biggest trial of this young century, as the U.S. Department of Justice goes to court with global oil giant BP. After spilling 4.9 million barrels of oil into the Gulf of Mexico in 2010, BP could be on the hook for a record-breaking $21 billion in fines.
Gulf Coast communities are watching closely as, thanks to the passage of the RESTORE Act (which Oxfam and allies worked hard to pass), 80 percent of the fine money will head directly back to the five states along the coast. And they can use the help. Since the spill, the Gulf has suffered enormous environmental damage, such as decreased oyster harvests, oiled marshes, and dying fish habitats. The economy has also taken a hit, with a significant rise in the poverty rate, and rough times for those in the fishing and tourism industries.
With the money most likely on the way, then, and the needs so acute, the question is, how to invest it most effectively? Unfortunately, with so many interests at play, discussions have at times devolved -- often to a stark debate between the economy and the environment.
Oxfam America and others have a simple response: We can address both environmental and economic interests at the same time. We recently joined with The Nature Conservancy and business allies as well as community leaders to raise our voices in support of just such an agenda.
On Feb. 19, leaders from over 120 businesses and industry associations -- operating in more than 800 locations along the Gulf and generating more than $20 billion in annual revenues -- delivered a letter to the five Gulf Coast governors to say that a healthy ecosystem is a key to driving private sector job growth, future prosperity and fostering economic mobility. They called for using RESTORE Act funds to make critical environmental investments -- in restoring wetlands, barrier islands and oyster reefs -- together with funding for worker training -- preparing dislocated, low income and disadvantaged workers for jobs in these projects.
"These restoration projects create a demand for work from a wide variety of companies in the engineering, construction, transportation and manufacturing sectors," said Thomas Matthews, of the marine construction firm Matthews Brothers Inc. in Pass Christian, Miss. "I have witnessed firsthand that investments in coastal restoration can mean jobs for coastal workers and economic growth for local businesses and communities."
Auburn Wessman of Phylway Construction in Thibodaux, La. wrote in a Houma Courier and Daily Comet op-ed, "[M]any of us in the business community believe the best solution is clear: We can use Restore Act money to spur the economy while we restore the environment and protect our communities. And we can employ local workers while we do it -- a win for everyone."
Studies have found ecosystem restoration projects create between 17 and 36 jobs for every million dollars invested. These jobs run the gamut from high skilled jobs like coastal engineers and geologists to more accessible jobs like boat captains, deckhands, technicians, welders and equipment operators.
In an op-ed published in Sunday's New Orleans Times Picayune, Patrick Barnes, president of BFA Environmental and the New Orleans-based training organization Limitless Vistas, Inc., said, "Our restoration plans could benefit from including efforts to prepare local, low income and disadvantaged workers for these new restoration jobs. ... We have a chance to bring industry, communities and education and training institutions together to identify the necessary skill sets and training programs to prepare our state's workforce to conduct future restoration projects."
Last week, officials from the U.S. Department of Commerce and the Gulf Coast Ecosystem Restoration Council held public hearings along the Gulf on a comprehensive plan to use spill fines. At one meeting, Rebecca Templeton, an Oxfam partner at Bayou Grace Community Services, which works with low income families around Chauvin, La., was one of many community groups saying they agree with the business leaders that we need to invest in ecosystem restoration -- at the same that we fund worker training and policies to help local people find work on these projects. "If we have the support of the business community, then hopefully the local people made most vulnerable by land loss will have a chance as well at the livelihood opportunities that will arise," she said, urging the council make ecosystem restoration job training a priority.
While the BP trial may result in many billions of dollars for the region, a recent settlement between DOJ and the owners of the rig that exploded, Transocean, will start to send $1 billion in fines to the region as early as April. Hopefully this is just the beginning. All of us remain hopeful that we can tap into new opportunities to bring vulnerable communities, business leaders and government together to tackle these economic and environment challenges effectively.
In the meantime -- we'll be watching to see what happens in court like everyone else!