The nationwide war on state renewable energy standards comes to North Carolina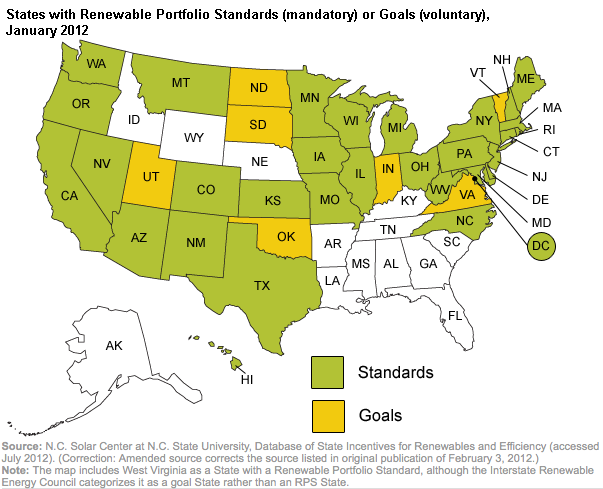 A bill to repeal North Carolina's groundbreaking renewable energy law is scheduled to get a hearing on Wednesday, April 3 at 11 a.m. before the state House Commerce and Job Development Subcommittee on Energy and Emerging Markets.

House Bill 298 would repeal North Carolina's Renewable Energy and Energy Efficiency Portfolio Standard (REPS), which requires that an increasing amount of electricity generated by the state's investor-owned utilities come from renewable sources -- up to 12.5 percent by 2025. The legislature passed the standard in 2007, making North Carolina the first state in the Southeast to adopt such a measure. HB 298 would freeze the standard at the current 3 percent.

Today most states have renewable energy standards or voluntary goals, though the Deep South remains the regional exception, as shown by the map above (for a larger version, click here).

However, such laws are being targeted nationwide by the American Legislative Exchange Council (ALEC) and aligned conservative advocacy groups that get funding from fossil-fuel and other polluting energy interests. ALEC brings together state lawmakers and corporate representatives to craft laws promoting business interests. The group gets millions of dollars from major climate polluters including Exxon Mobil and Energy Future Holdings, as well as from foundations connected to the Koch Industries oil and gas conglomerate.

Of the four primary sponsors of HB 298, three are known to be affiliated with ALEC. They are Rep. Mike Hager (R-Rutherford), a former Duke Energy engineer whose top industry campaign contributor is electric utilities; Rep. Marilyn Avila (R-Wake), the former administrative director of the John Locke Foundation (JLF), a conservative think tank founded and largely funded by conservative benefactor Art Pope (now the North Carolina budget director) that has long targeted renewable energy and climate science; and Rep. George Cleveland (R-Onslow), who has been a big promoter of climate science denial at the legislature. The other primary sponsor is Rep. Jeff Collins (R-Nash), a financial consultant and founder of the Rocky Mount Bible Church.

But what's happening in North Carolina is not an isolated incident: There are efforts underway to overturn renewable energy laws in at least 22 of the 29 states that have them, according to a recent analysis by Greentech Media, which lists the fight in North Carolina among the most serious.

Underscoring the importance of North Carolina as a battle site in the war over renewable energy is an opinion piece that appeared in today's Politico calling for the repeal of renewable standards. Its authors are Grover Norquist and Patrick Gleason of Americans for Tax Reform, a conservative advocacy group that's also targeting renewable energy standards. Norquist is a former lobbyist for the electric power industry and for BP, and ATR has received significant funding from foundations connected to the Koch Industries oil and gas conglomerate.

Pointing to the battle underway in North Carolina, Norquist and Gleason charge that renewable energy standards are leading to higher utility bills for consumers. To back up their claims, they cite data from the Institute for Energy Research (IER) that purports to show utility bills in states with REPS "are 40 percent higher on average than in states without one." IER's CEO is Robert L. Bradley, a former employee of scandal-plagued Enron, and the organization has received hundreds of thousands of dollars in funding from Exxon Mobil and foundations connected to Koch Industries. IER's political arm, the American Energy Alliance, is run by Thomas Pyle, a former lobbyist for Koch Industries and the National Petrochemical and Refiners Association.

Closer to home, JLF -- the most outspoken voice of climate science denial in North Carolina -- is also targeting the state's REPS from a cost perspective. The group has long promoted the anti-renewables work of the Beacon Hill Institute, a research organization based at Boston's Suffolk University that along with JLF is a member of the Virginia-based State Policy Network (SPN), an umbrella group for organizations promoting market-oriented solutions to state policy problems. JLF, Beacon Hill Institute, and SPN have all received funding from foundations connected to Koch Industries.

In addition, JLF has worked with the Heartland Institute -- another group involved in the current effort to overturn renewable energy standards -- to promote climate science denial. A Chicago-based think tank and ALEC member, Heartland stirred controversy last year with a billboard that likened those who believe in global warming to "Unabomber" Ted Kaczynski, a domestic terrorist serving life sentence for murder.

In fact, other data show that North Carolina's renewable energy standards have had a negligible impact on customer bills. Last year, for example, Progress Energy filed for a rate hike that would raise residential rates by 14.2 percent. But an analysis by the N.C. Sustainable Energy Association (NCSEA), an industry advocacy group, showed that the rate increase had nothing to do with the state's clean energy law -- and that in fact this year's REPS costs for the company's customers actually fell 14 cents a month.

According to NCSEA, higher conventional fuel costs are driving up rates most significantly. John Downey of the Charlotte Business Journal reports on the group's calculations:
So if the rate increase is approved, monthly bills will have gone up by $38.88 for fuel and related costs. (If you want to see the group's homework, click here for a graph and explanation of the figures.)

Over the same period, the fee for complying with the state's renewable-energy portfolio standard, adopted in 2009, will have totaled just 41 cents per month for residential bills -- and lower this year than last. Renewable energy purchased from producers for resale will have added $2.74 per month to bills, and the cost for demand-side management and energy-efficiency programs will have added an average of $3.84 per month.
Meanwhile, a study commissioned by NCSEA and carried out by two independent research organizations found that North Carolina's REPS has been an important driver of clean energy development, which in turn has been a job creator for the state, where the 9.4 percent unemployment rate remains well above the national average of 7.7 percent. The study also found that the REPS will actually save consumers money over time by avoiding the construction of costly new conventional power plants -- $173 million in total cost savings by 2026.
Tags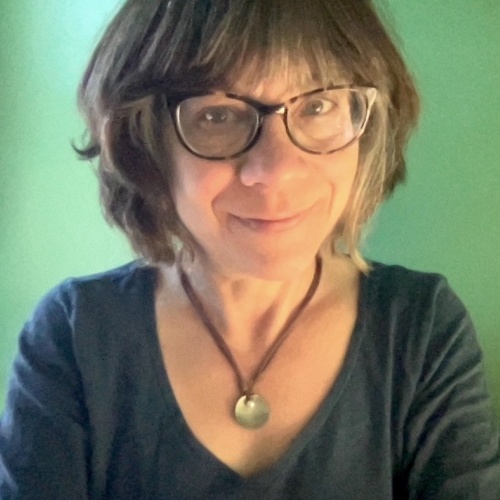 Sue is the editorial director of Facing South and the Institute for Southern Studies.