NC judicial candidates set to spend record sums to get elected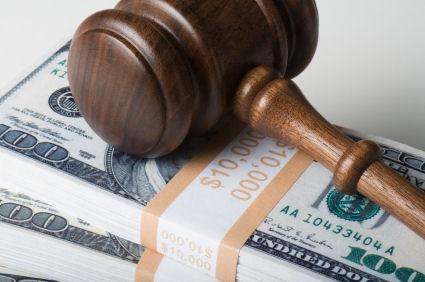 This year, seven seats on North Carolina's highest courts are up for election -- an unusually large number of open seats that could affect the ideological balance of the N.C. Supreme Court and N.C. Court of Appeals. This year's judicial elections will also be the first in a decade without the state's "clean elections" program that curbed spending on court races, and a new analysis by Facing South reveals that judges are poised to spend record sums in the coming weeks to get elected.

According to reports filed last week with the Federal Communications Commission, five North Carolina judicial candidates and one district attorney hopeful reserved TV ads totaling nearly half a million dollars in the major media markets of Raleigh, Greensboro, and Wilmington.

The FCC reports reveal that most of the ads will run in the last three weeks before the Nov. 4 election, and all are joint ads that promote two candidates at once:

* Incumbent N.C. Supreme Court Chief Justice Mark Martin and associate justice candidate Eric Levinson, both registered Republicans, have combined to spend just over $176,000 on an ad that will run on Raleigh stations WRAL, WTVD and WRAZ. Martin has also reserved $3,750 worth of airtime for a separate ad focused just on his campaign that will air on WWAY in Wilmington.

* Democrats Sam Ervin, a Supreme Court candidate, and Mark Davis, running for Court of Appeals, will spend a combined $181,000 on an ad that will run during the final week before the election on the above three Raleigh stations and WFMY in Greensboro. Davis has also placed rate requests at two Wilmington stations.

* Supreme Court candidate Mike Robinson, a Republican, and Wake County District Attorney candidate John Bryant, also of the GOP, will spend $130,000 on ads in the Raleigh market.

Together, the 998 ad spots detailed in the FCC reports will cost $491,000. While there are contracts for all of the ad buys, most have not been confirmed due to "insufficient documentation," indicating that the TV stations have not yet received the ads themselves and haven't given final approval for the content.

$3 MILLION WAR CHEST

The hefty ad buys signal that North Carolina judicial candidates have ramped up their fundraising in recent weeks. At the end of June, campaign finance filings at the N.C. State Board of Elections showed Levinson and Bryant having only $63,000 and $47,000 in their accounts, respectively, suggesting that both have enjoyed an infusion of new campaign cash to cover the upcoming ad campaign.

A Facing South analysis of state campaign finance data shows that, as of the end of June 2014, the candidates for the N.C. Supreme Court and N.C. Court of Appeals races who will be on the ballot in November had raised almost $3 million this election cycle.

Entering the third quarter with the most money at his disposal is Martin, with about $268,000. Martin is a Republican who was recently appointed chief justice by Gov. Pat McCrory (R) following the resignation of former Chief Justice Sarah Parker, a Democrat, and he is highly favored to win election to the seat. Martin has raised the second-highest amount among all judicial candidates ($354,000) after registered Democrat and incumbent Justice Robin Hudson ($476,000). Hudson, however, spent significantly on ads during her primary election as she faced a controversial attack ad sponsored by the outside group Justice for All NC as well as ads put out by her opponent, Levinson, and NC Chamber IE.

Sam Ervin and Mark Davis both had large amounts of cash as of June 30 ($203,000 and $238,000, respectively) and will have more left over after the approximately $90,000 they will each spend on the current ad buy, not counting any additional money that they've raised since July 1 and hasn't yet been reported.

The following chart by Facing South/Institute for Southern Studies shows the key campaign finance details of N.C. higher court candidates (click on chart to see a larger version):


CONFLICTS OF INTEREST?

A big factor in the judges' swelling campaign war chests is that 2014 will be the first North Carolina judicial election in a decade without the state's "clean elections" public financing program, which the Republican-led legislature voted to repeal last year. Since its inception, more than 80 percent of N.C. Supreme Court and N.C. Court of Appeals candidates used the program, which gave them a grant to run their campaigns if they raised 350 small-donor contributions and agreed to strict fundraising and spending limits. A report released this year by the National Institute on Money in State Politics found that the percent of judicial campaigns funded by private interests was nearly cut in half after the program went into effect.

Now, North Carolina judicial hopefuls must again raise money for ads and other campaigning from private donors, and contributors include interests that may have court business before the very judges they are financially backing.

A Facing South analysis of the $121,000 in contributions to Mark Martin's campaign during the second quarter of 2014 reveals that 43 percent of the donors, and 39 percent of the total income, came from attorneys and others in the legal profession.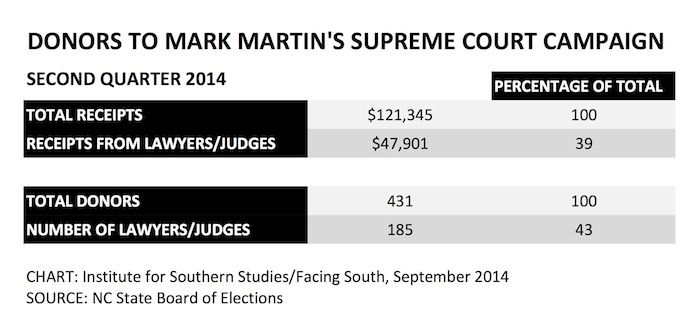 Business leaders also factor big in Martin's list of backers. Some of the key business contributors are linked to companies that have backed super PACs and other outside political groups that have spent millions of dollars in North Carolina court races. For example:

* A. Dale Jenkins, CEO of Medical Mutual, is listed as giving $500 to Martin's campaign for chief justice of the N.C. Supreme Court. Medical Mutual has also given $85,000 to Justice for All NC and $25,000 to N.C. Chamber IE, outside groups that have spent heavily on state Supreme Court races in 2012 and 2014. Medical Mutual has also given $100,000 to the Washington, DC-based Republican State Leadership Committee (RSLC), which has funneled money to Justice for All NC.

* Charlotte, North Carolina wine distributor Michael Kahn and his wife, Wendy, reportedly gave a combined $10,000 to Martin's campaign. Both Michael and Wendy Kahn each gave $25,000 to the RSLC in 2012.

* Robert Luddy, a big conservative donor and CEO of Captive Aire Systems, contributed to $6,000 to Martin's campaign. In 2012, Luddy contributed $50,000 to the RSLC.

In 2012, the RSLC funneled $1.1 million to Justice for All NC, which in turn gave $1.6 million to another super PAC-style group, the N.C. Judicial Coalition, that ran nearly $2 million worth of ads benefiting conservative state supreme court justice Paul Newby.

This year, the RSLC pledged to increase its spending in state court races through its "Judicial Fairness Initiative." And this spring, the group contributed another $900,000 to Justice for All NC, which ran $899,000 worth of attack ads against Hudson.

(Facing South intern Brian Freskos contributed research for this report.)
Tags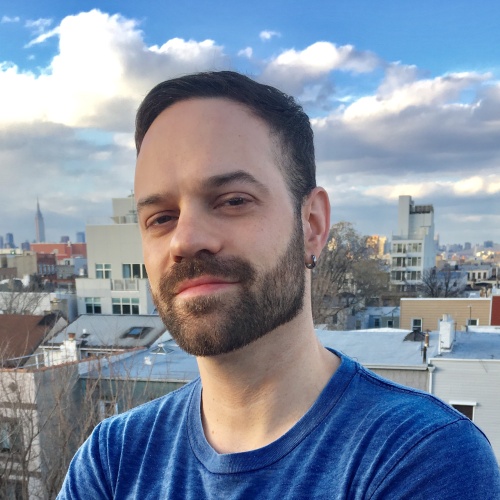 Alex is an investigative journalist based in Brooklyn, New York, and a reporter for the money-in-politics website Sludge. He was on staff at the Institute for Southern Studies from 2014 to 2016. Additional stories of Alex's have appeared in the International Business Times, The Nation and Vice.com.