Which Southern state is feeling the brunt of Big Money spending?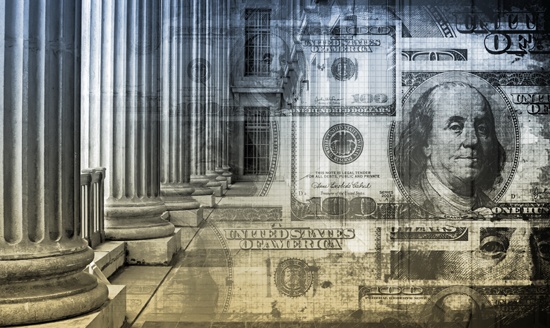 Democratic U.S. Sen. Kay Hagan's bid to defend her seat against Republican challenger Thom Tillis is shaping up to be one of the most expensive U.S. Senate races in history: a flood of more than $103 million in spending from the campaigns and outside groups, according to The Charlotte Observer. This month, the spending spree has translated into about three TV ads every five minutes supporting -- or, more frequently, attacking -- one of the North Carolina candidates.

Yet as money-drenched as the Hagan/Tillis contest may be, voters in Arkansas and other Southern states may be feeling even more battered by the barrage of political spending this election season.

North Carolina is one of five states in the South with Senate races in 2014 that will determine whether the chamber is controlled by Democrats or Republicans. With more than 6.6 million registered voters, North Carolina is also the biggest of the Southern Senate battlegrounds, so the more than $100 million in projected spending has to cover more ground and reach more people.

By contrast, while smaller states like Arkansas, Kentucky and Louisiana are being targeted with less total spending, on a per-voter basis these states are experiencing an even greater deluge of election money relative to the size of their population.

A Facing South/Institute for Southern Studies analysis looked at the money flowing through the five Southern Senate races and compared it to the number of voters in each state. The following chart shows how the states compare in election cash per voter (click on it for a larger version):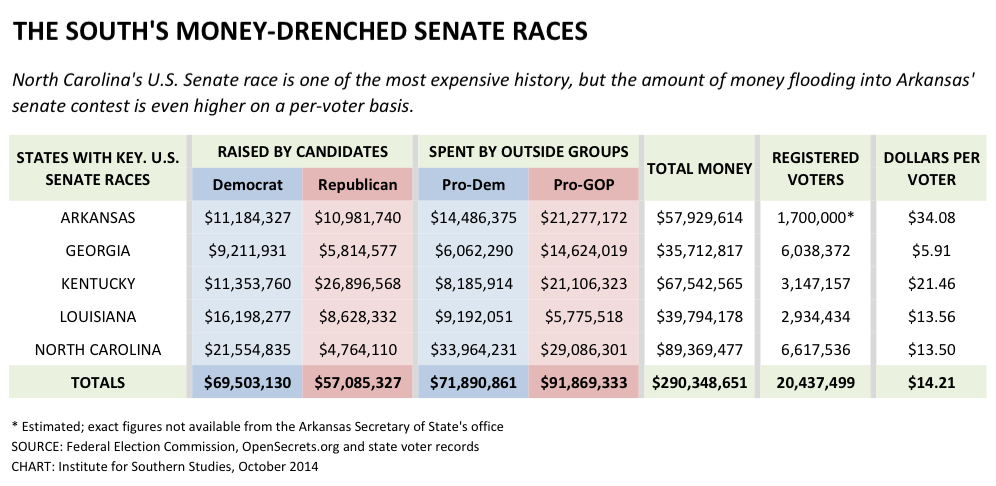 In Arkansas, the contest between incumbent Democrat Sen. Mark Pryor and GOP challenger U.S. Rep. Tom Cotton has attracted nearly $58 million, with more than $35 million of that coming from super PACs and other outside groups. While much less than the money total for North Carolina's senate seat, Arkansas has only a quarter of the voters in North Carolina, adding up to more than $34 in election money per voter so far.

Kentucky, where incumbent Republican Sen. Mitch McConnell leads over Democratic challenger Allison Grimes, more than $67 million has flooded into the race. With just over 3 million voters, that means the Kentucky race has attracted more than $21 per voter to date.

Louisiana's battle between Democratic incumbent Sen. Mary Landrieu and Republican challenger Bill Cassidy has seen nearly $40 million from the candidates and outside groups. With just under 2 million registered voters, that puts it nearly on par with North Carolina's Senate race at $13.56 per voter.

Georgia may be the biggest surprise: With with Democrat Michelle Nunn pulling even with Republican opponent David Perdue in the polls, the race has attracted just under $36 million, according to the latest available reports. That is not only the lowest raw total of any of the battleground Senate races in the South: Given Georgia's more than 6 million voters, it's also by far the lowest in per-voter cost at $5.91.
Tags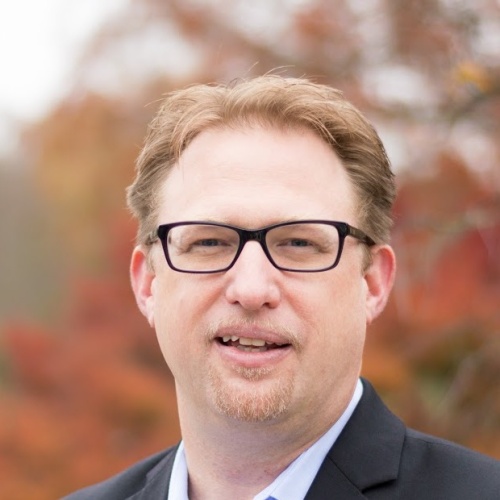 Chris Kromm is executive director of the Institute for Southern Studies and publisher of the Institute's online magazine, Facing South.