Just like the high-profile U.S. Senate races in 2014, state-level elections in North Carolina attracted a lot of money from super PACs and other outside groups. And just like the U.S. Senate races, Big Money didn't always pick the winner.

According to a Facing South/Institute for Southern Studies analysis, more than $9.1 million was reportedly spent by independent groups on state-level races in North Carolina. As expected, the money gravitated to a handful of hotly-contested races: 90 percent went to just 16 seats for the N.C. Supreme Court, state Senate and state House -- with very different outcomes.

The analysis draws on data compiled by the Institute's website, FollowNCMoney.org, which since 2012 has tracked the rise of independent expenditures in state politics -- election spending that benefits candidates but by law isn't coordinated with their campaigns.

The complete tally of outside spending in 2014 won't be known until final reports are submitted in January 2015, but to date FollowNCMoney.org has uncovered 996 outside expenditures totaling just over $9,139,400 aimed at state-level races.

As Facing South reported before the elections, a key story in 2014 was the rise of independent groups supporting state Democrats. While Republicans had overwhelmingly benefited from the outside spending game in North Carolina in 2010 and 2012, the FollowNCMoney.org data show that, across all state-level races, about 51 percent, or $4.68 million, was spent in support of Democratic candidates this year, with 49 percent, or $4.43 million, benefiting Republicans. (Click on chart for a larger version.)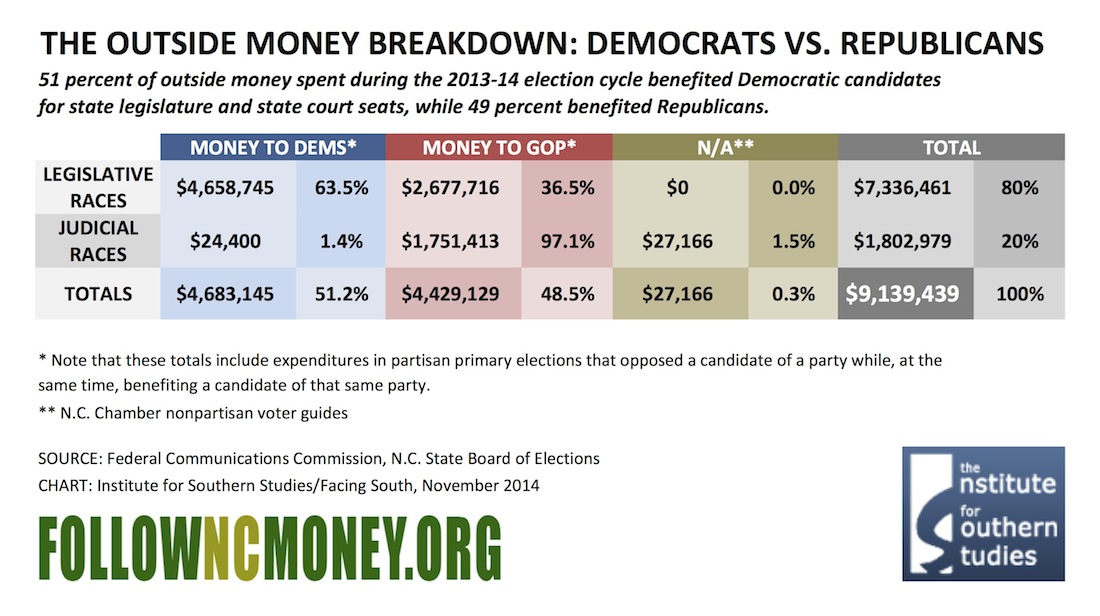 The ramped-up spending was one factor -- along with an ambitious get-out-the-vote ground game -- that helped N.C. Democrats gain four seats in the state House, making North Carolina the only state in the South where Democrats added legislative seats in an overwhelmingly pro-Republican election year.

N.C. Families First, a new arrival among the state-level outside spending groups in North Carolina, spent nearly $2.3 million on N.C. House and Senate races; N.C. Citizens for Protecting Our Schools, which was active in 2012, added over $511,000 also aimed at legislative contests. All four N.C. Republicans who lost to Democratic challengers -- Reps. Tim Moffit (District 116), Tom Murry (41), Nathan Ramsey (115) and Mike Stone (51) -- were key targets of the two groups.

The North Carolina Senate was a different story. Of the eight state Senate contests that attracted more than $100,000 in spending from outside groups, Republicans beat their Democratic challengers in every race. The sources of the spending were different as well: In three of the races, Republicans -- Ronald Rabin (District 12), Bill Cook (District 1), Chad Barefoot (District 18) -- were hit with ads from environmental groups during the primaries and general election, criticizing their records on issues like fracking and expanding waste dumps.
'Independent' spending and 'nonpartisan' courts

The 2014 elections also saw a flurry of ostensibly independent spending from the North Carolina Republican Party -- an entity that also directly works with and supports the campaigns of individual GOP candidates. The Supreme Court has ruled that state parties can make independent expenditures as long as they're not coordinated in any way with the candidates, and both Democrats and Republicans in North Carolina have made small independent expenditures in the past.

However, the practice has come under fire in states like California and Colorado, where Republicans have increasingly turned to "independent" spending wings -- which don't have contribution limits -- that operate under the same roof as their candidate-supporting operations.

The amount spent on independent expenditures by the N.C. GOP on 2014 state races appears to be the highest ever spent by a political party in the state: 357 expenditures worth nearly $1.3 million for legislative and court races, most of it in the final weeks to benefit embattled Republicans in the N.C. General Assembly. The expenditures were for voter guides, direct mail and phone calls.

While a smaller part of their independent spending total, the Republican Party's independent expenditures also targeted races for the N.C. Supreme Court and N.C. Court of Appeals, part of a larger deluge of spending for state judicial races that are officially nonpartisan.

The judicial race drawing the most outside spending in 2014 was the N.C. Supreme Court seat held by Robin Hudson, a registered Democrat, who faced challenger Eric Levinson in November. This election cycle, $1.28 million worth of independent expenditures flowed into the race, which Hudson ended up winning with 52 percent of the vote.

The bulk of the outside spending in the Hudson race came in the May 2014 primary, when she was targeted with a $900,000 attack ad campaign aired by the super PAC Justice for All NC and largely backed by the D.C.-based Republican State Leadership Committee.

More than $430,000 in outside spending also flowed into a N.C. Supreme Court race between incumbent Justice Cheri Beasley, a Democrat, and challenger Mike Robinson, a Republican. Most of the spending came from TV ads aired by Justice for All NC. Although 99 percent of the outside spending benefited Robinson, Beasley emerged from the elections with a 5,427-vote lead over Robinson. Due to Beasley's slender margin of victory, the race is headed to a recount.

See below for a table detailing the 16 races that drew the most outside spending. (Click on it for a larger version.)