Outside spending reaches $7 million in N.C. state races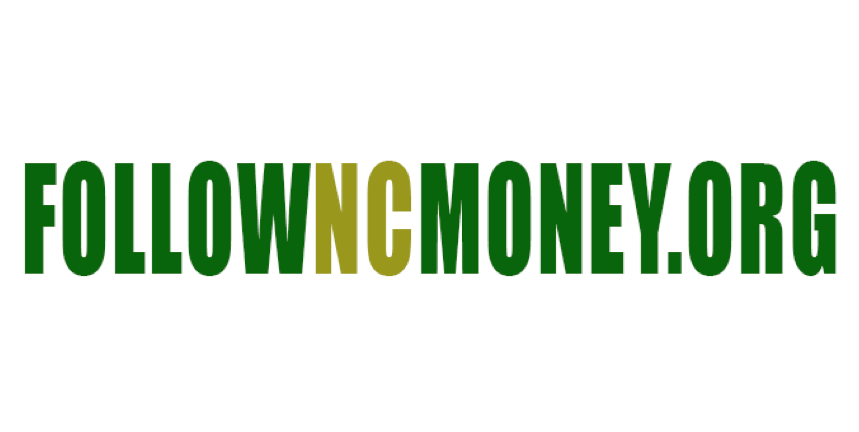 Nationally, super PACs and other outside political groups have grabbed national headlines for unleashing more than $780 million worth on TV ads and other spending for U.S. Senate races.
But money from outside political groups can often have an even bigger impact at the state level, where $100,000 or more in independent spending can change the dynamics of a race -- and maybe propel a candidate to victory.
As of the eve of Election Day, nearly $7 million has flooded into state-level races in North Carolina from super PACs and other independent groups, according to a new analysis of state and federal filings by the money-tracking website FollowNCMoney.org.
Independent expenditures -- spending by outside groups that benefits candidates, but that legally isn't coordinated with their campaigns -- have soared in recent years. In 2012, the Institute for Southern Studies launched FollowNCMoney.org to track the growth of outside spending in state-level races in North Carolina.
FollowNCMoney.org has tracked more than 700 outside expenditures in 2014 far, targeting more than 50 North Carolina legislative and state court races. The outside money has fueled more than 2,700 TV ads in this year's primary and general elections for state offices.
The full scale of outside spending won't be known until January 2015, when final spending reports are due. Drawing on the latest federal and state election filings and TV advertising records, the FollowNCMoney-Institute analysis offers a snapshot of the money flowing into state-level races to date. Among the findings:  
*   Independent groups have spent at least $6.98 million in 2014 targeting North Carolina state elections. That includes nearly $5.8 million worth of expenditures reported with state election officials, and another $1.2 million in ad buys at TV stations.  
*   Unlike past years, when state Republicans enjoyed a big advantage in outside spending, Democratic-leaning groups are close to matching independent expenditures benefiting Republicans this year. In 2014, 54 percent of outside spending to date has favored state Republican candidates, while 46 percent has benefited Democrats. In 2012, Republicans enjoyed a 2-to-1 advantage in outside spending for state-level races; in 2010, outside spending benefited GOP candidates for the N.C. General Assembly by a 10-to-1 margin.
Here's a chart of the top spending groups (click on it for a larger version):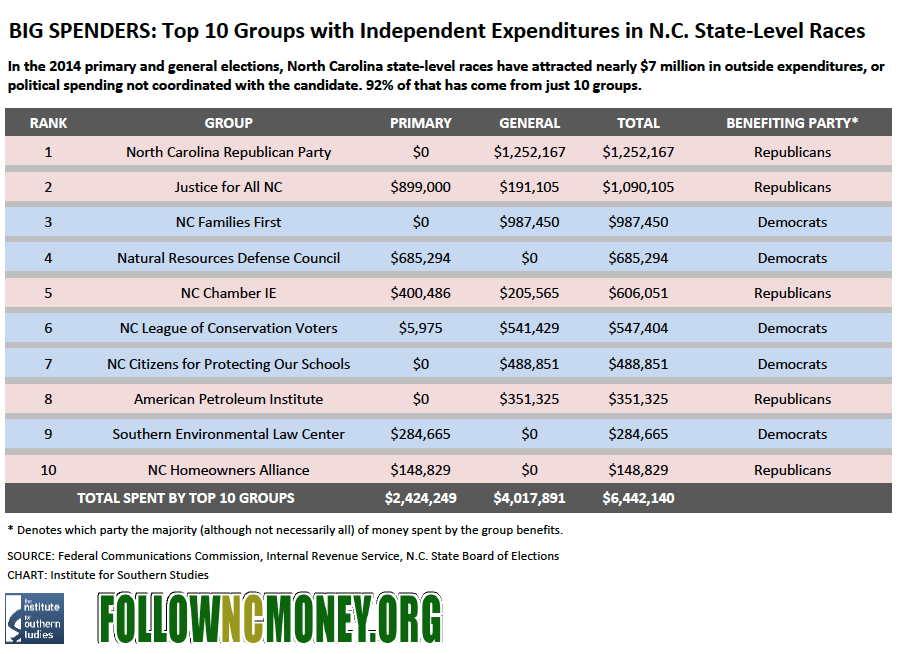 *  The contest for Justice Robin Hudson's N.C. Supreme Court seat has attracted the most outside spending to date. Nearly $1.3 million has been spent on the race, the bulk of it in the May primary by conservative groups seeking to oust Hudson, a registered Democrat.
* 15 races have attracted $100,000 or more in independent spending so far. These include two N.C. Supreme Court elections and 13 contests for the N.C. General Assembly. The legislative race drawing the most outside spending has been the contest in N.C. Senate District 12, representing Harnett, Johnston and Lee counties, between incumbent Republican Sen. Ronald Rabin and Democratic challenger Joe Langley. Outside spending in the race has totaled more than $725,000, including ads from environmental groups critical of Rabin's record and spending favorable to Rabin from the American Petroleum Institute. 

Here's a chart showing the top races (click on it for a larger version):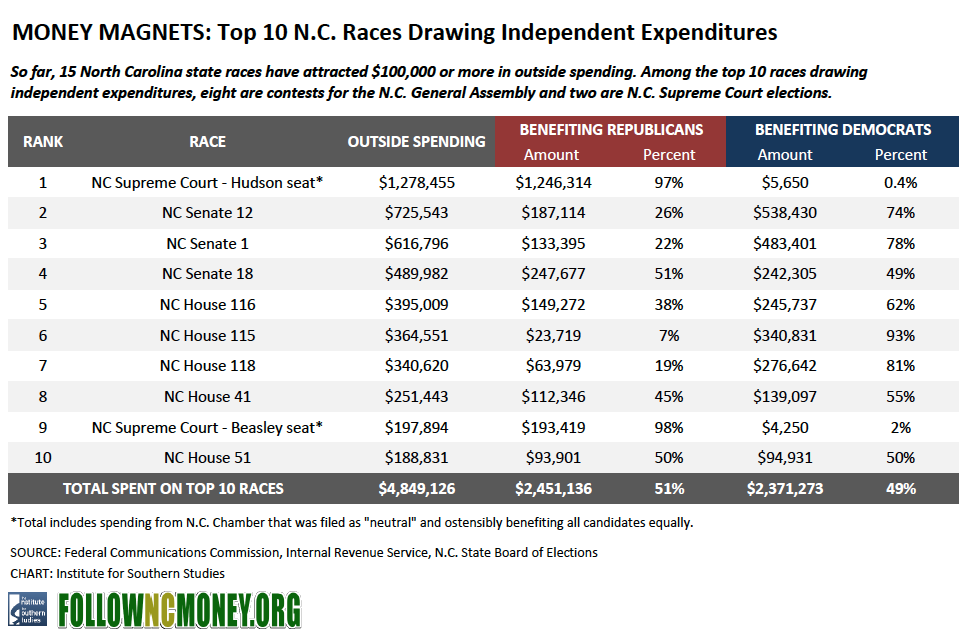 Tags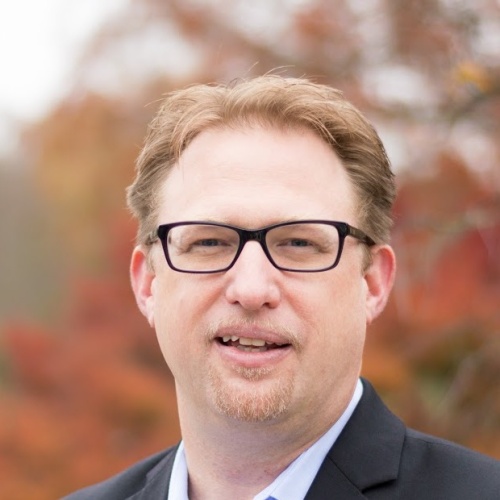 Chris Kromm is executive director of the Institute for Southern Studies and publisher of the Institute's online magazine, Facing South.