Our futures are intertwined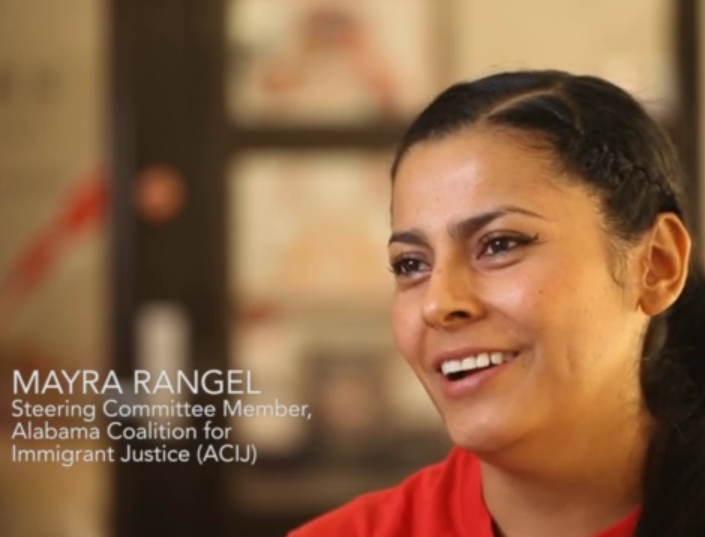 The Mary Reynolds Babcock Foundation funds organizations in the South working to move people and places out of poverty. The foundation recently launched a "Southern Voices" oral history project to capture the stories of Southern leaders working for social and economic justice. The latest installment features stories about organizing for immigration reform. For more stories from the project, click here. (Disclosure: The Mary Reynolds Babcock Foundation is a funder of the Institute for Southern Studies.)
* * *
This week, a coalition of immigration, faith, labor, business and community groups is holding rallies across the country, circulating online petitions and flooding social media sites with what they're calling a "digital battle." They're marking the day millions of undocumented parents of American citizens or legal permanent residents hoped to begin applying for temporary deportation relief and work authorization.

In November, President Obama announced the federal program known as Deferred Action for Parents of Americans and Lawful Permanent Residents (DAPA). He also raised the eligibility age for the Deferred Action for Childhood Arrivals program (DACA). Both initiatives grant non-citizens temporary permission to stay and work in the United States. The government was scheduled to begin accepting applications May 19, but 26 states sued to stop the programs. In February, a federal judge in Texas issued a temporary injunction, saying the executive actions would cause irreparable harm. Last week, 113 politicians signed onto an amicus brief supporting the injunction, which the Obama Administration is appealing.

Supporters argue the programs would keep families together and provide economic benefits as up to 3.7 million workers "come out of the shadows" and pay income tax. Opponents condemn DACA and DAPA as "executive amnesty" and insist they're pushing those who apply to enter the country legally to the back of the line.
As politicians and pundits debate the best course of action in what's become a thorny policy issue, advocates say some form of immigration reform is long overdue. North Carolina Latino Coalition Executive Director Ivan Parra says candidates on both sides of the aisle ignore immigration reform at their own peril: "Both the political parties want to be lovers or want to have the Latino community as the mistress. In private, they love us, they care for the Latino community and we should support them and we should be their friends because either the Republicans or Democrats are good for us. But they don't want to be seen with us in public or do any kind of long-term support to our community. We don't have a lot of registered voters, but we have enough to make a difference. In a very tight election, Latinos could really make the difference in that support, but they're looking at us as a deficit. … Neither one of the political parties [should] take for granted that Latinos are gonna go either way. They're gonna go with the politicians that are willing to invest and support their well-being." (Disclosure: Parra is a board member of the Mary Reynolds Babcock Foundation.)
Greater Birmingham Ministries Executive Director Scott Douglas says when Alabama lawmakers passed an immigration law and a voter ID law in the same year, it galvanized activists and prompted them to join forces: "The Voter ID law was seen as a big suppressive act, against particularly African-American voters and older voters in general. And that same legislature passed that same year HB56, Alabama's draconian anti-immigrant law. That told us right there that those who were dead-set against immigrants seeking a better life were the same forces dead-set against African Americans pursuing a better life. So our futures are intertwined. … Our coalition was built by the opposition to our humanity."
When HB56 passed, Mexican immigrant Mayra Rangel became more informed about the political process and began to volunteer with the Alabama Coalition for Immigrant Justice. "It changed. Before it was like we were in like crisis mode. Now it's getting more prepared. Now we are doing a lot more things, like education in everything, like how politics works," Rangel explained. "It's a lot of things that we need to know and we need to teach our community about. We are building for the next election. We're trying to register people to vote and get some power so they can take it in consideration when they want to do something about immigrants like the HB56."

For Rangel, the work is deeply personal. She's been in the country nearly 20 years, but her undocumented status prevents her from completing her education or getting her driver's license. "I was forced to leave my country when I was 16 against my will," Rangel says. "We risk our lives in the desert just to find a job to provide for our loved ones in other countries. … We just want to be regular people, you know? It's not humane to be scared all the time, and I know that we can give so much to this community, to the whole country. … We deserve to have peace and to not be persecuted or hated because we are from here now."