Pressure mounts to shut down immigrant family detention centers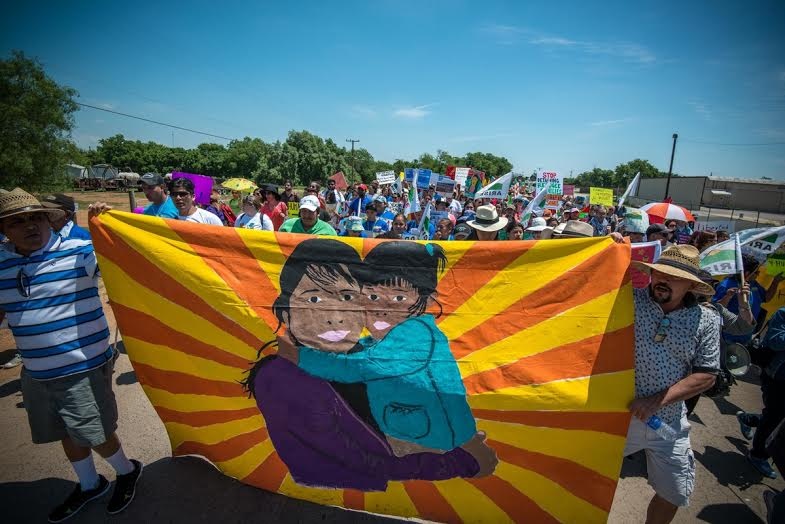 In recent weeks immigrant rights advocates have increased pressure on the Obama administration to end its punitive policy of holding in prison-like conditions mothers and children fleeing danger and poverty in their home countries — and the issue is gaining ground.

Earlier this month, several Texas-based immigrant rights groups organized a rally that drew hundreds of people from across Texas and the nation demanding the closure of the South Texas Family Residential Center, a privately-run family detention center in Dilley that's the largest in the country (photo at right; see more in slideshow below). Following the Mother's Day holiday, immigrant rights advocates and mothers held in detention sent letters to President Obama calling on his administration to end family detention. And the New York Times published an editorial last week condemning the practice of immigrant detention, especially that of mothers and children seeking asylum.

The issue is also getting a boost in visibility from Democratic leaders. On Thursday, 11 House Democrats led by Reps. Lucille Roybal-Allard and Zoe Lofgren of California and Luis Gutiérrez of Illinois held a press conference to discuss the devastating effects of detention on children and call for alternatives. Democratic presidential candidate Hilary Clinton also added her voice to the chorus of criticism earlier this month at a roundtable discussion in Nevada: "I don't think we should put children and vulnerable people into big detention facilities because I think they're at risk," she said. "I think that their physical and mental health are at risk."

In another promising development for the movement against family detention, a district court judge in California issued a tentative ruling last month that children and their mothers cannot be held in unlicensed facilities like the existing family detention centers. The ruling prompted U.S. Immigration and Customs Enforcement (ICE) to announce new measures that it says will "enhance oversight and accountability." The two sides have until May 24 to reach an agreement.
Meanwhile, the Obama administration is pushing forward with expanding immigrant family detention facilities — most of which are managed by private prison companies.

Just opened in December, the facility in Dilley, Texas currently houses nearly 800 children and mothers but is expected to expand to 2,400 beds by the end of May, making the 50-acre facility the country's largest family detention center. The center is privately managed by the Corrections Corporation of America, the same company that ran the troubled T. Don Hutto center in Texas where family detention was ended in 2009 due to abuses and poor conditions. Another family detention facility in Karnes City, Texas is planning to double its 600-bed capacity; that facility is privately managed by the GEO Group. A third, government-run center in Berks County, Pennsylvania is also expected to expand.

ICE recently allowed representatives from nonprofits and immigrant rights organizations to tour the Dilley facility. They described it as a complex of beige trailers (which ICE refers to as "suites") that look like barracks inside with six bunk beds each. A census of the detainees is conducted three times a day starting at 5:30 a.m., and guards called "resident supervisors" can go into the trailers at any time during the night to check on occupants.

Carl Takei, a staff attorney at the ACLU, was among those who toured the Dilley facility. He described it as a modern-day version of internment camps where Japanese Americans were detained during World War II.

"By rendering parents as helpless as their children, the camps both undermined family structures and created a constant undercurrent of anxiety," he wrote about conditions in the internment camps in a piece for The Marshall Project. "Today, immigration authorities under President Obama's direction are needlessly inflicting the same trauma on families that arrived in the United States seeking protection."

The following photographs of the May 2 rally at the family detention center in Dilley, Texas are by Steve Pavey. You can also view them at his website, Hope in Focus.
 
...
Tags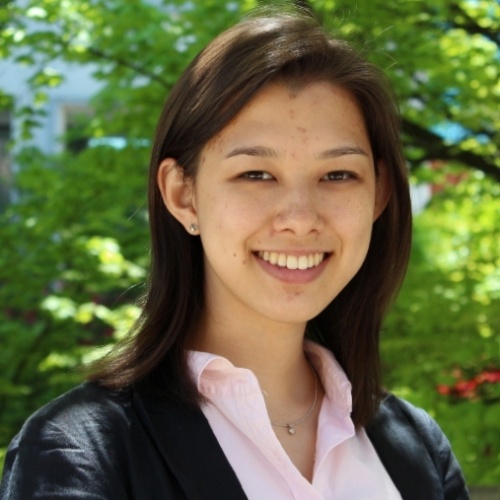 Allie is a research fellow at the Institute for Southern Studies and is currently studying at the Yale School of Management. Her research focuses on demographic change, immigration, voting and civic engagement.