As expected, the South has provided a major boost to Democrat Hillary Clinton's 2016 presidential bid. Clinton has swept all seven of the Southern states that have held primaries to date, including the delegate-rich states of Georgia, Texas and Virginia.
But those wins have come with a troubling development for Democrats: the fact that voter turnout for the party's 2016 primaries in the South is 45 percent lower than it was in the party's last competitive presidential primary in 2008.
In the seven states that have hosted Democratic presidential preference primaries so far — Alabama, Arkansas, Georgia, South Carolina, Tennessee, Texas and Virginia — turnout has averaged 12 percent of the state's electorate. That's down from 22 percent in the party's 2008 primary, meaning 2.6 million fewer Democratic voters cast ballots this year.
For Republicans, the reverse is true. While GOP turnout in the seven Southern state primaries was 14 percent in 2008 and 13 percent in 2012, it skyrocketed to 23 percent in those states this year.
The number of Republicans who have cast primary ballots in the Southern states to date is nearly twice the number of Democrats who have turned out to vote.
The following chart shows how turnout has compared in the 2016 Southern primaries so far (click on it for a larger version):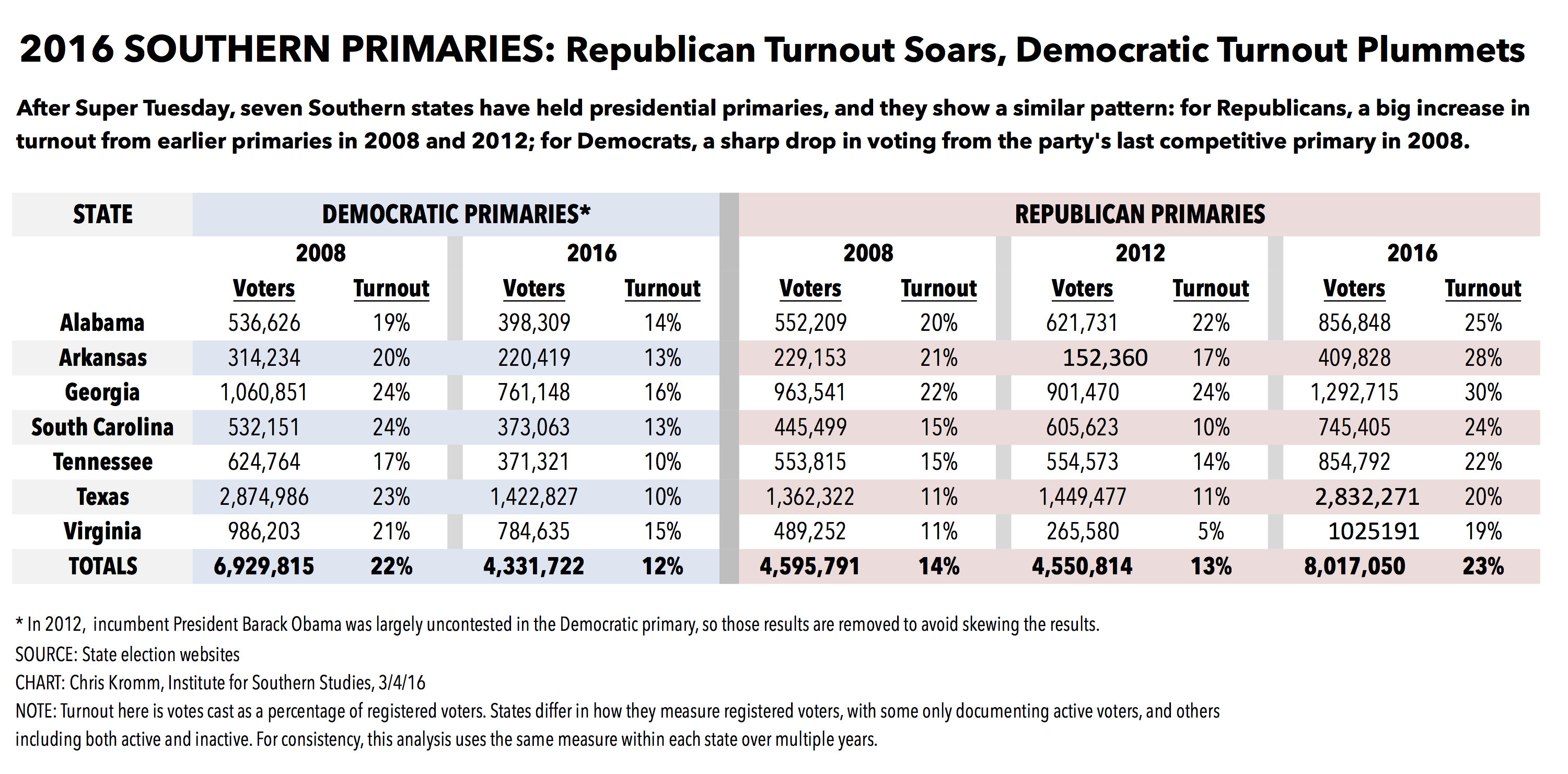 The results aren't surprising given the well-publicized Republican race that has stirred GOP turnout, and that Clinton challenger Bernie Sanders all but conceded some Southern states. They're also in line with national trends.
Democratic strategists have offered a host of explanations for the dip in turnout, including new voting restrictions in Southern states and the Democratic establishment's efforts to create a sense of inevitability around Clinton's nomination.
Republicans will have to hope that the voter enthusiasm driving turnout for the field of four candidates will translate into turnout for whichever single candidate emerges from primaries. As for Democrats, they can take comfort in the fact that primary turnout isn't necessarily a predictor of participation in a General Election — and they won't necessarily need to reach 2008's historic turnout numbers to achieve victory.