The 2016 presidential race has seen an explosion of spending by groups independent of campaigns or parties, with these outside organizations investing more than $270 million so far. But some haven't had much success. The nearly $87 million spent by the super PAC supporting former Florida Gov. Jeb Bush couldn't save his campaign, nor could more than $60 million spent by a super PAC and a "social welfare" organization supporting U.S. Sen. Marco Rubio of Florida. 
While some have interpreted outside money's ineffectiveness in the presidential race as a sign that Big Money's in decline, down-ballot races suggest otherwise. And in state-level contests involving much smaller budgets, an injection of, say, $100,000 by an outside group can make a difference. 
That appears to have been the case in North Carolina, where 13 outside groups — most representing business interests — paid for television, radio and online ads and mailers supporting or opposing candidates in 34 state House and Senate primary races, according to N.C. State Board of Elections data accessed March 22.
Thirty-two of these races were contested, and outside spending on them totaled nearly $1.4 million. Of that amount, 77 percent or close to $1.1 million of the outside money benefited the winning candidates, and more than 80 percent of the candidates with the most outside support won.* 
Fifteen of these contested races were decided by less than 10 percent of the vote. In 12 of them, the candidate backed by the most outside money won.
The state legislative race that saw the highest amount of outside spending was the Republican primary for the open seat in Senate District 36 in Cabarrus and Union counties, where outside groups spent a total of almost $258,000. Most of that money — over $229,000 — supported Paul Newton, former president of Duke Energy's utility operations in North Carolina, and it came from both the N.C. Chamber and its independent expenditure arm along with a new committee called N.C. Property Rights Fund, run by the N.C. Association of Realtors. Newton beat three other contenders, besting the second-place finisher by 7 points.
Among the legislative contests where incumbents survived the costliest outside money attacks was the race for the House District 82 seat in Cabarrus County, now held by Republican Rep. Larry Pittman. A group called Cabarrus Jobs Now dropped almost $166,000 opposing Pittman and supporting his challenger, Michael Fischer. But Pittman survived, coming out 5 points ahead of Fischer.
In Wake County's House District 36, a new group called StopNelsonDollar.com spent over $67,000 in an attempt to unseat the incumbent Republican lawmaker. Robert Luddy, a leading conservative political donor from Raleigh and a businessman who runs a commercial ventilation company and private nonprofit education chain, contributed $40,000 to the effort while Factum, a Chapel Hill-based limited liability company that just incorporated last month, added another $50,000. Dollar won by 12 percentage points.
Another Republican incumbent who dodged an outside money attack was Rep. Justin Burr, who represents House District 67 in Montgomery and Stanly counties. He barely survived a challenge by Lane Burris, who was backed by nearly $43,000 in positive advertising from the N.C. Chamber. 
Together, the N.C. Chamber and its independent expenditure arm spent more than $350,000 on state legislative primaries. Only the N.C. Property Rights Fund spent more at almost $409,000. 
The $1.4 million figure for outside spending in the primary is likely not the final total, however. Because of a loophole in North Carolina campaign finance law, more reports of March expenditures may appear after the second-quarter filing deadline in mid-July. That's because political committees registered with the state are required to file expenditure reports on a quarterly basis only.
In past elections, outside spending has produced mixed results. In 2010, an outside money initiative led by retail store chain magnate and leading conservative donor Art Pope helped many GOP candidates take legislative office. But in 2014, outside spending targeting two state Supreme Court incumbents failed to unseat them. 
The table below details the 32 contested primary races that saw outside spending according to currently available campaign finance reports. Click on it for a larger version.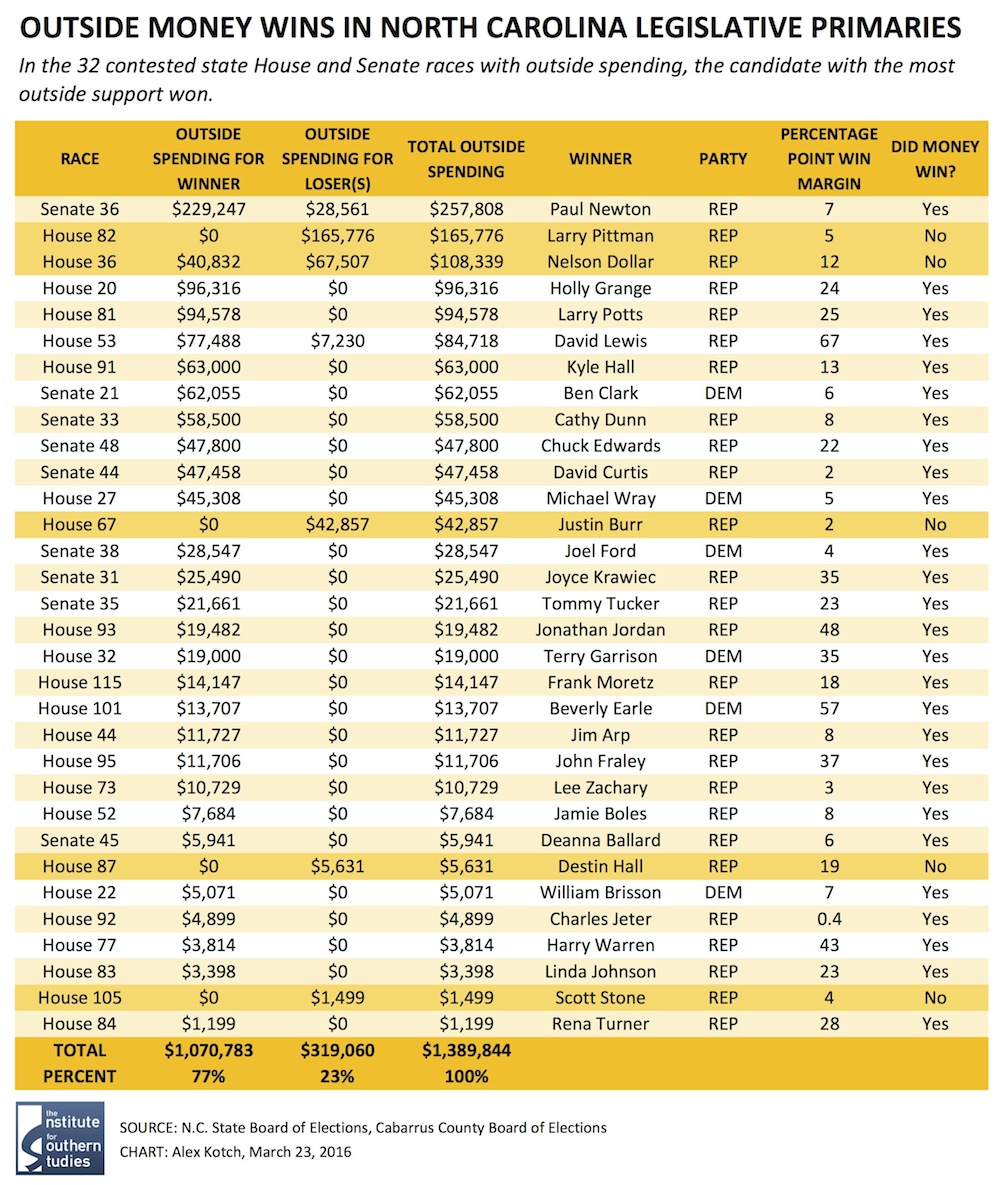 *Electioneering communications, which do not expressly advocate for the election or defeat of a candidate but typically praise or criticize candidates, are included in election spending. Facing South determined whether these expenditures supported or opposed candidates based on the groups' ideological leanings and past expenditures.