Southern states blocking deportation relief are home to a million potential beneficiaries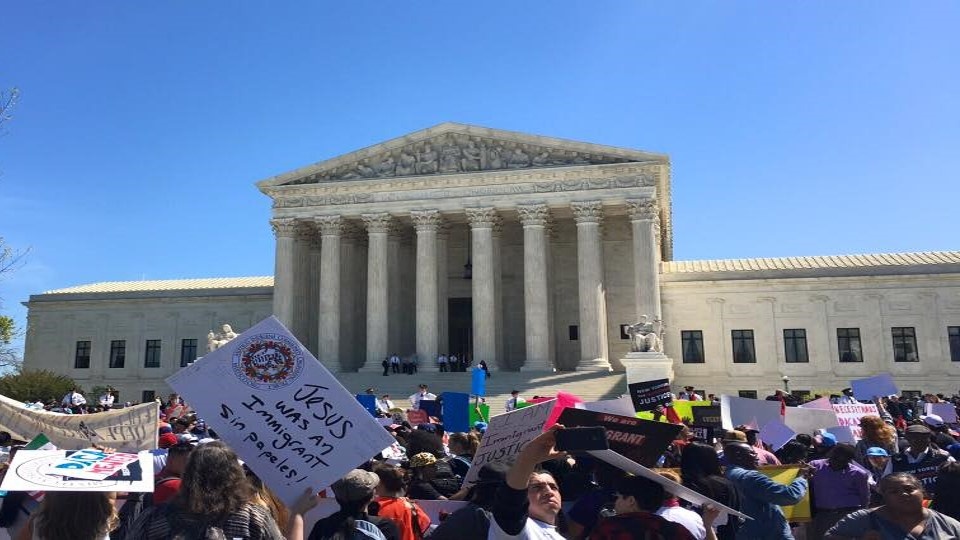 The U.S. Supreme Court heard arguments this week in a case challenging President Obama's efforts to provide deportation relief to undocumented immigrants. 
Texas is the lead plaintiff in the case, titled U.S. v. Texas, and was joined by 25 other states. They included nearly every state in the South — even though over a million immigrants in the region would benefit from the president's programs.
Back in 2014, the president announced efforts to provide temporary relief from deportation for undocumented immigrants. They included an expanded version of his 2012 program, Deferred Action for Childhood Arrivals (DACA), for undocumented immigrants who came to the U.S. as children as well as Deferred Action for Parents of Americans and Legal Permanent Residents (DAPA) for undocumented parents of U.S. citizen children and legal permanent residents. 
But the programs were quickly challenged in court by the states, which contend that the president overstepped his authority in taking such sweeping actions on immigration. A federal district court judge issued an injunction, blocking the programs before they could be implemented. 
All but two of the 13 Southern states* signed on to the lawsuit against the president's programs, while Virginia joined 14 other states and the District of Columbia in filing an amicus brief in support of the programs.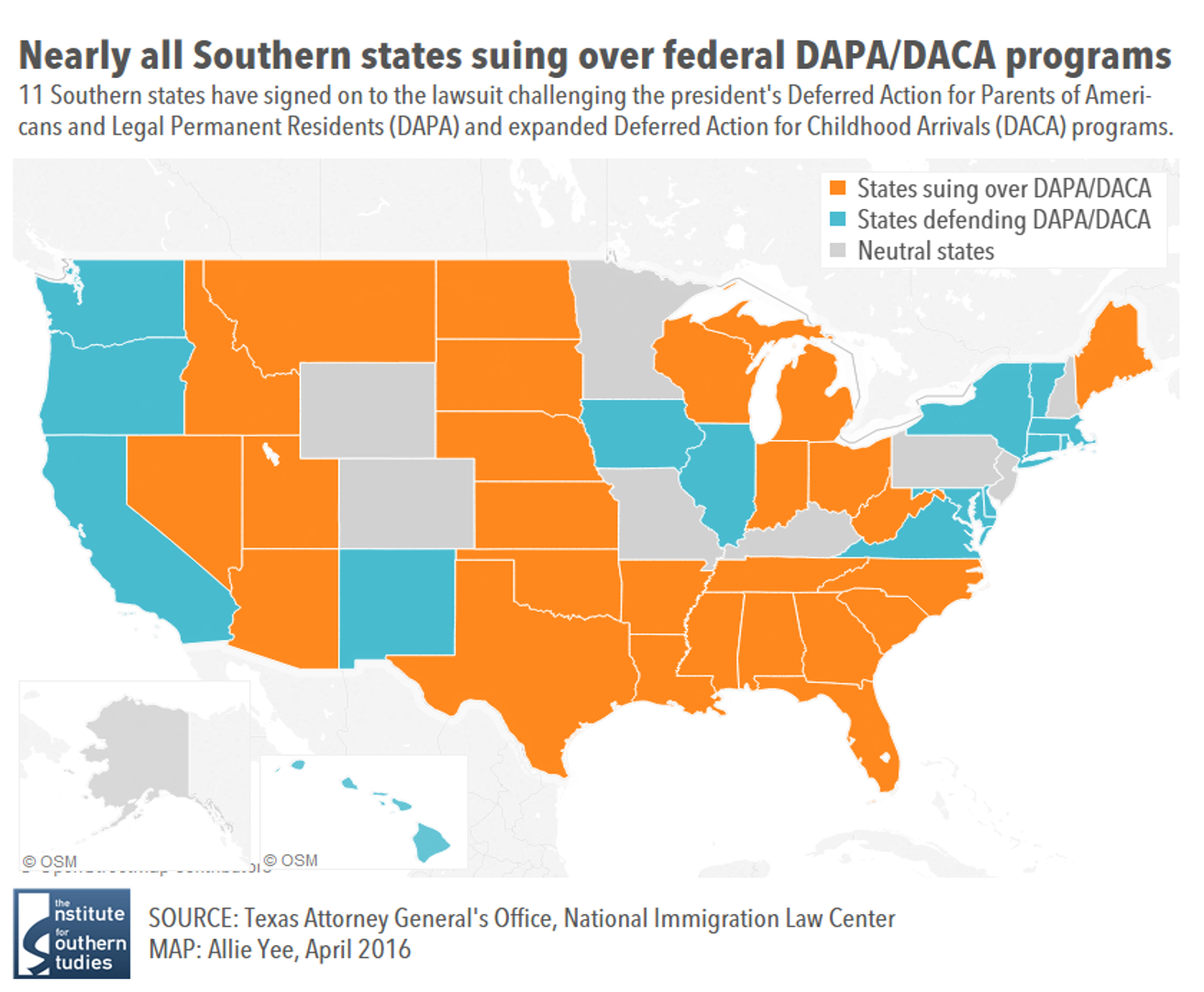 Click on image for larger version.
If the programs are upheld, 3.6 million undocumented immigrants nationwide could become eligible for deportation relief and work permits through the new and expanded programs, according to Migration Policy Institute estimates. That number includes 1.2 million people in the South.
In Texas, which has the second highest eligible population after California, over half a million people would benefit. Meanwhile, in Florida, Georgia, North Carolina and Virginia, over 100,000 undocumented immigrants in each of those states could be eligible.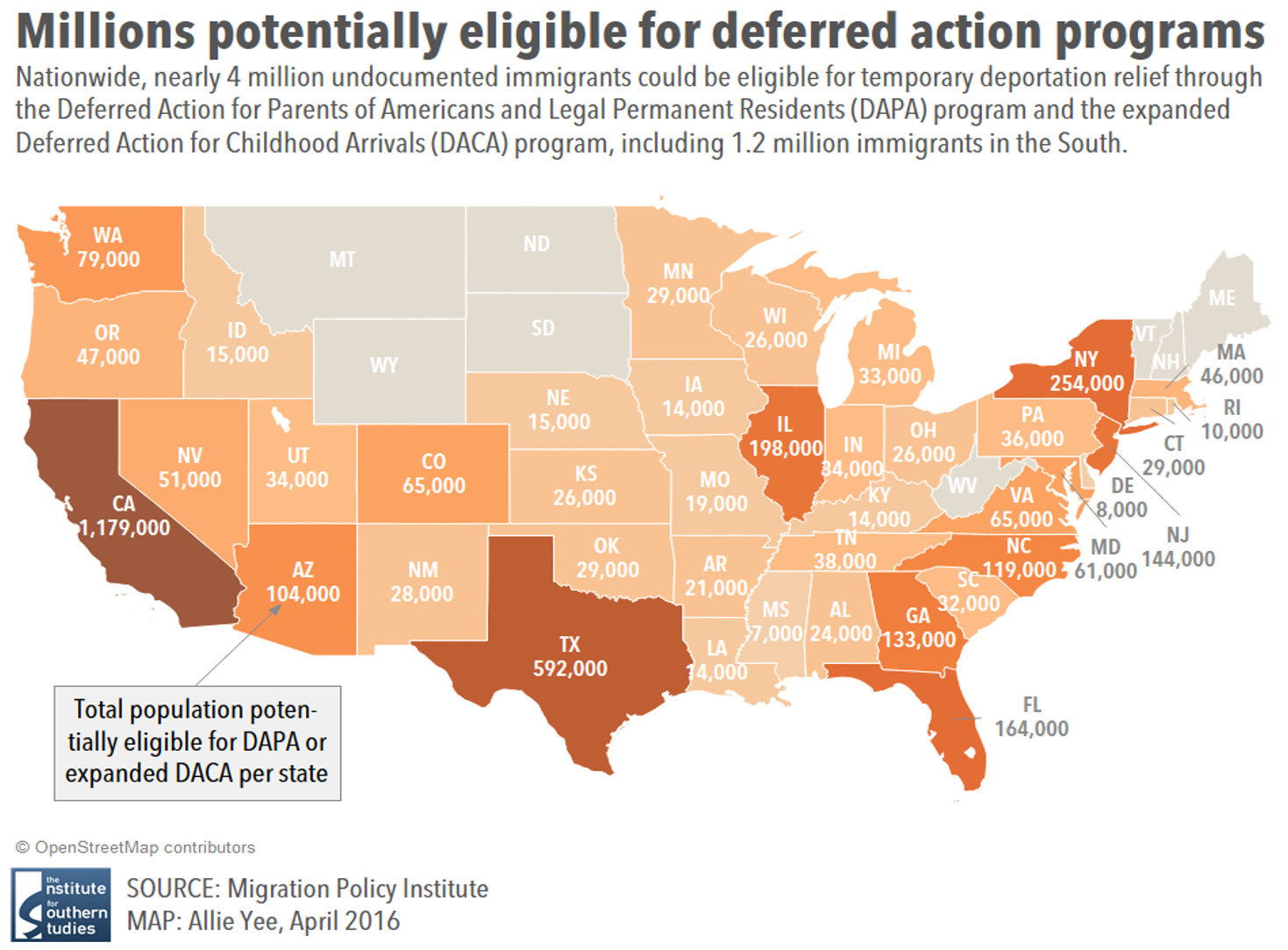 Click on image for larger version.
The fate of the president's programs at the Supreme Court is unclear as the four liberal justices and four conservative justices seem sharply divided on the issue. A ruling is expected by the end of June. 
In the weekend leading up to Monday's arguments, thousands of people gathered at the Supreme Court to rally in support of the programs. Immigrant advocates from across the South joined their ranks, including more than 70 members of the Texas Organizing Project. 
"We felt responsible because our governor was the one who filed the lawsuit," said Mary Moreno, who traveled from Houston with the group. "Texas needed to be well represented to show that he doesn't (speak for) Texas. We do." 
* Facing South counts among the Southern states Alabama, Arkansas, Florida, Georgia, Kentucky, Louisiana, Mississippi, North Carolina, South Carolina, Tennessee, Texas, Virginia and West Virginia. 
Tags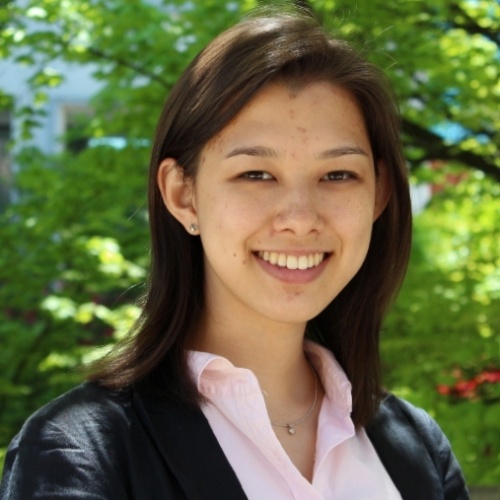 Allie is a research fellow at the Institute for Southern Studies and is currently studying at the Yale School of Management. Her research focuses on demographic change, immigration, voting and civic engagement.