Art Pope denies funding backers of N.C. 'bathroom bill' despite clear record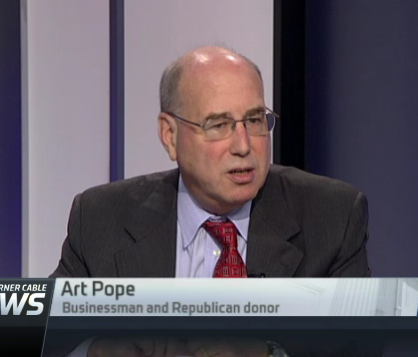 Art Pope, the discount store chain CEO known for pouring millions of dollars from his corporate treasury and family foundation into North Carolina state politics, appeared on National Public Radio's All Things Considered show this week to talk with host Ari Shapiro about why he isn't supporting Donald Trump for president.
Near the end of
the interview
, Shapiro brought up House Bill 2, the state's controversial new law that bars transgender people from using bathrooms that match their gender identity and nullifies local anti-discrimination and minimum-wage ordinances. Shapiro asked for Pope's opinions on the law, noting "organizations that [Pope] funded have supported this law."
Pope replied, "I disagree with your comment, the organizations I, quote, 'have funded have supported the law.'"
Shapiro didn't challenge Pope's assertion. But the record shows that it's untrue.
As Facing South
reported
earlier this month, the Pope Foundation has donated nearly $1.5 million to three groups that publicly support HB2. In addition, Pope's political donations helped elect many of the legislators who sponsored and voted for the bill as well as the governor who hastily signed it into law, and staff members at think tanks primarily funded by the Pope Foundation have defended the bill.
For example, since 1997 the Pope Foundation donated over $1.3 million to the N.C. Family Policy Council, a charitable nonprofit that claims it's fighting "a battle to retain Judeo-Christian values." The group's president, John Rustin, sent a letter to Republican leaders urging them to hold a special legislative session to pass the law in response to the Charlotte nondiscrimination ordinance that triggered the controversy. Rustin testified before the state Senate in favor of HB2, and his group held a press conference and two rallies in support of the law.
From 1997 to 2013 the Pope Foundation also gave $115,000 to the pro-HB2
Family Research Council
, which the Southern Poverty Law Center deemed an
anti-LGBT hate group
, and from 2004 to 2007 it contributed $6,000 to
Alliance Defending Freedom
, a legal nonprofit that
crafted model legislation
with wording strikingly similar to HB2. 
In addition, a network of political spending groups founded and financed by Pope helped elect the politicians behind HB2.
Real Jobs N.C.
— a super PAC founded by Pope and funded in part by his company, Variety Stores — spent nearly $2 million from 2010 to 2014
helping elect five of HB2's sponsors
and 13 additional lawmakers who voted for it, as well as GOP Gov. Pat McCrory, who signed it.
Americans for Prosperity
, which Pope helped found with billionaire industrialists Charles and David Koch and to which Pope has donated millions, spent close to $500,000 in the 2010 and 2012 elections backing McCrory and a number of lawmakers who sponsored and voted for HB2. And
Civitas Action
, founded by funded primarily by Pope, spent over $202,000 in 2010 helping elect many of the same legislative candidates backed by Real Jobs and Americans for Prosperity.
Pope also supplies most of the funding for two nonprofit think tanks that back HB2. Staff with the Civitas Institute, the sister group of Civitas Action, wrote recent pieces defending HB2, as did at least three staff members of the John Locke Foundation.
For his part, Pope told Shapiro that both the LGBT community and "those who have concerns about the privacy in the bathroom of women and children or men … have legitimate issues." One solution he proposed would be for Charlotte to rescind its ordinance and the General Assembly to "either repeal or modify or put a moratorium on its law and have a commission come up with a workable statute."
"The solution could be going back to the status quo where you don't have government in the bathroom one way or the other anyway," Pope said.
However, in a May 12 interview with Time Warner Cable News,
Pope defended HB2
, claiming that there's "nothing in that language that discriminates against the LGBT community." He rejected what the U.S. Department of Justice has
recognized
— that transgender women are in fact women — saying that the Charlotte ordinance would "allow a man who identifies or expresses himself as a woman into the women's dressing room." Pope also expressed support for separate bathrooms for transgender people, which LGBT rights groups have compared to racially segregated facilities. 
This wasn't the first time Pope has tried to distance himself from donations to anti-LGBT organizations. In 2011, Facing South
reported
that his foundation had bankrolled groups that successfully pushed for an anti-gay marriage amendment to the state Constitution. Pope later
denied that
during a Raleigh radio debate.
Tags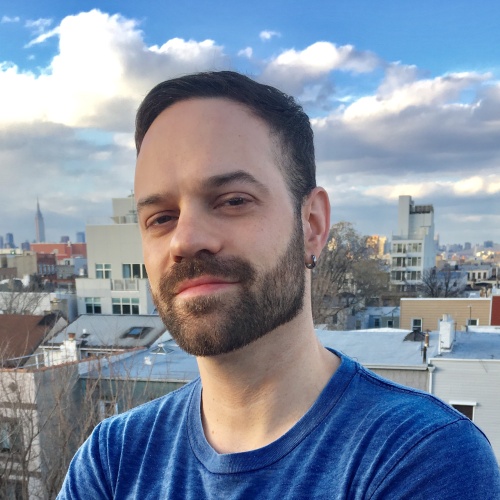 Alex is an investigative journalist based in Brooklyn, New York, and a reporter for the money-in-politics website Sludge. He was on staff at the Institute for Southern Studies from 2014 to 2016. Additional stories of Alex's have appeared in the International Business Times, The Nation and Vice.com.